I remember the days when starting a business meant finding a prime real estate spot, battling with brick-and-mortar stores, and essentially burning a hole in your pocket just to open the doors.
Fast-forward to today, and it's a whole new ball game. Starting an eCommerce business has become the new cool kid on the entrepreneurial block.
Look, I totally understand the appeal of the traditional in-person shopping experience. There's a certain romance to the hustle and bustle, the chit-chat with the store owner, the sheer unpredictability of whether you'll trip over an errant cat in the aisle (Don't worry, it's happened to the best of us!).
But let's get real for a moment. The world is spinning more and more towards the digital realm, and it's about time we get on this roller coaster, or we'll be left clinging to the rails. That's why I decided to start an eCommerce business, and boy, what a ride it has been!
In fact, my decision to dive into eCommerce was one of the best I've ever made. No, it wasn't all sunshine and rainbows from day one, nor was it as simple as flipping a switch. But once I got the hang of it, particularly the fascinating realm of the dropshipping business, I felt like I was floating in a pool of potential.
Now, before I get lost in my excitement, let's talk about WooCommerce. It's an exceptional platform that combines the power of customization with user-friendly features, making it an ideal choice for anyone looking to delve into the eCommerce space.
From simple store setups to intricate systems with all the bells and whistles like search engine optimization, WooCommerce has got you covered.
But to achieve the full potential of WooCommerce, you have to get the best web hosts. Web hosts play a pivotal role in setting up a profitable eCommerce business. Here's why: they provide the virtual space where your online shop "lives." Here are my top picks for an eCommerce site
Rocket.net: If speed and performance are what you're after in your WooCommerce venture, look no further than Rocket.net. This web host promises lightning-fast load times and includes built-in security features and easy WordPress integration, making it an ideal choice for your eCommerce site.
SiteGround: SiteGround is another web host I've grown fond of, especially for its top-notch customer support and user-friendly interface. It offers specific hosting plans for WooCommerce sites, providing optimal performance and security features, which makes launching and maintaining your eCommerce store a breeze.
Hostinger: Hostinger is a budget-friendly option without compromising on the essentials. With its one-click WordPress and WooCommerce installation, free SSL, and dedicated 24/7 support team, it's an excellent option for those starting a profitable eCommerce site without breaking the bank.
You're here because you, too, see the immense potential in launching your own eCommerce business. And that's why I will spill the beans on how to start a profitable eCommerce site that could make traditional shopping look like an ancient relic.
Let's gear up, folks – this will be one exciting journey!
If you're new to eCommerce, you might wonder, "What on earth is WooCommerce?"
WooCommerce is essentially a free WordPress plugin that allows you to transform your website into a fully functioning eCommerce store. It was launched back in 2011, and fast forward to today; it's now one of the most popular eCommerce solutions in the world.
But why should you choose WooCommerce for your eCommerce business, you ask? Well, this is where it gets interesting. WooCommerce offers flexibility and complete control over every aspect of your eCommerce website.
It means you can sell anything, anywhere – from physical products to digital downloads and even subscriptions. It's user-friendly, can be customized to your heart's content, and integrates seamlessly with various tools and services.
I've seen businesses, from small startups to established brands, scale impressively using WooCommerce. Take Storefront, for instance, a successful business that leverages the power of WooCommerce to create a fantastic online shopping experience.
With the right setup, WooCommerce can truly be a game-changer for your business model.
Understanding eCommerce
When I first dipped my toes into the entrepreneurial world, I realized that understanding eCommerce was like grasping a new language.
It's not just about launching an online store or hitting the 'start an eCommerce business' button. No, it's much more nuanced, and believe me, once you get it, it's as liberating as finally remembering where you put those darn car keys!
Let's start with the basics – the definition of eCommerce.
What is eCommerce?
When you think about it, eCommerce is like magic. One minute you're sitting on your couch in pajamas, scrolling through various products, and the next, your chosen item is delivered to your doorstep. Abracadabra!
But let's pull back the curtain and demystify this. At its core, eCommerce (electronic commerce) is the process of buying and selling goods or services over the internet. It's not just about online shopping, though. It also includes electronic transactions that can occur between businesses or between consumers themselves.
Now, the plot thickens as we delve into the different types of eCommerce business models. Spoiler alert: there's more than one way to sell a cat toy online!
From dropshipping to wholesaling and everything in between, choosing the right model is like picking the perfect pair of shoes – it should match your style and comfortably fit your business needs.
Types of ECommerce Business Models
Navigating the different eCommerce business models can feel like being in a maze. There are a few main types you should know about:
B2C (Business-to-Consumer): This is your typical online retail scenario. Think of any big-name online store that sells directly to consumers – that's B2C.
B2B (Business-to-Business): This model involves transactions between two businesses. For example, a business might sell software-as-a-service to other businesses.
C2C (Consumer-to-Consumer): Picture an online marketplace where consumers sell to other consumers. Ever bought something off an auction site or a used-goods marketplace? That's C2C eCommerce in action!
C2B (Consumer-to-Business): It's like B2C but in reverse. Here, consumers provide products or services to businesses. An example could be a freelance graphic designer selling their services to businesses.
Identifying Your Niche
Now that we've covered the basics, it's time for the first step on your journey to starting your own eCommerce store. And it all begins with identifying your niche.
Why Is It Important to First Define Your Niche?
When I started my first online business, I was tempted to sell everything under the sun. I mean, more products, more customers, right? Oh, how I was mistaken. In e-commerce, going too broad is like being a jack of all trades, a master of none.
Choosing a specific niche is like finding your North Star. It guides all the decisions you'll make for your eCommerce website, from product selection and brand voice to marketing and customer service. It's all about identifying a specialized market segment compatible with your interests and expertise yet profitable enough to pursue.
Tools and Research Methods for Identifying Profitable Niches
You might be thinking, "That's great, but how do I find my niche?"
Believe me, it's less like finding a needle in a haystack and more like doing a puzzle.
There are several tools and research methods that can help you identify profitable niches.
From keyword research tools and trend monitoring platforms to good old-fashioned customer surveys, these tools can give you insight into what products are trending, what customers are searching for, and where there's a gap in the market that your online business can fill.
At this point, you might be skeptical. Can you really make a profitable eCommerce business by selling just one type of product?
Well, let me tell you: From businesses selling eco-friendly dog toys to those specializing in gluten-free baking mixes, there's no shortage of success stories in niche e-commerce.
Understanding Your Customer's Journey
From the moment customers land on your site to the second they make a purchase and beyond, every touchpoint matters.
This understanding will fuel your marketing strategy, helping you create tailored experiences that not only attract but also retain your customers.
I'll never forget the first time a repeat customer left a glowing review on my site – it was a testament that understanding and valuing your customer's journey can go a long way in eCommerce.
Planning Your WooCommerce eCommerce Website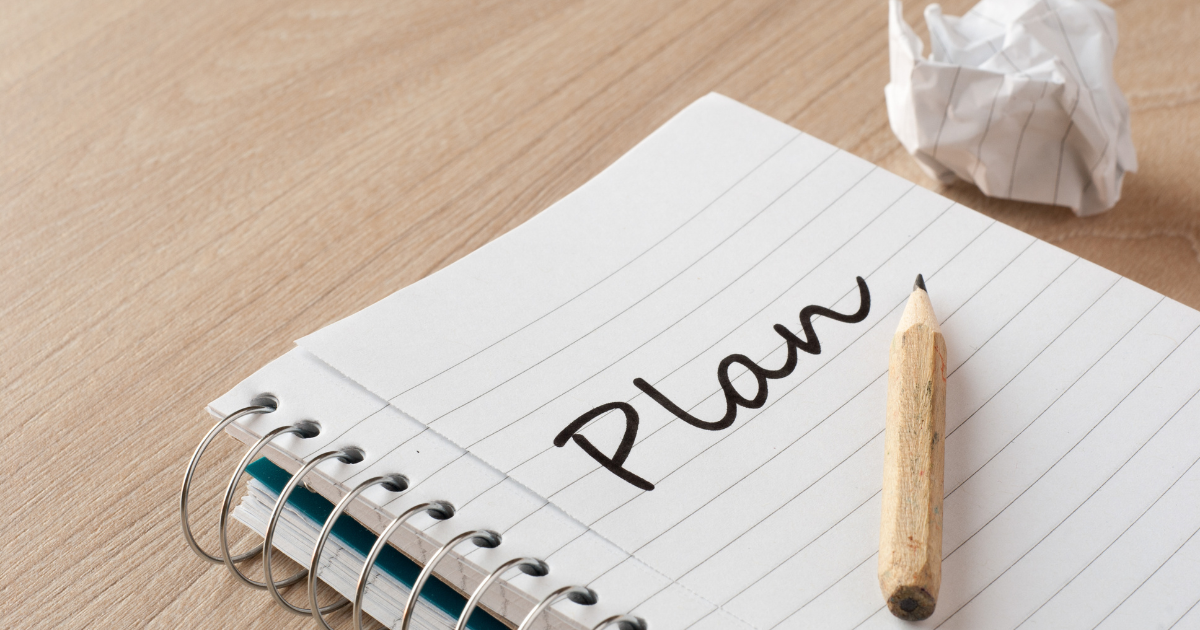 Just like a well-prepared chef has a recipe to follow, a successful eCommerce business starts with a plan. Trust me, I've learned this the hard way! Diving headfirst without a clear path can result in confusion and wasted resources. So, let's break down the process of planning your WooCommerce eCommerce site.
First off, identify your goals. Ask yourself, "What do I want to achieve with my online store?" It could be anything from reaching a specific revenue target, expanding your customer base, or simply carving out a unique place in the eCommerce industry.
Next, plan your website's structure. Just as you'd organize a physical store, you need to design an online store builder that's easy to navigate.
Trust me, nothing turns off a potential customer faster than a disorganized and hard-to-use website!
Determining your product offerings and pricing is another critical step. In my early days, I'd spend countless hours understanding what my customers wanted and how much they were willing to pay for it. Always remember, pricing needs to strike a balance between your costs, perceived product value, and market standards.
Last but not least, establish your brand identity. This is your business's personality, and it's what sets you apart from the competition. It's more than just a logo or tagline – it's the experience you promise to deliver to your customers.
Each step plays a crucial role in laying a solid foundation for your WooCommerce store. So take your time, my friends, because planning is the first step toward success.
Let's Set Up Your WooCommerce Store
Now that we have our plan in place, let's start setting up our WooCommerce store. This journey begins with choosing and purchasing a domain.
1. Choose and Buy a Domain
If you're wondering what a domain is, it's simply the web address that customers type into their browser to find your store – it's your own piece of real estate in the vast online world.
Choosing the right domain is critical for your eCommerce business model. It's not just a web address; it's a key component of your brand identity. So, make it count. It should ideally be the name of your business or something closely related to what you're selling.
For instance, if you intend to run a vegan skincare store, choose a domain that clearly conveys your business's focus on natural, cruelty-free products.
Purchasing a domain is a straightforward process. There are numerous domain registrars out there, like GoDaddy, Namecheap, and others. Just search for your preferred domain, and if it's available, you can purchase it. Make sure to choose a domain extension (.com, .net, .org, etc.) that suits your business. A .com is usually a safe bet for eCommerce businesses, as it's universally recognized and easy to remember.
Once you have your domain, it's time to pair it with a powerful content management system, and that's where WooCommerce comes in.
But we'll talk more about that in the next section. For now, pat yourself on the back because you've just made a significant stride in setting up your WooCommerce store!
2. Select a Web Host
Selecting a web host is the next big step in setting up your WooCommerce store. Think of it as the foundation for your eCommerce store – a solid base ensures everything else functions smoothly. It's here your website data will be stored and accessed by your customers.
Based on my experience, I have found these three web hosting companies to be great at hosting eCommerce businesses, and at the top of my list is none other than Rocket.net.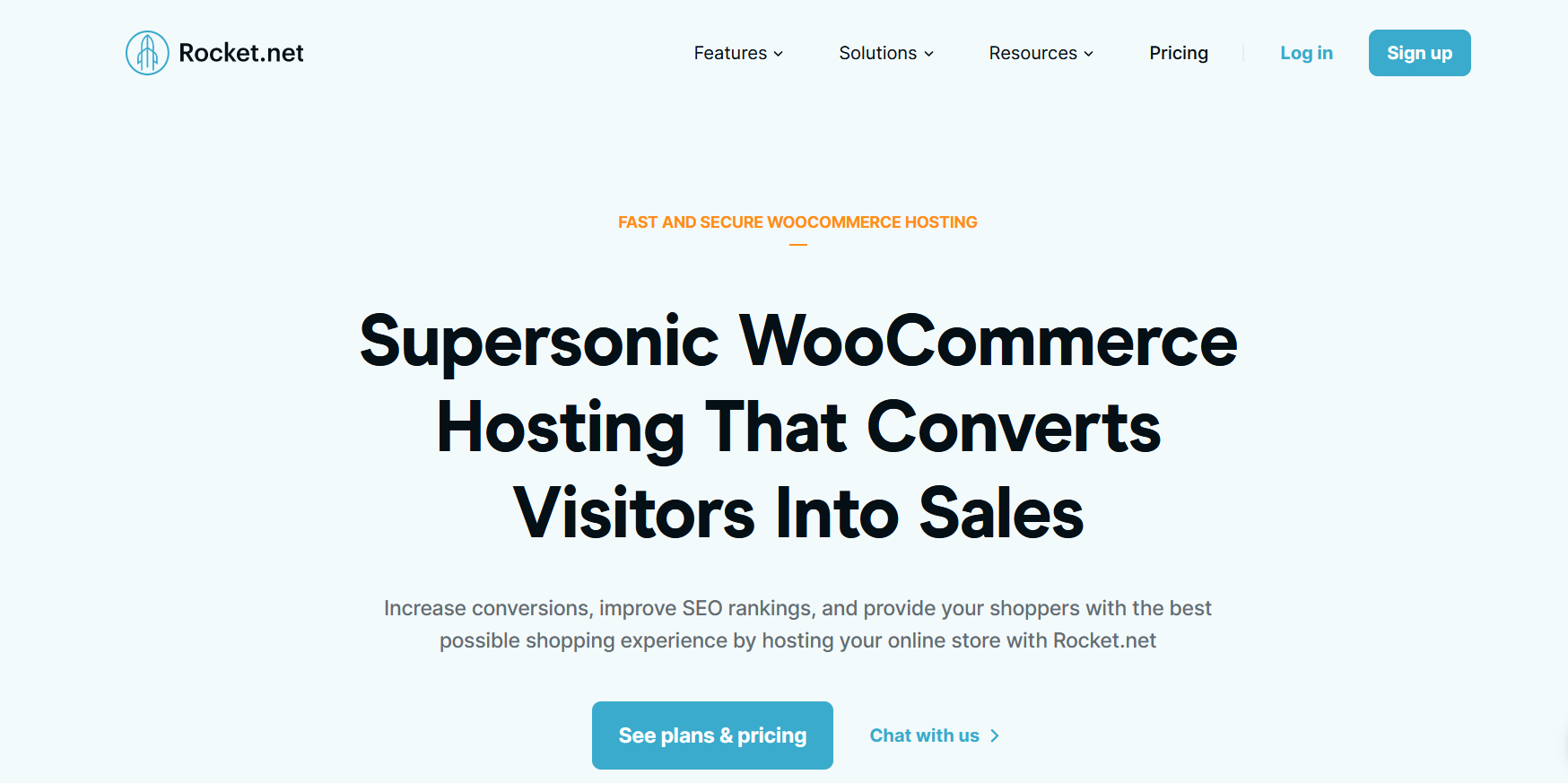 This is a managed WordPress host that prides itself on speed and simplicity. Its built-in security makes it stand out for eCommerce businesses, which ensures your store stays safe from cyber threats.
It also offers automatic updates, freeing up your time to focus on what truly matters – growing your business. You get what you pay for with its enhanced speed and robust security. And more importantly, setting up WooCommerce on Rocket.net is as easy as pie with their one-click installation.
Pros of going with this web host include:
Fast loading times for your store
Zero downtime or service interruptions
The WooCommerce Hosting needs no technical knowledge
Free Enterprise CDN
A secured WooCommere store – at no extra charge
In terms of pricing, this web host offers both a 30-day money-back guarantee and $1 special intro pricing for all plans. Also, it is advisable to go for annual pricing because it gives you extra two months free.
For eCommerce websites, I always recommend the Pro plan. This is because you can handle up to 1 million visitors to your store and can host up to 3 WordPress websites on this plan.
Once you pick your preferred plan, the platform will require you to sign in. And you are in!
Want to learn more about Rocket.net? Click here to watch this interview with Rocket.net's CEO, Ben Gabler.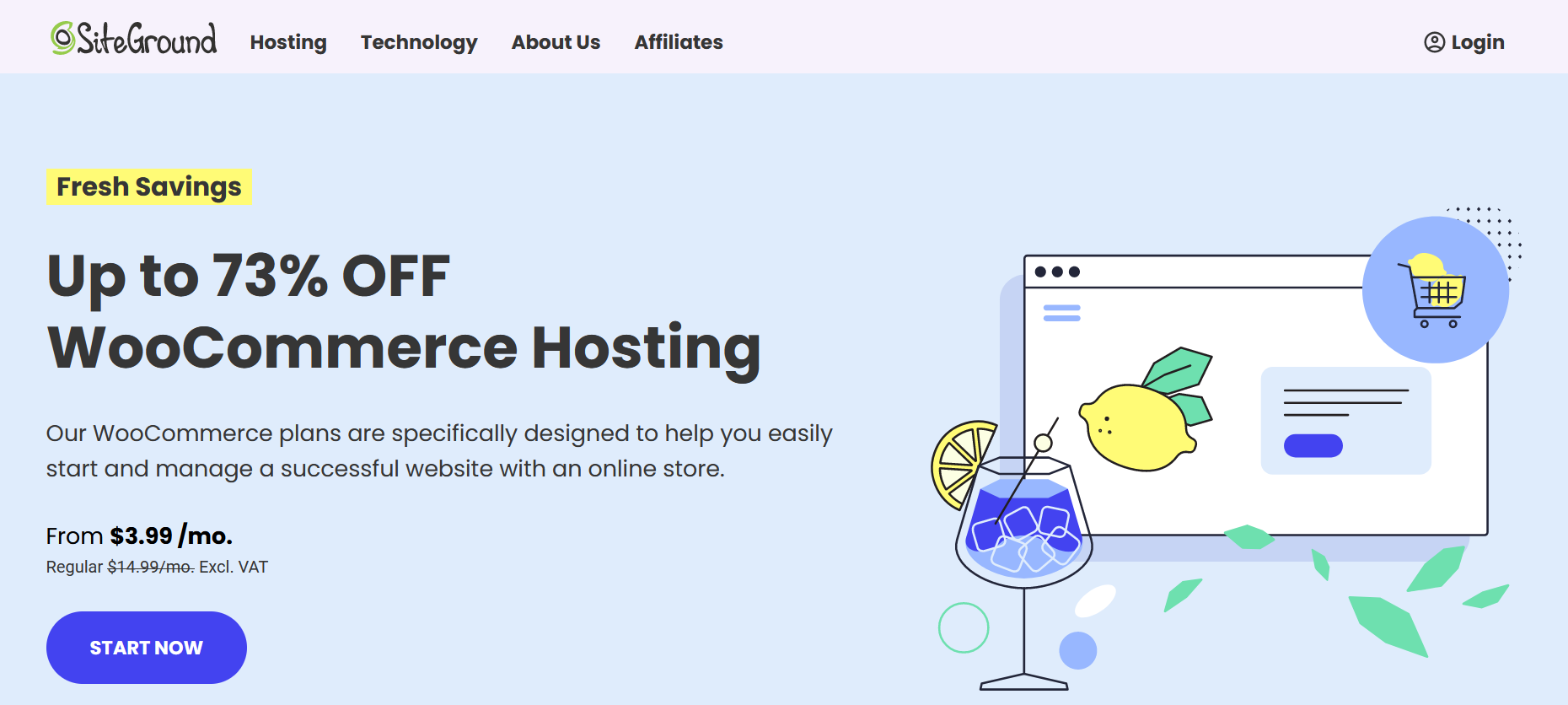 SiteGround, another reliable option, is known for its excellent customer service. It offers WooCommerce-specific hosting plans, which means its servers are optimized for your eCommerce store.
With features like daily backups, free SSL certificates, and CDN services, SiteGround ensures your online store stays secure, fast, and ready to handle traffic worldwide.
Here are some pros and cons of using SiteGround as your web host:
Pros:
Excellent customer support: SiteGround is renowned for its top-notch customer service, available 24/7 via chat, phone, and tickets.
High performance: SiteGround servers are optimized for speed and reliability, ensuring your site loads quickly for your customers.
Free daily backups: SiteGround provides free daily backups of your site, giving you peace of mind in case something goes wrong.
WooCommerce-specific hosting: SiteGround offers hosting plans tailored for WooCommerce sites, offering optimal performance and security features.
Free SSL and CDN: SiteGround provides a free SSL certificate for security and a Content Delivery Network (CDN) to speed up your website's load times for visitors worldwide.
Cons:
Higher renewal prices: SiteGround's initial prices are competitive, but their renewal rates can be quite high compared to other hosting providers.
Limited storage: Depending on your plan, you may find SiteGround's storage limits restrictive, particularly if you plan on having many products on your site.
No free domain: Unlike some other hosts, SiteGround doesn't offer a free domain name with their hosting plans. You'll need to purchase this separately.
Setup fee for monthly billing: If you choose to pay on a monthly basis instead of annually, SiteGround charges a setup fee.
Lastly, we have Hostinger – the budget-friendly champ. Despite its low prices, Hostinger doesn't skimp on essentials. It offers a free SSL certificate, 24/7 customer support, and a one-click WordPress and WooCommerce installation, making it a great choice if you're starting on a tight budget.
Sure, here are some pros and cons of using Hostinger as your web host:
Pros:
Budget-friendly: Hostinger offers some of the most affordable hosting plans in the industry, making it an excellent choice for those on a tight budget.
User-friendly interface: Hostinger's control panel is intuitive and easy to use, making website management a breeze even for beginners.
24/7 customer support: Hostinger offers round-the-clock customer support through live chat, ensuring help is available whenever you need it.
Free SSL: Each hosting plan comes with a free SSL certificate, essential for securing your website and building trust with your customers.
One-click WordPress and WooCommerce installation: Setting up your eCommerce store is straightforward with Hostinger's one-click WordPress and WooCommerce installation.
Cons:
The basic plan doesn't come with some essential features like maximum storage and daily backups.
The best part? All these hosts support WordPress and integrate seamlessly with WooCommerce, making them a perfect fit for your eCommerce business model.
3. Install WordPress and WooCommerce
So, you've chosen your domain and selected a reliable web host. It's time to take the next leap – installing WordPress and WooCommerce.
This might sound intimidating if you're new to the online scene, but trust me; it's simpler than you might think.
WordPress is the powerhouse content management system we're using to build our own website, and WooCommerce is the plugin that will transform our site into a successful online store. It's the dynamic duo that's going to help us sell online with ease.
Most hosting providers, including the ones we discussed, offer a one-click WordPress installation. You'll find an option to install WordPress from your hosting account's dashboard. Simply click on it, and voila, you're halfway there!
You'll then be prompted to choose your domain, create a site title, and set up a login account. Make sure to save these details, as they'll be your key to the WordPress kingdom.
Once you're logged into your shiny new WordPress site, it's time to install WooCommerce.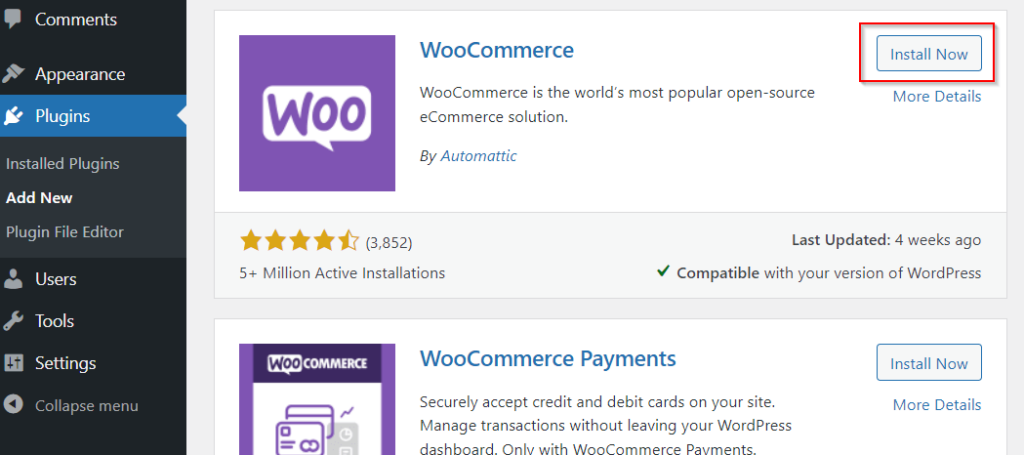 Go to 'Plugins' from your dashboard, click 'Add New,' and search for 'WooCommerce.' Hit 'Install' and then 'Activate,' and there you have it – your WooCommerce store is ready to roll!
4. Configure WooCommerce Settings:
Now that you've installed WooCommerce, you're probably staring at your dashboard wondering, "What's next?" Well, let's roll up our sleeves and configure your WooCommerce settings.
Setting up your WooCommerce store to align with your eCommerce business plan is much like setting up a new smartphone. You want to personalize it, ensure it operates smoothly, and, most importantly, make it yours. WooCommerce offers a wide range of settings you can customize to suit your needs, making it one of the best eCommerce sites you could ask for.
First, let's head to 'WooCommerce' and then 'Settings.' Here you'll find several tabs like 'General,' 'Products,' 'Shipping,' 'Payments,' and more. Each of these represents a different aspect of your e-commerce website.
In the 'General' tab, you'll input basic store details, like your address, currency, and whether or not you'll be charging sales tax. 'Products' lets you manage everything product-related, such as measurements, reviews, and inventory.
The 'Shipping' and 'Payments' tabs are particularly crucial, as they determine how your customers receive and pay for their goods. Here, you can set up shipping zones, methods, and rates and choose which payment gateways you'll be offering – be it PayPal, Credit Card, Bank Transfer, or others.
Finally, don't forget the 'Accounts & Privacy' and 'Emails' tabs. The former helps you manage customer accounts and privacy settings, while the latter lets you customize the emails your store sends to customers.
So, there you have it! You've taken another big step towards your dream eCommerce store. But remember, we're still not done.
5. Add Products to Your WooCommerce store:
Are you excited? Because I sure am! It's time to bring your eCommerce store to life by adding products. This is the moment we've been preparing for. After all, what's an e-commerce website without products? It's like a bookstore without books or a bakery without pastries.
Here's how you do it: head over to your WordPress dashboard, click 'Products,' and then 'Add New.' Now, imagine you're a customer landing on your product page. What would you want to know before making a purchase?
Start by giving your product a catchy title and a detailed description. If I'm selling handmade soap, for instance, I'd want my customers to know why it's special. Is it made with all-natural ingredients? Does it have a unique, soothing aroma?
The more detailed and engaging your product descriptions are, the easier it is for customers online to decide to hit that 'Add to Cart' button.
Next, you'll set the product's price, SKU (Stock Keeping Unit), and if you have many units in stock. WooCommerce even lets you manage advanced settings like shipping, linked products for upselling, and custom attributes like color or size.
Don't forget to upload clear, high-quality photos of your product. Remember, your customers can't physically see or touch the product, so they have to base their purchase decision on your pictures and descriptions. Make sure to showcase your product from various angles and in different use case scenarios if applicable.
And that's it! Repeat these steps for each product you want to list on your store. Once you've got a handful of products listed, you're well on your way to launching your very own WooCommerce store.
In the next section, we'll talk about one of my favorite aspects of building an online store – choosing and customizing the perfect theme for your site!
Customizing Your WooCommerce Store
Now that we've added products to your store, it's time to think about your eCommerce website's overall look and feel.
A.

Selecting the Right WooCommerce Theme
Choosing the right theme is essential because it impacts how your store looks to your target market and affects website performance and how search engines view your site.
One of the themes I recommend for WooCommerce users is the Astra Theme. It's a versatile, high-performing theme with many features that make it stand out. Let me share some of these with you:
Pre-Built Websites: Astra Theme comes with dozens of pre-built website templates specifically designed for various niches, which you can import and customize as per your needs. It's like getting a head start in a race!
Performance-Focused: This theme is lightweight (less than 50KB) and offers unbeatable speed, meaning your site will load quickly, keeping your customers and search engines happy.
WooCommerce Integration: Astra Theme offers deep integration with WooCommerce, with features like a dropdown cart, sales bubble, and more that are designed to boost sales on your online store.
Customization: Astra offers extensive customization options. You can tweak every small detail, whether it's colors, typography, or layout settings.
SEO Friendly: It's coded with SEO best practices in mind to help your site rank better on search engines.
Compatibility: It's compatible with all popular page builders like Elementor, Beaver Builder, and more, making website designing a breeze.
So, by choosing the Astra Theme, you can ensure your WooCommerce store looks fantastic and delivers excellent performance, ultimately helping you achieve your eCommerce goals. Click here to find more WordPress themes for your online store.
B.

Customizing your WooCommerce theme
Alright, you've picked your theme – but the journey doesn't end there. The next step in launching your ecommerce company is customizing your WooCommerce theme to reflect your brand's identity. This is where you get to show your potential customers what you're all about. But remember, it's not just about looking good – a well-structured, easy-to-navigate site is crucial for search engine optimization and user experience.
Most WooCommerce themes, including Astra, come with a live customizer, which allows you to tweak different parts of your site while previewing the changes in real time. From your WordPress dashboard, navigate to 'Appearance,' then 'Customize,' and let your creativity flow.
Let's start with your site's color scheme. A consistent color palette helps to reinforce your brand identity and can impact how customers perceive your brand. For example, cooler colors like blue and green often evoke feelings of trust and relaxation, while warmer colors like red and yellow can convey energy and excitement.
Next, think about typography. Choose a font that matches your brand's personality and ensures readability across different devices. Remember, your site's text is a crucial medium for communicating with your customers, so make sure it's clear and legible.
Don't forget about your site's structure and layout. Ensure your main menu is easy to find and navigate, your product pages are well organized, and information like shipping and return policies are easy for customers to locate.
Also, consider integrating social media buttons into your site. This improves your site's functionality and allows customers to share your products with their networks, potentially increasing your reach.
Lastly, remember that customization is an ongoing process. As your business grows and evolves, don't be afraid to make tweaks and adjustments to keep your site fresh and engaging.
C.

Enhancing your store with WooCommerce plugins
When you thought your eCommerce store couldn't get any better, along come WooCommerce plugins to add that extra magic. Think of them like the cherry on top of your ice cream sundae. And one such cherry that's an absolute game-changer is Rank Math.
If you're not familiar with it, Rank Math is a search engine optimization plugin. It's like having your very own SEO expert sitting in your WordPress dashboard, guiding you on how to optimize your content for better visibility on search engines.
Now, you may be wondering, "Why is SEO so important for my eCommerce company?" Well, imagine owning a physical store but not showing up on Google Maps. How would potential customers find you? Similarly, SEO ensures your online store is visible to people searching for the products you offer.
Rank Math is packed with features that make optimizing your WooCommerce store a breeze. Here are a few of them:
SEO Analysis: Rank Math performs a detailed SEO analysis of your site, giving you actionable tips to improve your site's SEO health.
Focus Keyword and Content Analysis: It lets you set a focus keyword for each product and offers real-time content analysis to ensure your product descriptions are SEO-friendly.
Schema Markup: Rank Math supports rich snippets, which help search engines better understand your content, potentially boosting your visibility in search results.
XML Sitemap: It automatically creates an XML sitemap, helping search engines easily crawl and index your site.
WooCommerce SEO: Most importantly, Rank Math offers WooCommerce-specific SEO features like removing base, adding brands, and more.
Click here to read more about Rank Math.
Remember, driving organic traffic to your store is just as important as having a fantastic product range and a visually appealing website.
How To Make Your WooCommerce Store Profitable
Alright! We've got the foundation of your WooCommerce store all set. Now, let's shift gears and talk about turning this eCommerce setup into a profitable business. Yes, I'm talking about the strategies and techniques that will help attract your target audience, convince them to make a purchase, and, most importantly, keep them coming back for more.
SEO Strategies for WooCommerce
You need to implement some effective SEO strategies to ensure your store gets seen by the right people. SEO is a lot more than just stuffing keywords into your content. It's about delivering value to your visitors and making it easy for search engines to recognize it.
Email Marketing and Customer Relationship Management
Don't underestimate the power of a well-timed, well-crafted email! Whether it's a welcome email, a promotional offer, or an abandoned cart reminder, the right email can bring customers back to your store time and time again.
Implementing Upselling and Cross-Selling Techniques
Have you ever visited a store looking for a specific item, only to walk out with three more things you didn't plan to buy? That's the power of effective upselling and cross-selling, and it's a strategy you can leverage even in your dropshipping business model.
Analyzing and Understanding Website Metrics
Last, but certainly not least, let's talk data. Understanding your website metrics will tell you what's working, what's not, and where there are growth opportunities. It's like having a roadmap to success as long as you know how to read it.
From leveraging different digital marketing strategies to utilizing social media channels, each of these steps plays a critical role in the success of your WooCommerce store.
How To Maintain and Scale Your WooCommerce Store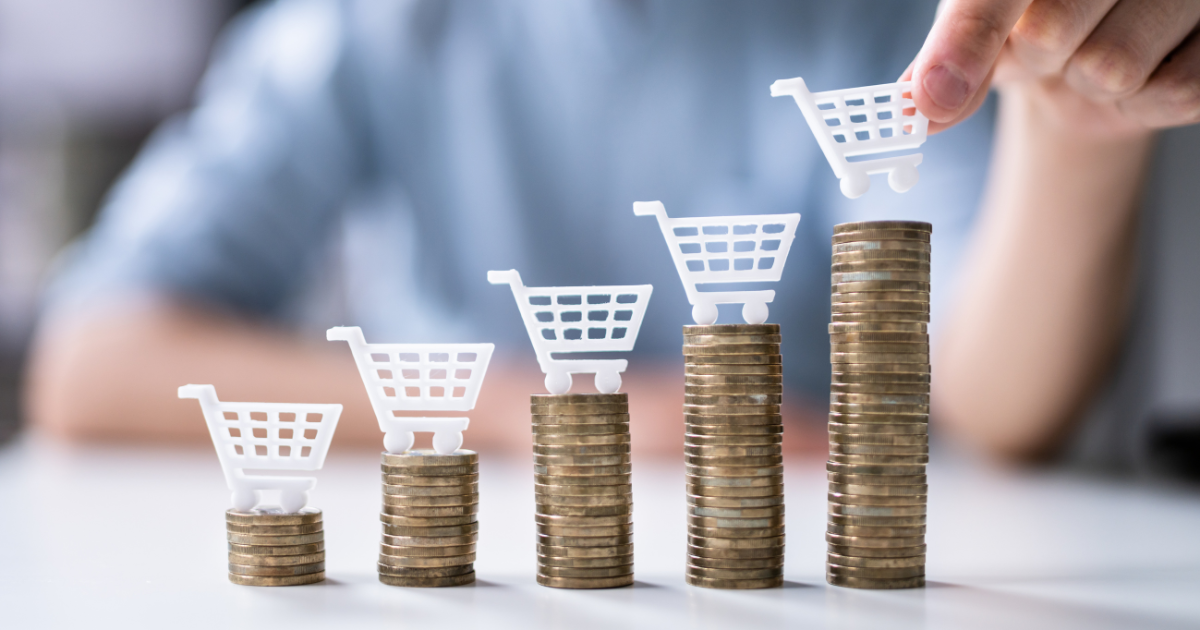 With your WooCommerce store up and running, you might think the hard part is over. But the truth is, launching your new online business is only the beginning. To ensure the success and growth of your eCommerce platform, you'll need to dedicate time to regular maintenance and continually look for opportunities to scale. So, let's dive into what this process looks like.
Regularly Updating and Maintaining Your WooCommerce Store
Just like a brick-and-mortar store, your online shop needs regular upkeep. This could mean updating your site with new products, managing your stock, and ensuring your payment processing systems run smoothly. Remember, a well-maintained store is a trusted store!
Strategies for Scaling Your Business
Now that you've built a solid foundation, it's time to think about growth. Scaling your business can involve anything from introducing new product lines to expanding into new markets. The strategies you use will depend on your unique business goals, but one thing's for sure – there's always room for growth.
Utilizing Customer Feedback for Improvement
Finally, remember that your customers are your best source of insight when improving your store. Their feedback can provide valuable information about what you're doing well and where you could improve. So don't be afraid to ask for it; more importantly, act on it!
Concluding Thoughts
Wow, what a journey it's been! From the initial steps of setting up your WooCommerce store to strategies for growth and maintenance, we've covered a lot of ground.
We started by understanding what WooCommerce is and its benefits as an eCommerce platform. We then delved into eCommerce basics, including understanding your niche market and customer journey.
From there, we ventured into the planning and setup phase, discussing aspects like choosing a domain, selecting a web host, and configuring your WooCommerce settings.
We also touched upon the importance of customization and how plugins like Rank Math can enhance your store's SEO performance. Finally, we explored some strategies to make your store profitable and discussed how to maintain and scale your business over time.
Looking back, it's clear that WooCommerce offers a versatile and user-friendly platform for anyone looking to launch their own online store. Whether you're selling your own products or adopting a dropshipping business model, WooCommerce provides all the tools you need to create a profitable eCommerce business.
I hope you've found this guide useful and feel more confident about starting your own WooCommerce store. Remember, every successful business starts with a single step, and you've just taken several. Here's to your success in the exciting world of eCommerce!
Keep dreaming big, keep striving, and most importantly, keep moving forward. There's a whole world of opportunity waiting for you, and I can't wait to see where your WooCommerce journey takes you next.