When we think of AI, we might picture cool stuff like self-driving cars or voice assistants like Alexa and Siri. These things are awesome, but AI also includes many smaller tools that work in the background to make our lives easier by doing everyday tasks or making predictions.
Whether we realize it or not, artificial intelligence, or AI, is becoming a more significant part of our lives, including digital marketing.
Marketers use AI tools more often because they make things faster and help determine the best ways to do stuff.
This is why we have taken the time to test out and pick the ten best AI tools for digital marketers. These powerful tools can analyze consumer behavior, optimize ad performance, and generate personalized content. With their help, you can streamline your workflow and make more informed decisions without breaking a sweat.
As technology continues to evolve and improve, so do these AI marketing tools.
So why waste time on tedious tasks when you could unleash the power of the best AI marketing tools? Trust me – your bottom line (and sanity) will thank you.
Here are some of the best AI tools for digital marketing that can turbocharge your efforts and take your business to new heights!
Semrush: Best AI SEO Tool. It offers suites of SEO tools like Keyword research, site audits, and competitor analysis are just a few of the SEO tools available.
Hootsuite Insights: Best social media AI tool. It is excellent for managing social media network channels.
Tableau: Best AI analytic tool. It offers data visualization and business intelligence tools to help you make sense of large, complicated data sets
Copy AI: Best AI content writing tool. It helps you produce a wide range of text materials
Lumen5: Best AI video creation tool. It helps you convert your blog entries into videos
Canva: Best AI design tool. It helps you create visual content.
Phrasee: Best AI advertising tool. It helps you analyze data and generate persuasive marketing content.
Why AI Marketing Tools?
Whether you're seeking more effective targeting options or simply looking to streamline your workload, an AI tool can help.
From chatbots that easily handle customer service inquiries to predictive analytics systems that offer unprecedented insight into your audience's behavior patterns, you need AI tools to succeed in today's competitive marketplace.
Do you still need a bit of convincing to use these top AI marketing tools? This next segment should settle these doubts.
Should Marketers Use AI-Powered Marketing Tools?
In earlier years, marketers were afraid to include artificial intelligence in their marketing efforts.
But lately, many profitable brands have embraced and used it in their marketing, with companies like Amazon and Spotify successfully utilizing AI systems.
So, if you are still feeling iffy about them, I say give them a chance.
After all, who wouldn't want their marketing game to be smarter and more efficient than ever?
With AI in your corner, you can analyze data faster than you can say "keyword." It's like having a personal assistant that never sleeps!
Plus, it removes the tedious tasks and frees up your time to focus on what matters – connecting with your audience. Sure, there may be some kinks to work out along the way (hello, technology glitches). Still, overall I believe that using AI-powered marketing tools has become imperative for brands just as much as coffee breaks are for us humans – Can't function without them!
Best AI Marketing Tools To Use In 2023
We have broken our list of the best AI marketing tools into different parts. We have tools for SEO, video creation, social media, and many more.
Whatever you need help with, we have selected tools for you.
AI SEO Tools
To have a successful digital marketing campaign, you must succeed in SEO. But, it can be challenging to stay on top of the most recent SEO trends and best practices.
With these tools, you can say goodbye to dull keyword research and endless analysis because the future of SEO is here!
SEMRush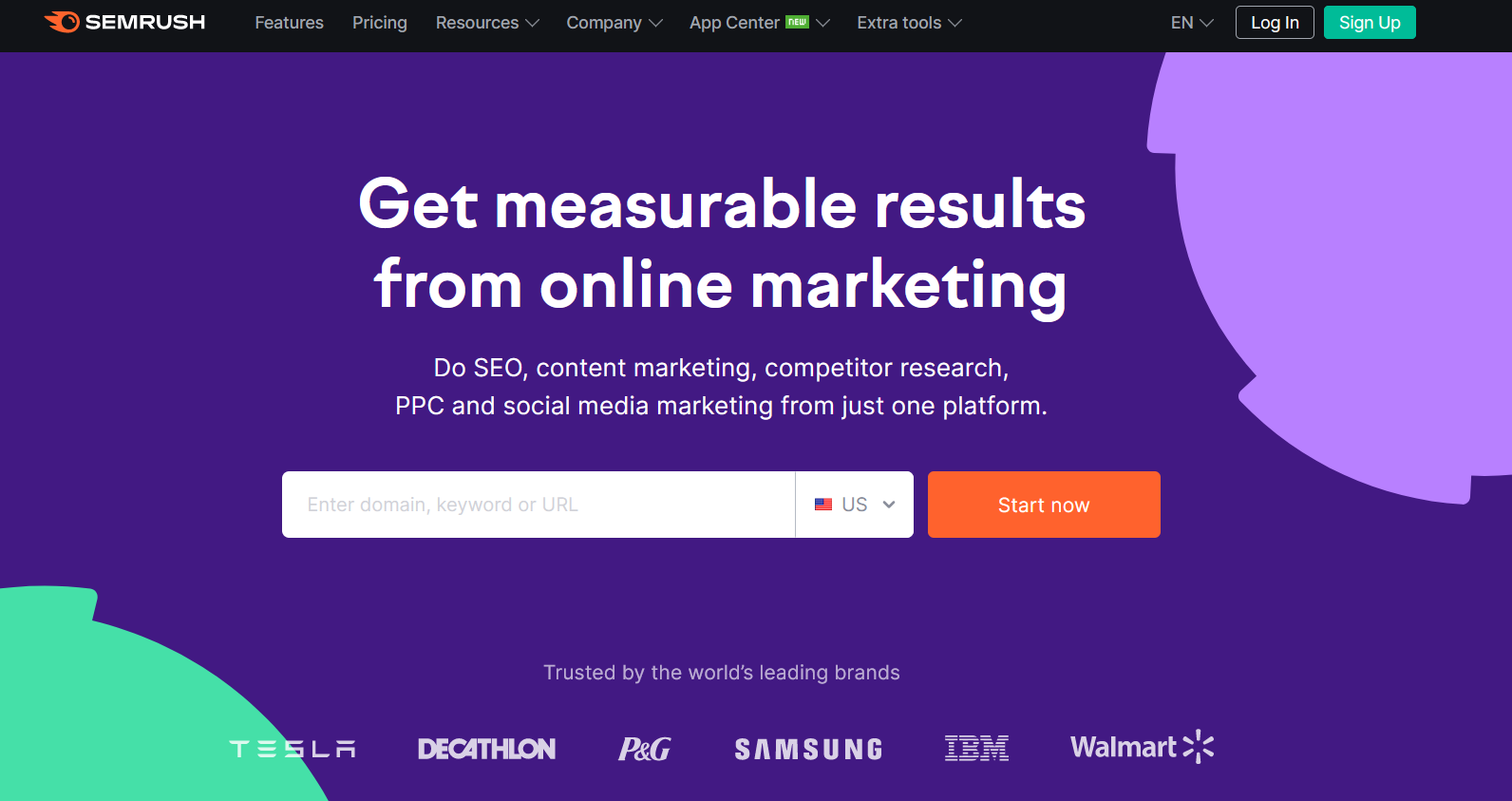 Pros
Vast databases.

Extensive backlink and keyword metrics

Broad feature set

Powerful link-building capacities

Great value for money
Cons
The accuracy of traffic analytics data is not always certain.

Data is limited to Google

The user interface could be cleaner.
Semrush is an AI marketing tool that offers suites of SEO tools like Keyword research, site audits, and competitor analysis.
Brands can manage and expand their online presence across numerous platforms thanks to the platform's extensive toolkit.
Using this AI-powered digital marketing tool, you can examine and improve your internet marketing and content strategy.
It provides several tools that assist you in determining the keywords and content that are most successful in bringing visitors to your website as well as insights into the digital marketing campaigns of your competitors.
One of the key advantages of using Semrush is its capability to analyze vast amounts of data quickly and accurately.
The software uses machine learning algorithms to analyze user behavior and identify patterns in data that are not immediately apparent to human analysts. This enables you to make more informed decisions about your digital marketing strategies and to optimize your campaigns in real-time.
Plans and Pricing
Semrush has three plans:
The Pro plan costs $119.95 monthly

The Guru plan costs $229.95 monthly

The Business plan costs $449.95 monthly
You can also choose a free plan – but it comes with a certain amount of restriction. You won't have access to all the typical data seen in the reports, but you will still be able to use most of the essential features.
You can only get 10 Analytics reports daily, and you can only track up to 10 keyword positions and build a single project.
Ahrefs
Pros
It has an extensive web crawler compared to other SEO tools

Provides comprehensive information and reports

Largest backlink database

Advanced filtering options
Cons
Low limits and restrictions on some plan

No Google Analytics integration
Ahrefs is an AI marketing tool for website analysis that assists you in learning about the traffic, backlinks, and other aspects of your website.
Ahrefs is a comprehensive SaaS application that tracks your SEO efforts and offers data. In a nutshell, Ahrefs is a product that aids with the search engine optimization of your website.
As far as artificial intelligence marketing tools go, Ahrefs is a potent SEO tool with many uses. Ahrefs gathers data by crawling search engines and websites. It provides tools for you to learn what people are looking for on Google and other search engines.
Plans and Pricing
This AI marketing platform has four pricing plans.
The Lite Plan starts at $99. It is great for small businesses and hobby projects.

The Standard Plan starts at $199. It is best for freelance SEOs and marketing consultants.

The Advanced Plan starts at $399. It is best for brands and in-house marketing teams.

The Enterprise Plan starts at $999. It is best for companies and enterprises.
BrightEdge
Pros
Lead generation

Campaign monitoring

Capturing user intent
Cons
Difficult to navigate

Long load times
BrightEdge AI is a search engine optimization and content marketing platform.
It uses machine learning and artificial intelligence to assist organizations in improving their digital marketing initiatives and optimizing their online presence.
Whether you're an experienced marketer or new to digital marketing, this user-friendly platform offers a range of features designed to enhance your SEO strategy.
From keyword research and content optimization to tracking analytics and monitoring competitors, this AI marketing tool has everything you need for successful online marketing.
Plans and Pricing
Their pricing is based on quotes, i.e., a quote-based plan. You can connect with them by clicking here.
Social Media AI Tools
Social media is a terrific tool for connecting with your audience and growing your business. But, it can be overwhelming to manage several sites and produce engaging content.
AI tools can help your agency's social media marketing by automating procedures like posting scheduling, engagement analysis, and even content ideation.
The advantages of employing AI technologies for social media include time savings, increased engagement, and plan optimization.
Let's look at a few of these tools.
Hootsuite Insights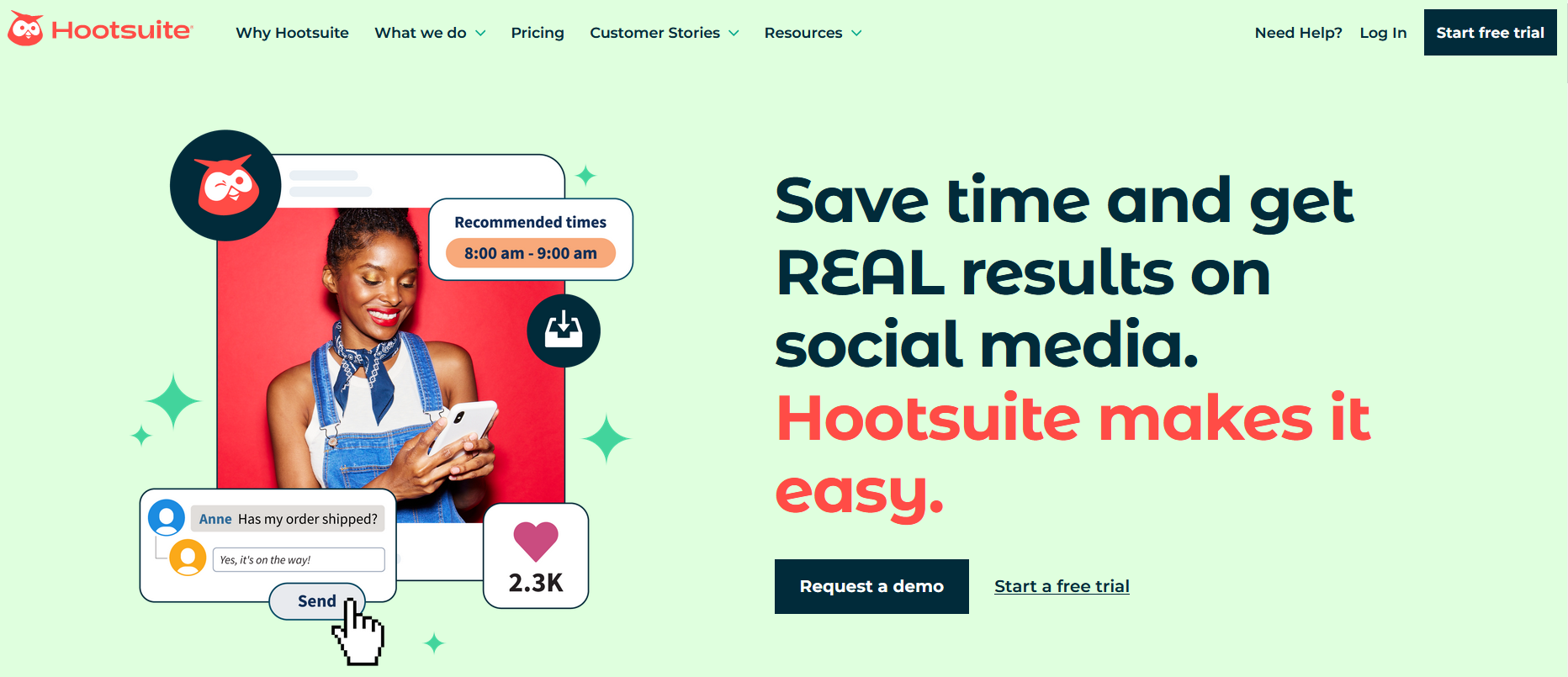 PROS
Conveniently plan and manage postings across many social networks

30-days free trial

The content planner is simple to use
CONS
Software that is too expensive for small businesses

Restricted in your ability to disseminate reports
Are you tired of feeling like your social media strategy is a shot in the dark? Want to know exactly how your audience feels about your brand and what content they prefer? Look no further than Hootsuite Insights.
This powerful tool allows you to gather valuable customer data and insights on your social media presence, enabling you to make informed decisions that drive engagement and success.
Hootsuite is an exceptionally useful AI for managing social media network channels. It enables you to access multiple streams simultaneously and track what customers say on social media.
It is frequently called a social media management system or AI-powered tool. You can do many things, such as post updates, read comments, schedule messages, and examine statistics.
Numerous global companies, such as Sony Music and Coca-Cola, use this time-saving social media marketing method.
With its advanced analytics, "Hootsuite Insights" lets you easily delve deep into social media platforms like Twitter and Instagram.
This powerful little widget does everything from analyzing brand mentions and sentiment analysis to trending topics and hashtags.
It's particularly useful for businesses that want to track competitors' or customers' opinions about products or services.
If you're looking for a comprehensive way to manage your brand reputation online, then look no further than Hootsuite Insights.
Hootsuite has successfully addressed the difficulties of maintaining numerous businesses and social media profiles.
Plans and Pricing
Hootsuite provides 4 pricing plans
The Professional Plan costs $99 per month. It is perfect for 1 user, and you can track up to 10 social accounts.

The Team Plan costs $249 per month. It is great for three users, and you can track up to 20 social accounts with this plan.

The Business Plan costs $739 per month. Up to 5 users can work with this plan. You can also track up to 35 social accounts.

The Enterprise plan has custom pricing. It starts with five users, and you can track up to 50 social accounts.
AI Analytics Tools
Analyses and reporting are essential for determining the effectiveness of your marketing campaigns.
AI marketing tools can help businesses with reporting and analytics by analyzing data and offering insights to support digital marketing organizations in making data-driven decisions.
Using AI solutions for reporting and analytics has several advantages, including better insights, faster data processing, and enhanced accuracy.
Here is our top AI analytic tool.
Tableau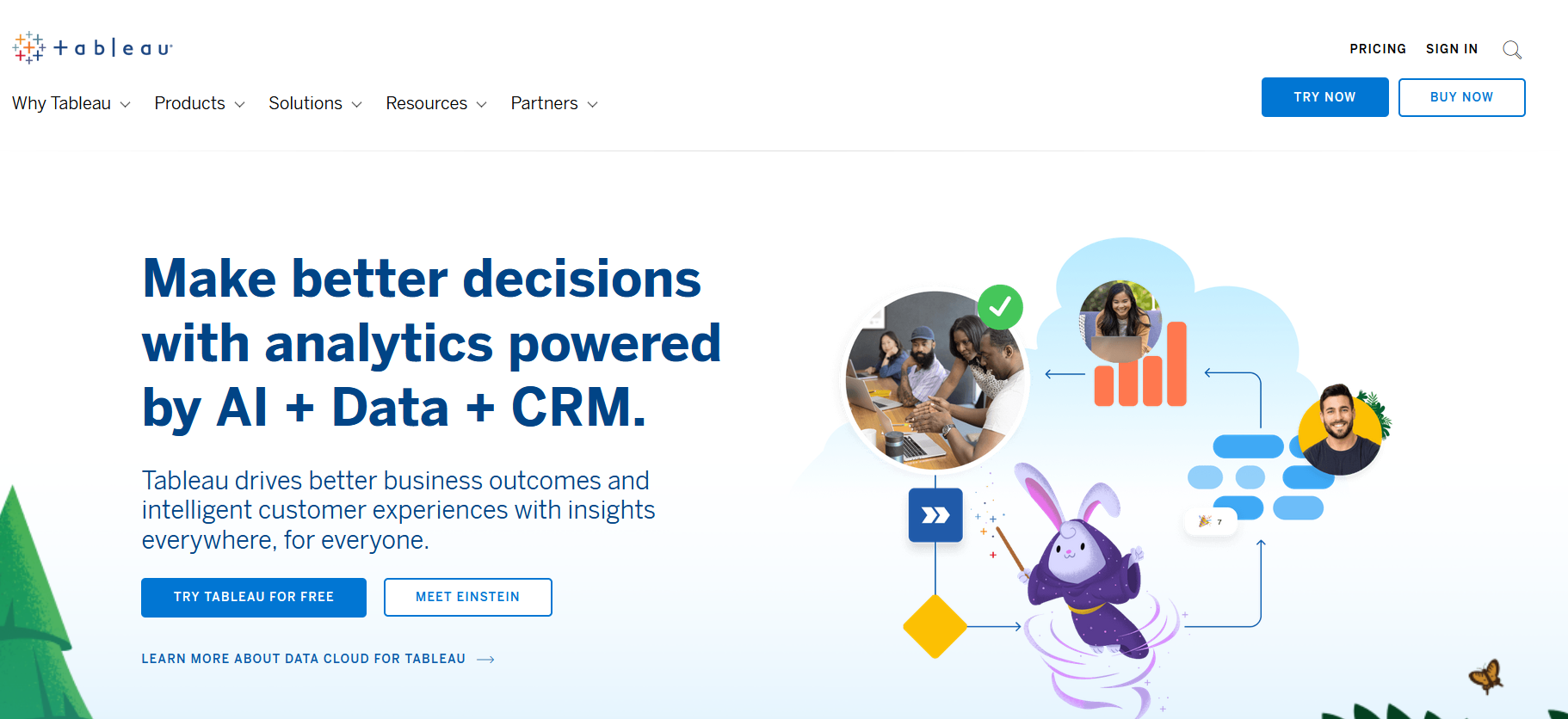 Pros
Data visualization

Interactive

Ease of Implementation
Cons
No Scheduling or notification of reports

No Custom Visual Imports
Tableau is the ultimate data visualization tool for anyone wanting to transform boring spreadsheets into captivating graphics.
The best part? It's not just for number crunchers and analysts anymore! With Tableau, you can easily explore your data with its intuitive drag-and-drop interface that makes analytics a breeze.
Whether you're a marketer trying to track customer behavior or a salesperson needing an edge in forecasting trends, Tableau provides powerful insights with just one click of a button.
It makes sense of data so that even your kid can easily understand it at a glance. (Depending on your kid's age, of course, lol!)
Plus, with features like automatic modeling and predictive analytics capabilities baked right in, you won't have to be an expert yourself to start gleaning meaningful insights.
So if visualizing your data has become more daunting than analyzing it, consider adding Tableau to your toolbox – you won't regret it!
Plans and Pricing
Tableau offers three plans:
The Tableau Creator costs $70 per user/per month.

The Tableau Explorer costs $42 per user/per month.

The Tableau Viewer costs $15 per user/per month.
AI Content Writing Tools
By analyzing data to find popular themes, keywords, create blog post ideas, and blog outlines, AI writing tools can help you create seo optimized content blog posts in no time.
The advantages of using content marketing tools include time-saving, increased content quality, and improved SEO.
Here's a tool you should have in your content marketing toolkit to create high-quality content to reach your target audience.
Pros
Offers free 7-day trials of their Pro tier

Create nearly 100 different types of content.

Organized user interface
Cons
Fact-checking and human editing required

It requires many steps to build a long-form copy
CopyAI is a sophisticated online copywriting software that uses AI technology to assist you in writing high-quality content.
It not only makes use of AI to improve your copywriting, but it also lets you pick from a variety of templates.
CopyAI can produce a wide range of text material, such as email templates, product descriptions, social media posts, blog articles, or whatever written content you need for your content marketing campaigns.
All you need to do is input specific keywords, subjects, or prompts, and CopyAI will use these inputs to produce written material that is engaging and necessary for your content marketing strategy.
Plans and Pricing
Copy.ai provides three plans.
The Free Plan gives you 2,000 per month

The Pro Plan costs $36/month and gives you access to write unlimited words

The Enterprise Plan has custom pricing and can help you automate any workflow
AI Video Creation Tools
Every marketer knows that making high-quality videos can take a lot of time and money. Thankfully, paid and free Ai video tools can help with that.
These tools help your video creation and promotion process by automating parts like video editing, optimizing video material for SEO, and even creating video content from scratch.
This saves you time and money. It also helps you produce more interesting videos for multiple platforms.
Lumen5
Pros
User-friendly interface

Customizable templates

Royalty-free media library
Cons
Limited customization options

Limited export options
Lumen5 is a super cool video creation platform that uses AI analytics tools to create great video content. I'm talking about the kind of videos that make people stop scrolling and actually pay attention!
With Lumen5, you don't need any fancy editing skills or even a big budget. The AI technology analyzes your text and automatically selects images, music, and video clips that match your message.
Plus, it gives you awesome insights like engagement rates and view counts so you can see how well your videos are performing.
Trust me when I say; if you want to impress your social media followers with professional-looking videos without breaking a sweat- check out Lumen5!
Plans and Pricing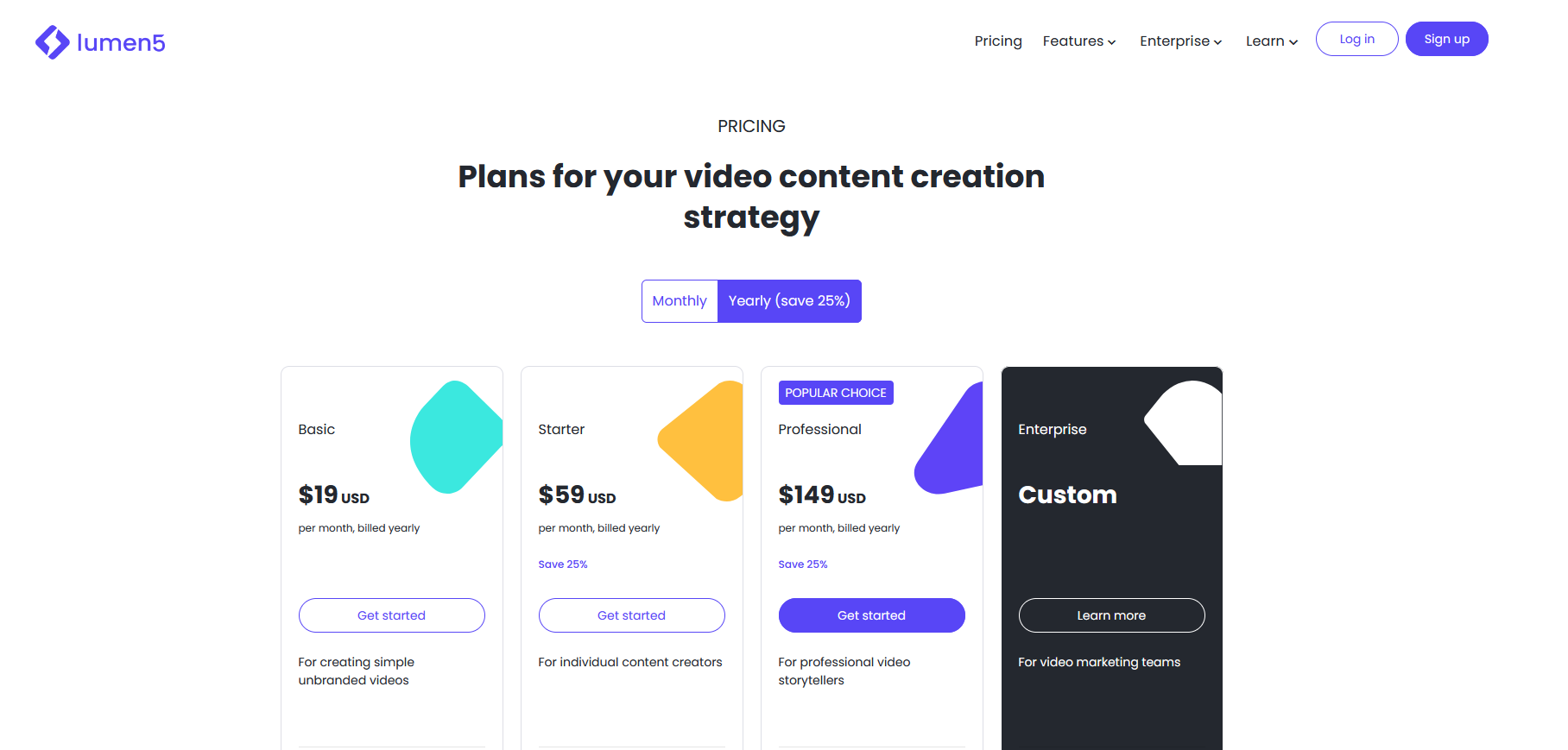 Lumen5 offers 4 plans:
The Basic Plan costs $19/per month

The Starter Plan costs $59/per month

The professional Plan costs $149/per month

The Enterprise Plan has custom pricing
Web Design And Development Tools
Ensuring your website or your client's website looks nice and functions correctly are essential since it serves as potential customers' first impression of the company.
But, creating a website can be a challenging undertaking. By automating processes like producing wireframes, generating code, and even testing the user experience, AI-powered tools can assist marketing companies in improving the web design and development of their client's websites.
Want to leverage AI for your web design? check out Wix ADI
Wix ADI
Pros
Customized Designs

Easy to Use

Responsive Design
Cons
Limited Control

Limited Customization
Wix ADI (Artificial Design Intelligence) is a powerful website design tool that employs artificial intelligence to produce unique website designs for customers.
The software uses machine learning algorithms to create customized website designs depending on the user's wants, preferences, and existing content.
This makes it the perfect option for small company owners, entrepreneurs, and people who want to quickly and easily develop a professional website.
With Wix ADI, you don't need to have any prior understanding of web design, coding, or graphic design.
Plans and Pricing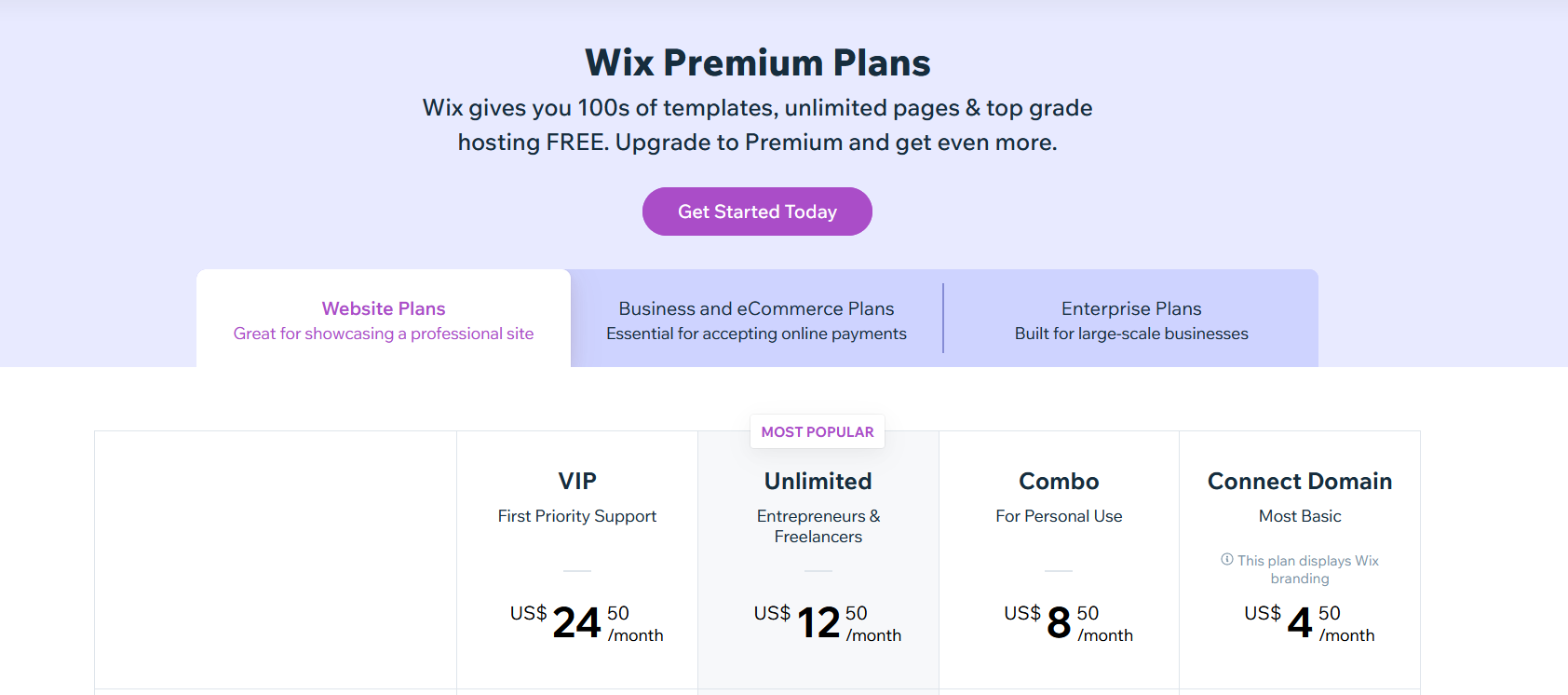 Wix has four plans for website design.
The VIP Plan costs $ 24.50/per month.

The Unlimited Plan costs $ 12.50/per month.

The Combo Plan costs $ 8.50/per month.

The Connect Domain plan costs $ 4.50/per month.
AI-Based Design Tools
Every marketing strategy needs visually appealing content. Yet, graphic designers are not always in demand, and hiring one might be expensive.
Thankfully, AI software can be helpful.
You can use AI tools to automate graphic design processes by developing logos, designing layouts, and even suggesting color palettes.
Here's our number 1 design AI tool
Canva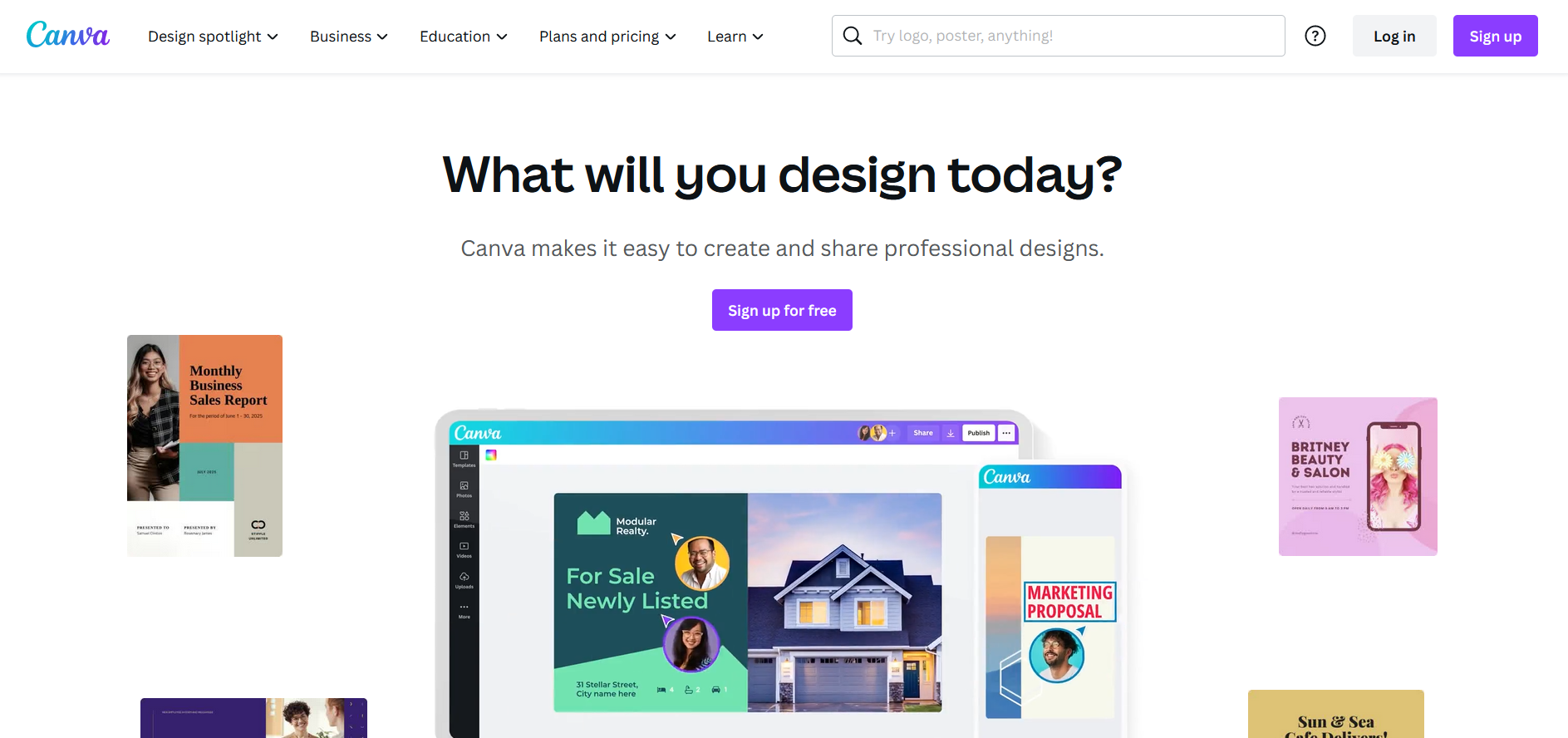 Pro
User-friendly

Wide range of design options

Collaboration tools
Cons
Limited customization options

Limited access to premium elements
With the help of the graphic design AI tool Canva, you can create visual content without having substantial graphic design knowledge.
The AI software typically generates social media graphics, short films, presentations, slides, posters, and other visual assets.
You'll get a broad selection of editable templates and royalty-free pictures to make this process as simple as possible.
Plans and Pricing
Canva offers three pricing plans
The free version costs nothing and can be used by more than one person

The Canva Pro costs $119.99 and can only be used by one person only.

The Canva for Teams plan costs $149.90 and can be used by more than 2 people
AI Advertising Tools
Advertising campaigns can be complicated since many factors exist, including audience targeting, ad placement, and budget control.
AI tools can help organizations with their advertising campaigns by analyzing data to improve targeting and placement and automating processes like bid management and ad development.
Increasing efficiency, better targeting, ad performance, and better budget management are all advantages of adopting AI solutions for advertising.
Phrasee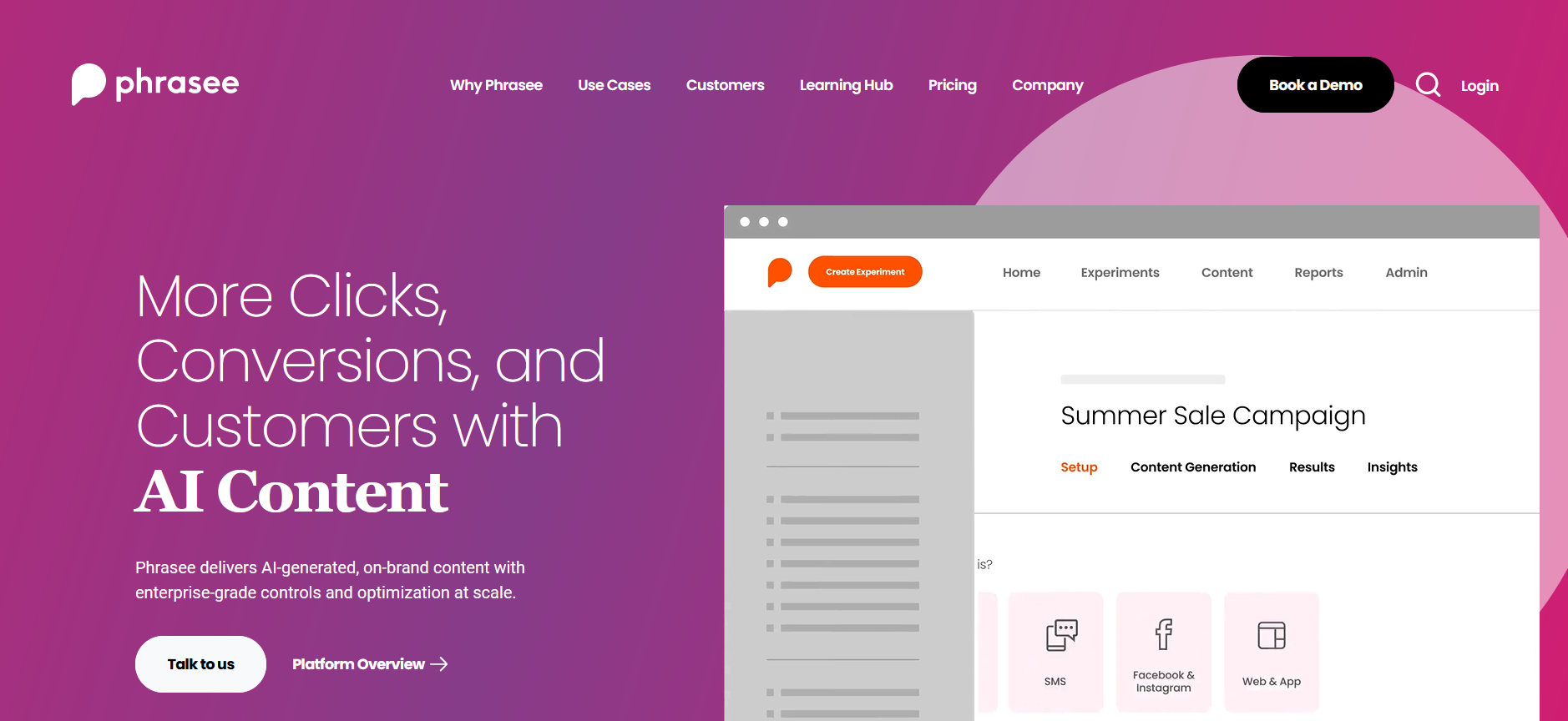 Pros
AI-powered language generation

Improves engagement rates

Improves engagement rates

Offers a range of services
Cons
Limited customization options

Dependent on data quality

Limited control over language generation
Phrasee is the ultimate AI Advertising Tool that helps entrepreneurs and marketers add a touch of humor to their copy.
As an AI tool, Phrasee infuses your content with wit and charm, giving it a competitive edge over boring and lackluster ads.
If you're trying to grab people's attention in today's digital world, then I highly recommend giving this quirky app a try!
Whether you want to create snappy subject lines for email campaigns or spruce up your social media content, Phrasee has got your back.
It uses machine learning algorithms and natural language processing to analyze language patterns and generate funny phrases that will have users laughing out loud.
So if you're ready to step up your advertising game with some witty banter, look no further than the brilliant tool known as Phrasee!
Plans and Pricing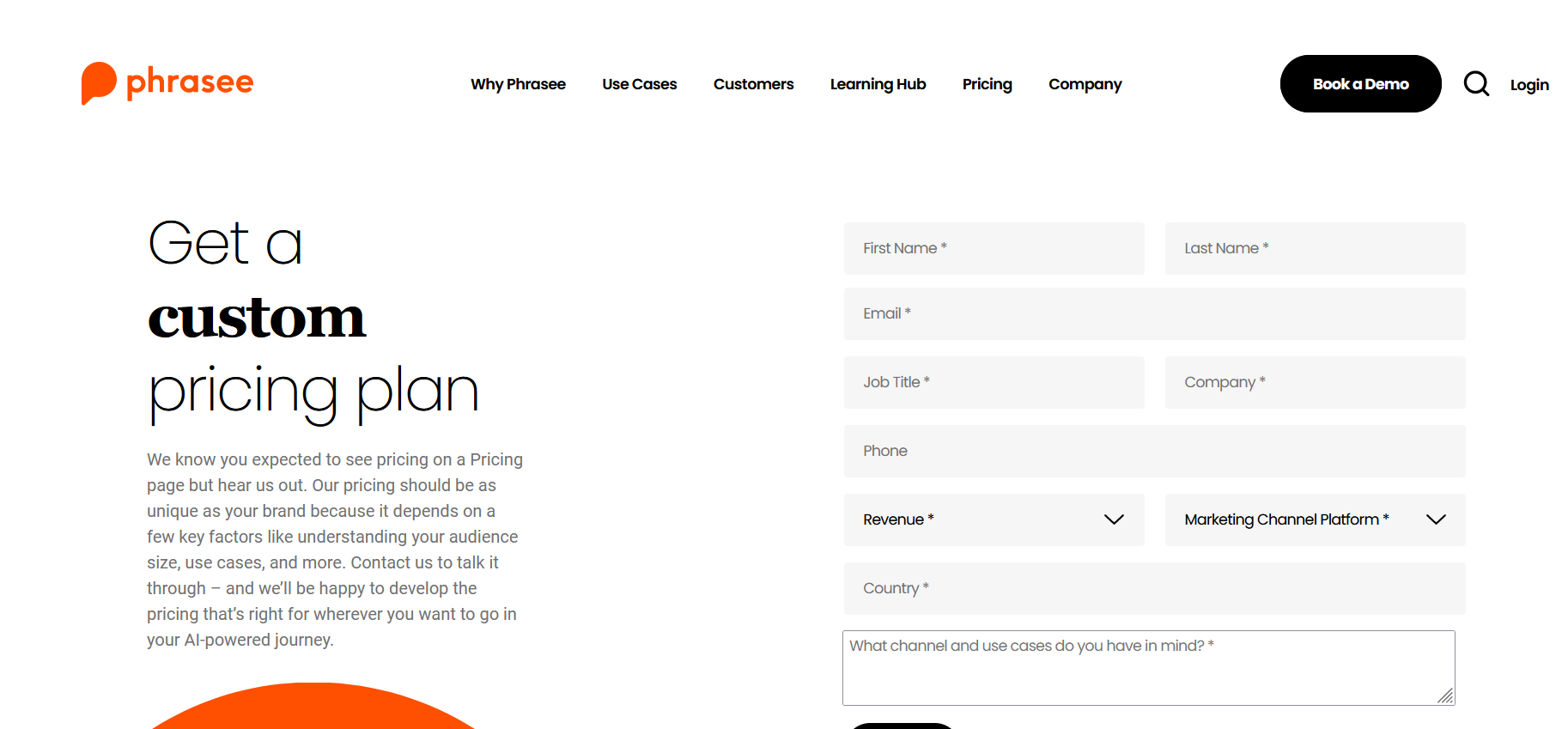 Phrasee only offers custom pricing tailored to your needs as a brand.
How These AI Marketing Tools Can Transform Your Marketing Campaigns
Digital marketing today makes extensive use of AI. From Amazon's personalized recommendations to Google's RankBrain and Voice search, AI has completely changed the digital landscape.
AI is better at understanding and analyzing data and information. AI is becoming more adept than humans at identifying market trends. So, marketers and brands employ machine learning and artificial intelligence to cut costs and save time.
With these AI marketing tools, you can completely revolutionize your marketing campaigns. No longer do you have to spend hours poring over data and statistics or rely on guesswork to get the results you want.
Here are other ways these top AI marketing tools can help you:
Increases return on investment (ROI):
Alright, let's be real here: if you're running a marketing campaign these days without the help of AI tools, then you might as well be trying to win a marathon on crutches. I mean, seriously.
But there's one particular benefit of utilizing these tools that stands out above the rest: increased return on investment.
That's right, folks – with the power of AI at your fingertips, you can kiss those lackluster conversions goodbye and hello to ROI like never before.
Say sayonara to guesswork and hello to data-driven decisions that'll rock your socks off.
These tools will help optimize your campaigns in ways you never even thought possible by analyzing customer behavior and patterns, identifying key demographics for targeting, predicting future trends…the list goes on and on.
More Effective Marketing:
Let's talk about how artificial intelligence marketing tools can take your campaigns to the next level and create more effective marketing strategies.
First off, these tools work faster than a caffeine-fueled marketer trying to meet a deadline. They analyze data from multiple sources in real-time, so you'll have insights into consumer behavior at lightning speed.
And with that information, these tools can automate personalized messages to your target audience for better engagement rates.
Plus, let's not forget about predictive analytics—AI algorithms help predict future trends, so you're able to anticipate what customers want before they even know it themselves!
In short, using AI marketing tools means executing smarter campaigns in less time because ain't nobody got time for subpar results anymore!
With AI's data-driven research, you can now create a marketing strategy that is better suitable for your business.
When it comes to marketing, time is money. And let's be real – who couldn't use a bit more of both?
Fortunately, AI marketing tools can help increase productivity in ways we could only dream of before.
Imagine being able to analyze customer data and preferences at lightning speed or create hyper-personalized campaigns that practically write themselves.
These tools take on mind-numbing tasks so you don't have to, freeing up your precious hours for creative brainstorming and actual human interaction.
Trust me when I say: these AI marketing tools are game changers when it comes to increasing productivity and making your campaigns shine brighter than ever before.
These Artificial Intelligence Will Help You Better Understand Your Audience:
Picture this: You're a marketer, sitting at your desk with a blank stare on your face, wondering how to improve your marketing campaigns.
Well, worry not, my friends! With the help of these AI marketing tools, you can now say goodbye to those dreadful days of uncertainty and confusion.
These magical tools have the ability to assist you in better understanding your audience – yes, you heard that right! No more second-guessing what kind of content or strategy will appeal to them.
With tools like Semrush and Ahrefs, you can easily analyze data points and provide accurate insights into your audience's interests and preferences. It's like having a crystal ball that tells you exactly what they want without even asking them (creepy? maybe).
There are also several AI email marketing tools like HubSpot Email Marketing or marketing AI tool like Phrasee that will help you craft beautiful content for your email marketing campaigns that any sales team will be proud of.
These Tools Give You a Competitive Advantage:
With the help of smart algorithms and machine learning technologies, these AI tools can analyze customer data patterns faster than ever before.
By understanding what makes your customers tick and catering tailored messages – either new or existing content perfectly – to them, you'll be able to optimize your campaigns for maximum impact fully.
These top AI marketing tools provide actionable insights and have the ability to automate tedious tasks such as email scheduling and social media posting.
Time is money, after all! Plus, with the power of chatbots on your side, you'll be able to provide 24/7 support without burning out or having any missed opportunities.
So why not use cutting-edge technology in order to stay a step ahead of the competition?
If you're looking for a way to take your marketing campaigns from mediocre to mind-blowing, then these AI digital advertising tools are exactly what you need in your arsenal. Trust me; success will be virtually guaranteed after implementing them into your strategy!
Bottom Line
AI is now more widely available for businesses, making it a valuable tool for digital marketers. It has altered how campaigns are carried out across several marketing channels and significantly improved the procedure.
Undeniably AI-powered marketing tools significantly affect how potential customers see your brand by helping you deliver great content creation and excellent product descriptions.
You'll be able to develop your brand and meet client expectations more effectively by considering how you can use it.
Artificial intelligence (AI) is now a valuable tool for marketers. But it still has a long way to go before becoming more practical and effective. But right now, it is like a personal assistant that can monitor every bit of data on your website, analyze customer interactions, and even predict market trends.
With these tools in hand, you'll have more time to focus on what really matters: creating unforgettable marketing campaigns that resonate with your audience.
It's all about working smarter, not harder! So embrace the power of AI today and take your marketing strategy to new heights!