Explore my curated list of the 13 Best Micro Job WordPress Themes. These top-notch themes offer superior design, robust features, and easy-to-use interfaces.
Oh, boy! Aren't we all living in a tech-dominated era where even finding a gig is as simple as a click? Well, I sure am.
Now, whether you're looking to kick-start your own online job board or give an existing one a much-needed facelift, the right job board theme can make all the difference.
The micro jobs theme market is not just a rabbit hole, it's a ravenous black hole that will consume your time, energy, and patience if you don't tread carefully. But fear not, because I've already done the legwork for you. I've ventured into this vast expanse, battled with complex codes, wrestled with the design elements, and emerged victorious with a list of the 13 best micro job WordPress themes.
Brace yourself for a journey through the best of the best in the world of micro job themes!
What Makes a Good Micro Job Theme?
Online marketplaces like Fiverr, Alibaba, and Upwork are leading marketplaces because they make it easy for vendors and buyers to connect to do business.
Sites like this are successful due to three significant factors:
Customized customer accounts
Seller profiles and interactive user dashboard
Powerful front-end search capabilities
With these three parts in place, you're off to a solid start when it comes to creating your micro job website, and the coolest part is that you won't have to design these elements from scratch.
If you developed your website with WordPress, you will have access to hundreds of WordPress themes designed specifically for micro job websites.
Best Micro Job WordPress Themes
To create a fully functional freelance marketplace, you need an excellent micro job WordPress theme with all the necessary elements for building a Fiverr replica marketplace. That is why we have compiled a list of the finest micro job WordPress themes and compared them based on many characteristics so you can choose the best one for your project.
Using one of these themes, you can build your marketplace where freelancers may offer their services, and clients can easily search and contact service providers. Of course, you'll have numerous ways to generate money with your website, such as accepting commissions or charging flat fees.
So, without further ado, let's get started!
PremiumPress's Micro Jobs theme is simple to install and configure and does not require third-party plugins. Because of its SEO-friendly codebase, it's an attractive all-in-one option for creating a tiny employment website that will rank well in search engines like Google.
This premium theme comes with several fantastic features for growing your business. There is a commission system, a separate members area for merchants to keep track of their orders, and on-site messaging to make it easy for sellers and consumers to connect.
Their pre-built layouts will save you time and money. Choose a layout, drag in your photographs, and edit the content. You may change the styles, add new material, or use a different format at any moment.
There's a comprehensive suite of administrative tools for managing your website. Its main features include:
300+ Admin Area Configurations
Ongoing Updates
Friendly to Newcomers
This theme comes in two plans (licenses)
The User License costs $99
The Extended License costs $299
Pricerr is a SiteMile micro job WordPress theme that allows you to construct a marketplace like Fiverr using WordPress. The theme features a modern look similar to the Fiverr website and various marketplace capabilities, such as job posting, service purchases, chatting, an availability calendar, etc.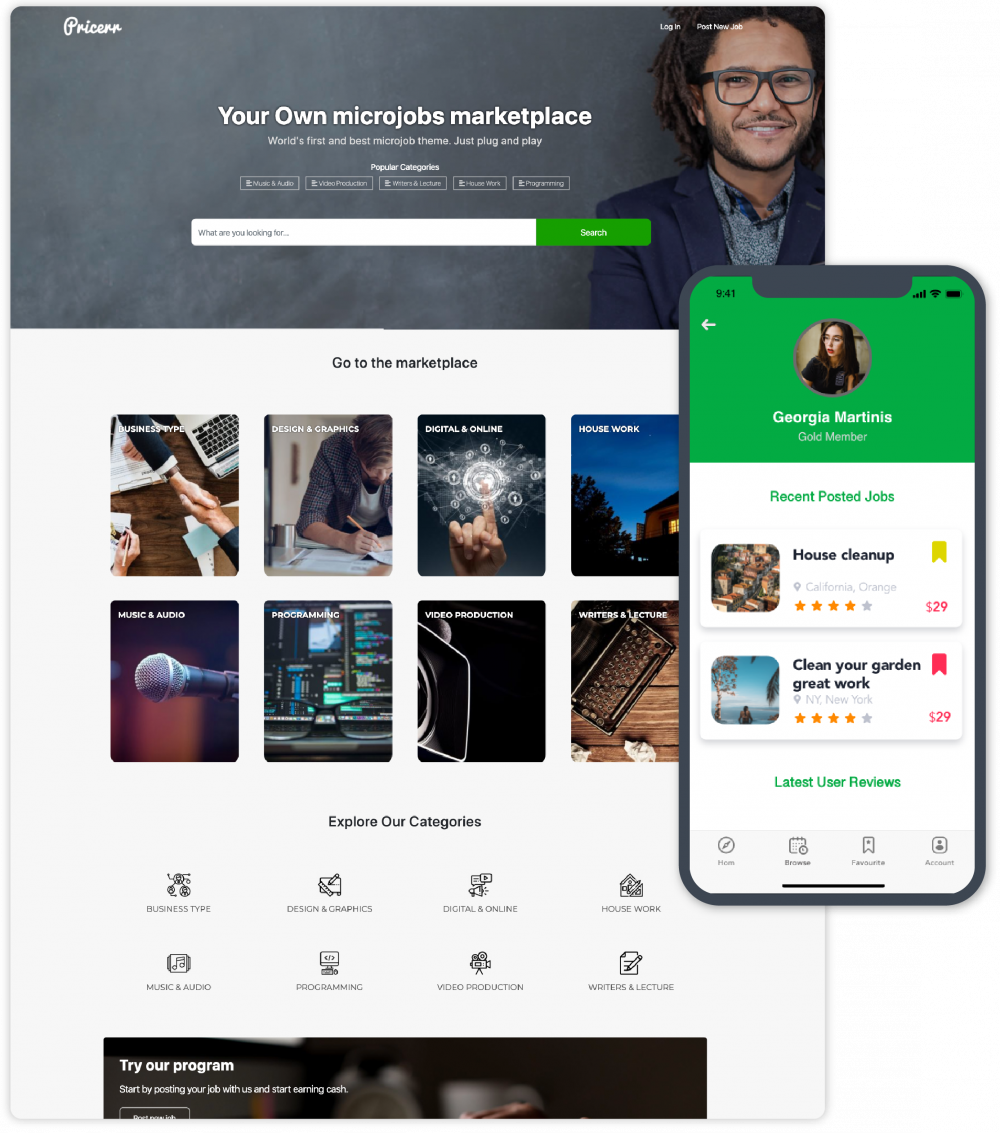 You may utilize one of the monetization strategies to generate money with your service marketplace. You can, for example, charge users for adding listings and highlighting them, or you can set up commissions. The theme integrates with PayPal and Stripe to manage payments.
You can also utilize Elementor or WPBakery page builders, which are entirely compatible with Pricerr, to alter the layouts of your peer-to-peer marketplace. You may also add a mobile app that works with your website to provide a new channel for consumer acquisition (available only for an additional price).
Use Pricerr's extensions if you want more functions for your micro job marketplace. You may, for example, include geolocation, VAT integration, a booking calendar, memberships, numerous payment channels, and so on.
However, no free extensions exist, so even the "requests" capability will cost you money.
Pricerr Theme starts at $89 for a yearly or lifetime license, depending on the plan you choose.
Each package has a theme and six months of free upgrades and support. The price of the theme varies based on the number of extensions included, integration with mobile applications, and custom work services. Also, remember that if you want to keep your website up to date, you'll need to pay $19/year for automatic updates.
To better understand the offered plans, we recommend visiting the official website.
The Basic subscription provides six months of premium support, covering bug fixes and theme functioning issues. For an extra fee, you can request a longer support time.
TaskHive is a sleek and modern WordPress theme designed for creating a micro job marketplace site similar to Fiverr and Odesk. It works by connecting with the free HivePress plugin, which the same creators created as TaskHive so that you can expect a flawless connection.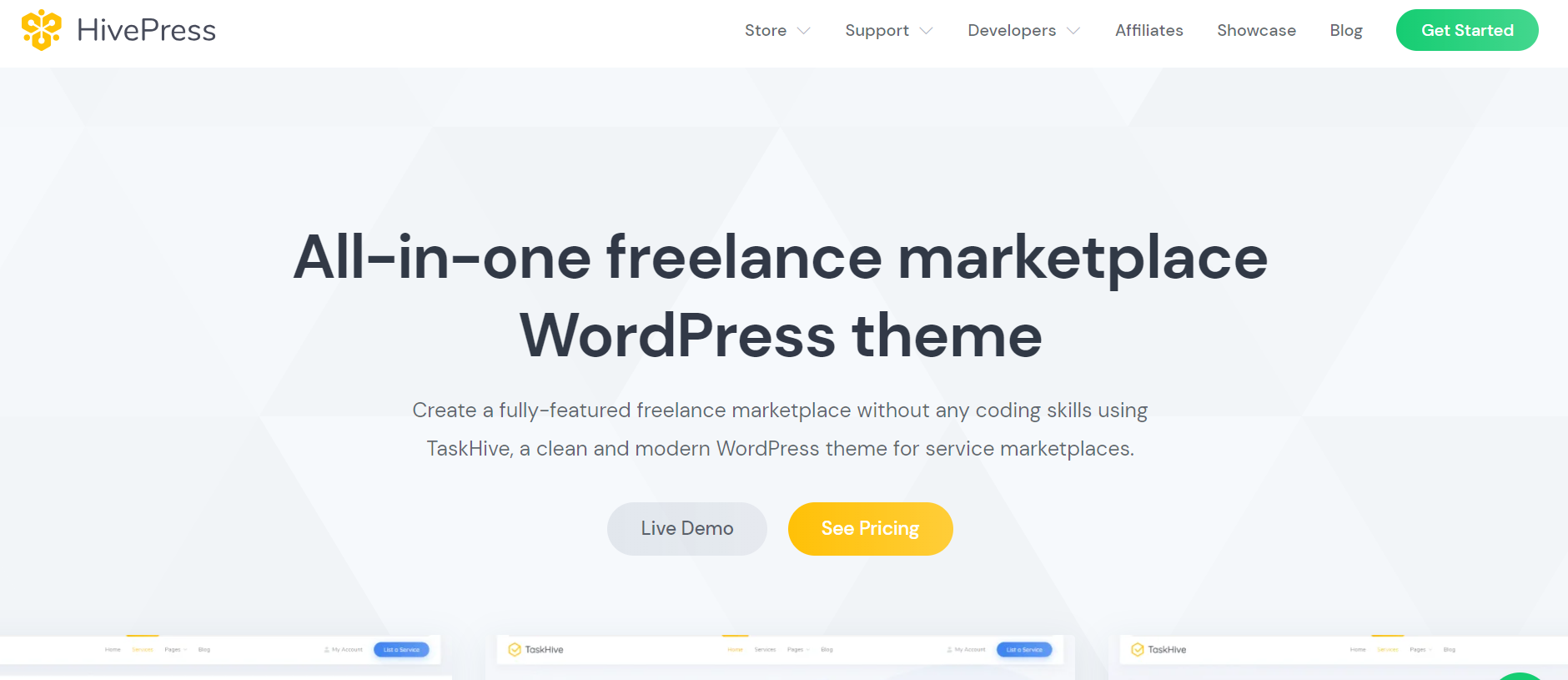 You can use TaskHive to create a directory of services that visitors can search and filter using the search bar and filters. Similarly to Fiverr, each service has its website where purchasers may evaluate the description, pricing, photos, turnaround time, and reviews from other buyers.
While there are several decent alternatives to TaskHive, many require significant customization to work well for service marketplaces rather than product marketplaces.
Choose TaskHive if you want a basic and uncomplicated option for developing your own micro job website.
TaskHive has all of the necessary elements for establishing a freelancing marketplace, allowing anybody to:
Create an account as a freelancer and list services.
Set price levels and bonuses similar to Fiverr.
Personal dashboards are used to manage listings.
TaskHive has project pricing capabilities for customers in addition to service listings for freelancers:
Clients can submit unique requests with their preferred budget.
Freelancers may bid on requests and make bids with a few mouse clicks.
Clients can accept the best offer and place a new order.
Once the order has been paid for, freelancers can begin working on it.
TaskHive is directly supported by its developers, who are experts in their field and know the products. With TaskHive, you get the following:
Premium support for 12 months is included.
Documentation is extensive.
Screencasts and video tutorials
TaskHive puts you in control of your website, allowing you to effortlessly adjust its look and functionality without writing a single line of code.
With TaskHive, you can get started within minutes. The lifetime single-site license costs $89 and comes with six months of premium support. If you want to extend support to 12 months, it costs $22.25 extra.
Taskerr is another micro job WordPress theme that you may use to create a freelance marketplace similar to Fiverr. The theme has a simple and somewhat antiquated look, yet it works pretty well. Notifications, favorites, messages, ratings, and more features come with Taskerr.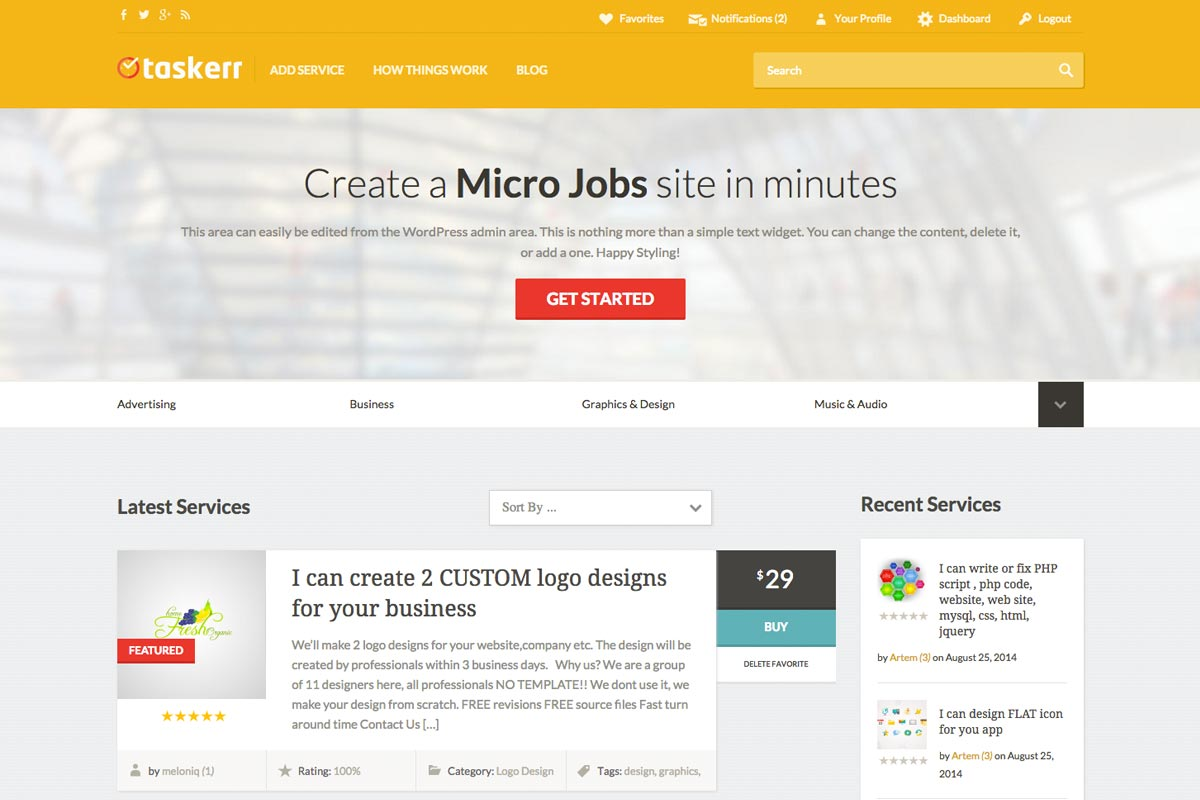 Taskerr has a "classifieds monetization model," which means you can design and sell various premium packages and feature-specific listings for a price. You may utilize the built-in PayPal Adaptive Payments as a payment gateway.
However, remember that the most profitable monetization approach for service markets is "commissions," which allows you to take a percentage of all transactions done on your freelance platform. Unfortunately, the Taskerr theme does not allow the "commissions" option.
Thus, you cannot take a percentage of each sale, reducing your potential revenues significantly.
You can enhance your peer-to-peer marketplace by utilizing some of Taskerr's add-ons. You can include features such as sales data, coupon extension, sophisticated payment capability, and so forth.
The main elements of Taskerr include:
Fresh modern design
Beautiful responsive emails
User dashboard
Easy administration
A dedicated blog
SEo friendly
Child themes and plugins, etc
For $69, you receive the micro job theme, a lifetime license, premium support, and a year of automatic upgrades ($29 per year after that). If you want to buy some add-ons, the prices range from $5 to $39 per license.
The theme includes a year of premium support, so if you have any problems or find a bug, you may utilize the official help forum. There is also minimal documentation and easy tutorials to help you set up the theme.
Jobster is another micro job WordPress theme that might be useful for starting your own 'Fiverr-like' using WordPress. Its marketplace features are similar to Fiverr's, including a pretty, professional-looking design.
Aside from the appearance and feel, it's filled with many essential marketplace features such as service requests, messages, an on-site notification system, multi-currency compatibility, and so on.
You can monetize your micro jobs marketplace by establishing commissions depending on user status and/or total transaction amount. The theme offers several fully integrated payment channels, including PayPal, Stripe, and Bank Payments, allowing you to process and accept payments on your site effortlessly.
Here are other main features of this micro job theme.
An Intuitive user dashboard
Flexible payment options
Highly customizable design
SEO-friendly structure
In-built messaging system
Automated notification system
Social media integration
However, if you are not tech-savvy, you may find it challenging to deal with this micro job theme because its backend is not very user-friendly and is a bit cluttered.
With this theme, you can get your new marketplace within 24hrs. Starting from $98, this price includes free installation, automatic updates of 12 months, and premium support.
The Beginner costs $98
The webmaster costs $350
The Developer costs $699
The Entrepreneur costs $1200
MicrojobEngine is a popular WordPress Fiverr clone theme that allows you to construct a fully functional micro jobs marketplace. It features a professional design with several modification possibilities and extremely intuitive admin menus that make the theme simple.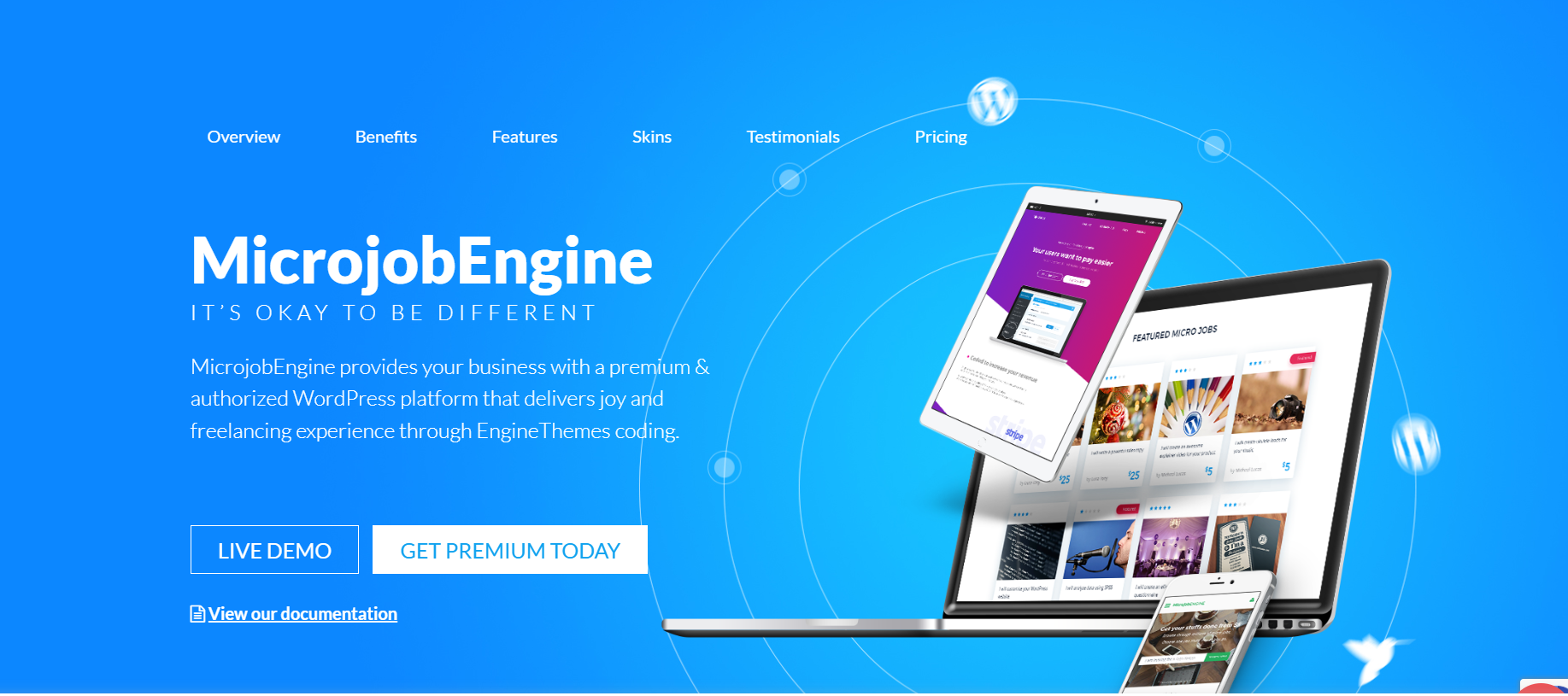 MicrojobEngine has several elements necessary for starting a service marketplace such as Fiverr. It contains a two-sided order monitoring tool, for example, so buyers and sellers can easily follow all orders, a direct chatbox for contact, a review system for evaluating freelancers, and so on.
This micro jobs theme is Elementor page builder compatible, so you can eliminate shortcodes and personalize your layouts using the drag-and-drop functionality.
If your website is missing certain features or you want to increase its functionality for user experience, feel free to look at the MicrojobEngine add-ons. There are almost ten premium extensions in all. In addition, there is one free add-on (PayPal Express Checkout).
However, remember that monetizing your marketplace of services will necessitate the purchase of specific expensive add-ons since even the "featured jobs" function is not included with the theme.
The price for this micro job WordPress theme varies based on the membership package you select:
Basic – $89. It is the cost of the theme and the basic child themes.
Plus – $189. This bundle contains everything in the Basic package as well as four add-ons.
Pro – $329. This one includes the theme as well as all of the extensions.
Remember that each membership level includes 12 months of free support and updates. You'll have to spend extra money after a year to maintain your website up to date.
In terms of support, you have the developers for 12 months, and the support service includes bug fixes for themes and extensions. There is also a large knowledge base with extensive documentation that you can use to build your marketplace.
The app also includes a two-sided ordering tracker that allows the seller and buyer to easily manage their order status, an email chatbox to communicate with freelance contractors, and a review tool.
This popular WordPress theme transforms your website into a freelancing marketplace. It has on-site alerts, a chatbox, social login, reviews, and so on. This capability enables you to build an essential service marketplace that connects freelancers with clients and even converts it into a lucrative business. This is an excellent option if you want to build your own micro job site.
The "commissions" monetization strategy is available on FiverrWP. As a result, you will earn a portion of each payment made on your site. Furthermore, main payment methods like Stripe, PayPal, and MobilPay are connected with FiverrWP, making payments quick and safe.
You may use the Elementor page builder, which is compatible with FiverrWP, to alter certain elements or the whole layout template of your website.
Please keep in mind that FiverrWP does not have any official add-ons. Therefore, you will be unable to increase the functionality of your website without particular technical experience. Furthermore, because everything is hardcoded and you cannot customize them to your needs, you cannot build custom listing fields or search criteria on your marketplace.
If you want to buy this WordPress theme for micro jobs, you'll have to spend $79 a year for a membership package that includes a lifetime license, 12 months of free upgrades, and support.
Developers promise a year of premium assistance, which may be accessed via a support forum or email. There's also a knowledge base and FAQs section to help you get started with the theme.
Thinking of your own marketplace, you should consider XStore.
XStore is a WooCommerce theme that includes numerous pre-built marketplace themes. The theme contains hundreds of pre-built themes for several businesses and over 350 pre-designed blocks to make website construction even more effortless.
XStore also has a built-in header builder and a single product page builder. If you want to create a multi-vendor marketplace, XStore has the necessary plugins.
XStore costs $59 for the Regular license and $1999 for an extended license.
HireBee is the perfect platform to build a micro job marketplace site. It has a multi-vendor marketplace system where visitors can signup to sell their services and other required functionality.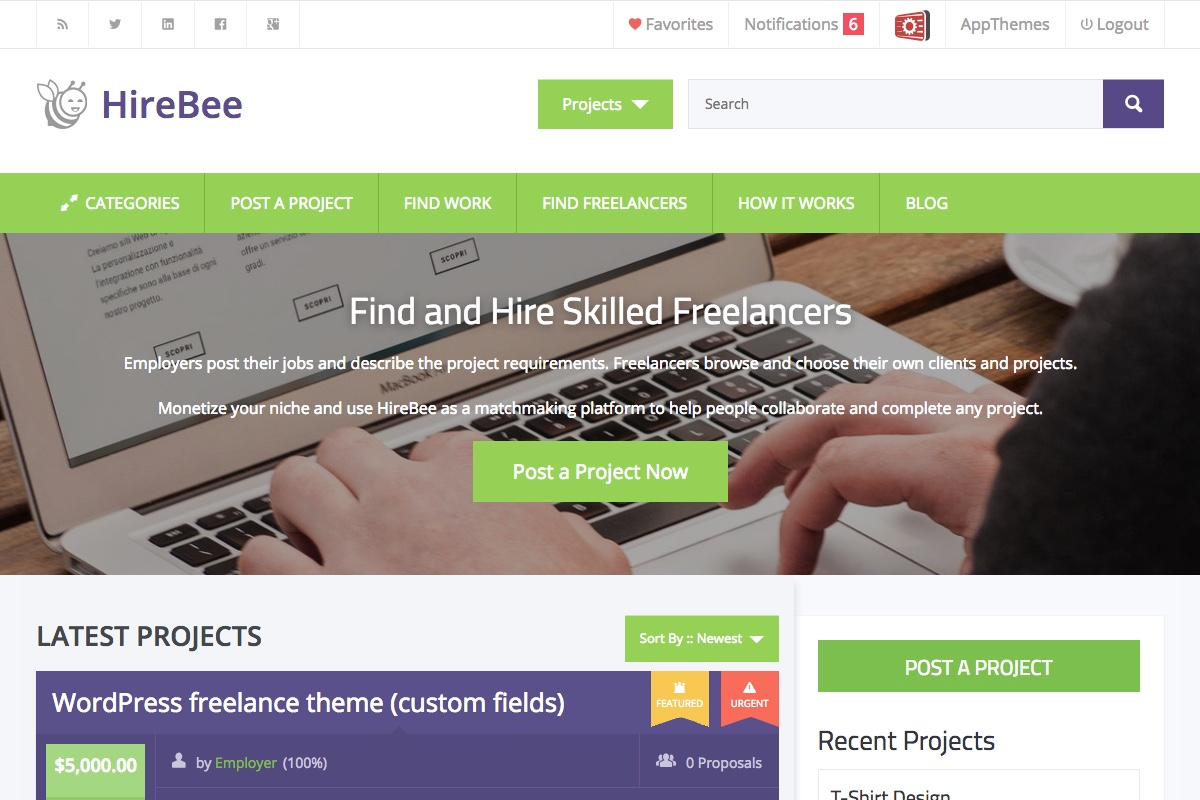 If you use Hirebee, you decide the pricing and take a percentage of each project. You can easily monetize any specialty by offering a crowdsourced project matchmaking service!
Sites such as Elance, Upwork, Freelancer, oDesk, and 99designs are excellent examples of this successful strategy.
HireBee sticks to the current design trend of a clean and minimal design. Choose from five pre-installed color schemes, or use the WordPress tool to customize.
Every significant activity in HireBee generates a notice, which is immediately displayed on the user's dashboard and delivered through email, ensuring that users are constantly updated. The user dashboard is where notifications are controlled.
HireBee takes a step further with its robust form builder, allowing you to construct your project form by adding custom fields.
The lifetime license comes in 2 plans.
The Standard Plan costs $69
The Club Plan costs $199
FreelanceEngine is the perfect WordPress theme to build a freelance marketplace site like Upwork.
Freelancers and enterprises may sign up and advertise themselves as available for employment. Strong functionality, including complete project bidding, allows service providers to compete for work posted on the site.
When it comes to design quality, this theme definitely shines. It has a modern appearance and a style that isn't extremely popular, so it will stay for a long time. The design is uniform and retains its appeal and usability across all page layouts in a two-sided marketplace.
This theme is ideal for freelancers looking for employment and ordinary users looking for freelancers to hire. The theme's homepage is organized into two areas, making it simple for freelancers and regular visitors to discover exactly what they're searching for.
FreelanceEngine ensures a smooth, reliable workflow & transactions. It has popular gateways such as PayPal, 2Checkout, and Stripe. You can charge fees for posting jobs, featuring jobs with ads included, and take commission fees for each project via the Escrow system.
With the Escrow system, freelancers can quickly bid on favored projects, employers can invite some freelancers to bid, and everyone can rest assured that all money is safe with this system.
FreelanceEngine has a comprehensive theme settings panel that allows you to set up and customize your site's features effortlessly. It also allows you to generate services for your users. You may build a complimentary service or charge your users to list their projects in a premium package.
FreelanceEgine comes in 3 plans:
The Basic plan costs $89
The Pro plan costs $299
The Plus plan costs $159
ThemePlace makes a basic marketplace WordPress theme available to people without requiring technical knowledge.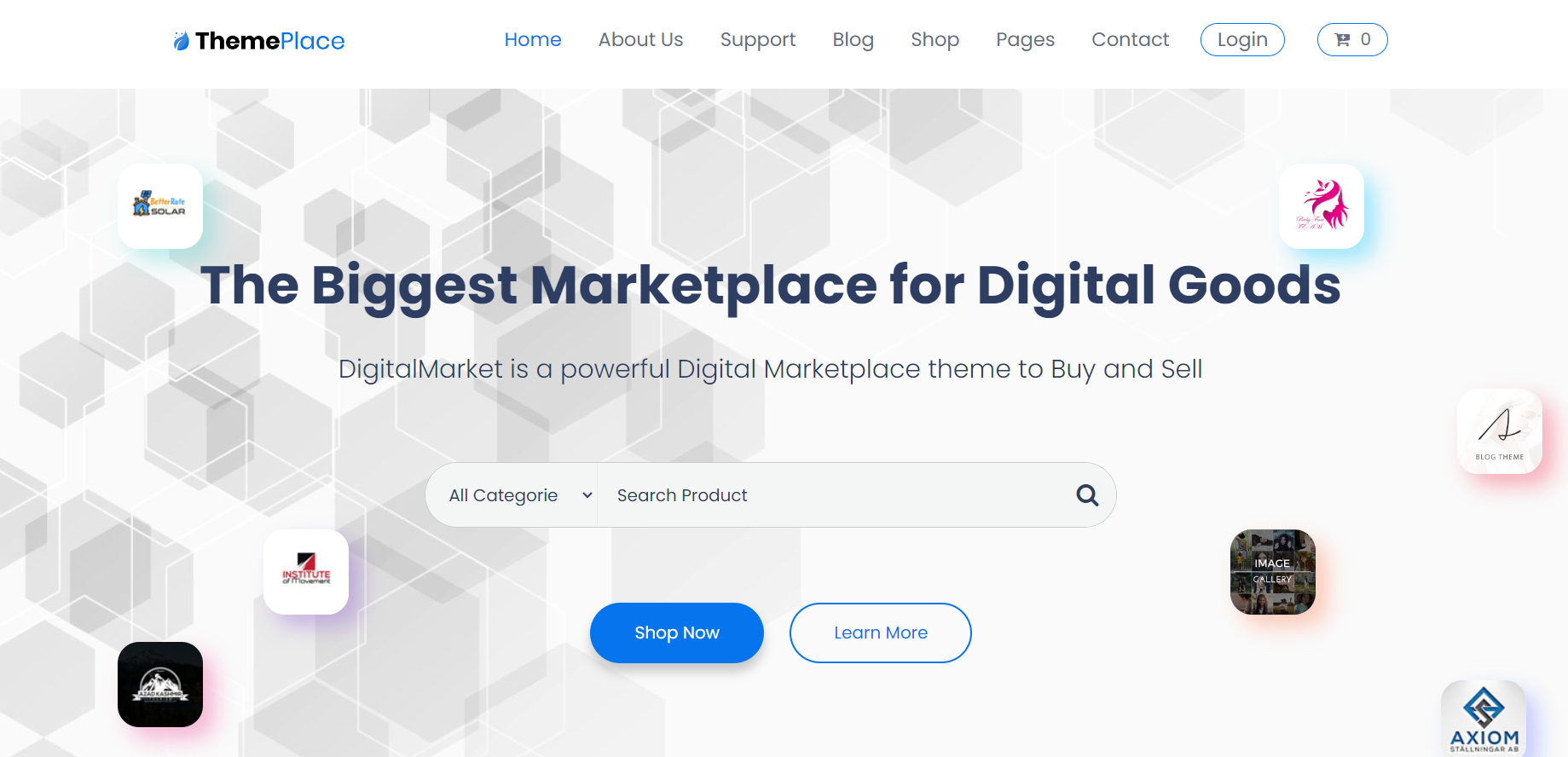 The vendors you select to advertise on your website will enjoy the convenience with which they may change their product and service pages from the vendor dashboard. If you or your sellers run into problems, you'll get a very responsive staff of professionals to assist you in finding a solution.
This theme is great for developers that offer plugins, custom themes, or graphic design templates through affiliate links.
With as low as $70, you can get Themeplace and get your marketplace running in no time.
The Workreap theme was designed to be used to build a marketplace website where freelancers may join and list themselves for employment. It has many categories and search options, making it simple for visitors to locate and employ the ideal candidate for the position.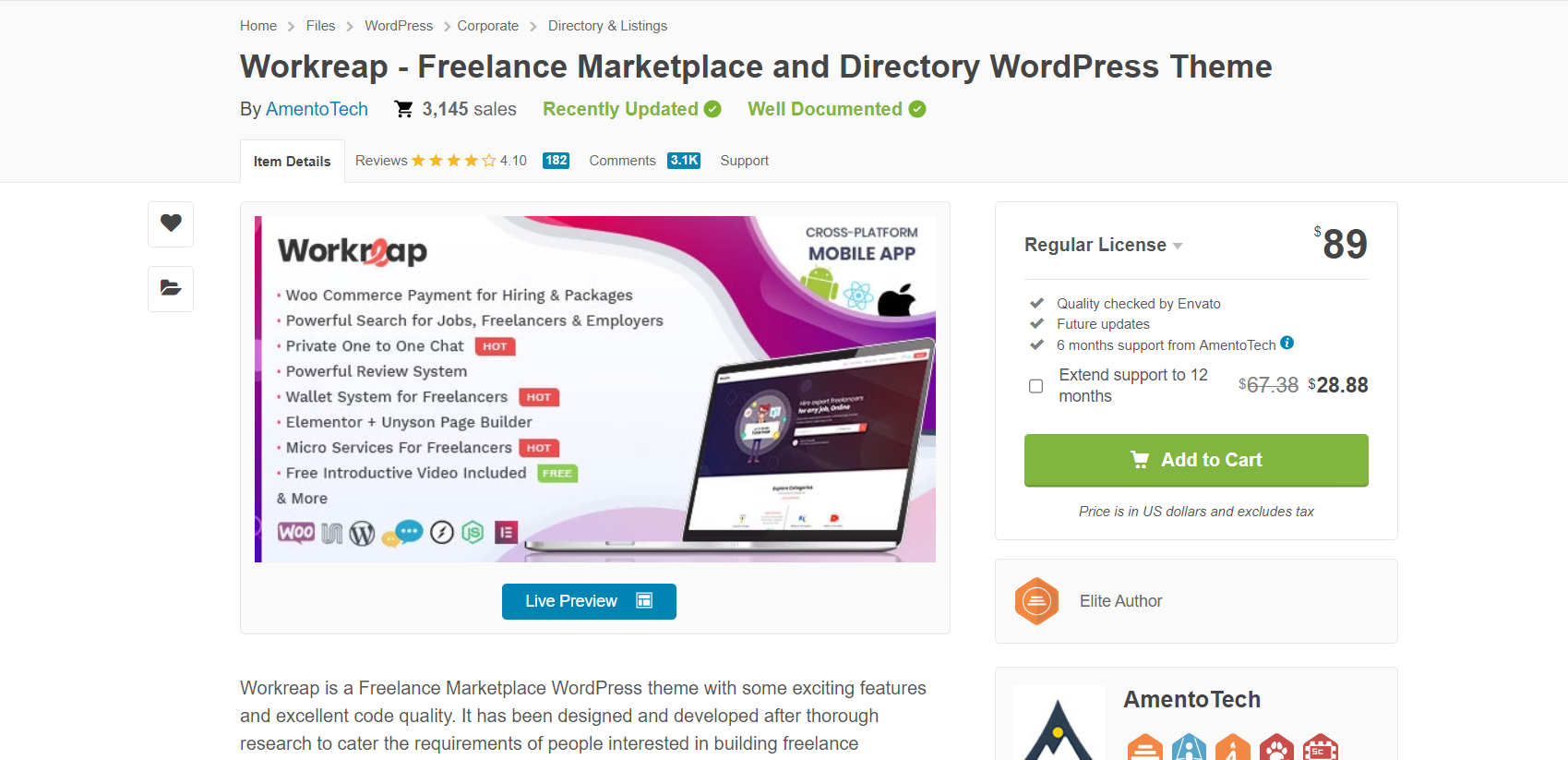 This micro job site has modern features yet a clean and minimal design while highlighting usability, visual hierarchy, and beauty to ensure easy navigation for the end users.
Workreap has many features, including extensive integration with WooCommerce, which allows payments to be made straight on your site. There's also built-in one-on-one live chat, a wallet system, a microservices feature to build up the site like Fiverr, and a complete review system to grade service providers.
This technology would allow freelancers and employers to register and build profiles in simple steps. Once the assignment is published on the marketplace, freelancers can submit proposals for the employer to assess.
Once the employer approves a proposal, the employer must make payment. The payment stays with the admin but is reflected in the freelancer's wallet system (under the pending payments area).
Once the job is finished and accepted by the employer, the funds will be transferred from the pending balance to the available balance portion of the freelancer's wallet.
The commission scheme would allow the administrator to profit from this system.
Workreap includes many micro jobs theme options for changing the site's look and essential business capabilities. You can personalize the site using the page builder plugin and the admin settings panel.
A regular license costs $89
The extended license costs $2600
Martfury is a micro job site and a multi-vendor marketplace designed for modern online shopping.
As the marketplace's owner, you may hire vendors to sell essential or varied items on your website for a commission on each transaction. The trade-off is worthwhile since merchants will obtain a robust shop management system that will allow them to track orders, calculate shipping, and provide product offers to move inventory swiftly.
Customers will also like Martfury because of the memberships packages, which allow them to rate and review the things they purchase directly on your marketplace website.
This WordPress theme costs $59 for the regular license and $1600 for the extended license.
Essential Features of Any Micro-jobs WordPress Theme
If you want to use WordPress to construct a website similar to Fiverr, you must select a theme that contains the following features:
1. Marketplace Accessibility
A successful freelancing platform is a two-way marketplace that allows clients to submit projects and get proposals from freelancers on the one hand. On the other hand, service providers may build profiles and offer their services so potential clients can quickly locate them.
2. Monetization Features
The theme should have certain monetization elements that will enable you to set up commissions on your platform and quickly generate money by taking a commission from each transaction done on your website. There should also be a payment tool so freelancers can quickly seek their wages.
3. Messaging & Ratings
Customers and freelancers must interact with one another. Whether they need to discuss project details or give samples, there should be a communication option. Furthermore, any freelancing marketplace must allow clients to submit evaluations of acquired services and rate freelancers since this helps to weed out untrustworthy professionals.
4. Customization Options
Look for a highly adaptable theme to establish a specialist freelance platform so you can tailor it to your specialization. Custom service categories, custom listing fields, additional search criteria, and so on should be possible.
It's critical because if you pick a theme with hard-coded service categories, you won't be able to customize it to your specifications without coding adjustments and additional costs.
So, before selecting a WordPress theme for your freelance platform, always verify the qualities listed above.
How to Launch Your Micro Job WordPress Themes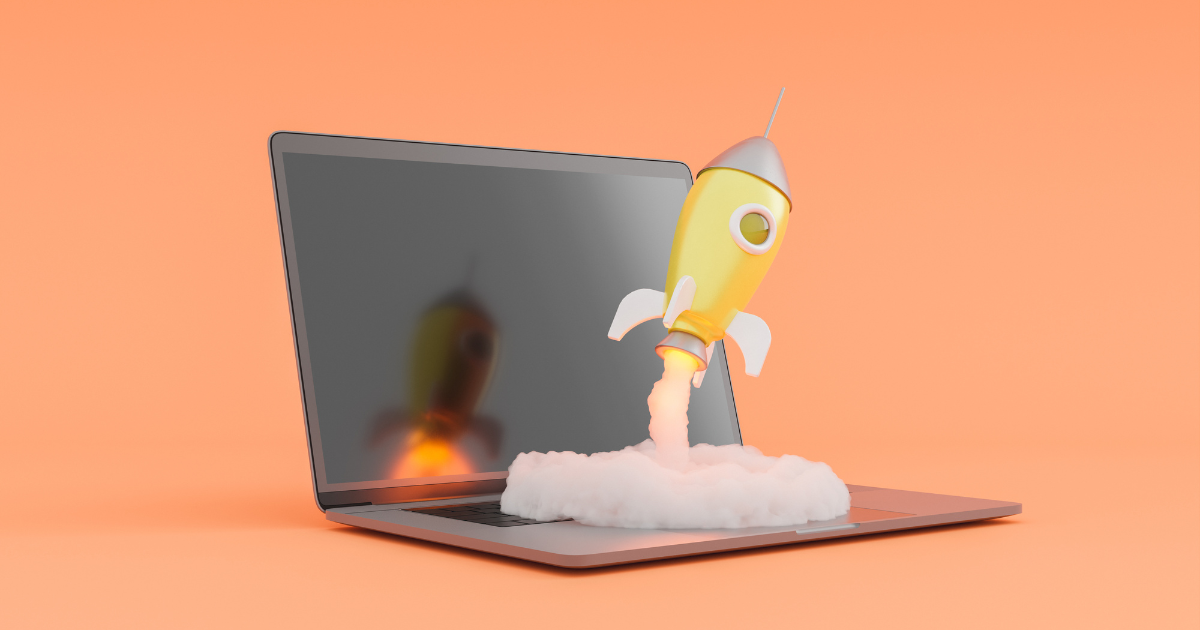 Because the move toward remote employment has intensified, Fiverr and other micro-jobs sites have become increasingly popular. For example, over 60 million people in the United States were performing freelance work in 2020.
With the growing popularity of freelance work, it's never been a better time to create micro job websites like Fiverr and connect service providers with potential customers.
Although it may seem that platforms like Upwork and Fiverr have taken over the market, there is still room for you.
Here are some tips on how to launch a competitive job board theme:
1. Choose a Niche or Location
Instead of copying all the features Fiverr has when you are just starting your micro jobs website, and it is better to select a particular group of people and focus on it.
It may also be a good idea to focus on a particular locality (city/region/country) and create a freelancing marketplace for it.
2. Be Unique & Exclusive
Look at the market giants, find out where they are lacking, and create a platform where people can sell professional services while answering what the 'big platforms' are missing. Whether you are going for a very professional-looking design or contemporary features, just make sure your platform is unique in specific ways.
3. Offer Some Benefits
To attract new clients, it is vital to offer some unique and special services, as previously discussed. However, because any freelancing platform is a two-sided marketplace, designing a micro jobs website with all the features appealing to clients and freelancers is critical.
Final Thoughts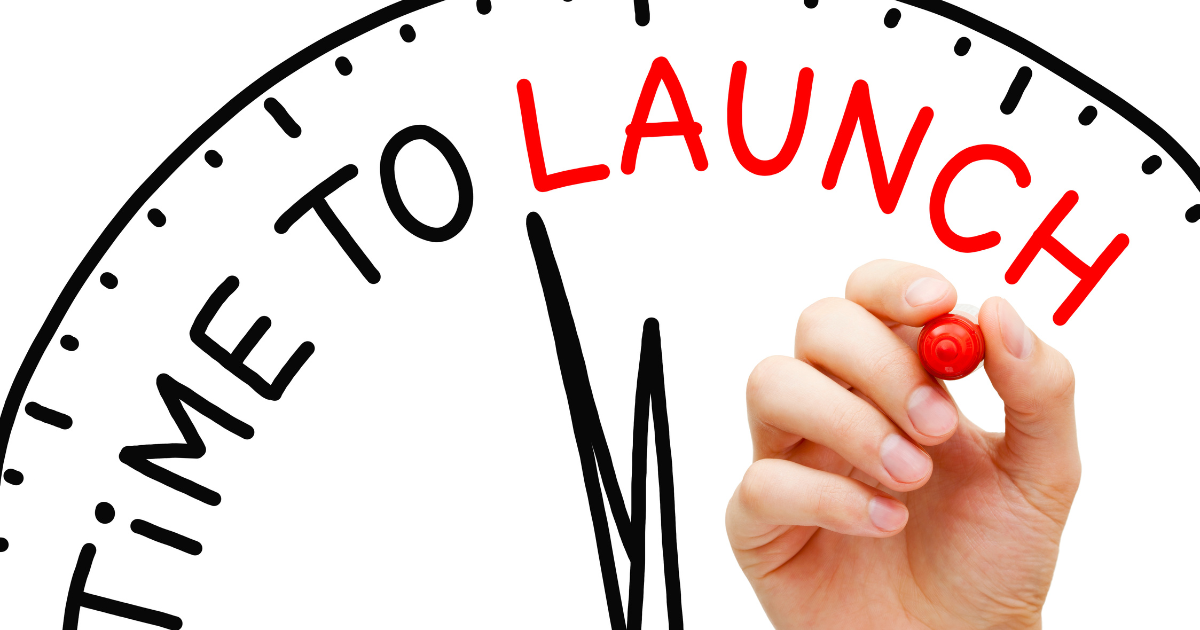 There you have it, folks! We've been through the highs, the lows, and everything in between in our journey through the 13 best micro job WordPress themes.
Remember, the right theme can truly elevate your job board from good to great. But at the end of the day, it all comes down to your unique needs.
So go ahead, take the plunge, choose the theme that fits you like a glove, and watch as your job board evolves into something truly spectacular. Here's to your success in the dynamic world of online job boards!