Quality contents are in demand now more than ever. Why?
Since the internet is the next best thing to sliced bread, everyone wants a piece of it.
To get and maintain a piece of it, you need quality content to attract the right audience to your website, engage them, and work towards getting them to take action on your website.
Any meh content just won't do. You need your content to create a positive experience for your readers and compel them to return for more.
Luckily for us, technology has advanced, and AI writers are at our disposal that can give us the quality of content we need.
Keep reading to learn about AI writing Tools and the best ones of 2023.
Don't have time to read? Here are my top 3 picks for the best AI writing tools.
Jasper AI: is an AI content and copywriting tool that helps you create highly-optimized and engaging content – within a short time.
Copy AI: This comprehensive tool can help you write all types of content in different languages. It has over 90 different templates and can write in 25 other languages.
Content at Scale: This AI can create ten long-form blog posts of high quality every day. The quality is so good it bypasses AI detection.
Should You Depend Wholly on AI Writing Software Tools?
The simple answer is no, no matter how tempting that may sound.
AI can be very convincing when it comes to finding and repurposing real stuff from the internet. What it cannot do is utilize creativity to weave a piece of information into a logical and readable story (at least, not yet). It's unlikely to throw in a joke, use a metaphor, or do anything human writers can.
Can you use AI writing tools to your advantage? Yes, you can.
If you are creating a lot of content for multiple variations of a landing page or to meet the demands of your blog schedule, AI can help speed up the process significantly.
It can also improve your SEO performance and point you toward a more practical approach.
With this in mind, I have compiled a list of the 16 best AI writing tools, ranging from AI content generators to grammar checkers
The 16 Best AI Writing Tools for 2023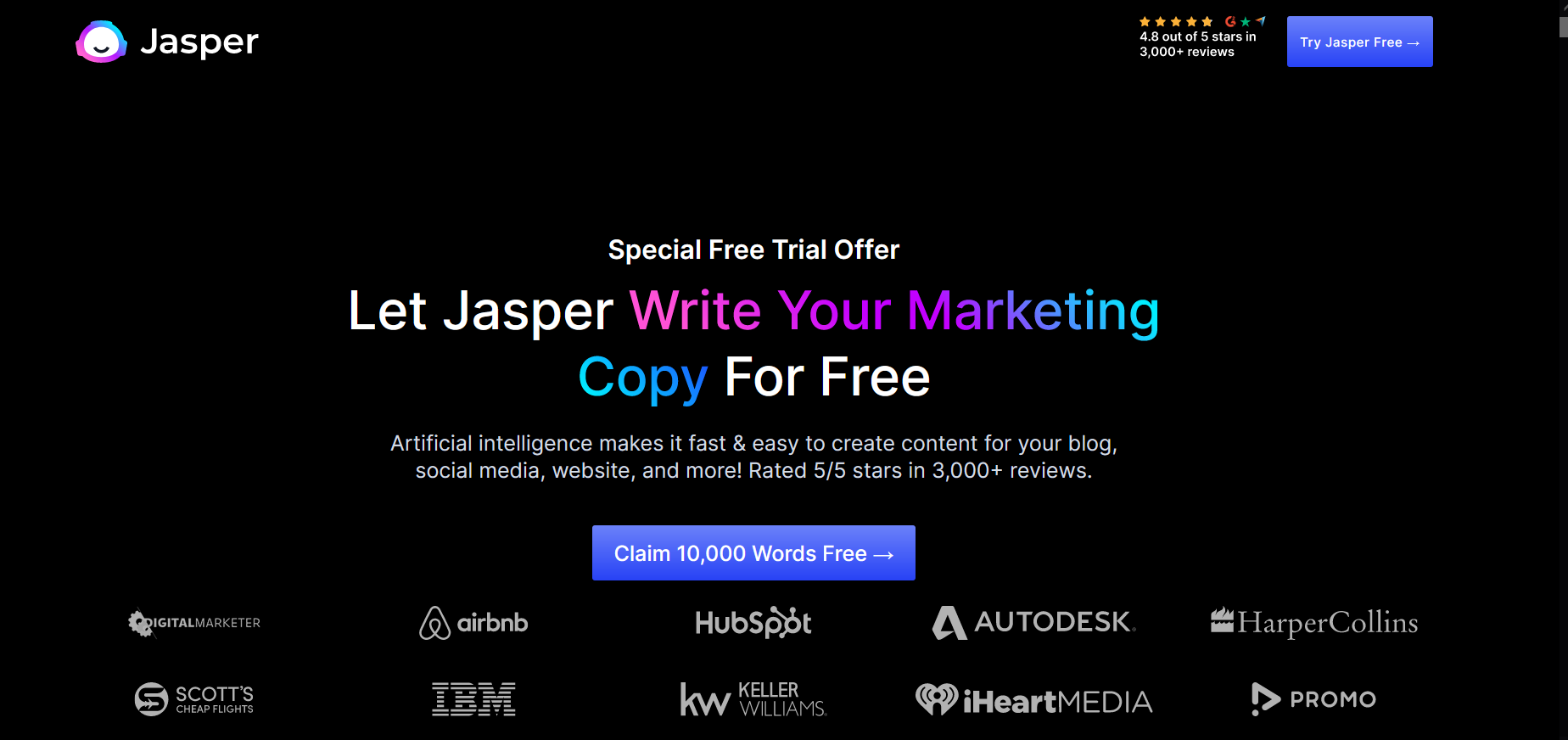 Pros:
Amazing features and templates

Easy to use

Perfect for generating long-form content
Cons:
It is on the pricey side

Sometimes, it generates repetitive content
This is one of my best AI tools for content writing and my number one pick. Jasper is incredibly good at creating a copy in various styles and tones and on any topic, you can imagine.
Jasper uses OpenAI's GPT-3 natural language processing to interpret and understand human languages and, in some cases, predict a human's intention and purpose. With this, it can create compelling copies on any subject.
Although the copies that Jasper writes are impressive, it still needs human intervention to improve the flow.
Sometimes, Jasper tends to get repetitive. Other times, a quote or statement written by it may be inaccurate.
This AI writing tool is perfect for creating early drafts that humans will improve.
It has a simple, user-friendly interface. You can use Jasper's templates for product descriptions, blog entries, ad text, AIDA-formatted landing pages, and more.
This AI writing software will help you maintain strong SEO page scores and speed up your workflow.
Jasper works nicely with tools like Surfer SEO, Grammarly, and Copyscape to optimize material for search engines, increase writing quality, and identify plagiarism. The app also has a large Facebook community of over 60,000 users that help one other with product support.
It offers two pricing options. For brief content, there is a Starter Plan (paid per word from $29 for 20,000 to $499 for a million words).
Then there's the Boss plan designed for long-form content ($59 to $279 monthly, custom pricing for more than 300,000 words).
Pros:
It has 90+ templates you can use

It can help you with writer's block

Copy AI has a great interface and user experience
Cons:
Although Copy.ai prides itself on being great at long-form content, but in my experience, it is a hit or miss
Copy.ai is a one-stop AI content generator that supports over 100 writing templates and 25+ languages. Copy.ai assists you in creating high-quality content that is geared to increase conversions.
Whether you're producing blog entries, product descriptions, social media content, or ad copy, Copy AI can help you out.
If you are suffering from writer's block and are stuck trying to fill your blog content calendar, copy AI can help you.
Ask the Copy.ai content idea generator your business niche and the tone you want your material to adopt, and you'll get many original content ideas based on your query immediately.
A paid subscription allows you to develop even more content don't at once, which you can alter and save for later use.
One thing that all AI writing tools have in common is that the content you write is always counted against the overall quantity in the free plan, even if you don't like it and want to generate more until you reach the desired outcome.
With that in mind, you must use the tool cautiously to avoid accidentally running out of words in the free version.
Another Downside to using Copy.ai is that it doesn't have a plagiarism checker.
Most AI writing software, however, includes plagiarism checking as a paid add-on. In light of this, investing in a product like Grammarly, which checks for grammar and contains an infinite plagiarism detector, will significantly help you.
Copy.ai starter plan is $49 per month. For this price, you have access to various copywriting tools and the ability to write an infinite number of words every month.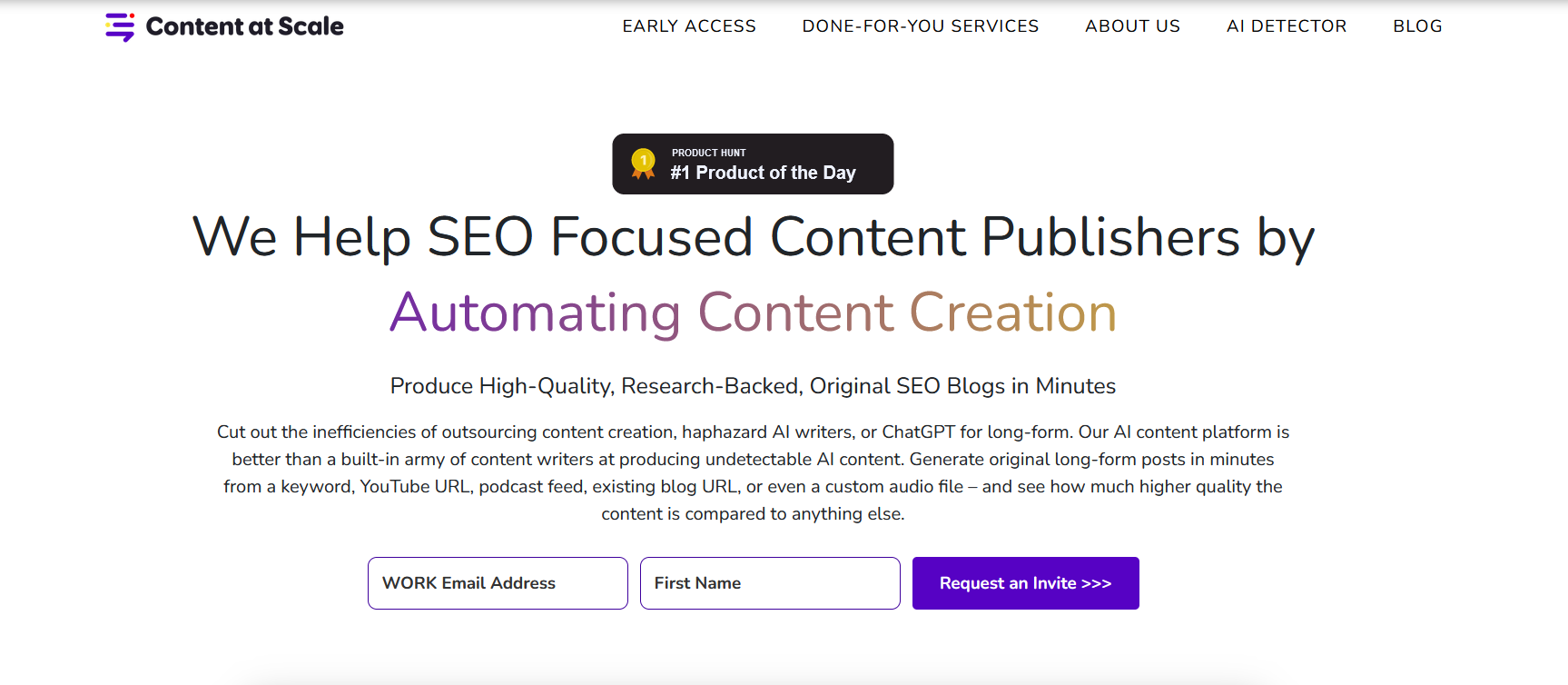 Pros:
Perfect for long content creation in one go

The workflow is straightforward

Has a plagiarism detector
Cons:
It lacks an SEO score

Natural Language Processing (NLP) suggestions are scarce
This is one of the best AI writing tools for generating long-form content. Content at Scale can really help you scale up your content game.
Content at Scale is AI writing software that converts your concept into a full-fledged blog post in seconds.
The tool requests a blog post title, description, and length. The post is then written using powerful AI techniques. After you've completed the post, you may examine and amend it in the Content at Scale editor.
Content at Scale offers AI-powered unique and original content, which you can validate using their plagiarism detector.
Unlike Jasper or other renowned AI writers, Content at Scale writes your full blog article in one go.
The Content at Scale workflow is straightforward. All you have to do is supply the tool with the title and description of your blog post. After a few moments, Content at Scale generates an original and unique blog entry.
A downside to using Content at Scale is that it lacks an SEO score, and the NLP suggestions are scarce.
If you're writing about competitive themes and want more visitors to your website, SEO-optimizing your content for higher results is a must. You might be a little disappointed if you're searching for a Surfer SEO equivalent.
Other metrics are available, such as word count, number of headings, paragraphs, and media, and a brief to see all the Google-indexed articles the AI used to generate content.
Pros:
It is very affordable

Supports multiple languages, including Hindi

Closest to Jasper's long-form assistant with their on-document edits

Everything you need is in one compact dashboard
Cons:
Rytr can be confusing to use

The outputs can be better
Rytr is a powerful piece of software. It's an AI writing assistant that can help you create emails and other brief bits of copy and can significantly reduce your workload.
Rytr has over 40 writing templates as well as a plagiarism checker. Although Rytr only has a few templates for blog posts, landing pages, Facebook advertisements, and other things, it works effectively for users with limited content needs and budgets.
The AI writing assistant also has over 20 voice tones and 30 language possibilities, allowing you to create relevant material for a larger audience.
Rytr features an extensive library of how-to articles and videos. Furthermore, the company has a website forum where users may make suggestions, submit feature requests, and receive direct support from the company's crew.
Rytr is a fantastic AI writing tool, but it takes significant human intervention to generate high-quality content. For example, while utilizing the app's blog concept and outline generator, you must specify how many content variants you want. If you're short on time, an AI authoring tool that generates multiple variants without your input (such as Copy.ai) will be a lifesaver.
Also, because there is little space between generated content versions on Rytr, it is easy to become confused about the number of variants produced by the program. You'll need to zoom in on the content output to see the thin line that separates each variant.
Rytr's free subscription allows you to create 10,000 characters monthly and use the built-in plagiarism detector. Its savers' plan starts at $9 per month.
Pros:
Offers a variety of application cases

Offers 30+ content writing templates

Perfect for eCommerce product descriptions and copywriting

You can tag teammates and get instant feedback
Cons:
You can check plagiarism based on 'credits'

Provides limited information
This AI content generation platform offers you a variety of application cases. However, Copysmith is mainly used for eCommerce product descriptions and copywriting.
The ability to tag your teammates and instantly receive feedback on the content you've created is a crucial Copysmith feature.
The AI writing tool also supports more than 100 languages, allowing you to create content that appeals to a worldwide audience and extend your market size.
Copysmith AI writing app allows you to organize your generated copy by projects and put it in folders for later access.
Copysmith provides roughly 30+ content writing templates, which is insufficient if you must write different sorts of copy regularly. However, the program allows you to run plagiarism checks with limited credits that you may replenish by paying extra.
Copysmith provides a 7-day free trial period. Copysmith's pricing starts at $19 per month. Still, there's little information available on how much Enterprise subscriptions for huge teams will cost.
pros
It automates Natural Language Processing key terms for SEO

It can easily generate content or answers to FAQs from Quora and Reddit

It has a library of royalty-free images

You can easily generate long-form content using cruise mode.
Cons
Though it helps your writing process, you can't entirely depend on it because the content could be better.
Scalenut is an excellent alternative if you're a website owner or SEO manager trying to rank higher on Google.
You may optimize your content for optimum visibility in search engines by using Scalenut's SEO tools.
Scalenut's AI technology can evaluate your existing content and generate content recommendations. It can also uncover similar SEO-friendly keywords and create articles that can help your website's search engine rating.
Furthermore, the site has a solid copywriting tool that can generate original content for users in a matter of minutes, tailored to their specific parameters.
Scalenut is simple to use.
Simply type in your desired keyword. The program then generates a SERP summary of the competition and suggests material, such as headers, key terms, photos, links, meta tags, and word count.
Scalenut's Free Plan gives you 2,000 AI words each month, and it can be activated once your 7-day trial ends.
During your 7- day free trial, Scalenut gives you 5000 AI Words/day. You also get access to all the features and limits to test the product extensively.
The Individual Plan is $29 monthly or $12 (paid annually) and includes 100,000 AI phrases and +40 AI templates.
The Growth Plan is $79 per month or $32/mo (paid annually) and includes access to the cruise mode, unlimited AI words, and other capabilities.
The Pro Plan is $149 per month or $60 per year and includes all of the Growth Plan's features, unlimited SEO reports, the option to add more users, and a personal customer success manager.
Pros
It creates high-quality content with a fast turnaround time.

Provides excellent writing quality with error-free, natural, and professional language.

One of the easiest content-writing tools out there.
Cons
It's hard to organize your projects on Smart Copy
Smart Copy is a competent AI writing assistant that can assist you in automating the article creation process.
This application helps you quickly transform your thoughts into professional, high-quality, compelling material!
Smart Copy covers whether you want to write the perfect email, blog article, or poetry.
Smart Copy simplifies the writing process and empowers you to create unique content fast and effortlessly with a vast collection of templates to pick from.
Smart Copy offers various pricing options to suit your needs and budget.
There are three plans available:
The free Plan (40 credits per month).

The Essential Plan costs $8 per month (200 credits).

The unlimited Plan costs $40 a year, with 2 months free. (Unlimited credits).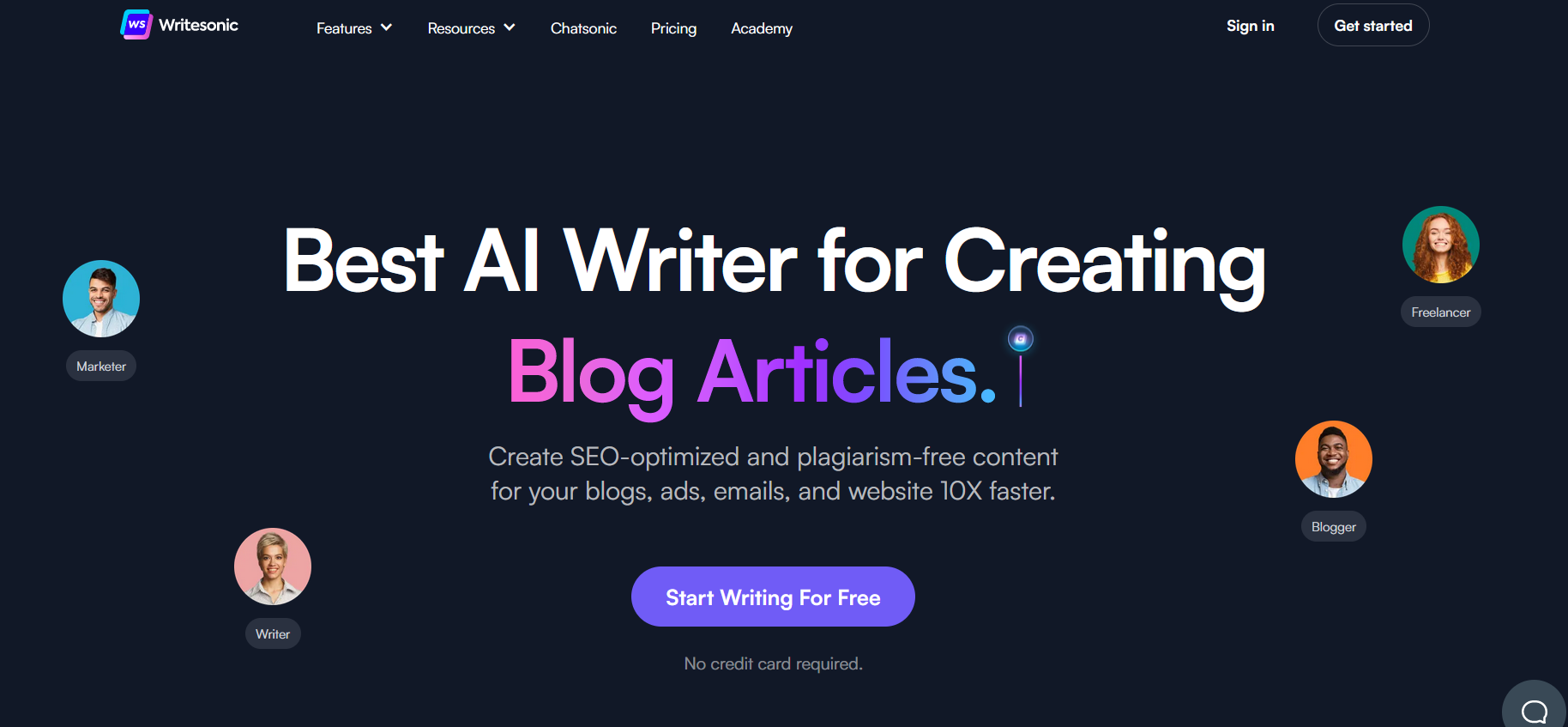 Pros
Perfect for short-form copy templates

The long-form copy template is also great

One of the affordable AI content writing tools out there
Cons
Some content Writesonic produces has grammar issues

It is a bit confusing to use because of the cluttered interface.
Writesonic may be the best option if you write a lot of marketing content and want to automate it.
There are numerous templates available for this purpose. It may be used to build anything from a LinkedIn profile description to ad content for Facebook or Google.
In terms of features, Writesonic is your standard automated article-writing software. It includes templates to get you started, a straightforward content development method, and support for many languages.
It uses OpenAI's model for AI writing; this helps generate quality content in 24 languages.
The interface isn't horrible, but it can certainly be better. I don't like the clustered feel of it. I like clean interfaces like Jasper's or Copy AI's.
Other than that, it moves quickly, and its commands are simple. It should be simple for newcomers to get started with.
Writesonic's price is somewhat complicated, ranging from free to try it out to $95/month. I appreciate best that the long-form assistant is accessible for $15 per month. Even if the credits are cheap, it's fantastic that you can buy powerful tools for a low cost.
In comparison, Jasper charges $59/month for access to the long-form assistant.
To be fair, you need unlimited credits to use Writesonic's toolset fully. As a result, we urge that you at least purchase the Professional subscription ($45/month).
Pros
Perfect AI writing tool for team collaboration

Perfect for writers who want to preserve some creative control.
Cons
This may not be the tool for you because it doesn't write or rewrite content for you. Instead, it offers recommendations.
As the name suggests, Writer describes itself as "the AI writing helper for teams." It is best for medium to large businesses or agencies rather than lone scribes working from home.
In essence, Writer is an efficient tool for collaboration. It enhances and expands on some of the functionality of a typical text editor, such as Word, by adding valuable functions and a more user-friendly interface.
Among the features are autocomplete, grammar checking, autocorrect, and clarity assessment. The collection of regularly used snippets that writers can paste in is a useful tool. With Writer's emphasis on collaboration, preserving a house style is critical to its business strategy. To that purpose, various tools are available to help teams work more efficiently, including a database of recognized terms (vital for tech, legal, and financial firms).
The writer, in comparison to Jasper, may appear to be lacking in personality. Instead of rewriting material for you, Writer's AI offers recommendations in the background. This may appeal to writers who want to preserve some creative control.
If your company operates on a virtual or hybrid model with little in-office oversight, Writer could help you unify your team. Its use will ensure editors that the copy will stay professional and accurate in all contexts.
As a new signup, Writer gives you a free 14-day trial. After this, you can pick any of the two pricing options – team & enterprise. The Team plan is for just $18 a month. There is no pricing option stated for the Enterprise plan.
Pros
Allows you to input key article specifications.

Provides original SEO articles that it generates.
Cons
It's not very affordable.

Like most AI-generated content, you have to proof-read and edit errors
Article Forge is designed for bloggers and marketers who need to generate content in volume quickly. The software specializes in long-form material, such as original SEO articles, which it develops in minutes using deep learning technology.
To help your content rank highly, Article Forge also allows you to provide crucial article criteria such as secondary keywords, length, and subheadings.
Although Article Forge only supports seven languages, you may integrate it with your content management system (CMS) to automate new article postings.
Pricing starts at $27/month and offers a five-day free trial.
Pros
This artificial intelligence can give you blog post ideas.

Perfect for writing academic papers or a novel.

It can help you rewrite existing content.
Cons
It can sometimes mix up the flow of your content.

I wouldn't describe it as one of the most powerful AI writing tools out there.
In my opinion, this is the most user-friendly writing tool. Sudowrite is a writing tool that uses artificial intelligence to help you develop content, rewrite current content into something new, elaborate on something when you need additional words, and brainstorm ideas. It is one of the most user-friendly ai content generator software.
The pricing options are divided according to the number of words you can generate. Here are the pricing options:
Hobby & Student: $10 per month

Professional: $20 per month

Max: $100/mo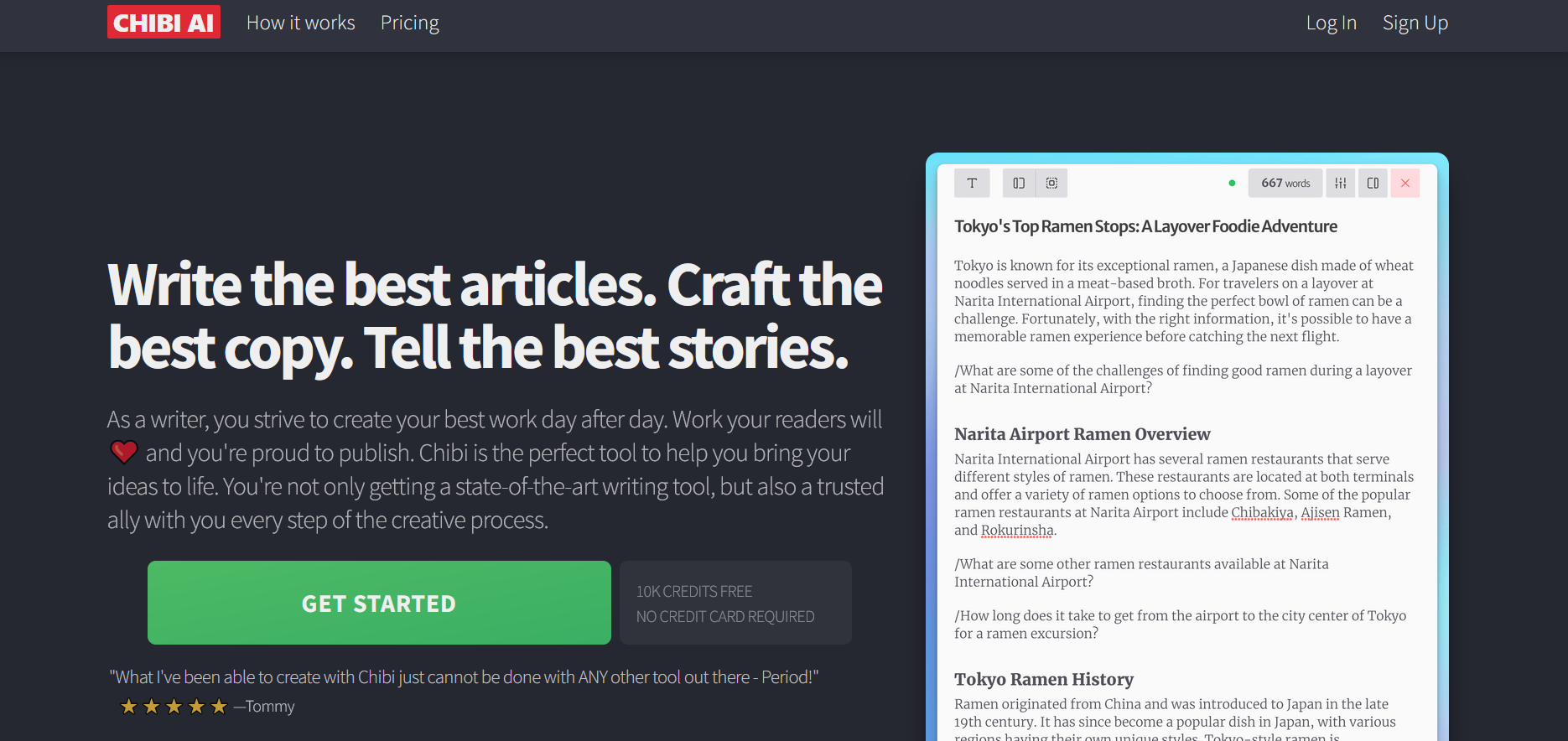 Pros
This is a budget power user option.

Perfect for helping writers when they are stuck.
Cons
The UI isn't as user-friendly as I'd like, but it does get the job done.

You also need to write some content for it to start with.
Chibi AI is an AI writing tool developed for writers who want to focus on their work but need a little help when they get stuck. Chibi features functional writing capabilities, including rewriting, shortening, expanding, and changing the tone of the selected text.
You can choose a "creativity mode" in which the overall tone of the generated content changes.
Chibi can be as straightforward or as complicated as you want. You can create rules to tell the AI what to do and what not to do. You can let the AI write from its point of view or tell it precisely what and how to write it.
The user interface isn't as user-friendly as I'd like, but it does the job. You need to write some content to get started, but the results are quite good. I used their tool to assist me in writing this evaluation. There were a few hiccups initially, but I am delighted overall.
There is no free plan, but they have a pay-as-you-go option. You can buy credits and use them whenever you'd like. Here are the plans:
Pioneer 10K – $9/mo

Brainstormer 50K – $29/mo

Inventor 100K – $49/mo

Einstein Unlimited – $89/mo
Pros
Excellent SEO writing tool for the solopreneur and small businesses

Helps you optimize your existing content to help it rank higher on the SERPs

Pricing is reasonable
Cons
Although perfect for solopreneurs or small businesses, SurferSEO does seem designed with larger corporations in mind.
If you want one tool to develop SEO content, SurferSEO is a great alternative. Surfer allows you to write SEO-friendly material, cruise the web for content ideas, and rank swiftly in Google.
Surfer's content editor allows you to copy and paste into your website CMS without reformatting. Because Surfer's content editor already contains all the HTML tags, you just need to format it once.
Surfer is a unique content creation tool for solopreneurs and small businesses alike. It is a fantastic asset because of its advanced features and support tools.
Surfers' Grow Flow function is ideal for enhancing existing content in order to help it rank higher in search engines. If you want to provide high-quality material to your audience, it's a worthy investment.
Given the app's functionality, the price is shockingly low. The basic version is $49 per month for up to ten people, the pro version is $99 for 30 users, and the full business package is $199 per month for up to 70 content editors.
Pros:
Easy to navigate User Interface

One of the best AI writing software for SEO writing
Perfect for doing keyword research
Cons:
This is one of the best AI tools for SEO writing and editing.
Clearscope is all about SEO, the mysterious art of optimizing your content to appear on the first page of Google searches. As a result, it's ideal for assessing landing pages, product descriptions, social media material posts, and other types of information.
Deloitte, Conde Nast, Shopify, and YouTube are among the companies that swear by it.
It's highly user-friendly and relatively straightforward to work with. You copy and paste your work into the program, which categorizes it based on keywords, headers, picture content, length, and other SEO factors. It then offers a mark based on its algorithm to determine if you've generated a C- stinker or an A+ laser-targeted copy in seconds.
Clearscope already knows which keywords are most effective for your industry and use case and will rank them based on their worth. It accomplishes this by evaluating the most common search keywords millions of internet users use.
It can be integrated with Google Documents or WordPress (as well as many other programs), and the customer service is exceptional. It's a fantastic platform to add to your arsenal of SEO tools.
In terms of pricing, Clearscope is expensive. Expect to pay $170 a month for 3 users or $350 a month for up to 10.
Although, it is worth the money spent because you soon start to see a much-improved traffic flow to your site.
Pros:
It can work on different applications – including as a browser extension

Enhances your writing and vocabulary

A reliable tone and grammar checker
Cons:
Like every other AI software in this article, it needs a human touch.
Even the best AI writer needs a grammar checker. Although many AI tools have their grammar checker, nothing beats Grammarly.
Grammarly requires little introduction for many writers. It's the gold standard for analyzing and improving your writing.
It provides excellent comments on spelling, syntax, vocabulary, readability, and (obviously) grammar. In a nutshell, Grammarly searches your writing for ways to enhance it.
Grammarly can be a plug-in in various apps, including Gmail, Word, Facebook, and Twitter. It also has a robust Chrome Extension, which most people use.
Its artificial intelligence will flag problems and recommend changes you can approve or reject. It goes beyond simple grammar and punctuation to improve Word's in-built style tools.
Grammarly detects unnecessary words, stylistic errors, and overly verbose sentences.
A simple color-coding system indicates problems or enhancements, allowing you to see what type of suggestion is being made at a glance.
The popular app has over 30 million daily active users. It has been highlighted in publications such as The Wall Street Journal, The New York Times, and Forbes.
However, like every other AI software listed in this article, it needs a human touch. You have to make sure its suggestions align with what you had in mind while writing.
Grammarly's premium subscription costs $12 per user monthly. Business pricing starts at $12.50 per user per month and reduces to $11.67 per user for groups of more than 50 people. There is also enterprise pricing available.
Pros:
This AI writer is very versatile.

It is cheap. You get a lot of options at a very reasonable price
Cons:
Like every other AI tool listed here, it cannot be 100% relied on.
QuillBot is one of the most comprehensive writing AI tools available. This tool is a must-have if you're a student seeking an AI essay writer or need to research and produce citations.
It's free to use, and you don't even have to sign up to try it out, which is very convenient. There is no marketing copy to worry about; simply log on and utilize the tool.
Whether you need to paraphrase your written word, fix grammar mistakes, run a plagiarism check, or write faster, this is the tool you need.
When it comes to pricing, QuillBot has 3 plans:
Annual: $8.33/mo

Semi-Annual: $13.33/mo

Monthly: $19.95/mo
Pros:
It can be an impressive AI copywriting tool.

It is great for brainstorming and generating content ideas.

It is great for getting you out of writer's block.
Cons:
It confidently puts out wrong details as facts.

It isn't a good idea to rely on ChatGPT as a writer.
I bet you've heard of this one. And with how it has taken the whole world by storm, chances are you've played around with this artificial intelligence.
OpenAI's ChatGPT was released near the end of 2022 and swept the internet by storm. Everyone was talking about it and its capabilities. I mean, many of the tools listed above use OpenAI's GTP-3 technology, so you can imagine what this AI is capable of.
Thus, if you're searching for best free AI writing tools (at least for now), you should give this one a shot.
ChatGPT gives readable and quality content for any topic you can conceive of from all of the information on the internet. ChatGPT can assist you with everything from writing a blog post to writing code.
It's an incredible AI copywriting tool, but you should only use it to help with creativity. Using ChatGPT to compose an entire blog article is not a good idea because you'll need to double-check facts (it can get them wrong).
Yet, this tool can be helpful for brainstorming and producing content ideas. It is the perfect AI writing assistant you need when you feel stuck when writing, and it even assists you in creating SEO-optimized material.
You can do a lot with ChatGPT if you know what prompts to give it, other than just utilizing it for short-form writing or website copy.
FAQs on AI Writing Software Tools
How to Use AI Writing Tools to Generate Content
The way you use most AI writing software is similar. You begin by entering the topic you wish to write about and some basic information. Whatever AI tool you choose will then develop material based on that information.
Some AI tools may have other capabilities, such as the option to customize the tone of voice or the length of the created text. In contrast, others are simply great at rewriting content from the internet.
What Can You Write Using An AI Writing Generator?
With AI writing tools, there is no limit to what you can write.
Here are some examples of what you can write with an AI writing tool:
Write articles

Ad copy

Blog posts

Product descriptions

Email newsletters

Scripts

Landing pages

Social media posts

Books

Stories

Novels

And more!
Basically, for anything that requires content creation, there is an AI tool out there that can give you great AI-generated content.
How to Choose the Best AI Content Generator Tools
With the market saturated with different AI writing software, selecting the best one is critical. While not all these tools are made equal, here are some questions to answer before choosing one:
How simple is this AI writing tool to use?

What is its level of natural language processing? And how does it affect the quality of content this AI generates?

What features and templates does this AI tool offer?

Is there a free version I can test with? Plus, can I afford the paid plans?
Check out reviews and testimonials to understand what others think about the AI writing tool you are considering.
Also, there is another thing you should consider – An AI's ability to pass AI content detection.
This means that the AI tool you pick must be able to develop unique and original content that is not labeled as AI-generated.
If you have a large team, choosing a tool that can handle several users simultaneously, such as Jasper, is vital. Don't forget to think about the type of writing you do. For example, if you're a blogger, you might need a different tool than a novelist.
Likewise, if you are interested in social media posts and video content creation, the best AI tool for you, is different from what a student writing a thesis would need.
So, it is not so easy to pick out the best AI writing tool for you. You have to do some deep research before picking one.
Who Should use AI Content Generator Tools?
Are you wondering if you can use any of the AI tools listed above?
Well, check this out:
You can benefit from some of the best AI writing software if you are any of the following:
If you're having trouble coming up with ideas or just don't have the time to write as much as you'd want

If you are a blogger or content writer and need to create content at scale

If you are a marketer who needs to create ad copies or landing pages that perform well on search engines

If you are a student looking to benefit your writing skills and get better grades.
What are the Key Benefits of Using AI Content Generator Tools?
There are numerous advantages to adopting an AI-powered writing assistant. Let me list a few of the most important:
Artificial content generators allow you to accomplish more in less time. You won't have to spend your entire day creating material because the software will do it.
This allows you to concentrate on other aspects of your business, such as developing new items or reaching out to new customers.
Hiring a professional writer can be costly, especially if you require a large amount of content. Nevertheless, AI content generator software allows you to produce high-quality material at a far lesser cost. This way, you can save money while still receiving high-quality information.
Keep Your Audience Engaged:
AI content generation software can assist you in keeping your audience engaged.
You can pique your audience's interest in your brand by generating material that is relevant to them. This can result in increased revenue and satisfied customers.
Summary
So, there you have it. Our list of the best AI writing tools.
Each tool has unique features and benefits that suit different use cases. But here are the ones that most stood out:
Jasper for its quirky character and well-composed copy

Writesonic for its speed and versatility as an AI content generator

SurferSEO for its keyword research, SEO-friendly clarity and efficiency

Grammarly for its writer-friendly usefulness
There are many other artificial intelligence tools that we didn't cover, but these 15 are our best AI writing software to create content.
It is important to understand that no matter how well your AI writing assistants can do the job, the article still needs a human touch.
We haven't reached the stage where AI writers can replace human writers. Thank goodness!
But, it is very much okay to employ AI writing assistance to create seo optimized content, multiple articles, multiple social media posts, and many more.
Another thing to watch out for is Google.
Google discourages (and may penalize) artificial intelligence-generated content.
As a result, AI writing assistants, in my opinion, have limited use today. However, they are better than yesterday, and I look forward to seeing what the future holds for this area.