As you know, several SEO reporting tools are available for agencies or businesses engaged in digital marketing. Yet, because every business has distinct requirements, a reporting tool that works for one might not be the best choice for another.
Because of this, I've compiled a list containing the best 15 SEO reporting tools for agencies to assist you in selecting the ideal option for your specific needs.
Although most SEO reporting tools provide a wide range of SEO data, they frequently lack the simplicity required to turn this data into valuable reports.
To address this issue and assist you with your SEO campaigns, I researched the market and highlighted the best SEO reporting tools in this article.
Keep reading to discover more about popular SEO reporting tools.
In a rush to know my top picks? These are sure bet tools.
My Best Choice
SE Ranking
This is my top pick for the best all-in-one SEO reporting software. It allows you to pull data from different places, making finding the important keywords easier.
BEST FOR FREELANCER
SEO Powersuite
Excellent One-stop SEO software. On one platform, you get all the tools necessary for your SEO campaign.
BEST FOR ESTABLISHED AGENCIES
Ahrefs
Best for extensive SEO reporting and audits. It is great for uncovering link opportunities and improving domain authority and content gaps.
BEST ALTERNATIVE
SurferSEO
Great SEO tool for website analytics. You can check competitor rankings, keywords, SEO, PPC opportunities, etc.
How To Select The Best SEO Reporting Tools For You
It's essential to have a fundamental understanding of SEO to select the best SEO reporting tools.
Enhancing your website's numerous on-page and off-page elements through search engine optimization (SEO) will raise the quality of your website based on the precise criteria used by search engine algorithms to rank pages in search results.
These metrics could include backlinks, page speed, readability, domain authority, CTR, and keyword ranking. When customers search for a keyword related to your business, your site can rank higher and more prominently by boosting these KPIs.
Even though your services are top-notch, if they do not appear in the first few Google search results, they might not get traffic to your website. As a result, you must analyze your SEO performance and optimize it for your website.
As more companies use SEO tactics to improve their page rankings, it is crucial to use SEO reporting tools to keep track of the elements affecting your search engine ranking.
SEO reporting tools can help with research to gather information on keywords, visitors, and website conversion metrics to refine this process.
So, how do you pick the best SEO reporting software for you?
Things to Look for in SEO Reporting Tools
Looking for the best SEO reporting tool for your website may not be the easiest task in the world. But watching out for these features will make this task easy.
Primary Reporting Features:

Verify that the application offers essential reporting features, including competitor data tracking, location tracking, backlink monitoring, and analytics.

Custom Reporting:

Use tools that can produce customized reports to meet your unique needs and enable the quick and automatic export of these personalized reports.

Third-party Integrations:

Choose software that enables all necessary third-party integrations and is easily expandable to accommodate new tools.

Accurate Regional Data:

Choose a solution that caters to your target market and offers reliable regional and historical data and local insights.

Other Features:

Keep an eye out for additional features that can significantly simplify implementing and improving SEO, such as client integration, white-label reporting, automation, quality resources, and unrestricted export access.
What Are The Best SEO Reporting Tools?
Before delivering extensive knowledge, insights, and KPIs, each SEO reporting software listed below offers a user-friendly interface that enables you to become familiar with the fundamentals of SEO.
My top picks are SE Ranking, SEO Powersuite, Ahrefs and SurferSEO
These tools enable you to develop and implement an SEO strategy, guaranteeing that you get the most out of SEO and rise to the top of the SERPs.
Based on your unique needs, the following are the 15 best SEO reporting tools you can trust: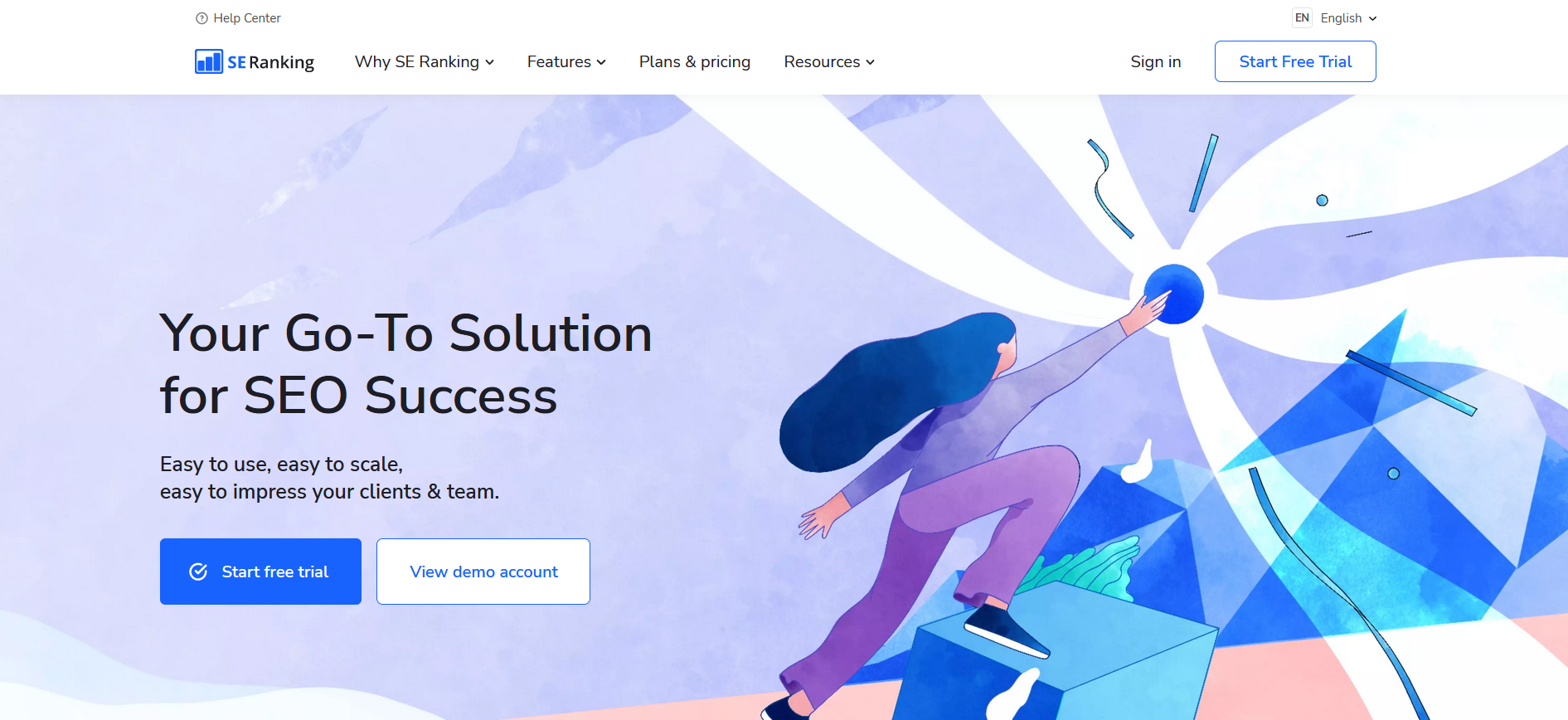 top Pick
SE Ranking
The best-performing SEO reporting tool on the market right now is SE Ranking.
SE Ranking is a comprehensive SEO reporting tool that offers users in-depth insights into the success of their website's search engine rankings.
With powerful reporting features, this all-inclusive SEO platform delivers a full selection of tools to support all your SEO initiatives.
Pros:
Cons:
The report builder offered by SE Ranking is a powerful tool that works with all of the company's other features to gather data and produce completely customizable, simple-to-understand reports in minutes.
The tool features keyword tracking, competitor analysis, and website audit capabilities, empowering users to evaluate their competitive positioning.
Moreover, the platform incorporates social media management and content marketing tools, facilitating users to monitor their online presence across multiple channels.
SE Ranking's audit tool can scan for issues such as broken links, page speed optimization, duplicate content, and indexability errors, ensuring an error-free website experience for users.
All these contribute to why they are known by many as the best SEO reporting software in the market right now.
Pricing Plans
This tool offers three payment plans:
The Essential plan costs $31.20/month (Ideal for freelancers and newbies)

The Pro plan costs $71.20/mo (For small agencies and teams)

The Business plan costs $151.20/month (For mid-size agencies and businesses)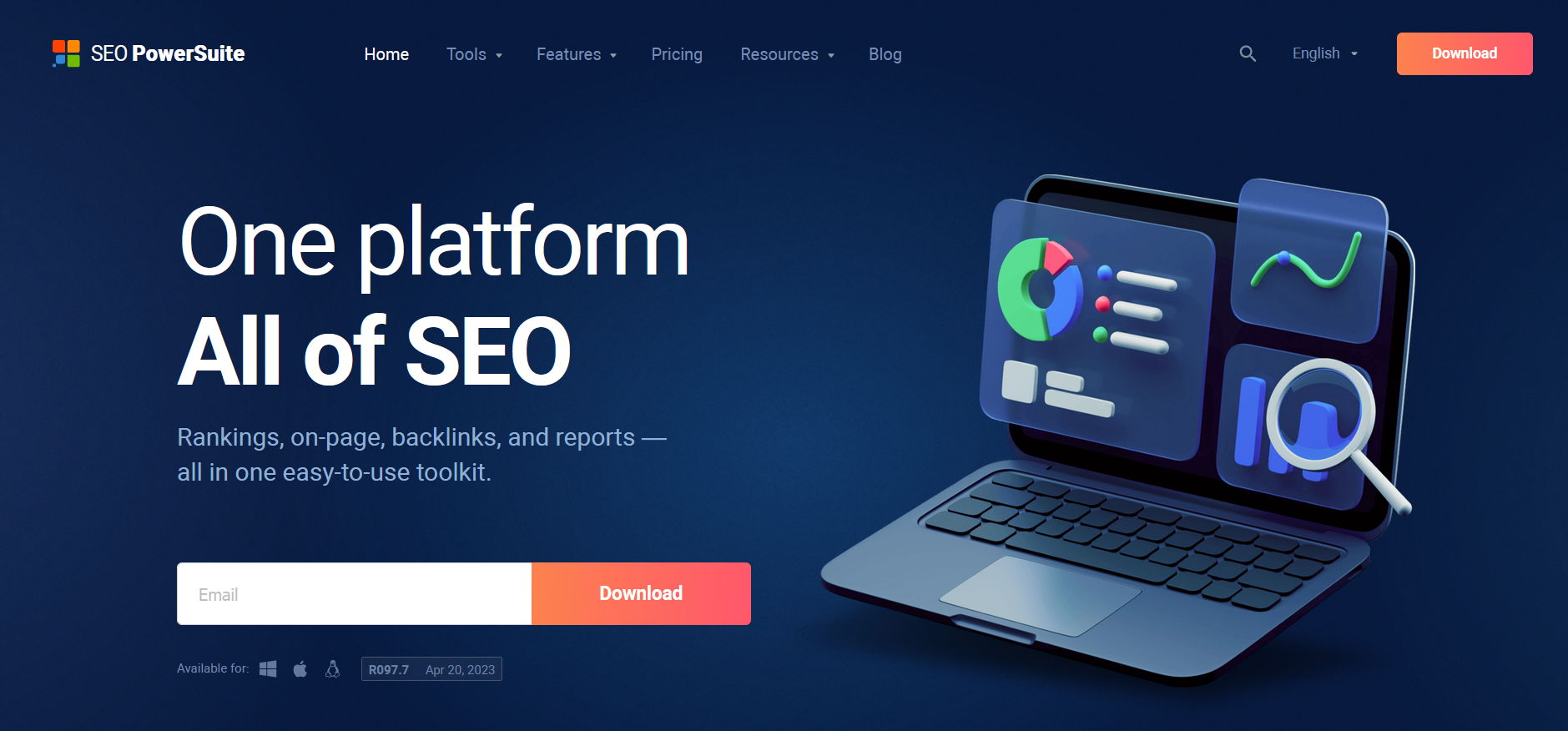 SEO PowerSuite comprises four reporting tools: Rank Tracker, WebSite Auditor, SEO SpyGlass for backlink analysis, and LinkAssistant for link-building outreach.
Each tool features an integrated reports module, which presents the results of your SEO tasks in attractive SEO reports.
These reporting templates can be customized and branded with your company's logo.
Pricing Plans
The SEO Reporting Software offered by SEO PowerSuite is available in three pricing plans.

In the Free edition, you can only view the reports within the tool.

The Professional edition ($299/year) lets you download reports in PDF format.

The Enterprise plan ($699/year) allows you to perform the entire SEO agency workflow, from conducting automated checkups to sending SEO reports and alerts directly to the desired email.
Semrush is a leading SEO and content marketing toolkit that offers a comprehensive range of features and tools.
With a vast database and advanced functionality, Semrush outperforms its competitors. It includes over 50 tools and detailed reports covering various online marketing activities.
It is excellent as a keyword research tool. But it can effectively monitor SEO metrics, rank tracking, link building, PR monitoring, content marketing analytics, and PPC research.
In addition, Semrush provides valuable insights for competitor research, focusing on its keyword research tools and position tracking.
Its position-tracking features include competitor discovery, keyword ranking reports, device and location reports, project merge reports, unlimited competitor tracking, and SERP feature filters.
Pricing Plans
Pro Plan: $119.95 per month

Guru Plan: $229.95 per month

Business Plan: $449.95 per month

Enterprise Plan: pricing is available upon request.
Ahrefs is a website reporting tool that provides valuable insights into your website's traffic, backlink profile, and other metrics. If you're committed to enhancing your website's traffic and search engine rankings, Ahrefs is an essential tool to consider.
It is a comprehensive SEO reporting tool with so many functions that are convenient to use. Ahrefs backlink profiling and performance charting capabilities are particularly noteworthy.
Ahrefs is a well-known reporting tool in the SEO sector. It has one of the most accurate and user-friendly reporting tools.
With Ahrefs, you can quickly gain insight into a website's organic search traffic and backlink profile. You can also access thousands of keyword ideas and evaluate their ranking difficulty and potential traffic.
Moreover, Ahrefs enables you to track your rankings over time and create performance charts. Additionally, its content explorer tool facilitates discovering and analyzing top-performing content in your niche.
Pricing Plans
You can decide to pay monthly or pay annually and get two months free.
The monthly price is broken into four plans
The lite plan costs $99

The standard plan costs $199

The advanced plan costs $399

The enterprise plan costs $999
The annual price is also broken into four plans
The lite plan costs $83

The standard plan costs $166

The advanced plan costs $333

The enterprise plan costs $833
Surfer SEO is a great SEO reporting tool to help optimize your online presence.
With its advanced keyword research capabilities and fully customizable reports, you'll have all the data you need at your fingertips to make informed decisions about your site's content and organic traffic.
It helps you analyze and compare your own pages against what currently ranks on the SERPs. So, instead of playing the guessing game, you know what is missing from your content, page, site, etc.
Pricing Plans
Surfer's plans come in 4 packages:
The Basic Plan costs $49/month
The Pro Plan costs $99/month
The Business Plan costs $199/month
The Enterprise Plan has a custom price.
DashThis is a well-known reporting tool for digital marketing that specializes in creating customized dashboards for SEO, SMM, SEM, and paid campaigns.
This all-inclusive reporting application offers complete solutions for Windows users and is created to fulfill the needs of enterprises.
With DashThis, you can easily create custom reports, integrate data sources, automate scheduled reports, access sales reports, and visualize data analytics.
This all-in-one online reporting system offers a variety of data source connectors in a single platform.
Pricing
DashThis provides four pricing plans, with discounts available for yearly subscriptions. The plans are as follows:
Individual: $33 per month

Professional: $109 per month

Business: $209 per month

Standard: $339 per month
Each plan includes a complimentary 15-day trial period.
Google offers an extensive suite of SEO reporting tools, including the popular Google Analytics platform.
Its reporting features cover a broad spectrum, including real-time activity monitoring, audience reporting, acquisition, behavior, and other customized reporting features.
While some advanced features require payment, most of Google Analytics' SEO reporting capabilities are free.
Google Analytics provides an excellent starting point for those seeking an affordable way to begin analyzing SEO reports.
Pricing
The cost of Google Analytics 360 Plans with up to 25 million monthly events is $50,000 per year or $4,166 monthly.

Standard Analytics accounts that don't require greater data limits are free.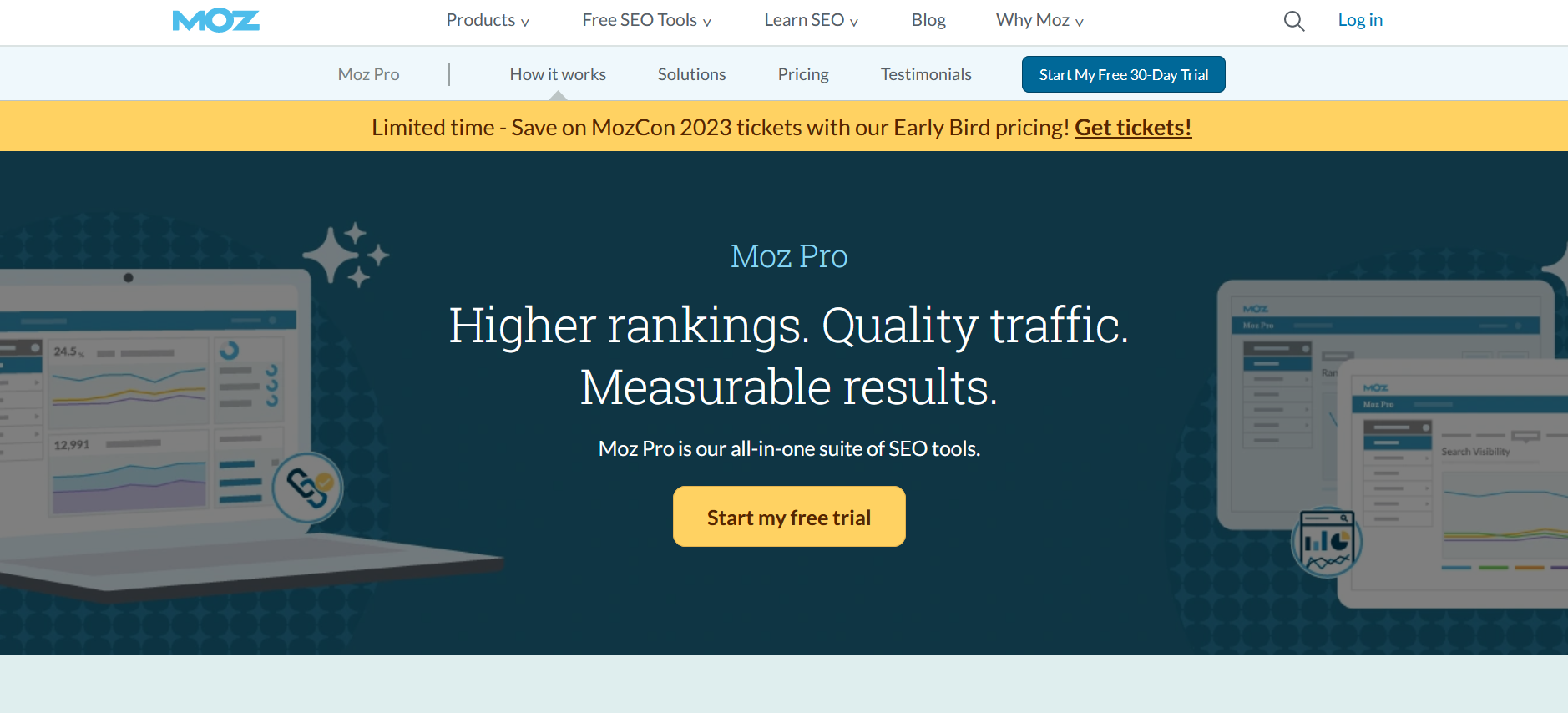 As far as SEO tools go, the Moz Pro is a complete SEO tools suite. It can assist with managing your data to boost your website's traffic, ranking, and search exposure.
Businesses and agencies can use Moz to create detailed reports, conduct website audits, analyze backlinks, research keywords, track rankings, and more. This ensures all their SEO needs are covered.
Moz Pro also enables you to generate customized, automated SEO reports delivered to your recipient via email daily, weekly, or monthly – based on your preferences.
Pricing
Standard: $99 per month

Medium: $149 per month

Large: $249 per month

Premium: $599 per month
If you run your own marketing agency, Raven Tools is a top choice for analyzing search engine data.
This cloud-based SEO reporting tool can analyze your search engine results pages, queries, social shares, and marketing campaigns.
The tool provides full white-label capability, allowing you to present marketing data to clients under your brand.
Raven Tools provides reporting tools that enable you to measure your marketing success across multiple platforms and visualize progress with an intuitive drag-and-drop editor.
You can create automated reports for website analytics reports, social media, and PPC campaigns.
In addition to these features, Raven Tools also provides SEO, email, and call-tracking reporting.
Reports are white-labeled and branded, ensuring you can confidently share them with clients. You can even automate the reporting process to save time.
Pricing
Raven Tools has six plans:
Small Biz costs $39/month and $468/yearly

Start costs $79/mo and $948/yearly

Grow costs $139/mo and $1668/yearly

Thrive costs $249/mo and $2988/yearly

Lead costs $399/mo and $4788/yearly
GrowthBar is a precious tool for managing the SEO aspects of content across a diverse range of websites.
It enables you to assess whether pursuing a keyword is worthwhile at a glance.
This SEO software allows you to generate reports that link keywords and search volume with recommendations for advancing your content strategy.
This SEO reporting tool also facilitates the analysis of keywords, competitors, backlinks, and other metrics to enhance your digital content's growth.
Its intuitive and interactive dashboards provide insights from data sources such as keyword research, Google Ads, and more, enabling you to devise effective SEO strategies.
Also, it enables simple data exports in CSV format, which may be helpful in some use situations.
Pricing
GrowthBar offers the following pricing plans:
Standard plan at $29/month

The Pro plan at $79/month,

The Agency plan at $129/month.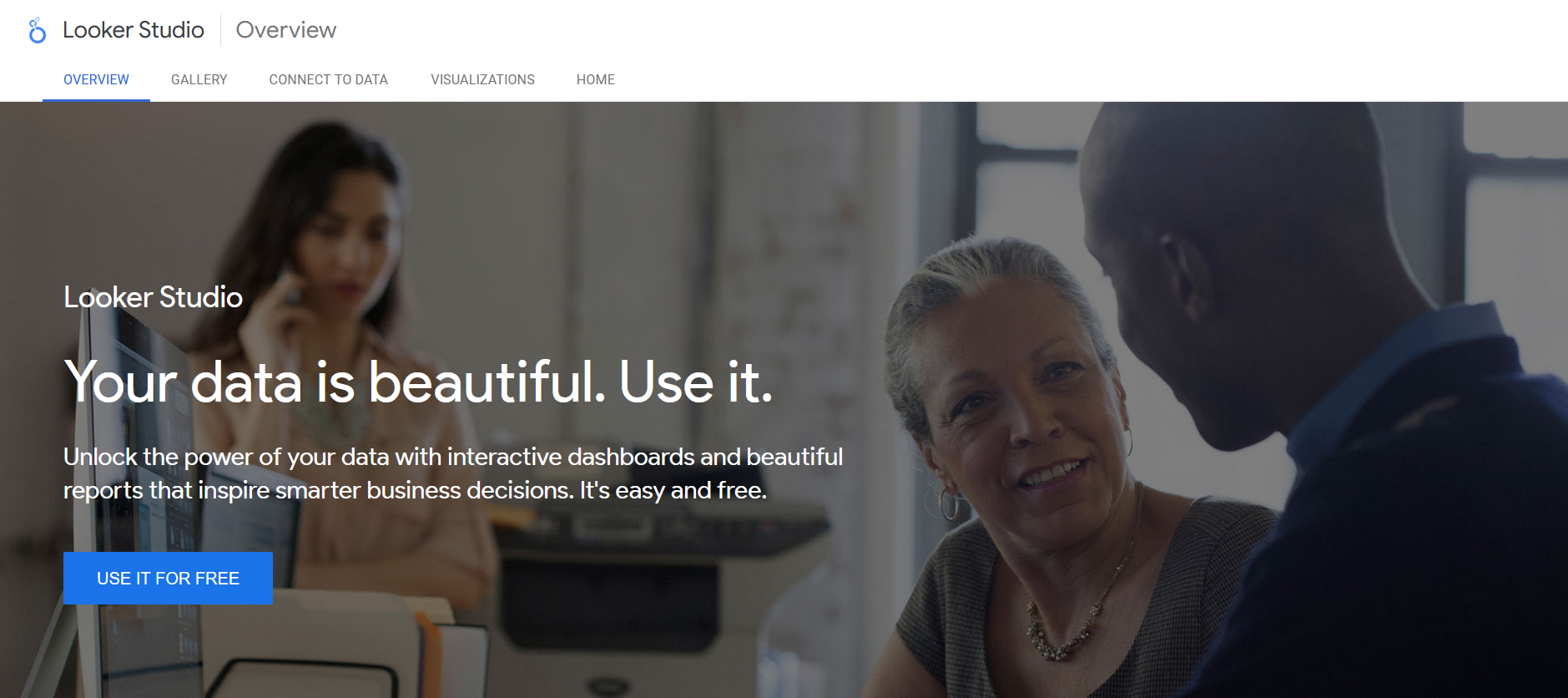 Looker Studio is an online platform that facilitates data conversion into informative dashboards and reports.
It enables you to monitor critical metrics like website traffic, bounce rates, and user duration on the page.
You can merge information from various sources, such as Google AdWords, Google Analytics, Google BigQuery, and spreadsheets, in one place, leveraging Google Data Studio.
Its drag-and-drop functionality enables you to generate visually appealing reports quickly. It also allows you to produce shareable charts and graphs, and you can add shapes and images to enhance the comprehensibility of your reports
You could also modify the fonts, colors, and logos of such a report to represent your business's design accurately.
PRICING
Looker Studio is a free SEO reporting tool.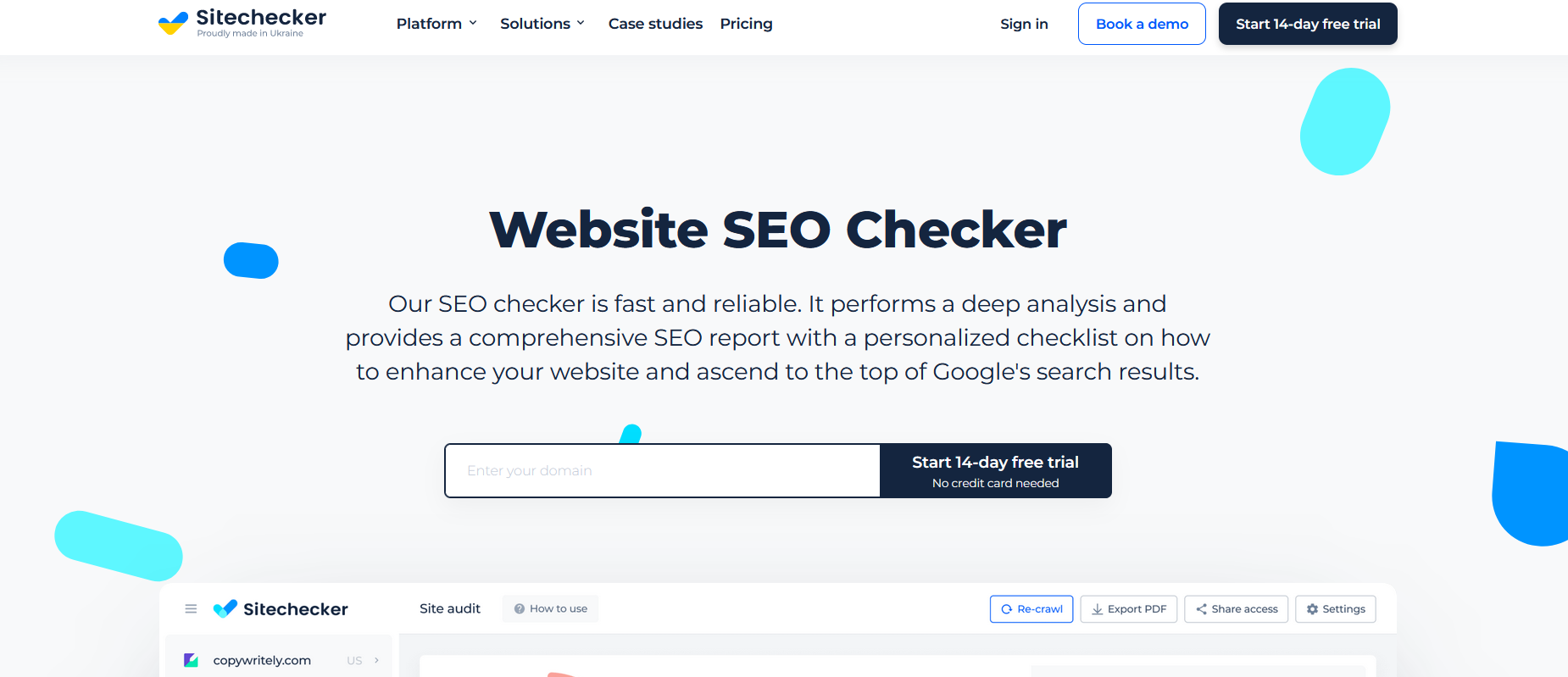 Sitechecker reporting tools comprehensively overview your website's keyword ranking performance, highlighting the factors contributing to growth.
The Rank Tracker report doubles as a KPI dashboard that you can use to monitor progress and pinpoint areas that require improvement.
You can keep track of keyword popularity and the top keywords that have been bringing visitors to your site with the regular email report.
You can include notes under each chart to recall the changes you made on your website and when.
Additionally, you can send customized reports to your clients that showcase your performance relative to competitors.
One of the standout features of Sitechecker is the backlink tracker, which scrutinizes a website's backlink profile and identifies opportunities for building new links. Another valuable feature is the SEO Chrome extension, which lets users assess any website's SEO health quickly.
The site audit feature is also incredibly beneficial, as it checks for common technical issues impacting a website's ranking.
Lastly, the site monitoring feature ensures that a website's SEO performance is continuously evaluated and any issues are promptly addressed.
Pricing
There are four price tiers for Sitechecker. Sitechecker also offers a free trial.
The monthly cost for the Basic plan is $49.00.

The monthly cost for the Standard plan is $149.00.

The monthly cost of the Premium plan is $249.00.

The Enterprise plan; to discuss this, get in touch with the team
Nightwatch is a user-friendly SEO tool that is primarily used for rank tracking. It boasts an excellent set of reporting features. If you're seeking for a robust and accurate rank tracker, Nightwatch is an affordable option that delivers.
You can seamlessly integrate Google Analytics, Google Search Console, and Google Data Studio.
Additionally, white-label options are available for agencies that require customized reporting software.
One of the Nightwatch's standout features is its powerful drag-and-drop report builder. This enables you to generate visually compelling reports that aggregate data from various sources. You can highlight your clients' essential data, such as segments, configured graphs and rankings overviews, backlinks, or site audit information.
For SEO professionals, it's reports are an indispensable tool. The reports provide a comprehensive view of rankings in multiple cities worldwide.
The best part is that you can customize the reports to emphasize key data.
Pricing
Nightwatch offers several different pricing tiers, including:
Starter for 500 tracked keywords at $39,

Optimize for 1,000 tracked keywords at $99,

Agency for 5,000 tracked keywords at $369, and Custom plans.
You can use the 14-day free trial to see if Nightwatch is the best choice for your needs.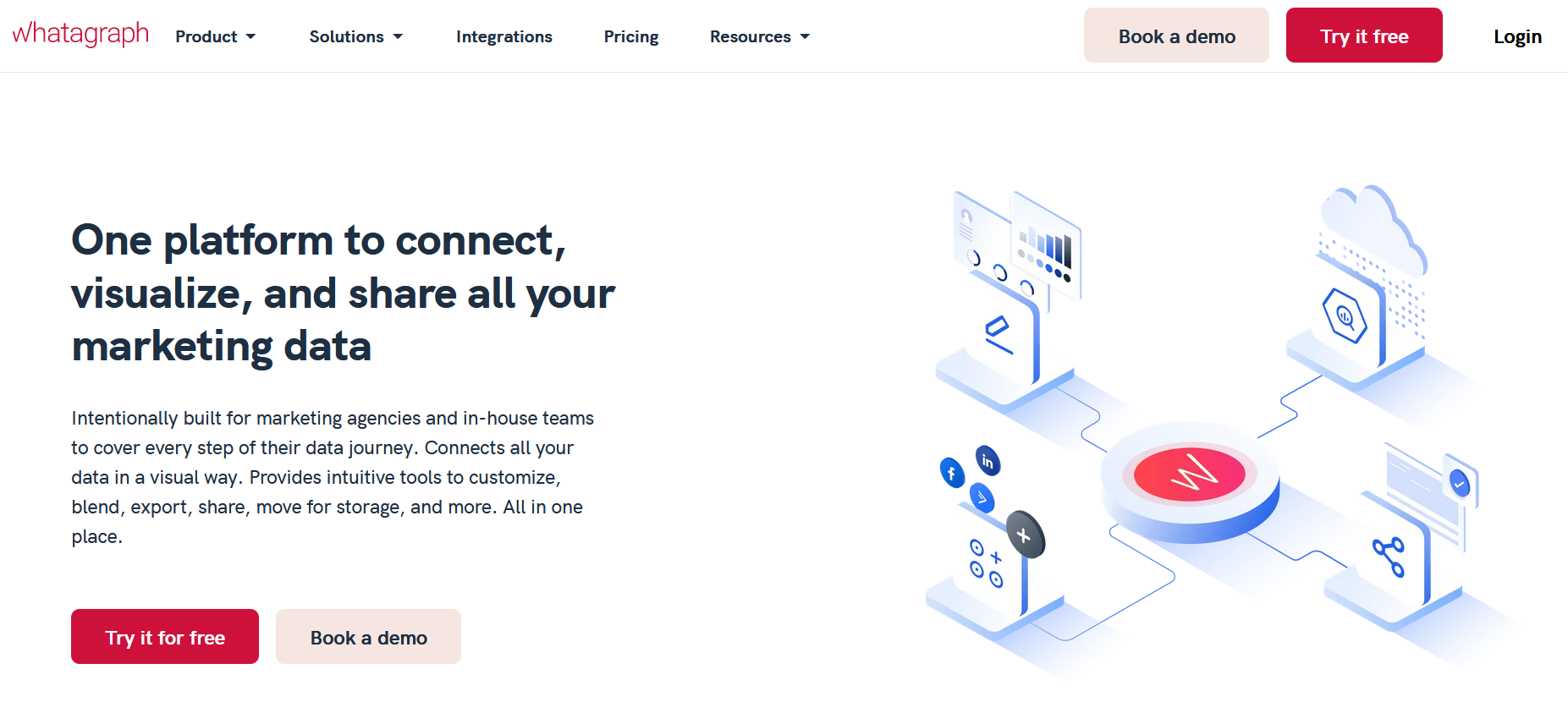 Whatagraph was explicitly designed for agencies.
Whatagraph offers an intuitive dashboard platform that tracks real-time data across multiple marketing platforms.
With a personalized onboarding experience for all new customers and various pre-made templates, getting started with Whatagraph is a breeze.
Moreover, Whatagraph provides white-label options for agencies to fully control their branding and customize dashboards for clients.
Pricing
Whatagraph has three pricing options that can be adjusted to match your needs fully.
Whatagraph currently has three pricing tiers:
The Professional plan is $ 223 monthly

The Premium plan is $ 335 monthly

The Custom plan. Custom pricing (that is, their team needs to be contacted for the price)
Whatagraph offers a free 7-day trial and a 30-day money-back guarantee on all plans for added peace of mind.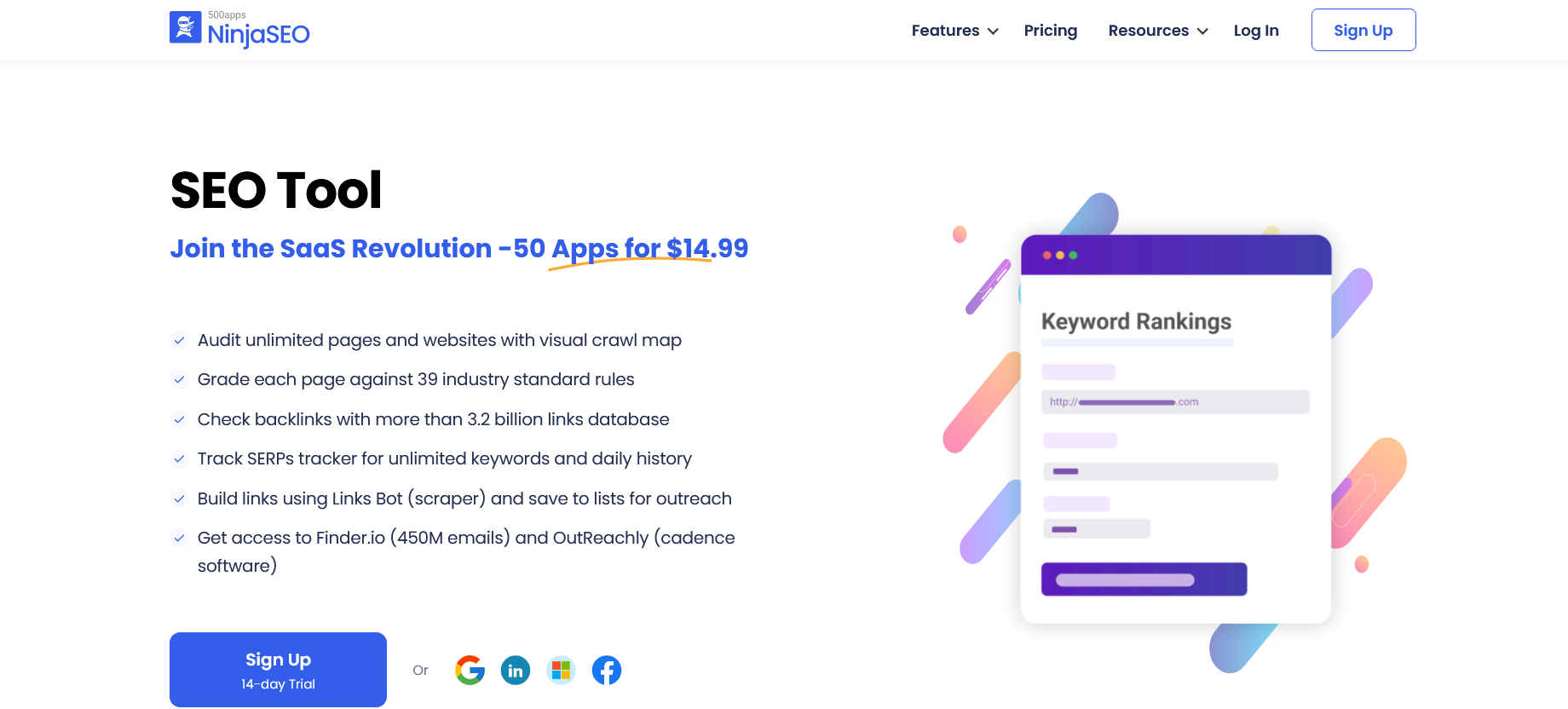 NinjaSEO is an all-inclusive SEO reporting tool that enhances users' website search engine rankings. This tool grades each website page based on its optimization for search engines and offers recommendations to improve its ranking.
It utilizes a website crawler, keyword ranking, on-page grading, website auditing, link bots, link tracking, and backlink analysis.
Additionally, the SEO Chrome extension enables instant crawling and easy grading.
NinjaSEO is part of a suite of 37+ business apps included in the 500 apps package, which costs $14.99 and is free for up to 10 users.
Pricing
The three pricing plans offered by NinjaSEO are as follows:
The Cloud plan is $14 .99 monthly

The Enterprise plan is $74 .95 monthly

The Hosted plan runs on custom pricing (that is, their team needs to be contacted for the price)
Free trial subscriptions are available and don't require a credit card.
Final Thoughts
I've selected 15 of the best SEO reporting tools for businesses and marketing firms in this article. This should make choosing the best reporting tool for your needs more effortless.
It is crucial to consider the numerous reporting capabilities each SEO software offers when selecting the best SEO reporting tools for your requirements.
Programs like SE Ranking and SEO Powersuite may provide more extensive reports than others.
However, you decide how much information you require to make an informed choice about the SEO of your website and pick the right tool for you.