Looking for the best drones under 100? Check my list of the top-rated drones and some of the coolest features they all share.
After extensive research, I have come in contact with many cheap drones, but I'll discuss only the 15 best, most cheap drones in this blog post.
These 15 exceptional drones are the best under 100 that will suit your needs perfectly, whether you are just a newbie or already an expert in the field.
I understand that with an ever-expanding range of drones to select from, picking the best affordable drone can be really confusing; this is why I have done the tough job for you and compiled this list.
Whether you're an aerial photographer looking for stunning shots, a racing enthusiast, or just someone trying to have some fun flying around, these best drones under 100 will leave no doubt that the perfect drone for you exists.
So, without much ado, let's dive into this list, where I'll be detailing the features, advantages, and disadvantages of each of these best drones under $100.
The Popularity of Drones and Their Increasing Affordability
Drones have become progressively popular over the past few years due to their versatility, usability, and affordability. It may have seemed like an intimidating science project reserved for tech-loving hobbyists a few years ago, but now drones are becoming more user-friendly and accessible than ever before – with many models available to buy at low prices.
Even if you're on a budget, there are plenty of quality drones out there that you can purchase that include awesome features like long battery life and live video streaming capabilities that used to cost hundreds or even thousands of dollars back in the day.
With my comprehensive list of the top 15 drones under $100, you'll be able to explore the world of drones without breaking the bank!
Things to look out for When Going for a Drone Under 100
When you're looking for an inexpensive drone (Drone under $100), there are a few things you'll want to keep in mind.
Most drones under 100 can only guarantee about 10-15 minutes of flight time. So, unless you are ready to buy a few extra batteries yourself, look for a budget drone with a good battery.
If you're looking for a fun aerial picture-taking drone, go for camera drones with excellent quality output. Whether you are into photography or filmmaking, go for the best camera drone.
Ease of Use and Stability
Cheaper drones are harder to fly. So, when shopping for one, go for a drone that is easy to fly and control.
Don't think that only expensive drones can be stable. You can get some budget drones that are stable. All you have to do is look for features that keep your drone stable.
Look for tags like 'altitude hold' in the description. This will tell you that the drone can hold its position in the air without giving you any issues.
The question is not just how high can a drone fly? But how far away before your remote stops responding?
Get a drone with a remote that has a good range. If you want to take photos and quality videos of birds or nature, you must first be concerned about drone flight control.
Some drones have features like auto-return and headless mode to help keep them safe. Get this type of drone.
It would be best if you bought a drone so that you can easily get its parts. If you buy a drone no one knows, it will be tough to replace any damaged parts
Get a drone that has responsive customer support. If you need quick answers to a question about your drone, you want to contact that won't leave your ticket or mail pending for a long time.
These 7 things are the most important things to watch out for when going for a drone less than $100. Make sure the drone you have your eye on passes these 7 criteria.
Now that you know what you should look out for when going for this class of drones, let's explore the list of the 15 best drones under $100 and decide which one is perfect for you.
The 15 Best Drones under 100 in 2023
It's important to know about the best drones on the market for under 100 – luckily, I've got you covered!
Below is the list of the top 15 inexpensive drones that offer fantastic features, such as high-resolution cameras, multiple flight modes, and extended flight times. With these drones, you can get an amazing experience for great value; pros don't need to break the bank.
1. DJI Tello Quadcopter Drone.
At the top of the list of the best drones under 100 dollars is the DJI Tello Quadcopter.
Features and Pros
Packed with features such as high-performance HD video capabilities and real-time video feedback, this drone will give you an experience like no other.
On top of its already impressive specs, it boasts a user-friendly interface and a sturdy, lightweight design – making it perfect for beginners or experienced pilots alike.
With up to 13 minutes of flight time available per charge, there are plenty of opportunities to capture all your most impressive aerial shots.
Cons
The only downfalls are that you need an additional SD card for storage and a mobile device to use the accompanying app – and we all know how expensive iPhones can get!
In summary, if you are looking for quality and are still budget-conscious, this is the drone for you.
2. Eachine E58 Pro Drone.
As one of the best drones for under $100, the Eachine E58 Pro is an outstanding option if you're searching for a drone that's affordable and has lots of great features.
Features and Pros
This mini-sized, foldable quadcopter fits in the palm of your hand, making it easy to take with you wherever you go.
It packs some serious specs — from its adjustable 720p WIFI camera and built-in headless mode to the 3D flips and rolls that can be used at any speed.
As for performance, this drone can do 0-60 km/h in just 8 seconds! The battery life gives you up to 8 minutes of flight time as well.
Cons
While this model is almost perfect – it doesn't come with a controller.
If you are a beginner or intermediate drone pilot looking for the cheapest drones, the Eachine E58 Pro is definitely worth checking out.
3. Holy Stone Hs190 Foldable Mini Drone.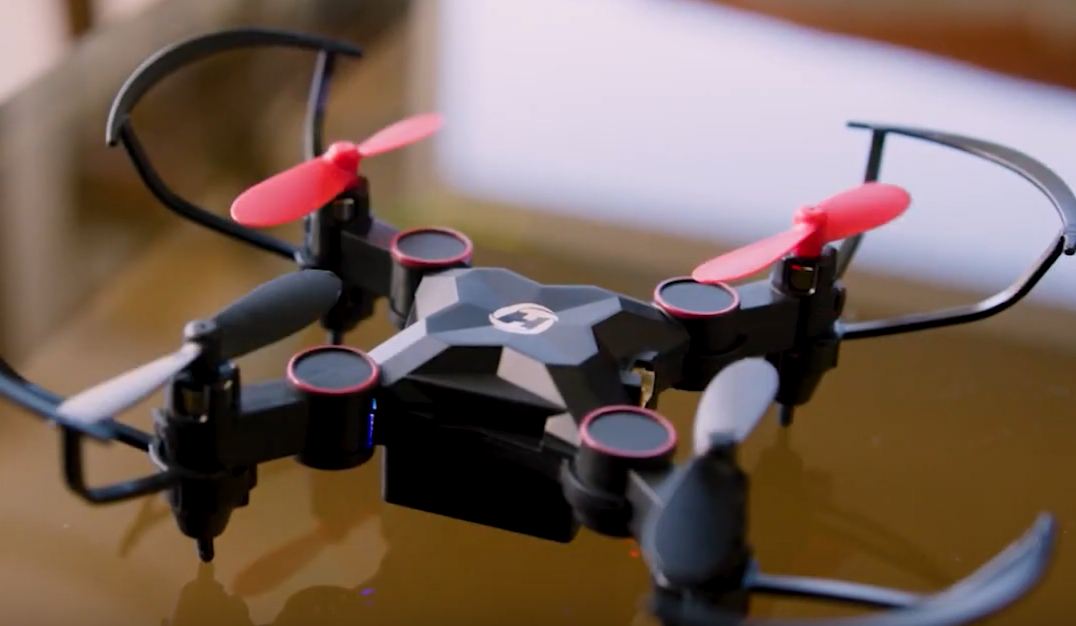 The Holy Stone HS190 Foldable Mini Drone is a must-have for beginner drone pilots and enthusiasts. I listed among the first 10 best drones under $100 because of it's unique features.
Features and Pros
This handy little quadcopter comes with an HD camera, giving you the option to capture stunning aerial footage and photos. In addition to its impressive features, the drone's light weight makes it easy to transport and store away. With a maximum distance range and 10 minutes of battery life, you won't have any trouble zipping around and taking snapshots!
Cons
As amazing as it is, this drone does have one pitfall – if flipped over, it needs manual adjustment to activate its motors again.
Overall, the Holy Stone HMS190 offers plenty of bang for your buck and should be on everyone's list of top drones under 100 dollars!
4.Snaptain A10 Drone.
Features and Pros
The Snaptain A10 drone has quickly become a popular choice for both beginners and experienced pilots alike, offering a range of impressive features that cater to various needs. The A10's 720p HD camera enables you to take beautiful aerial pictures and videos.
Thanks to its intuitive app control and voice command options, flying this drone is super easy. The altitude holds function, and one-key takeoff and landing ensure a smooth flight experience.
Also, because of its exceptional flight duration of up to 10 minutes, you can maximize your time in the air. Therefore, it's imperative that it makes this list of best drones under 100.
Cons
The drone's 80-meter control range and lack of object avoidance sensors are two shortcomings that must be taken into account.
In the end, the Snaptain A10 is an adaptable drone that gives you an outstanding mix between price and capability, making it a wonderful choice if you wish to explore the world of drone piloting.
5. Potensic A20 Mini Drone.
In the 5th position on the list of the best drones under 100 is the Potensic A20 Mini Drone. if you are into aerial photography, this mini-camera drone is the one for you.
Features and Pros
It is reasonably priced, simple to fly, and produces top-notch images and videos. Additionally, the A20 offers a few features that set it apart from the competition.
The A20 can fly for up to 15 minutes, which is amazing, to say the least. You can therefore stay in the air for a longer period of time and take more photographs.
Second, the A20 has GPS, giving you more control over the drone and the ability to follow its whereabouts.
Finally, the A20 includes a convenient carrying case that makes it simple to take your drone with you wherever you go.
Cons
There are a few things disadvantages that come with working with the Potensic A20.
First, it's not the best drone for beginners. If you're just a newbie, you might want to consider something else.
Second, the GPS feature can be a bit unreliable at times.
And third, the carrying case isn't waterproof, so keep that in mind if you're planning on taking your drone on any adventures.
The Potensic A20 is an excellent drone option for those seeking a high-quality product at an affordable price.
Its advanced features will enhance your photography experience and take your skills to new heights, both literally and figuratively.
Additionally, it is beginner-friendly yet suitable for experienced pilots as well.
6. Hubsan X4 H107C drone.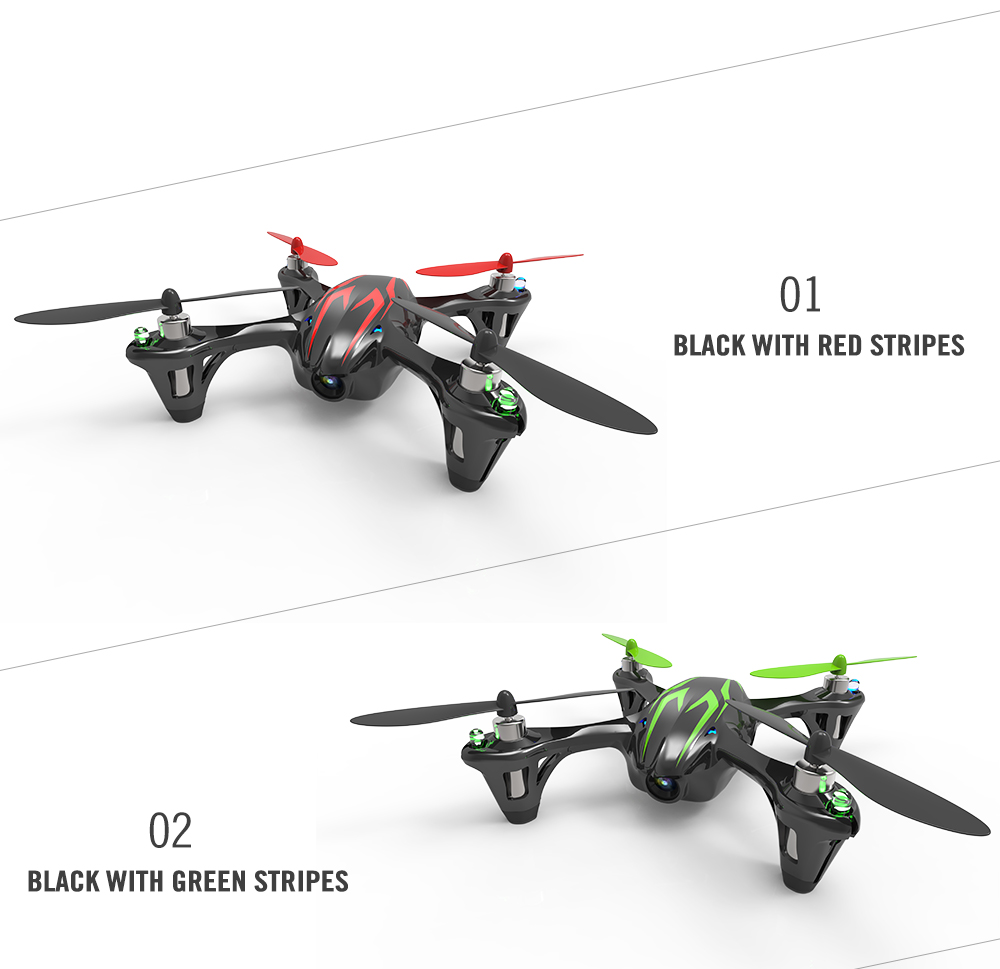 I don't have a choice but to list the Hubsan X4 H107C drone among the best drones under 100. The drone is a top performer in the drone market. Its mini size, clean design, great flight performance, and enjoyable user experience make it stand out.
Features and Pros
This drone may be small in size, but it comes with numerous features, including a sturdy plastic build, a 6-axis gyro stabilization system, and a 720p HD camera, making it an impressive device.
Cons
This drone is highly favored, although it has some downsides like occasional WiFi connection problems, limited flight range, and difficulties in windy conditions. However, if you're willing to overcome any initial troubleshooting, this drone remains a strong option that can deliver enjoyable aerial footage and entertainment.
7. Syma X5C-1 Drone.

If you need a camera or video drone, the Syma X5C-1 drone is here for you. Although you can describe it as a larger drone, compared to the mini drones available, it is best for those interested in aerial photography and just starting out with drones hence made the list of the best drones under 100.
Features and Pros
This amazing drone has a 6 Axis Gyro stabilization system to guarantee stable and smooth flying.
The fact that this drone is among the best under $100 is one of the best parts about it. Furthermore, it is lightweight, making it simple to transport and take stunning drone photos while moving.
Additionally, it contains a 2MP HD camera that lets you record stunning aerial footage even in dim lighting.
Cons
Although the Syma X5C-1 is great for its price, you may encounter issues with its battery life and speed, which is common among budget drones even in this price range.
Nevertheless, it remains a great choice for anyone seeking an affordable drone option under $100.
8. JJRC H36 Drone.
This nano-sized drone is worth every penny, and worth being on the list of the best drones under 100
Features and Pros
The JJRC H36 drone costs less than $100 but offers features that cheaper drones usually don't have. It has a 6-axis gyro that ensures stability during flight, even when there are unexpected winds.
It can also perform flips and hover, which adds to the fun. Additionally, its small size makes it easy to fly between areas that don't have major obstacles.
Cons
Although the drone has its downsides, like limited battery life, it is still worth examining closely due to its excellent value.
9. GoolRC T36 Drone.
The GoolRC T36 drone offers so many unique features that you won't find in other drones of its price range.
Features and Pros
For those looking for a high-quality remote control experience without spending a lot of money, the GoolRC T36 is a fantastic choice.
Wide-angle 720P high-definition camera, fast controls, and remote control operation from up to 80 meters distant are all features of this device.
Cons
The GoolRC T36 Drone has a flight time of about 7 minutes; however, it can still be an excellent first drone and suitable for novices.
If you want to expand your collection of toy drones, this is an economical alternative.
10. Drocon DC-65 Foldable Mini Drone.
The Drocon DC-65 Foldable Mini Drone is the perfect mini drone for renters and owners of any home.
Features and Pros
This small drone has impressive features, including an HD camera for taking aerial photos, various speed settings for beginners and advanced flyers, foldable arms for portability, and altitude hold mode for steady hovering.
Additionally, it has stable flight performance, easy-to-use controls, steady hovering, and low latency for faster response time.
As one of the best cheap drones out there, you can have fun looking at live images and simultaneously a good shot at a video.
Cons
Although the Drocon DC-65 Foldable Mini Drone has impressive features, it may have lightweight parts because it is affordable, costing under $100.
However, this does not compromise its overall quality. You can experience flying with this great drone today!
11. Ryze Tello EDU Drone.
The Ryze Tello EDU Drone is a small, lightweight, and easy-to-use drone that is perfect for both beginners and experts alike.
Features and Pros
The Tello EDU Drone can fly for up to 13 minutes, giving you plenty of time in the air, and it features an HD camera that allows you to take beautiful pictures and videos from above.
Because of its GPS placement, the Tello EDU Drone can be found even when you're at a distance.
The drone is extremely safe to use because of its propeller guards and crash detection system.
So what are the positives and negatives of the Ryze Tello EDU Drone? Well, let's start with the positives.
As stated previously, this drone is user-friendly and has simple controls that make it easy to operate.
When compared to other models, the drone is a more affordable option, which makes it a good choice for consumers on a tight budget.
The Tello EDU Drone also has a lot of features that make it perfect for both inexperienced and experienced pilots.
Cons
On the flip side, it's worth noting that the flight duration is only 13 minutes which is relatively short.
12. Altair Aerial AA108 Drone.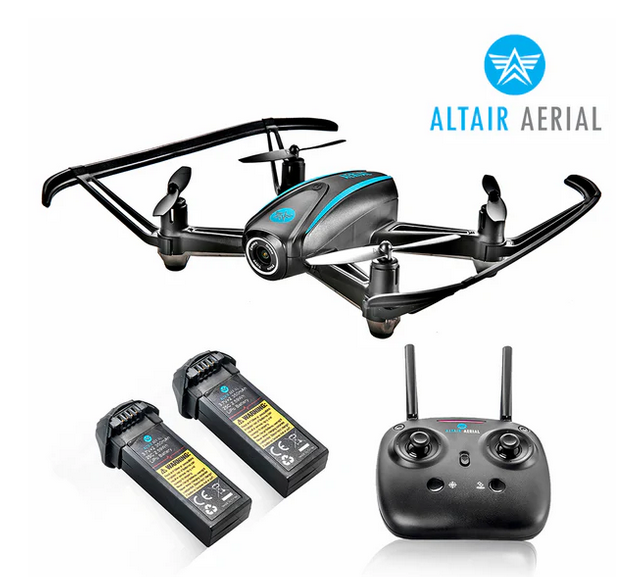 The Altair Aerial AA108 Drone is a highly impressive device for flying that comes with a variety of exciting features.
Features and Pros
This drone is simple to use and comes with a 720P HD camera as well as two batteries for extended usage.
It also offers one-button functionality for takeoff, landing, and returning home, making it perfect for rookies.
If you're feeling adventurous, the device also features altitude hold and headless mode, which allows you to showcase your daring aerial skills to others.
Cons
Although its range could be improved, the Altair Aerial AA108 provides great value for its price.
In summary, it is a necessary drone for anyone who wants to become a skilled aviator and show off their abilities.
13. DEERC D20 Mini Drone.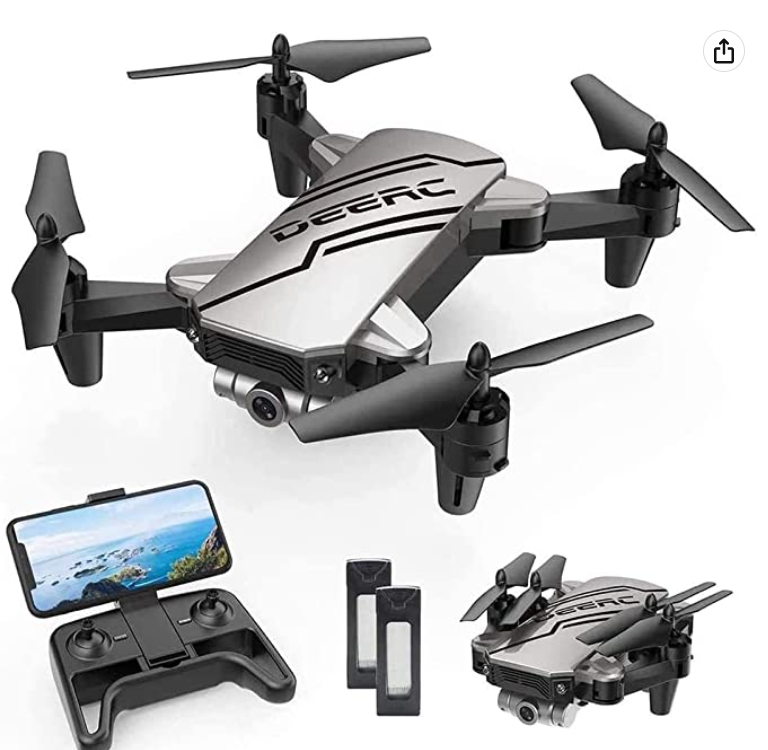 The DEERC D20 Mini Drone is gaining popularity among drone enthusiasts due to its unique features.
Features and Pros
This drone has a lot of cool features, such as a double-sided brushless motor system, a free flight path, and takeoff/landing control with a single button.
It will also help you get the best shot with its 6-axis gyro and height hold.
If you want a drone that has a lot of fun features, this is the one to get.
Cons
Although, it is important to note that the DEERC D20 Mini Drone has some disadvantages, such as slow speed and limited camera quality.
Nevertheless, if you want a drone that provides both enjoyment and ease of use while blurring the distinction between novice and professional drone pilot skills, the DEERC D20 Mini Drone is the perfect choice for you.
14. LBLA FPV Drone.
This drone is an impressive device that offers a smooth flight, high-quality imagery, and stability in the air. It has many other features that are worth exploring as well.
Features and Pros
The LBLA FPV Drone comes with useful features like one-key takeoff/landing, altitude control, and adjustable speed settings that you can adjust per your preference.
It's perfect for beginners since it's easy to use and helps boost your drone piloting skills.
Although it may look simple, the LBLA FPV Drone is a highly capable machine with lots of advantages.
Cons
Although there are some minor drawbacks, such as a difficult setup and limited battery life, this powerful drone comes with great responsibility.
Regardless, it is a thrilling option for both experienced and beginner pilots.
15. Snaptain SP350 Drone.
The Snaptain SP350 drone is an excellent choice for anyone who loves technology and wants to fly a drone.
Features and Pros
The Snaptain SP350 is a small but powerful drone with some great features.
It can take off and land with the push of a button and has the technology to dodge obstacles.
Also, through its WiFi connection, the drone can also send HD footage straight to your phone.
The Snaptain SP350 is becoming more and more popular among artists thanks to these great features.
Cons
However, it's important to note that every drone has its weaknesses, and although the Snaptain SP3500 drone is worth the investment, it comes at a higher cost and requires regular maintenance to ensure its longevity.
Therefore, if you are ready for an aerial adventure and committed to taking good care of your purchase, the Snaptain SP350 drone is the perfect choice for you.
FAQs About Drones Under 100.
Do you have any questions about drones that cost under $100? We often receive these frequently asked questions:
Q: Are drones under 100 worth it?
Beginner pilots can easily make use of the useful features offered by drones in that price range. So, yes, they are worth it.
Drones that are currently available have the capability to travel long distances, come with a high battery life, and can even capture videos. You can get all these features for less than $100.
Q: What kind of features come with a drone under 100?
A: The drone will come with essential features such as a camera, mobile control features, altitude hold, and one-key takeoff/landing.
Although some models may include features like voice command or gesture control, they will not be highly advanced.
Q: Can I use a cheap drone for aerial photography or videography?
A: Certainly! Many drones under 100 have a camera that can capture amazing photos and videos from the sky.
However, please keep in mind that the quality may not be as high as that of a more expensive model, and you may have limited control over some settings.
Q: How long can I fly a cheap drone before it dies?
A: The flying time of a drone depends on its model. Generally, drones can stay in the air for 5-10 minutes once fully charged.
However, some models can extend their flight time if you have additional batteries or a power bank.
Q: Are cheap drones under 100 easy to fly if I'm a newbie?
A: Yes, most drones are designed to be easy for beginners to use, with features like altitude hold and one-key takeoff/landing. However, it's important to read the manual and practice in a safe area before flying the drone.
Q: Can I fly a cheap drone indoors or in the wind?
A: Indoors, sure! But outdoor flying might be trickier if it's windy since these drones are usually lightweight and not super stable. Always make sure you're following local regulations and staying safe while you're flying.
Q: How far can a cheap drone fly?
Toy drones have a limited flight range of fewer than 100 yards, whereas the flight range of advanced consumer and commercial drones that are presently available ranges from 4 to over 9 miles.
Q: How much should I spend on my first drone?
A: Tiny drone models suitable for beginner pilots and for practice: Prices range from $30 to $150.
These drones look small and are often referred to as toy drones, and their prices usually range from $30-$150.
Q: How High Should I Fly My Drone?
A: 400 feet.
When flying in uncontrolled airspace, make sure to fly at the highest altitude of 400 feet or lower.
Please be aware that flying drones in restricted airspace is prohibited. Before flying a drone, it is important for pilots to check for any existing airspace restrictions.
Conclusion
To sum up, there is a growing trend in using affordable drones. There are many options for beginners to choose from among various brands to begin their exploration of drone technology.
This blog post has presented a detailed guide about the 15 best drones under 100, including key features and FAQs.
If you're interested in buying a drone, whether it's your first or you want to expand your collection, now you have options available for you at affordable prices.
It is recommended to research and carefully consider your needs before making a decision about purchasing a drone.
However, it is important to remember that flying a drone can be a fun and fulfilling experience. With practice and some upgrades, you may even be able to turn your passion for drones into a profession. So, go ahead and explore the world from a new perspective with a drone!
Do you have any other drone in mind that you think should be on this list? Please share your thoughts in the comments.