'Get the inside scoop on the popular SEO plugin with my in-depth RankMath review. Find out if it's the tool your website needs to conquer search engine rankings.'
Undoubtedly, a WordPress SEO plugin is essential for every website owner.
However, when selecting the best WordPress SEO plugin, most people tend to opt for popular choices like Yoast SEO without exploring other options.
What if a better WordPress SEO plugin was available that offers more features?
Thankfully, Rank Math exists and is arguably the best free seo plugin out there.
This WordPress SEO plugin surpasses its competitors – including the Yoast SEO plugin – in terms of functionality and offers a host of features free of cost.
So, Rank Math is something to think about if you want to make improvements to the SEO of your website.
In this post, I will do an in-depth Rank Math review, and you can determine if it is the best SEO plugin for you.
But first, let's look a bit into SEO and SEO plugins for WordPress and find out why we need them.
SEO & SEO Plugins
SEO increases a website's visibility in search engine pages by optimizing it for specific keywords or phrases. This involves activities such as creating and optimizing content and building backlinks.
The significance of SEO lies in its ability to enable search engines to locate and analyze multiple keywords to rank your website higher than other websites.
All this is in response to a user's query. This may aid in boosting website traffic and possibly raise your chances of gaining more leads and revenues.
An SEO plugin, such as Rank Math, is one of the essential tools for optimizing your website for search engines.
Most of us know what SEO means and fairly accurately understand how internet search engines function. We know that optimizing our website is crucial for leveraging organic traffic. This involves making our site SEO-friendly by focusing on text, images, goals, and loading speed.
To effectively accomplish our SEO tasks, we need help! Raising your website's SEO score isn't an easy task. This is why SEO plugins are necessary and important.
What are SEO Plugins & How Can They Help You?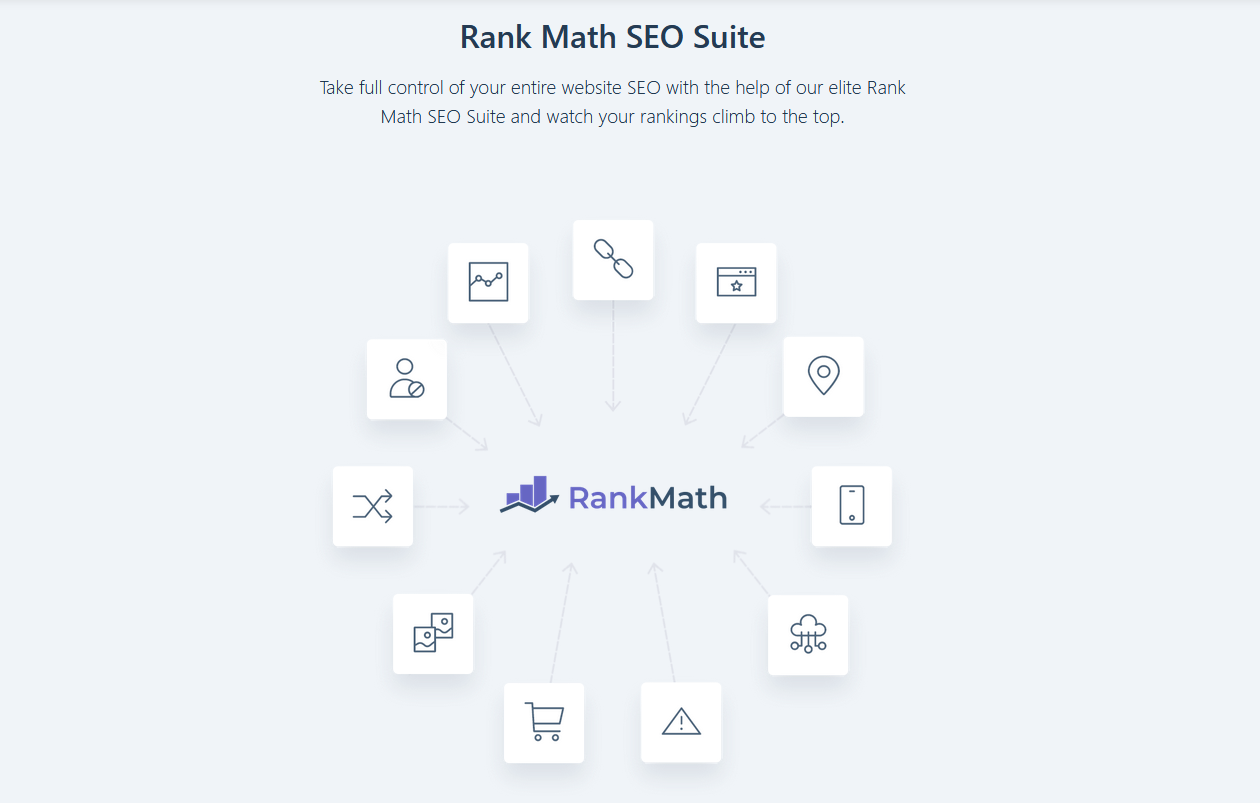 SEO plugins are tools developed to help you optimize your website and content for search results.
SEO plugins offer a range of features that can enhance your search engine rankings, such as keyword research, meta tags, robots.txt editor, sitemap creator, and more.
Additionally, they can provide valuable insights into your website's SEO performance and suggest improvements.
Selecting a suitable WordPress SEO plugin for websites is important to everyone. Regardless of whether you run a small business, are a blogger, or earn a living from your website.
Boosting your website's search engine rankings and attracting more traffic is vital to succeeding online.
Having a WordPress SEO plugin is essential if you want to use Google and Bing to draw in new clients.
While WordPress is a valuable platform, it does not provide SEO services.
Thankfully, it provides a wide range of SEO plugins. However, it's crucial to pick the one that best meets your unique wants and specifications.
One such plugin is Rank Math, which delivers high-level performance to increase your website's traffic and is also available for free.
Currently, several popular WordPress SEO plugins are available that provide services, diagnostics, and tests. These include Rank Math, Yoast SEO, SEOPress, and The SEO Framework.
However, Rank Math is considered one of the most dependable options today.
Rank Math's free SEO plugin offers a wealth of options to help you create the best possible SEO strategy for your unique needs.
In this review of Rank Math, we'll explore all of the plugin's features, both in the free and pro versions. We will also compare it to Yoast SEO (a popular SEO plugin), weighing up the pros and cons of each.
RankMath Review- The SEO Plugin of All Time
Why Rank Math?
Given the numerous SEO plugins available, what sets Rank Math apart, and why should it be our preferred choice?
The answer lies in the fact that Rank Math offers a superior content optimization experience, complete with unique features. This set Rank Math apart from its competitors.
What Really is Rank Math SEO Plugin?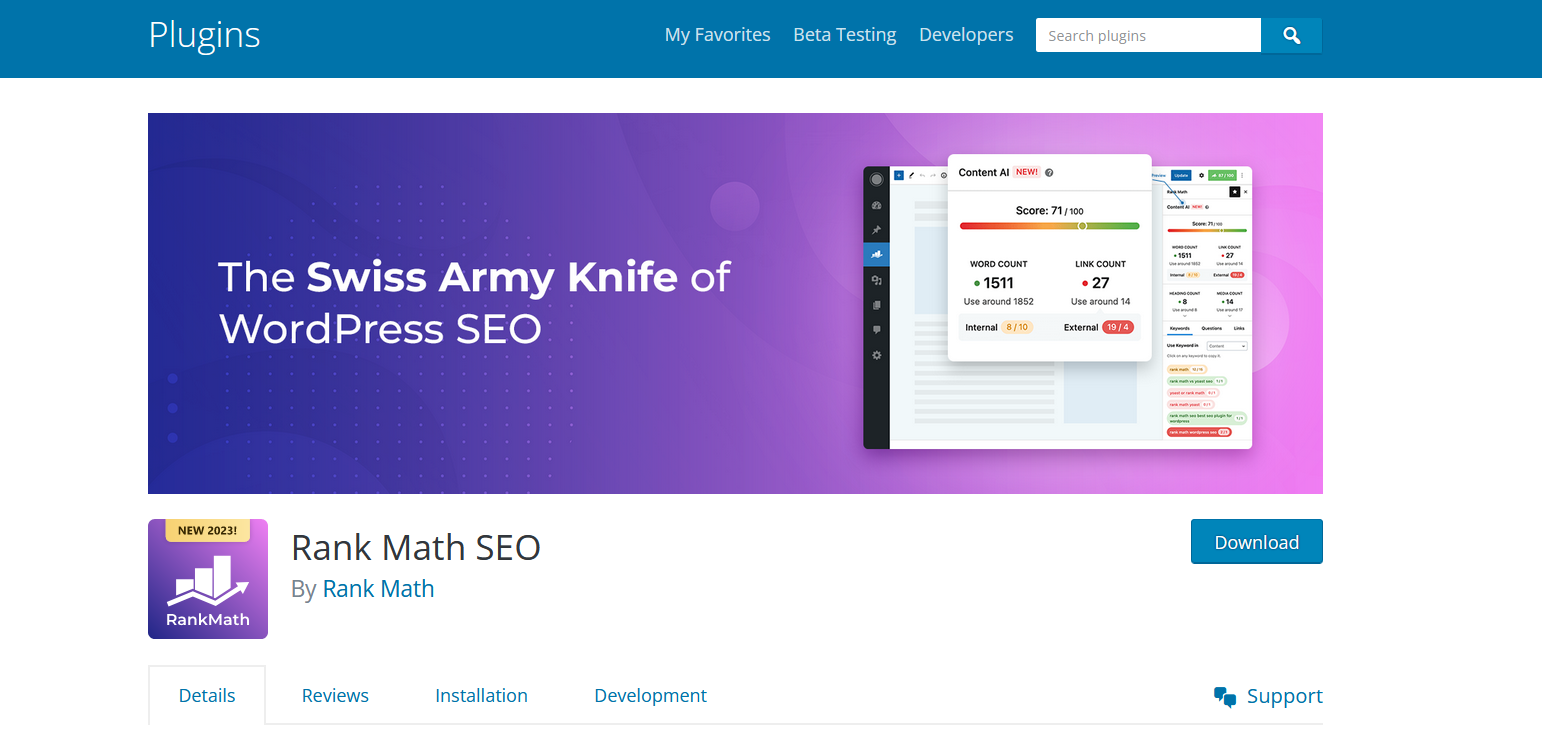 Rank Math SEO is a WordPress plugin that aims to improve a website's SEO ranking and standard. This plugin focuses primarily on on-page SEO techniques like Surfer SEO and Frase. It can help identify issues with specific keywords you're trying to rank for in your web page content.
Its numerous features include keyword optimization, sitemap generation, schema markup, and other tools that can significantly boost a website's ranking. Plugins are a popular choice among WordPress users looking to increase the SEO of their websites because they are easy to use and configure.
When integrated into a content strategy, Rank Math can simplify the process of keyword targeting and enhance the quality of your onsite SEO.
You can easily insert your target keyword when creating content for your web pages or blog. Rank Math will check your content and highlight areas that require improvement.
Additionally, Rank Math allows you to add schema markup to your pages and posts, improving your chances of being included in Google's rich snippets.
As such, your clickthrough rates could increase significantly, which may increase visitors to your website.
Rank Math Pros and Cons
Pros
Free version available

Impressive user interface

Allows optimization for multiple keywords

You can easily transfer settings from other SEO plugins

User-friendly with a minimal learning curve

Adopts a modular approach

It provides a vast range of features
Cons
Content analysis options may suggest some irrelevant guidelines.
Key Features
SEO and content readability analysis

Quick and easy setup wizard for SEO

Rank tracker

Clean and simple user interface

Advanced SEO analytics module
Addition Features of Rank Math SEO Plugin
Rank Math offers quick and effortless import from Yoast SEO and All-in-One SEO plugins with just one click.

Generation of rich snippets

Creation of XML sitemaps

Automated image SEO that optimizes images lacking ALT tags

A wide variety of redirection options

Keyword rank tracking

Optimization of up to five keywords

Preview of blog posts on Google

Integration of LSI keyword tool that assists in discovering LSI keywords for better optimization of blog posts

Option to nofollow all external image and link tags, as well as opening external links in new tabs

Editing of titles and descriptions in bulk

Selection of Pillar Posts and Pages, facilitating better rankings and SILO structure

Provision of internal linking recommendations

404 monitor that instantly identifies and rectifies 404 pages.

Access to .htaccess and robots.txt editors
For Whom is Rank Math intended?
It's great that you're here reading this RankMath review and contemplating whether it suits you or not.
I'll provide specific details on who can make the most of Rank Math rather than giving you a generic answer like "Everyone can use Rank Math!" that you might come across in other RankMath reviews.
This plugin offers a News Sitemaps feature specifically for news websites to help index pages and boost traffic.
Bloggers can save time on SEO with Rank Math's Link Builder and 404 Checker.

Agencies can recommend Rank Math to their clients as a cost-effective alternative to other pricey SEO services.

eCommerce stores can use Rank Math's meta robots to structure data and optimize pages for better traffic.

Businesses can benefit from Rank Math's affordable pricing and rich feature set.

Everyone with a WordPress website can use WordPress's SEO tools to enhance viewership.
Can Rank Math Boost Traffic to My Website?
Most people reading this Rank Math review are probably wondering whether it will boost traffic to their website. The answer is NO; it doesn't directly do that. Instead,
Rank Math offers analytics and SEO recommendations that you can use to make changes to your site. You can potentially increase the traffic to your site if you put in the work and execute those suggestions.
However, Rank Math doesn't do the work for you; you need to put in the work yourself.
Comparison of Rank Math Free to Rank Math Pro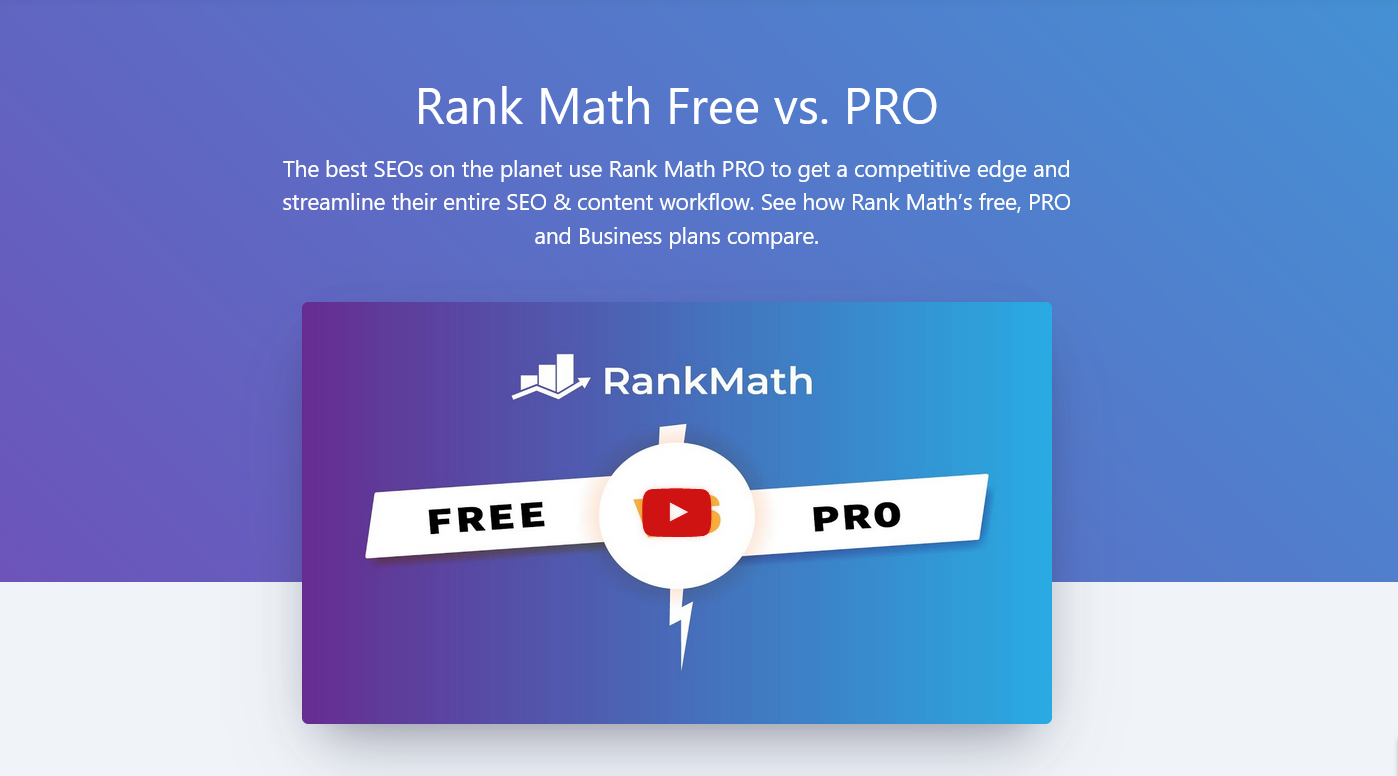 MyThemeShop's skilled development team is responsible for the creation of Rank Math, and the plugin has gained rapid popularity despite its recent launch. Rank Math SEO plugin has both free and paid versions.
However, you may wonder whether to use the free version of Rank Math or upgrade to the Pro version.
Let us compare Rank Math, the Free version, to Rank Math Pro so that it can help you decide on which one is right for your website.
Keep in mind that both versions are excellent and far succeed other SEO plugins.
Pricing
The price is the most apparent difference between Rank Math Free and Rank Math Pro. As the name suggests, Rank Math Free is completely free to use, while Rank Math Pro comes with a price tag. Rank Math Pro is available in three different pricing tiers:
Rank Math Pro for Personal use ($59 per year)

Rank Math Pro for Business use ($199 per year)

Rank Math Pro for Agency use ($499 per year)
You have to choose the pricing tier that is most suitable for you because each one has its unique features and advantages.
Keyword Optimization
One of the most significant differences between Rank Math Free and Rank Math Pro is keyword tracking and optimization.
While both versions of Rank Math allow you to optimize your content for specific keywords, Rank Math Pro offers more advanced keyword features.
With Rank Math Pro, you can track your keyword rankings, see keyword difficulty scores, and get targeted keyword move suggestions based on your content.
Advanced Schema Support
Another significant difference between Rank Math Free and Rank Math Pro is the level of schema support.
While Rank Math Free supports basic schema types like articles and blog posts, Rank Math Pro supports advanced schema types like recipe, product, and course.
Advanced schema support can help improve your website's visibility in search engine results and increase the likelihood of getting featured snippets.
Multiple Keyword Optimization
In addition to advanced keyword features, Rank Math Pro allows you to focus on keywords and optimize your content for multiple keywords. With Rank Math Pro, you can concentrate keywords and add up to five target keywords per post or page, which can help improve your chances of ranking for multiple search queries.
Custom Schema Builder
If you require more control over your website's schema markup, Rank Math Pro offers a custom schema builder.
With the custom schema builder, you can create and add custom schema types to your website's pages and posts. This feature can be handy for websites that require more complex schema markup.
Advanced SEO Analysis
While Rank Math Free offers basic SEO analysis, Rank Math Pro offers more advanced analysis features.
With Rank Math Pro, you can get a detailed analysis of your website's overall SEO health, including issues like broken links, missing meta descriptions, and more.
This can help you identify and fix SEO issues before negatively impacting your website's rankings.
Dedicated Support
Rank Math Pro offers dedicated support to help you get the most out of the plugin. With Rank Math Pro, you can contact the support team directly for assistance with any issues or questions.
While Rank Math Free does offer support through forums and documentation, the support is not as personalized as what you get with Rank Math Pro.
Rank Math Free and Rank Math Pro are powerful SEO plugins for WordPress.
However, suppose you're looking for advanced keyword optimization, advanced schema support, and more advanced SEO analysis. In that case, Rank Math Pro is the way to go.
On the other hand, if you're on a tight budget and just need basic SEO features, Rank Math Free may be sufficient for your needs.
Ultimately, the decision depends on your specific website's needs and budget.
Rank Math Free vs. Rank Math Pro ( Features Comparison)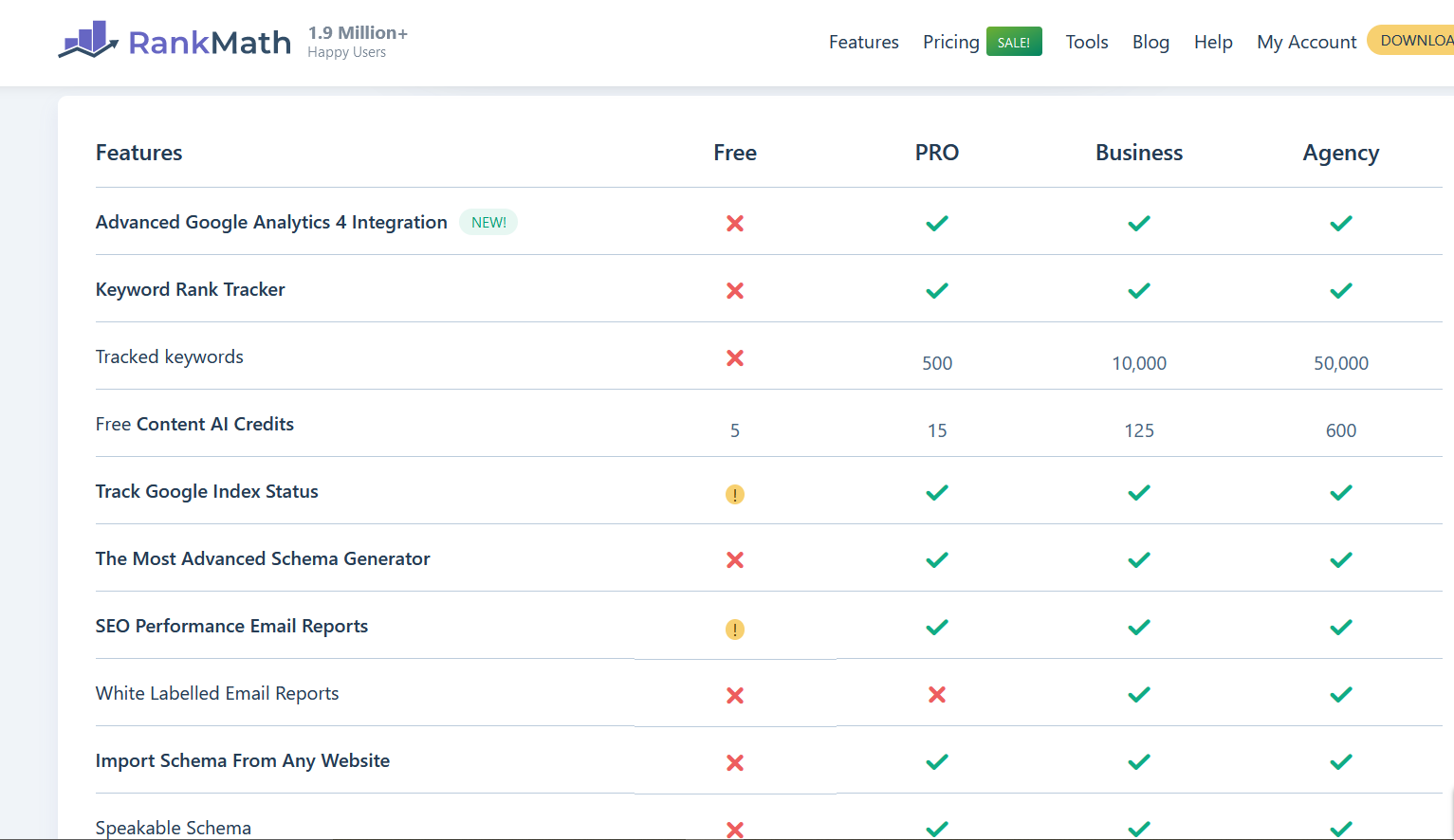 Rank Math Free
The free version of Rank Math comes with a variety of features, including:
Focus keyword analysis: Optimize content for multiple focus keywords.

Image SEO: It automatically adds alt and title tags to images to improve optimization.

Structured data/schema: Control schema for different content parts and set a sitewide schema.

Meta descriptions and titles: Customize SEO titles and descriptions for each post/page using templates or manual changes.

Search console integration: Submit sitemaps automatically after connecting the site with Google Search Console.

Social media descriptions: Manage how content and images are displayed on popular social media platforms like Facebook and Twitter.

Google Analytics integration: View traffic information from your WordPress dashboard after adding the Google Analytics tracking code.

XML sitemap: Create a customized XML sitemap that meets your specific needs instead of relying on the default sitemap provided by WordPress.

Knowledge graph and local SEO: Enhance your site's appearance in search results for local businesses.

Internal link suggestions: Receive suggestions about other relevant content to link to while using the editor function.

Breadcrumbs: Add breadcrumbs to your site.

Basic WooCommerce SEO: Optimize product and shop titles and descriptions, essential for effective WooCommerce SEO.

Link counter: View internal and external links for each post/page.

Redirects: Set and manage 301 and 302 redirects.

404 monitor: Keep track of any 404 error issues.
Rank Math Pro
The pro version of Rank Math offers additional advanced features, including:
Keyword rank tracking: Monitor the search engine rankings of your keywords for the past twelve months, providing deeper insight into your keywords' performance.

Advanced WooCommerce SEO functions: Enhance your online store's SEO with advanced features designed specifically for WooCommerce.

Google News SEO sitemap: Create a sitemap that conforms to Google News standards, which can help your content get featured in Google News.

Google Video SEO sitemap: Create a sitemap to help your video content get discovered on Google Video Search.

Google Trends integration: Get insights into the latest search trends and see how they impact your SEO efforts.

Multi-location local SEO: Optimize your content for multiple locations to target a wider audience.

Over 20 predefined schema types: Use predefined schema types to help search engines better understand your content.

Automatic social media image watermarking: Add watermarks to your social media images to prevent unauthorized use.

Google AdSense earnings history: View your AdSense earnings history directly within Rank Math.
Rank Math vs. Yoast SEO
Rank Math is a plugin specifically created for WordPress. It seeks to improve a website's SEO and raise its exposure on search engine results pages (SERPs).
Yoast SEO, on the other hand, is a well-known plugin for WordPress that assists in optimizing websites for search engines.
Its array of features, such as keyword analysis, content analysis, and even meta description and tag creation, aim to enhance a website's visibility and ranking on search engine results pages (SERPs).
Users can also create XML sitemaps and track their website's readability using this plugin. As a result of its comprehensive capabilities, Yoast SEO is regarded as one of the finest SEO plugins and is commonly employed by WordPress users.
Yoast SEO vs. Rank Math (Free Version Comparison)
Rank Math offers a plethora of free features for users to utilize, whereas Yoast SEO has a more limited selection. The critical consideration is whether the additional free features provide an advantage to the user.
Which Free Features Do They Share?
The following is a list of free features that are common to both Yoast SEO and Rank Math:
Social media descriptions for Facebook and Twitter.

Descriptors and titles for simple WooCommerce SEO.

Breadcrumbs to facilitate site navigation.

SEO templates allow users to set templates for content, including SEO titles and descriptions.

XML sitemap and sitewide schema markup.

Search Console integration, although Rank Math incorporates this search console via Google Search Console.

Internal link counter.
Rank Math's Free Features
Rank Math provides several extra free features when compared to Yoast:
Multiple keyword analysis – allowing up to five free keywords.

Local SEO and Image SEO.

Integration with Google Analytics.

404 Error Manager. External link counter.

Recommendations for internal links while creating content.

Redirect manager.
The only feature that Yoast SEO possesses but Rank Math lacks is the ability to label pages as "Cornerstone." That is highlighting crucial pages, optimizing them, and incorporating additional internal and external links.
Pricing
Rank Math and Yoast SEO are free on WordPress.org, but both offer premium versions with additional features.
Rank Math's pro version is more affordable than Yoast SEO's premium version.
Rank Math seo plugin
Rank Math offers three tiers of its premium version:
Rank Math Pro for Personal use ($59 per year)

Rank Math Pro for Business use ($199 per year)

Rank Math Pro for Agency use ($499 per year)
Yoast SEO plugin
Core premium plugin for use on a single site: $99/year
There are also four premium extensions:
Video SEO for WordPress: $79/year for a single site

Local SEO for WordPress: $79/year for a single site

News SEO for WordPress: $79/year for a single site

Yoast WooCommerce SEO: $79/year for a single site

Bundle of all five plugins: $229/year
Differences Between Rank Math & Yoast SEO
When it comes to WordPress SEO plugins, Rank Math is often regarded as a strong contender to Yoast SEO – the most widely used plugin.
While Yoast SEO has a range of useful features, its free version has certain limitations. Users must purchase the premium version to access additional functionality.
In contrast, the Rank Math plugin's free version provides all the features of Yoast SEO. It even offers some unique features that aren't available in Yoast SEO's premium version.
As a result, many users find the Rank Math plugin to be a more comprehensive and cost-effective option.
User Interface
Any software tool's User Interface (UI) is crucial for a smooth user experience. Yoast SEO prioritizes functionality over aesthetics in its UI, with well-organized options categorized neatly for ease of use. However, some users find Yoast SEO's UI too unappealing and simple.
On the other hand, Rank Math offers a clean and well-organized UI that is aesthetically pleasing. Its cutting-edge user interface improves the user experience while also looking nice. Managing features on Rank Math's UI is simple, allowing users to turn them on and off as needed quickly.
Regarding ease of use, Rank Math's UI is more user-friendly and simpler than Yoast SEO's UI.
Keyword Optimization
Optimizing pages for focus keywords is an essential part of any SEO strategy. Both Rank Math and Yoast SEO excel at this task.
Rank Math allows users to assign up to five keywords per post by default, but this number can be increased to an unlimited amount using a filter in the page editor.
On the other hand, Yoast SEO only allows optimization for one particular keyword or up to five with the Pro version. While adding more keywords isn't always better for SEO, including related keyphrase variations or synonyms can improve page rankings.
Both plugins offer keyword optimization suggestions within the post editor and display a green light when the optimization is deemed satisfactory.
They both offer strong keyword optimization capabilities to enhance your SEO efforts.
While both tools provide similar recommendations, there are differences in the way these tools inform you.
Rank Math stands out by providing a numerical rating for your optimization efforts, with a score above 80 being optimal.
On the other hand, Yoast SEO uses a less specific assessment system that shows an orange light when improvement is needed and a red light when the content is unacceptable.
Moreover, Rank Math's placement of the keyword optimization suggestions in the sidebar is more user-friendly during post-editing.
For these reasons, we believe that Rank Math has an advantage in this category.
Setup Process
The installation process for both Rank Math and Yoast SEO is relatively simple.
Both plugins provide a setup wizard that assists users in completing the initial configuration and installation.
However, the setup wizard and process can be a bit more intricate since the Rank Math setup wizard offers more options and settings than Yoast SEO.
Structured Data
When it comes to structured data, both Rank Math and Yoast SEO have options available. However, Rank Math provides a more extensive range of schema markup options compared to Yoast SEO. Yoast SEO focuses on schema markup for articles and blog posts.
Rank Math offers various schema markup options, like local business, product, and event schema markup. Furthermore, Rank Math has an automatic schema generator that generates schema markup for all pages and posts without manual input.
In contrast, Yoast SEO requires manual input for schema markup.
Image Optimization for SEO
Rank Math and Yoast SEO offer beneficial features for enhancing the optimization of images on your website.
Rank Math implements descriptive and keyword-rich file names for images to aid search engines in comprehending their content. It utilizes structured data to provide additional information about images.
It also optimizes images for faster loading speeds by compressing them and selecting suitable file formats. Moreover, it includes alt tags for images to describe images for visually impaired users and search engines.
Similarly, Yoast SEO uses descriptive and keyword-rich file names for images to help search engines understand their context.
It compresses images and employs appropriate file formats for faster loading times. It also adds alt tags to images for visually impaired users and search engines.
Both plugins are excellent choices, and there's no doubt that either one will provide valuable benefits. Nevertheless, suppose you're a proficient user seeking to elevate your SEO game. In that case, Rank Math offers advanced features unmatched by other SEO plugins in the market.
Rank Math provides exceptional features, such as the ability to generate highly-customized schema, which can give you an edge in search engine rankings.
It also gives you total control over your redirects, letting you effectively manage the traffic of your website. Furthermore, Rank Math offers advanced custom fields, which can enhance your website's functionality and create a unique user experience.
In addition, Rank Math enables you to monitor 404 errors and optimize your site for devices like Alexa, further improving your website's accessibility. It also has comprehensive keyword analysis tools that help you in determining the most effective keywords to use.
Last but not least, you can design unique XML sitemaps that make it simpler for search engines to crawl and index the pages of your website.
In Summary
Having a specialized WordPress plugin is essential if you want to improve your online visibility through SEO.
Rank Math SEO is like a versatile multi-tool or Swiss army knife that can be effectively used with your WordPress site. It provides complete control over your SEO needs, offering everything you require to succeed in one place.
With Rank Math SEO, you can merge the power and features of several WordPress plugins. The outcome is a lightweight, all-in-one plugin that is easy to manage and completely free. It simplifies the management of your taxonomies, making it easier to handle the SEO of your products, pages, and posts.