In today's fast-paced digital world, having a mobile-friendly website is imperative for any business or individual looking to establish their online presence.
WordPress, being the most popular Content Management System(CMS) on the web, has so many plugins that can help you develop a responsive site easily.
However, with hundreds of options available today, choosing the right plugin for mobile optimization can be daunting.
In this blog post, I've compiled a list of 8 top-rated and extensively tested best WordPress plugins for mobile optimization to help your website deliver an exceptional browsing experience on mobile devices.
These plugins will not only enhance your site's performance but also improve user experience, ensuring that your mobile visitors are fully engaged and satisfied.
So, get ready to embark on a journey through the realm of mobile optimization as I explore these powerful tools that will help you fine-tune your site's design, loading speed, and responsiveness.
In a hurry to know my top WordPress Mobile Plugins? Don't worry; I've got your back.
WP Touch: Best for those who require a fast and effective way to convert their website into a mobile-friendly interface
iThemes Mobile: Best for customizing mobile menus for different mobile devices.
AMP for WP: Best for speeding up the load times of your WordPress site
Jetpack Mobile Theme: Best for providing advanced customization and optimization features to your WordPress site.
Did you know that having an app that utilizes push notifications and geolocation services is not enough? You actually need a WordPress mobile plugin to convert your website into a mobile-friendly version.
Keep reading to find out why you need WordPress plugins.
Do I Need WordPress Plugins for Mobile Optimization?
Mobile smartphones have grown into an indispensable component of our lives. Statista reported that smartphone users worldwide reached 6.64 billion in 2022, and this is projected to rise to 7.5 billion by 2026.
Mobile platforms made up 59% of all web traffic in the second quarter of 2022; this surpassed half of all web traffic worldwide. With such extensive mobile usage, website owners must prioritize providing a seamless website user experience on all mobile browsers and devices.
So, if you are still wondering whether or not you need WordPress mobile plugins, here is your answer: It all depends on how much you care about your site's mobile experience.
If you're okay with visitors having to pinch and zoom their way around your site on their phones, then by all means, skip the plugins.
But if you want your site to look its best on any device (and let's be real, who doesn't?), then investing in some solid mobile plugins is a no-brainer.
They will make your site more user-friendly for those browsing on the go and improve things like page load times and SEO rankings.
So my advice? Don't skimp out on mobile optimization – trust me, your users (and Google) will thank you!
8 Best WordPress Plugins for Mobile Optimization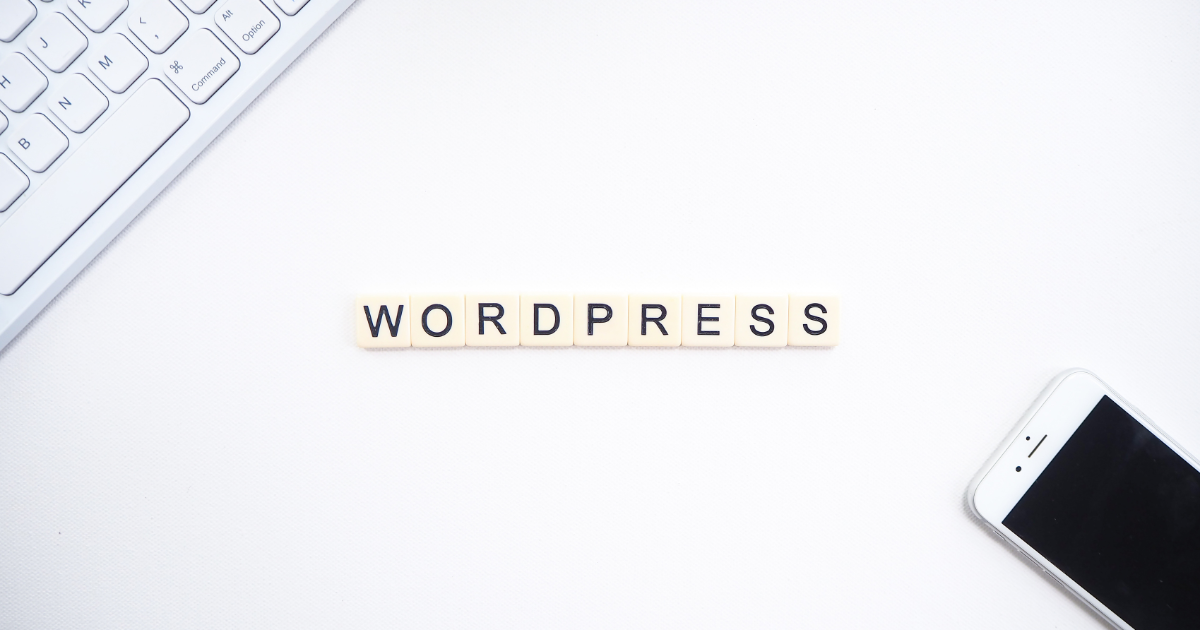 There are varieties of plugins available from WordPress to make WordPress sites mobile-friendly. These plugins are valuable additions to WordPress-powered websites since they introduce fresh functionality and visual enhancements.
The following are the best eight mobile-friendly plugins because of their advanced features and options. These handy tools are explicitly designed to optimize your site for smartphones and tablets, making it easier than ever for visitors to access your content on the go.
From responsive design templates that automatically adjust to different screen sizes to touch-friendly navigation menus and image galleries, these plugins have you covered whether you're running a personal blog or an e-commerce store.
So why wait? Check out our list of the eight best WordPress mobile plugins today and give your website the boost it deserves!
1 WPtouch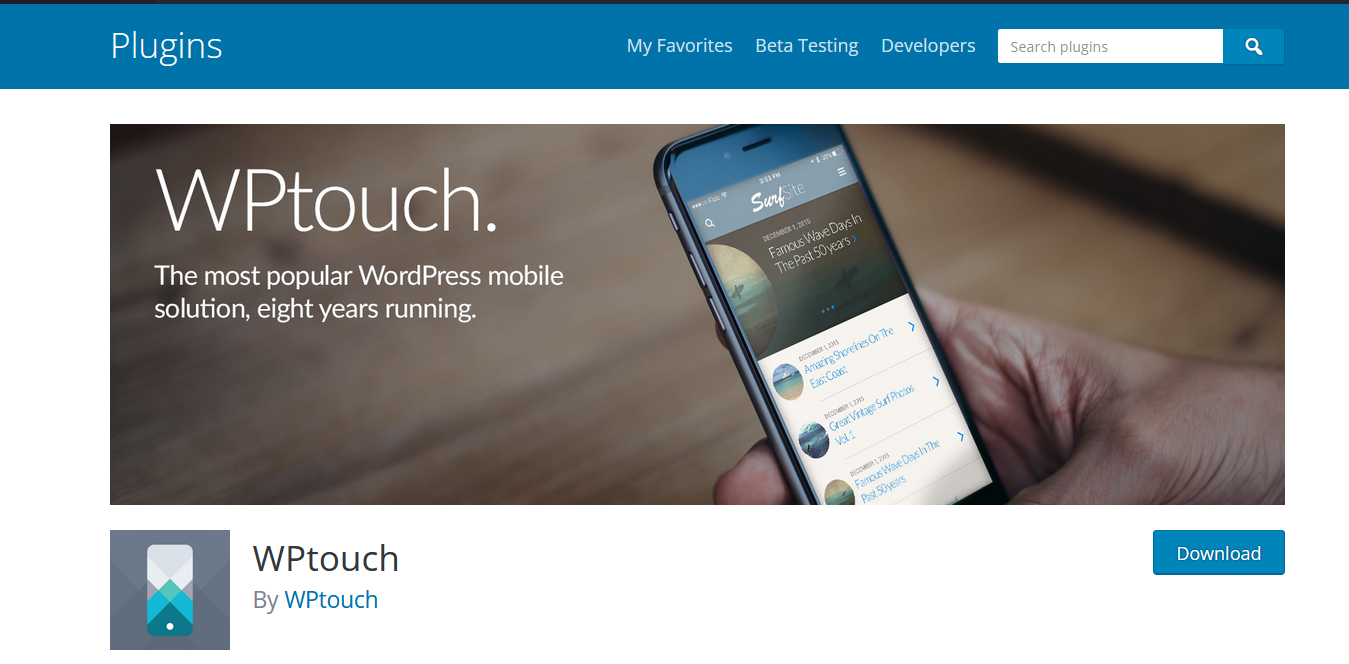 Pros
Responsive design

Create a simple mobile version

Customization of mobile version with separate themes

Fast-loading site
Cons
Overview
WPtouch is a leading mobile solution for WordPress, with over six million downloads. WPtouch is a highly favored plugin among WordPress website owners who require a fast and effective way to convert their website into a mobile-friendly interface. This plugin substitutes your website with a sleek, content-driven mobile theme that is quick to load and user-friendly.
An intriguing feature of WPtouch is its incorporation of the Google Mobile Test to ensure that your website successfully passes this test. The plugin achieves this by rapidly modifying your installed theme and enhancing its usability for mobile device users.
This ensures that your SEO rankings are maintained and potentially even improved in the future.
WP Touch has both free and paid versions. The free version, "Bauhaus," includes a single mobile theme you can customize with basic options such as language detection, color, and typography changes.
Also, you can add custom code and other styling options to match your brand.
The convenience of this plugin lies in its hassle-free setup.
Once activated, your website will be automatically optimized for mobile devices, with no manual configuration required. Additionally, visitors are provided with the option to switch between the mobile version of the site and the regular desktop theme.
There are free and paid versions of WPtouch. The paid subscription for single-site users starts at $49 yearly. They also have options for up to five websites, agency, and enterprise versions for $99, $199, and $349, respectively.
Pros
One-click WordPress updates for all your websites
In-built theme and plugin manage
Cons
Single tech support channel

The plans are expensive
Overview
iThemes mobile plugin is exclusively available in a premium version, with no free version. It provides four customizable mobile themes to showcase your pages and posts; you can even design your own. The plugin allows you to modify the style of fonts, headlines, and navigation menus and select a custom header image specifically for mobile devices.
An intriguing feature of iThemes mobile is that it enables you to assign different themes to various platforms. Therefore, you can customize your mobile menus and site appearance for other devices like iOS and Android, Blackberry and Nokia phones, and mobile game consoles like Nintendo's DS.
The cost of the iThemes mobile plugin varies depending on the license you choose. Freelancers and bloggers can purchase the plugin for $45, while business and developer licenses are available for $75 and $150, respectively.
3 AMP for WP (Accelerated mobile pages for WordPress)
Pros
It can substantially speed up the load times of your WordPress website.

Optimization of images

It has a free version
Cons
It is not easy to install.
Overview
The AMP for WP plugin creates an accelerated mobile page for your website, resulting in a fast and efficient mobile version. You can replace your non-responsive theme with this impressive package with minimal effort.
Moreover, if you have a responsive theme presently, it's beneficial to test it to see if the loading time satisfies your requirements. If not, you can use the AMP for WP plugin as a replacement.
The core plugin is free and available for quick download from the WordPress library.
However, certain elements on mobile devices may not display as effectively as on desktops.
The free version of the AMP for WP plugin, which has become quite well-liked, has been downloaded by almost 260,000 users.
A pro edition can also be purchased, starting at $50.
4 Jetpack Mobile Theme
Pros
You can conveniently add essential features.

Updates are regular.

The core Jetpack plugin is free.
Cons
It can slow down your website
Overview
It is effortless to use, and installation is free. It provides advanced customization and optimization features for your site.
Jetpack operates through your WordPress account, giving you access to all the features previously only available to WordPress users. It has several integrated WordPress plugins.
Its key features include SEO tools, integration with social networking sites, integration with WordPress mobile apps, mobile-optimized themes, secure login, tiled galleries, carousel, plugin support, site statistics, analytics, and more.
This solution is available for free as part of the Jetpack plugin collection. You can find it in the WordPress plugin directory.
The majority of the modules in Jetpack are free to use.
Also, three premium subscription plans get you access to extra features for a few additional costs. If you choose the annual billing options, the prices will reduce.
The VaultPress Backup is $9.95 monthly but $4.95 monthly if paid yearly.

The security plan is $19.95 monthly but $9.95 monthly if paid yearly.

The complete plan is $49.95 monthly but $24.95 monthly if paid yearly.
5 Touchy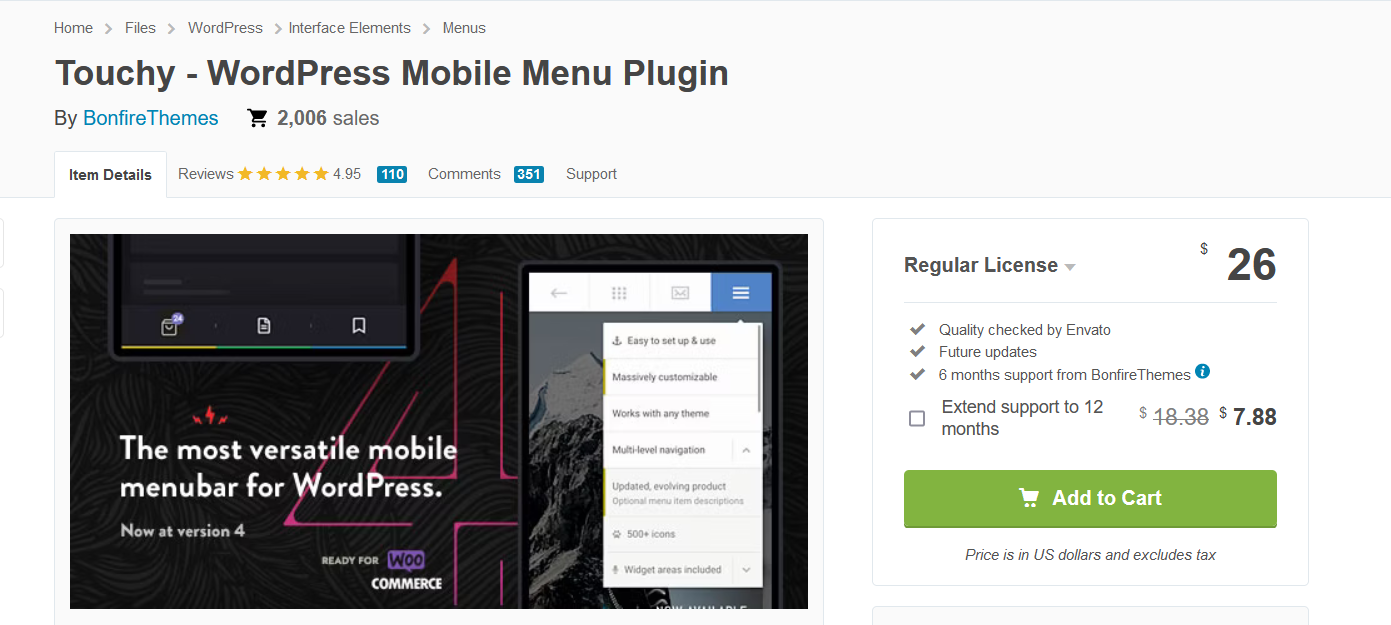 Pros
It is compatible with WordPress Multisite.

You are entitled to free upgrades for life.

Over 1,500 icons are available.
Cons
It is not easy to set up.
Overview
You can make your WordPress site mobile-friendly with Touchy without the need for any additional plugins. It's a comprehensive solution that works across all devices.
Its key features include customizable headers, responsive menus bars, logos, and background images.
You can also enjoy top-notch performance, extensive navigation options, and WooCommerce cart icon functionality.
Additionally, Touchy comes with accessible calls, email buttons, multi-level drop-down menus, and shortcodes.
It also has color customization, translatable customizer settings, individual options, over 1500 icons, and other features.
Touchy has a flat rate of $26 for a Regular License plan.
6 WordPress Mobile Pack Plugin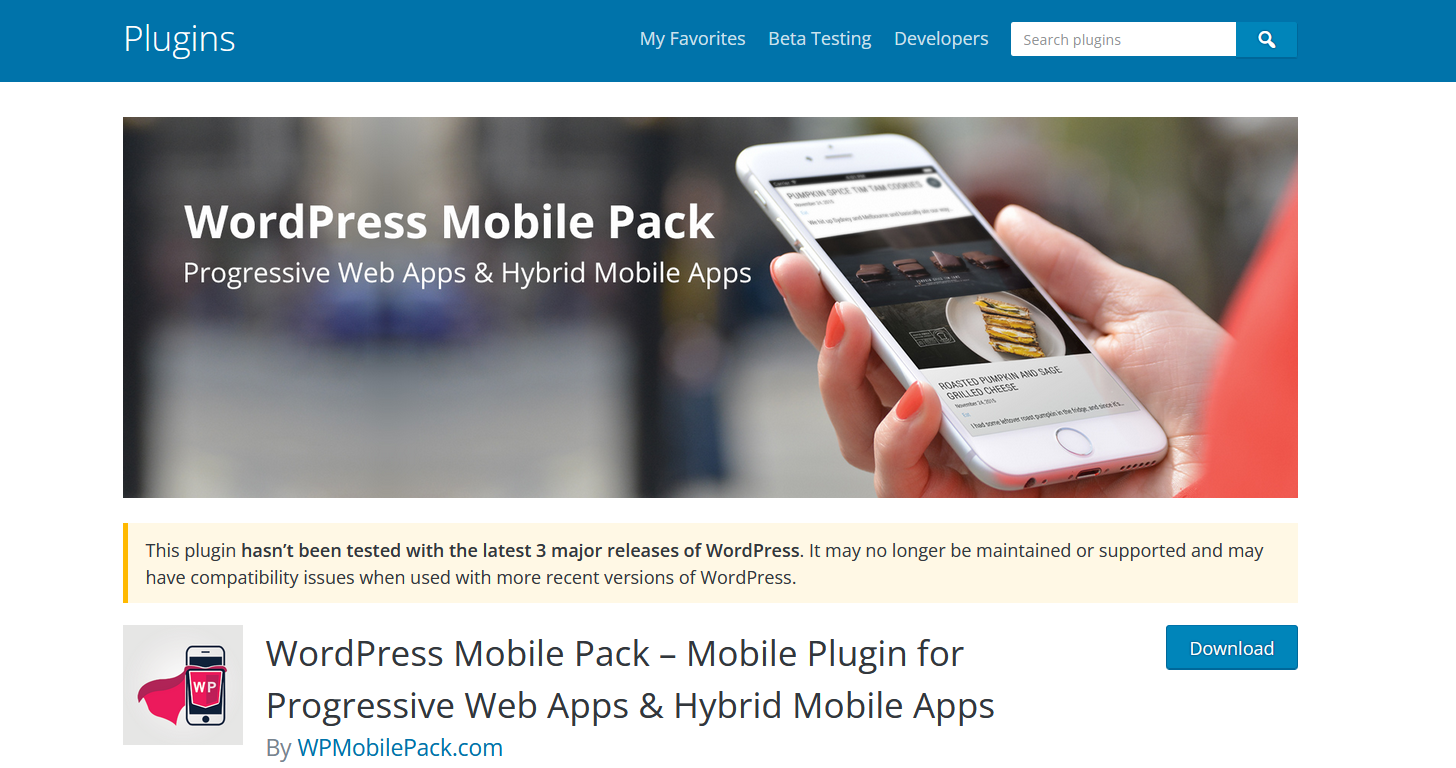 Pros
Very easy to use

It has extensive design options for mobile
Cons
It is not downloadable from app stores.
Overview
The WordPress Mobile Pack provides users with progressive web apps, which are mobile websites that load quickly and have features like push notifications and smooth animations.
The WordPress Mobile Pack doesn't offer downloadable apps from app stores. The WordPress Mobile Pack doesn't offer downloadable apps from app stores.
7 Superfly
Pros
It complies with GDPR.

The admin interface is beautifully constructed.

It provides support for multi-level menus.

Excellent mobile support.

Icon sets come preinstalled.
Cons
The Google Chrome web browser has specific problems.

There is not much customizability.
Overview
Superfly is a highly user-friendly and responsive WordPress mobile-friendly plugin that offers a range of navigation styles, including push, sliding, static, and fullscreen for both desktop and mobile websites.
Its features make it ideal for designing and developing one-page websites or landing pages. It provides an easily accessible menu selection, a rich menu, a basic menu, various colors, and different section options.
Additionally, Superfly offers other noteworthy features such as static and mobile menu top, icon menu, new bonus add-on, full-screen menu, and display control. It also provides a live editor, icon bar, Google fonts, rich elements, panel design, excellent performance, and many more.
8 Hummingbird
Pros
Activate sluggish image loading.

Get rid of render-blocking resources

GZIP compression is enabled for quicker file delivery.

Defer and minify JavaScript and CSS code.
Cons
The free version does not have some features.
Overview
Hummingbird is a caching plugin for WordPress. It instructs visitors' browsers to save copies of your website files locally, so they load more quickly later.
Caching makes a significant difference for mobile users by removing the need to download specific files from your web server each time a visitor revisits your website.
Hummingbird is a fantastic place for new users to start because it explains how the plugin works and offers ideas for improving your mobile site.
The optimizations mentioned above are free.
However, you can access the premium version – Hummingbird Pro, for an additional $6 monthly. This plan includes a content delivery network, improved file compression, automated scans, and uptime monitoring.
A WPMU DEV (WordPress platform for web developers and designers) subscription also has Hummingbird Pro.
Frequently Asked Questions On Best WordPress Mobile Plugin
What is a Mobile-Friendly Site?
A website is said to be mobile-friendly when it appears on a mobile device in a smaller compressed size than a regular website. This mobile version can be zoomed, pinched, and scrolled to navigate, but the website remains functional.
The website will remain accessible even though the mobile screen might not offer a perfect user experience.
For instance, oladejoelisha.com is an example of this type of website.
A mobile-friendly website provides visitors who access your site from a mobile device with an enhanced user experience by displaying a distinct 'version' of your website.
There are several methods to accomplish this:
Responsive Design: Your website's design adapts to the screen size, whether changing the size of your desktop tab or browsing from a mobile phone or tablet.

Dynamic serving: Visitors are presented with a purpose-built version of the site that varies depending on their viewing device.
How to Optimize Your Websites For Mobile Devices?
Put a Responsive Layout in Place.
Opting for a mobile-responsive theme is a viable solution when constructing or updating a website. With a responsive layout, a website can adjust its dimensions to match the user's device.
It should adapt to different screen sizes by showing the appropriate content and modifying its design when needed, such as switching from a two-column design on a desktop to a one-column layout on a mobile device.
Changing the screen size shouldn't slow down the loading process when using responsive design.
Optimizing a website for mobile viewing improves its search engine optimization (SEO) value, as Google favors indexing and ranking mobile-friendly websites. Therefore, integrating a responsive layout is a valuable strategy for websites looking to rank higher in Google search results.
Optimize Your Website Speed
The speed at which a website loads significantly impacts its viewers' mobile visitors' first impression.
According to research, 47% of visitors leave a webpage if it doesn't load in under two seconds. Even a slight 1-second delay in page response time can significantly decrease conversion rates by up to 7%.
Given that Google views fast-loading websites favorably, web developers must prioritize optimizing website speed. This requires taking all the necessary measures to enhance website performance.
Image Compression
To improve website speed, it's essential to compress images when adding them to your site. Compressing images reduces the file size, making it faster to download.
This is achieved by reducing the amount of data required to load when viewing images. You can use free tools to compress images while retaining quality.
In addition, it's advisable to use appropriate image formats like JPEG 2000, JPEG XR, AVIF, and WebP.
This offers smaller file sizes compared to JPEGs and PNGs of similar quality. Using these formats can significantly enhance site speed.
Utilize a Responsive Theme.
Opting for a responsive theme is an effortless and convenient solution for individuals new to website building or lacking technical expertise.
Your website can seamlessly adjust to any device by employing a responsive theme.
If you're a beginner in website creation, choosing a responsive theme can ensure your website is mobile-friendly right from the start.
The majority of CMS themes and website builder templates come with built-in responsive design, offering a broad range of options to select from.
Subtle Pop-Up Implementation
Encountering sudden pop-ups while browsing web content can be unpleasant, especially for mobile users. In some cases, the "X" mark to close the pop-up may not even be visible, further frustrating users.
Therefore, developers and designers must ensure that any ads displayed are implemented subtly.
Implementing irrelevant pop-ups is among the most common web design errors, which can turn potential customers into frustrated users, resulting in fewer mobile conversions.
To implement pop-ups subtly, consider the following techniques:
Only display the pop-up when the reader scrolls down 70% – 80% of the webpage.

Ensure the pop-up design aligns with mobile-optimized design standards.

Design the CTA buttons on the pop-up to be clear and actionable.
Why use WordPress Mobile Plugin?
Mobile plugins are tools that are designed for your website to be mobile-friendly.
Because of how quickly technology has advanced, there are now many more mobile users.
The ultimate objective is to create an outstanding internet experience for mobile users while also giving desktop users equal attention.
The following advantages can be attained by using WordPress mobile plugins to provide your mobile users with a better user experience:
Improvement in search engine rankings for your website.

Enhance sales and conversion.

Increase traffic while lowering the bounce rate.
What are the Features to Look for in the WordPress Menu?
One of the essential characteristics you should look for in a menu plugin is responsive menu design.
When a plugin provides templates, it can significantly simplify the process of developing and building menu items.
Drag-and-drop menu plugins are our favorite since they let you see the finished product as you develop it.
Last but not least, you should search for top-notch customizing possibilities.
The best benefit of using a WordPress mobile plugin is having complete control over your WordPress menu's looks and functions.
Conclusion
While mobile optimization was once optional, it has become crucial for websites to provide readable content on various devices.
Failing to make your WordPress site mobile friendly is no longer acceptable, as it may exclude over 50% of potential users.
Luckily, WordPress site owners can now optimize their websites easily with plugins.
Choosing the right WordPress mobile plugin doesn't have to be expensive. There are free WordPress plugins available; for example, WPtouch and Jetpack.
If you want a beautiful and responsive menu, WP Mobile Pack and Sperfly are available for you.
These plugins can guarantee that your website content is displayed attractively on any mobile device, including smartphones and tablets.
So, go on ahead and elevate your mobile site to new heights and create an unparalleled user experience. Trust me when I say search engines and your audience will keep coming back for more!