Discovering the best automatic subtitle generator is essential for reaching a wider audience. With large social media platforms available, the right auto caption app can make all the difference in your video content. In this comprehensive guide, I've evaluated and ranked the 8 best automatic subtitle generators, including my top 3 recommendations, so you can make an informed decision and find the perfect fit.
Kaptioned: Best auto subtitle generator for adding video subtitles and captions for Social Media videos
Filmora: Excellent auto subtitle generator for converting audio and video files to text
Quicc: Whether you need branded captions or SRT file creation, this subtitle generator can do that and more
Get my list of 8 best automatic subtitle generator software that streamlines the process of creating subtitles for your videos. Reach a wider audience with accurate and efficient subtitle generation.

 
Oh, the joy of video editing. I'm sure many of you can relate to the monumental task of trying to subtitle a video manually. We've all been there. The countless hours spent squintin
g at the screen, meticulously typing out every word, every exclamation, and let's not forget the dreaded ellipsis.
And then you have a foreign language video! It's all fun and games until you need to find a bilingual friend or a translator to help you out. By that point, you're almost willing to learn a new language yourself, right?
But what if I told you that technology, in all its glorious wisdom, has gifted us with the auto subtitle generator, our knight in shining armor, or should I say, our coder in glowing lines of script?
Well, I'm not pulling your leg here. There's a whole world of automatic subtitle generator software out there waiting to make your video editing woes a thing of the past.
So buckle up as we dive into the top 8 automatic subtitle generator software options on the market. And remember, the next time you're faced with a foreign language video,
you won't have to dust off that high s
chool French textbook. You'll have these handy tools at your disposal instead.
8 Best Automatic Subtitle Generator Software
One of the leading contenders in the realm of auto subtitle generators is none other than Kaptioned. With its powerful automatic caption feature, Kaptioned removes the hassle of adding subtitles manually to your videos. And guess what? It offers a free version too! Now, who doesn't love a good deal?
Whether you're a seasoned video editor or just dipping your toes into online video editing, Kaptioned has got you covered.
Not only does Kaptioned offer manual customization options for subtitles, such as font, color, and text background, but it also shares a similarity with MixCaptions in terms of lacking pre-designed video templates.
On the bright side, this app provides the flexibility to edit and fine-tune the timing for each caption. The only drawback is that you can only upload videos from your mobile device.
However, Kaptioned truly shines when it comes to multilingual support. One remarkable feature allows you to add subtitles in two languages simultaneously. Not only can you import and export subtitles in SRT files, but you can also easily translate them into several popular languages.
This means reaching a broader audience has never been easier with Kaptioned's versatile subtitle capabilities.
With just $9.99, you can get subtitles and captions automatically added to an unlimited number of social media videos.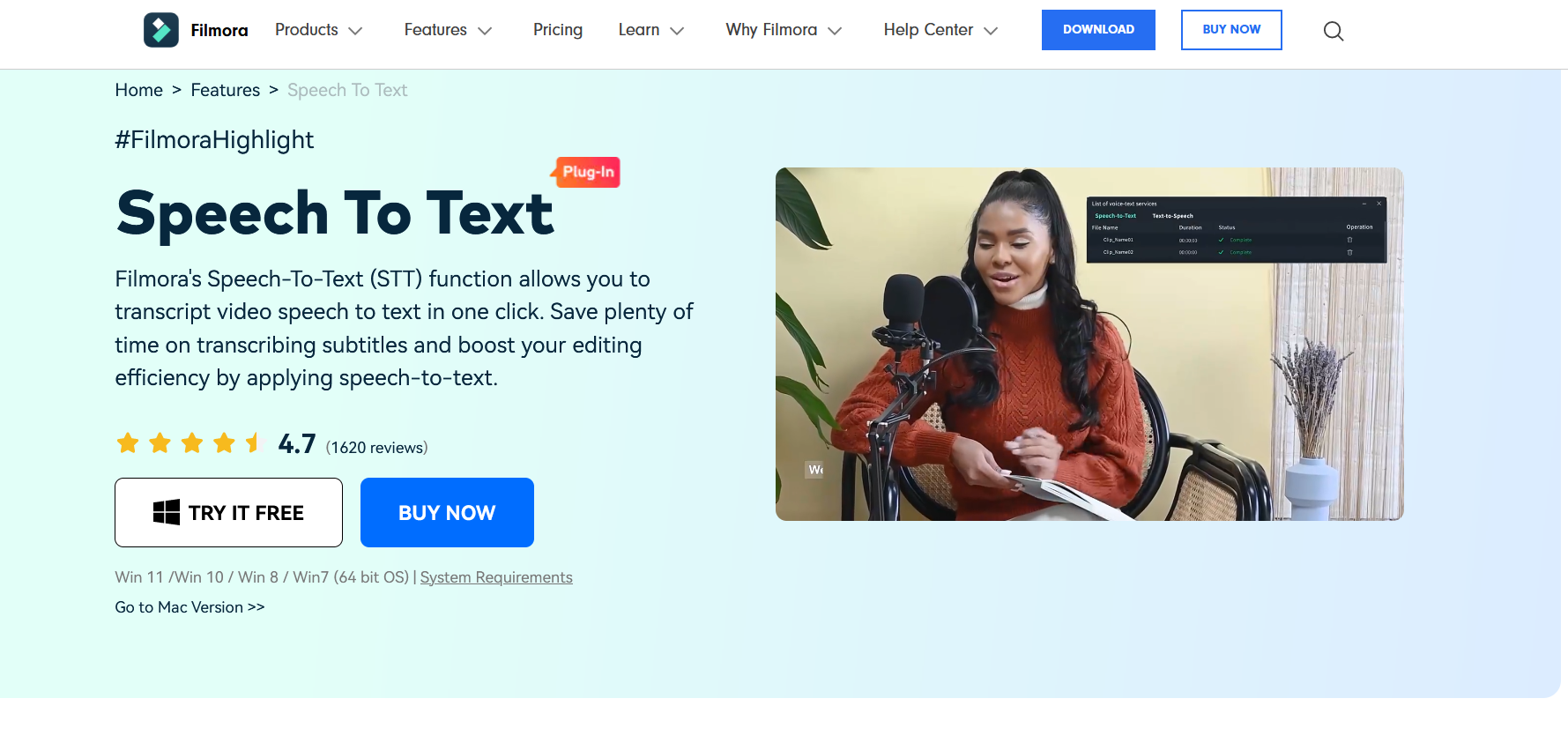 If you're on the lookout for powerful video editing software that goes above and beyond, look no further than Filmora.
This gem of a program boasts an impressive array of features and houses remarkable speech recognition software that can generate auto subtitles for your videos.
Gone are the days of painstakingly typing out each word. With Filmora, all you need is your video file and a few clicks, and voila!
The software will work its magic, transcribing your audio into accurate and synchronized subtitles. It's like having your very own personal stenographer without the hefty paycheck.
With Filmora's Speech-To-Text (STT) function, transcribing video speech into text has never been easier. Filmora's STT feature automatically recognizes the voice in your video and transcribes it to text seamlessly. It's a game-changer for video editors looking to save time and streamline their workflow.
Say goodbye to tedious manual transcription and hello to boosted editing efficiency with just one click.
But that's not all—Filmora goes above and beyond by offering support for up to 16 transcription languages. Whether you're speaking English, Japanese, French, or any other supported language, Filmora has got you covered.
Filmora comes in 3 plans:
The Annual Plan costs $49.99/yr
The Cross-Platform Plan costs $59.99/yr
The Perpetual Plan costs $79.99 (a one-time payment)
Give it a try and witness the transformative power of Filmora's STT feature in action.
When it comes to auto subtitle generator software, Quicc is a name that stands out from the crowd.
With its cutting-edge technology, Quicc takes the hassle out of generating subtitles for your videos. Say goodbye to manual transcription and tedious typing because Quicc does the heavy lifting for you.
This powerful tool uses advanced algorithms to analyze your video's audio and generate accurate subtitles in no time.
With a range of impressive features, including branded captions and the ability to create SRT files, Quicc is a must-have tool in your captioning toolkit.
The best part? When you create a new account, you'll receive 5 minutes of captioning absolutely free! It's the perfect opportunity to experience the convenience and quality of Quicc's services firsthand without any commitment.
It also offers other premium plans like the Pro Plan, which costs $149/mo, and the Enterprise Plan, which has custom pricing.
Whether you're a content creator, a filmmaker, or a video editor, Quicc is here to simplify your workflow and save you valuable time.
So why wait? Dive into the world of Quicc and elevate your captioning game like never before.
Kapwing is a go-to solution for creating subtitled videos, including YouTube videos.
With its powerful features, this tool helps you easily add a subtitle file to your videos. You no longer need to spend hours manually typing out each word.
It does the heavy lifting for you by automatically generating subtitles for your videos. This saves you time and ensures accuracy and consistency in your captions.
Kapwing is not just your average video editor—it's a collaborative platform that encompasses the entire creative spectrum, from videos and GIFs to images.
With an array of versatile tools at your disposal, including a video maker, a meme generator, and a subtitler, Kapwing offers a comprehensive suite for all your creative needs.
The best part? It offers both a free version and a paid version, allowing you to explore its capabilities and choose the option that suits you best. The paid plans begin at $16 (the Pro Plan) and have custom pricing for the Enterprise Plan.
So, whether you're a casual creator or a seasoned professional, this tool is here to amplify your creativity and elevate your content to new heights. Don't miss out on the endless possibilities—dive into the world of Kapwing and unlock your creative potential today.
5. Facebook's Automatic Caption Feature: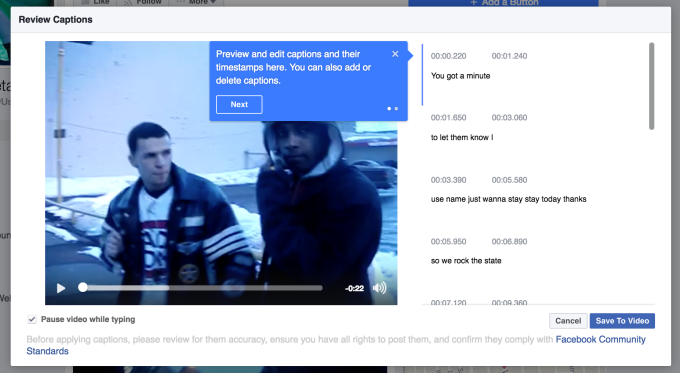 Facebook's Automatic Caption Feature is a game-changer as far as auto subtitle generators are concerned.
Leveraging advanced speech recognition technology, this feature automatically generates captions for your videos on the platform.
No more laborious manual transcription or tedious captioning processes. Facebook's Automatic Caption Feature takes care of it all, saving you valuable time and effort.
Plus, it supports multiple subtitle languages, ensuring your videos can reach a global audience. So, whether you're sharing a heartfelt message or a captivating story, your content becomes more accessible and engaging with the power of automatically generated subtitles.
Say goodbye to silent videos and let Facebook's Automatic Caption Feature bring your stories to life with perfectly timed captions that accompany your every word.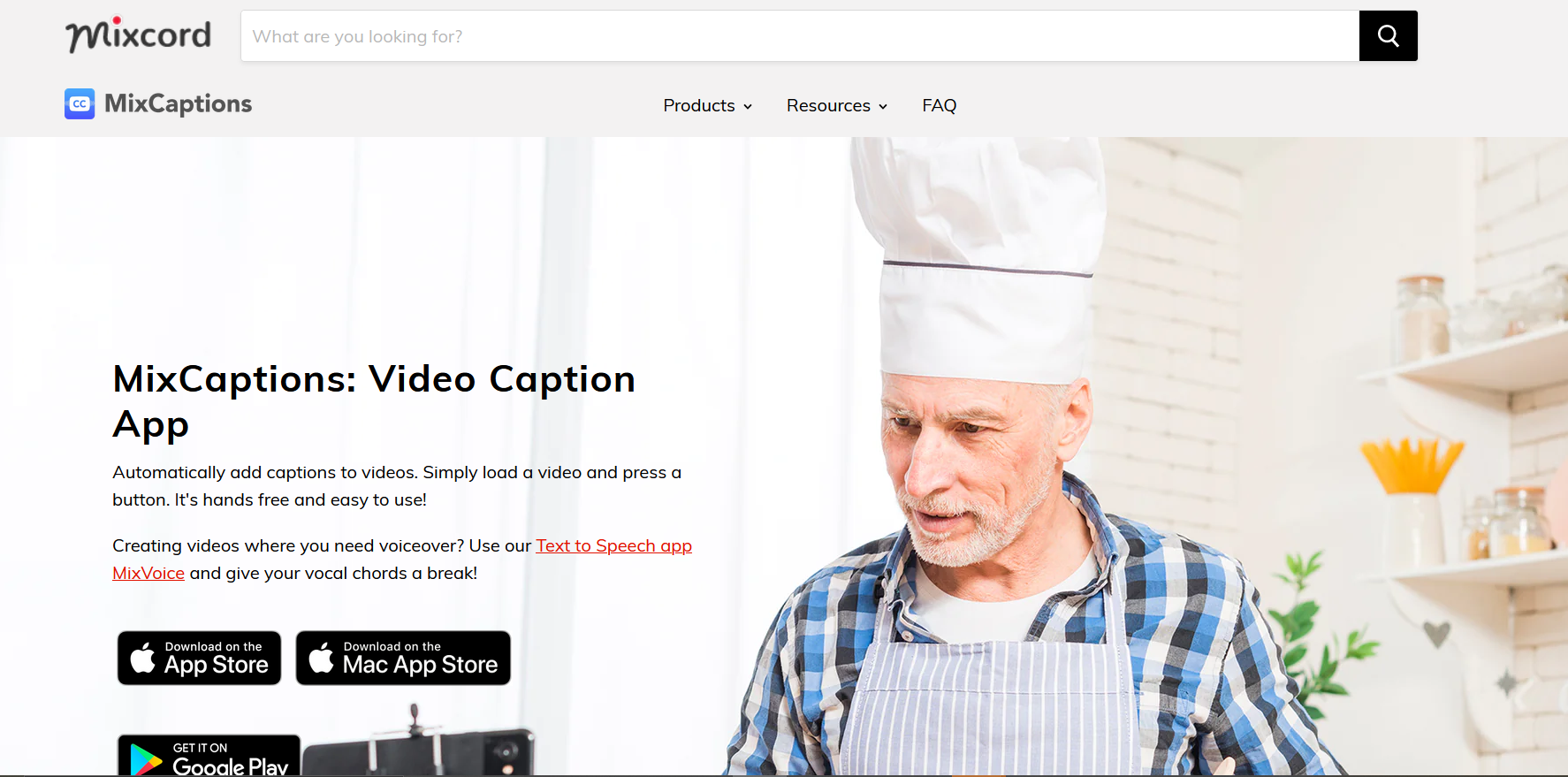 MixCaptions is a fantastic auto subtitle generator that deserves a spot on every content creator's radar.
With its user-friendly interface and powerful features, MixCaptions makes the process of adding subtitles to your videos a breeze. What's even better? It offers a free version, allowing you to test the waters and explore its capabilities without breaking the bank.
As one of the best auto subtitle generators, this tool provides a robust subtitle editor that enables you to fine-tune your subtitles, ensuring they align perfectly with your video content. Whether you're creating educational videos, vlogs, or promotional content, MixCaptions empowers you to deliver a polished and professional experience.
To kickstart your journey with the app, you'll need to import or browse through your video gallery. While no built-in recording option is available, exporting the results in an SRT file is a breeze.
It's worth noting that the app may fall short when it comes to fun features and animated captions. However, it compensates by allowing you to personalize your content with your own text or image watermark. So, you can still add your unique touch and make your captions stand out.
One limitation to keep in mind is that captions cannot be added to videos longer than 30 minutes. While this might be a setback for lengthier projects, it ensures that shorter videos receive the attention they deserve with accurate and synchronized captions. Embrace the possibilities within this timeframe and let your creativity thrive.
So, wave goodbye to silent videos and unlock the full potential of your content with MixCaptions' seamless auto subtitle generation. Your viewers will thank you for the enhanced accessibility and engagement that subtitled videos bring.
7. Instagram Automatic Captions:
When it comes to auto subtitle generators, Instagram Automatic Captions takes the spotlight with its seamless integration into the popular social media platform.
This powerful tool enables you to effortlessly generate subtitles for your Instagram videos, saving you valuable time and effort. No more manual transcription or laborious captioning processes. Instagram's Automatic Captions feature automatically generates accurate subtitles for your videos, ensuring that your content is accessible to a wider audience.
With Instagram Automatic Captions, you can enhance the engagement and accessibility of your video content, allowing you to captivate and connect with your viewers on a whole new level.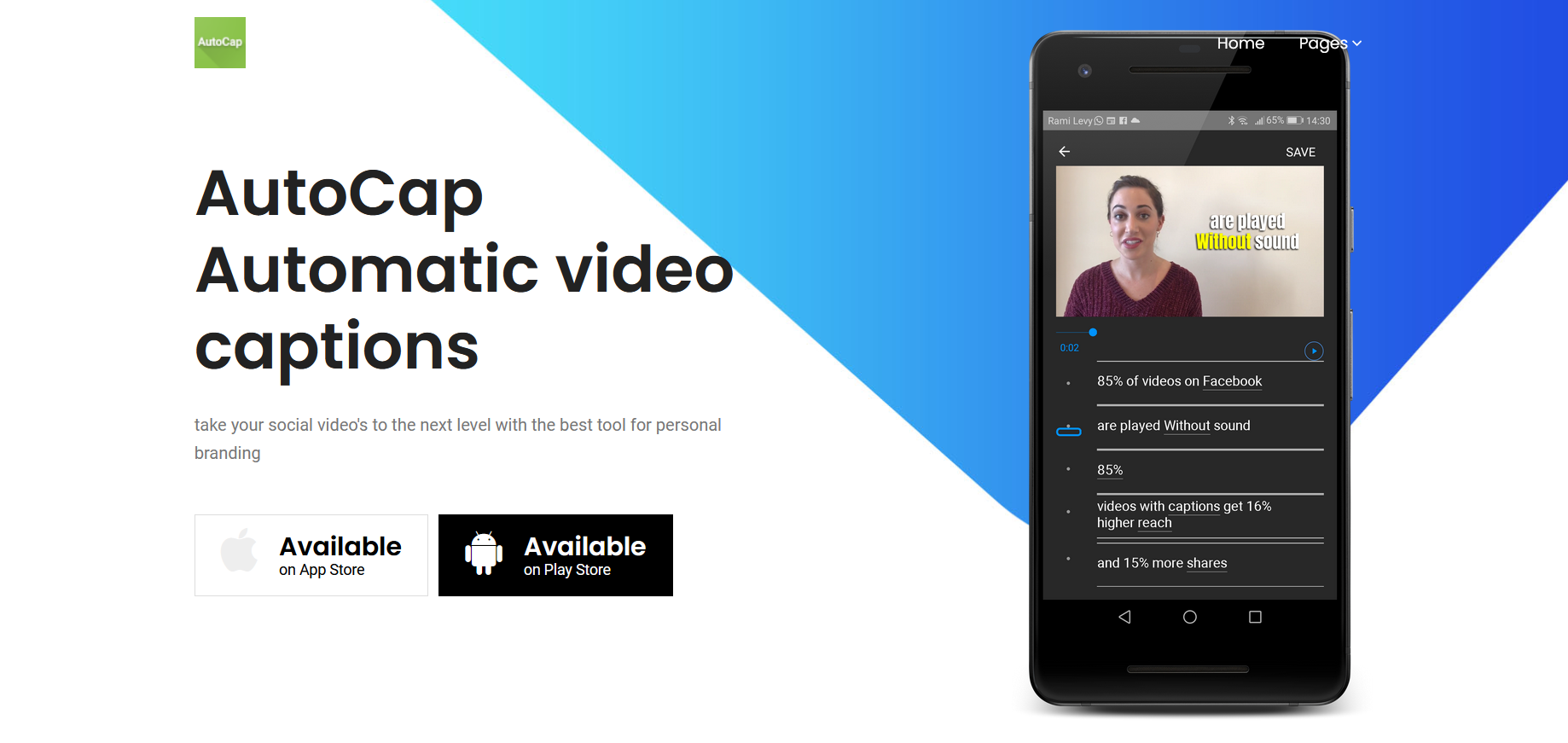 If you're looking for a simple and efficient online video editing tool with auto subtitle capabilities, look no further than AutoCap.
This user-friendly platform makes video editing a breeze, especially when creating auto subtitles. With AutoCap, you can effortlessly generate accurate and synchronized subtitles for your videos without the need for manual transcription.
The intuitive interface and straightforward process make it accessible for both beginners and experienced editors.
While it may not provide pre-made templates, it offers a range of customizable options, allowing you to get creative by manually selecting fonts, colors, and text backgrounds. What sets this app apart is its timer feature, which adds a touch of convenience for users.
Although video cropping can initially pose a challenge, it becomes a breeze once you get the hang of it.
One minor drawback of using this app to create subtitles is the absence of an AI scripting feature that generates scripts effortlessly within seconds. However, on the bright side, the free version supports episodes of up to 5 minutes in length, while the Pro version extends its support to videos lasting up to 15 minutes.
So whether you're a vlogger, content creator, or someone who just wants to add captions to their videos, AutoCap has got you covered. Experience the convenience and ease of creating auto subtitles with AutoCap and take your videos to the next level with this fantastic online video editing tool.
Frequently Asked Questions
Why would you recommend using an automatic subtitle generator?
Imagine you've just finished filming a 10-minute video for your YouTube channel at 2 a.m. You're ready to hit the hay, but then you remember subtitles.
Back in the day, I'd lose sleep over this, but not anymore.
Automatic subtitle generators are my bedtime savior. They do the heavy lifting, so I can focus on creating content instead of typing out every single word I say. It's a true game-changer, folks!
So, yes, I would 100% recommend using software that can auto-generate subtitles.
Do automatic subtitle generators make errors?
Yes, they can make errors, no doubt about it. But to be fair, the technology has come a long way, and the error rate has dramatically decreased.
So, while it's not perfect, it's still much better than manually transcribing a two-hour webinar, believe me!
Can automatic subtitle generators handle multiple languages or accents?
And it reminds me of when I was helping my Spanish friend Carlos with his cooking channel. He has this heavy Castilian accent, which I adore. Still, it was a bit of a challenge for subtitle generators initially.
However, many of them, like 'Rev' and 'Happy Scribe,' does a stellar job with multiple languages and varying accents.
Just make sure to double-check the generated subtitles for any hilarious misunderstandings!
Is it costly to use automatic subtitle generators?
Some services are free, while others might cost you a pretty penny. But consider the hours you save from not having to transcribe everything yourself. I'd say that's worth a couple of dollars, wouldn't you?
Personally, I've used both paid and free services, depending on the project and budget. You have to find what works best for you. But remember, a good night's sleep is priceless!
Which AI makes Subtitles
Several AI systems are capable of generating subtitles for audio and video content. These tools use a combination of automated speech recognition (ASR) technology and natural language processing (NLP) to convert spoken language into text, which can then be used as subtitles.
Apart from the ones listed above, other noteworthy ones include:
Google's AutoCaption: This is available on YouTube and uses Google's sophisticated AI algorithms to automatically generate captions for videos. While it's not always 100% accurate, it can be a useful starting point that you can then manually edit for perfection.
Remember, while AI subtitle generators are an excellent tool, they may not be perfect and need manual review and editing for maximum accuracy, particularly in complex terminology, heavy accents, or poor audio quality.
In Conclusion
As we've explored various auto subtitle generators in this blog post, it's clear that each tool brings its unique strengths to the table.
From the simplicity of Autocap, the collaborative features of Kapwing, and the powerful capabilities of other subtitle generators like Kaptioned and Filmora, there's a wide range of options available.
Now, take a moment to reflect on your specific needs and preferences. Are you looking for a user-friendly interface, advanced customization options, or perhaps multilingual support?
Consider the length and type of videos you typically work with as well. Once you have a clear vision of what you require, it's time to take action.
Explore the detailed list of subtitle generators in this blog post, weigh their pros and cons, and select the one that best fits your needs.
Don't hesitate to give it a try and witness the transformative power of automated subtitles in enhancing the accessibility and engagement of your videos. Your audience awaits, so go ahead and choose your preferred subtitle generator today!