Explore our comprehensive guide to the 10 Best Subtitle Generator Software of 2023. Stay ahead of the curve and enhance your audience's experience with the right tool today!
Discovering the best subtitle generator software is essential for your translation needs. The right subtitle generator can make all the difference in your content creation.
In this comprehensive guide, I've evaluated and ranked the top 10 subtitle generators, including my top 4 recommendations, so you can make an informed decision and find the perfect fit.
Veed.io: Actually a video editing tool but has features for adding subtitles and transcribing audio
SubtitleBee: This tool auto-generates subtitles using the local video, video URL, and MP3 audio file
Kapwing:This online video editing tool allows you auto-generate the subtitles and also add them manually as needed. The option for uploading SRT file is also there.
Zubtitle: You don't have to translate anything with this tool. The captions are automatically generated by Zubtitle.
Gone are the days when a group of friends would huddle around a screen, squinting their eyes, trying to decipher the murmurs of their favorite foreign film.
In our technologically-savvy world, we have a superhero that rescues us from these awkward movie nights – the subtitle generator software. This superhero swoops in, not in a flashy cape, but as a humble piece of software, ready to transcribe audio and video files into readable, comprehensible subtitles.
As 2023 forges ahead, our screen-watching habits continue to evolve, and the demand for high-quality, accurate subtitles has grown exponentially. The evolution of the auto subtitle generator software has kept pace, becoming more refined, intuitive, and intelligent than ever.
And trust me, these are not your grandpa's old-school, misspelled, out-of-sync subtitles. They are high-tech, auto subtitle generators changing how we consume content.
In this post, we're pulling back the curtain on the 10 best auto subtitle generators of 2023.
If you've ever wondered how you can understand and follow the dramatic actions of your favorite K-drama stars, keep reading.
Just remember, with great power comes great responsibility, and with great subtitle generator software comes…well, great movie nights, educational lessons, and so much more.
My Criteria for Choosing the Best Subtitle Generator Software
When it comes to video editing, subtitle generator software is your secret decoder ring.
It's the sly linguist sitting in the backroom, rapidly transcribing everything spoken into crisp, clear text.
In essence, it's a tool that helps you generate subtitles automatically for your video files. Imagine it like a super-intelligent typist that doesn't miss a single spoken word or whispered secret in your video.
But let's face it, not all of these software are created equal. Some boast lightning-fast speeds, while others seduce us with incredible accuracy.
So, how does one wade through the sea of video editing tools, subtitle files, and dazzling marketing jargon to find the real gem?
Don't worry; I am here for you. With my well-defined criteria, I will help you separate the wheat from the chaff and pick the most outstanding subtitle generator software for your needs.
I picked the best auto subtitle generators based on the following:
User Interface:
Remember the first time you sat in a new car and thought, "Where in the world is the windshield wiper switch?" A similar scenario applies to subtitle generator software.
A clean, intuitive user interface is crucial. If it takes you longer to figure out how to use the software than to manually type out the subtitles, then it's probably not the best fit.
Accuracy:
You know those movies where the subtitle says, "I love you," but the character's expression screams, "I've had enough"? Yeah, we don't want that.
The best auto subtitle generator software should provide accurate transcriptions. Misinterpretation is not an option here.
Languages Supported:
If you're like me and enjoy indulging in international content (I'm looking at you, K-drama fans), the number of languages the software can handle is vital. The more, the merrier!
Price:
Lastly, while we all wish money grew on trees, it doesn't. So, it's crucial to find software that offers the best bang for your buck.
Free doesn't always mean better, and expensive doesn't always mean superior.
So, there you have it – my trusty checklist. Remember, finding the right subtitle generator software isn't about choosing the most popular or flashy one; it's about finding the one that fits like a glove and makes your video editing journey as smooth as a fresh jar of peanut butter.
Now, let's dive into my top picks for 2023.
My 10 Best Subtitle Generator Software of 2023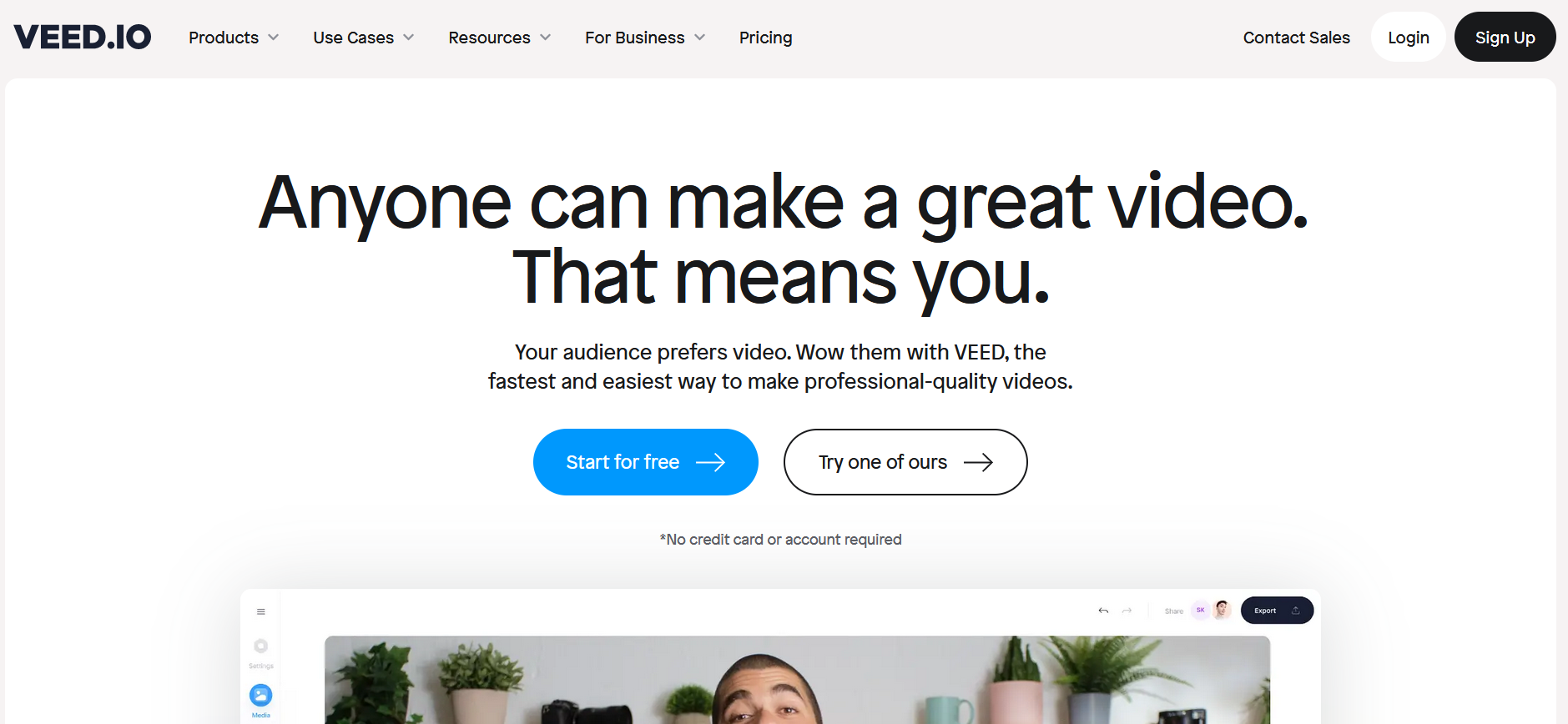 Veed.io is a game-changer in the world of subtitle generator software. It is much like that smart kid in your school who just gets things right.
It can automatically generate subtitles for your video file without breaking a sweat.
Here's why I love it: Veed.io is like your friendly neighborhood Spider-Man of video editing tools. It swings into action with its automatic caption feature, deftly transcribing every spoken word into text. The days of your audience squinting at the screen, trying to catch every word are long gone.
Whether you're dealing with a fast-paced podcast, an instructional video, or a heart-touching documentary, Veed.io gets the job done. And remember that dreadful time syncing video subtitles? Well, Veed.io has that covered too. It's like it reads my mind and knows what I need before I even realize it myself.
I've used this tool on numerous occasions, and each time it has lived up to my expectations, if not exceeded them.
But hey, don't just take my word for it, give it a try, and witness the magic unfold.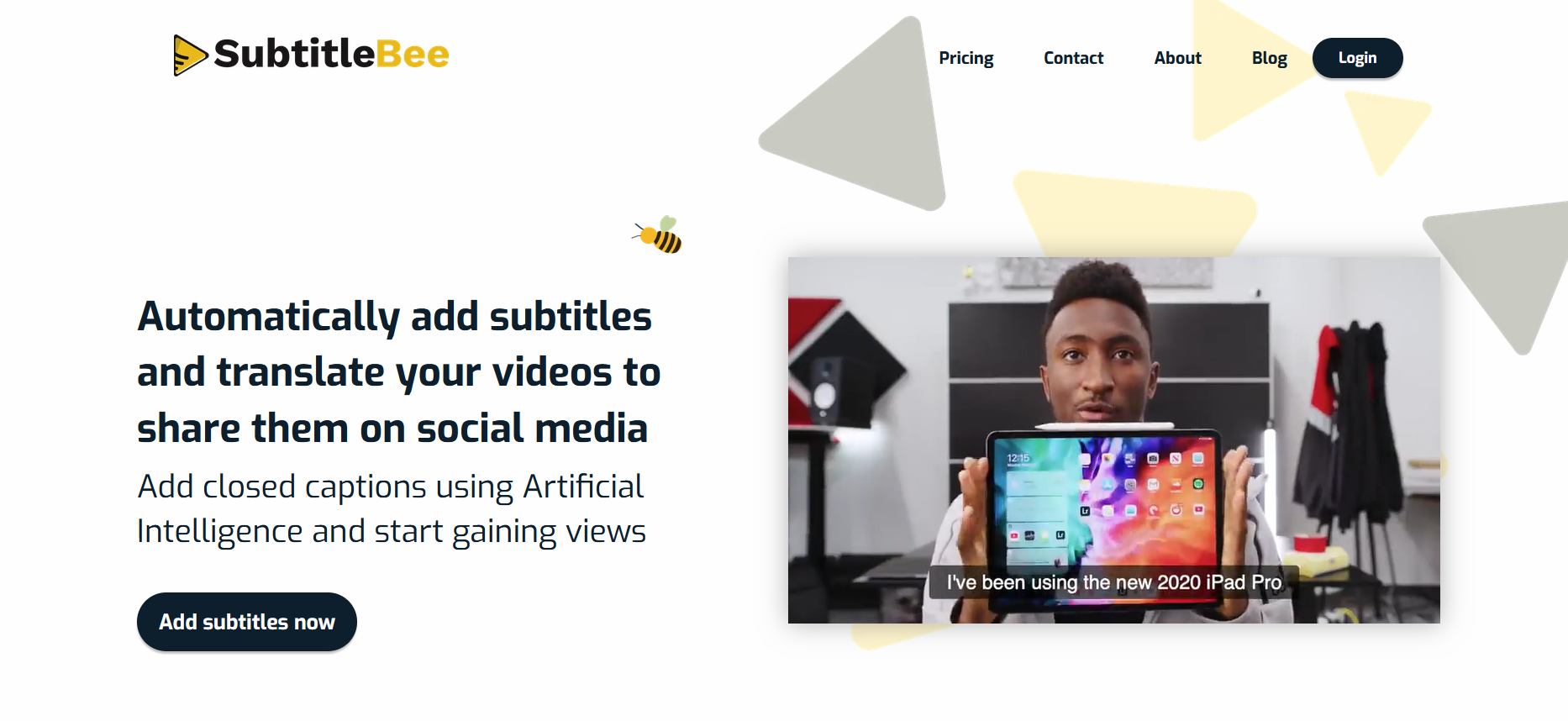 Let me introduce you to another star player on my subtitle generator team: SubtitleBee. This nifty software isn't named after our buzzing friends for no reason.
Much like bees crafting intricate honeycombs, SubtitleBee meticulously creates subtitles for your video files, ensuring no spoken word goes unnoticed. Let's talk about why SubtitleBee has earned a spot in my heart.
First off, it automatically generates subtitles for your videos, making the cumbersome task of manually transcribing a thing of the past. This auto subtitle generator is all about precision and efficiency.
It's like the Sherlock Holmes of subtitle generators, catching every subtle nuance and hint in your video files.
Adding subtitles is as smooth as a dollop of honey sliding off a spoon. With SubtitleBee, you can customize your subtitles, choose your preferred style and font, and even adjust the timing if needed. It's like having your very own subtitle bakery, where you can tailor everything to your taste.
So, there you have it, my two cents on SubtitleBee. It's a software that diligently works behind the scenes, making your content accessible to a broader audience.
But don't just take it from me. Try it out for yourself and see how it can sweeten your video editing process.
Ah, Kapwing! This software and I go way back to my early days of content creation.
Kapwing is the epitome of efficiency and precision. This auto subtitle generator takes your videos and meticulously dresses them with accurately generated subtitles.
If you have a batch of video clips and a ticking clock, Kapwing can be your knight in shining armor. This software generates subtitles in just a few minutes, almost as quickly as you can say "supercalifragilisticexpialidocious"!
I recall this one time when I was creating a video series for an online course. I had a mountain of video content, and the thought of manually creating subtitles for each of them made my head spin. And then Kapwing came to the rescue. As I sat back, sipping my hot chocolate, Kapwing worked its magic, turning spoken words into text in what seemed like the blink of an eye.
One thing I really appreciate about Kapwing is its ease of use. It's like a friendly guide, taking you by the hand and helping you navigate the sometimes-confusing world of video editing.
So that's my experience with Kapwing – a tool that delivers on its promise, providing a swift, simple solution to your subtitle needs.
We've come a long way in our subtitle generator journey, and it's time to reveal another noteworthy candidate – Zubtitle.
Zubtitle is a bit like the espresso shot you need on a dreary Monday morning. It is efficient, effective, and will leave you wondering how you ever managed without it.
Zubtitle works as an auto subtitle generator, delivering precisely generated subtitles in a few minutes. I mean, how cool is that? It's like having a Michelin-star chef who can whip up a gourmet meal in no time.
I remember once when I had to create a series of short video clips for a campaign. The deadline was looming, and manually adding subtitles felt like climbing Everest. Enter Zubtitle, my savior. Zubtitle added accurate subtitles to all my videos with just a few clicks.
This software takes the guesswork out of the equation and gets straight to the point. Its intuitive interface and quick operation make it a dream for anyone in the throes of video editing.
That's Zubtitle for you – a trusty sidekick that takes care of your subtitling needs while you focus on creating stellar content.
Let's not forget the giant in the room – YouTube. Yes, the very platform where many of our videos find their home also offers a feature that can be a lifesaver: YouTube automatic captioning.
It's like the multitool of the video world, letting you watch cat videos one moment and providing a powerful subtitle generator the next.
YouTube's auto subtitle feature is like having a dedicated transcriptionist for your YouTube videos, ready to decipher every spoken word into text. It creates automatically generated subtitles, letting you share your message without the fuss of manual transcription.
Imagine trying to upload a series of how-to videos on your channel with a million things other things to do on your to-do list. Will you then opt for adding subtitles manually? Ain't nobody got time for that!
Enter YouTube automatic captioning. It seamlessly produced accurate subtitles, letting you meet your deadline without a hitch.
So, if you primarily share your content on YouTube, don't overlook this handy built-in tool. It can help you reach a broader audience, enhance the viewer's experience, and save you time.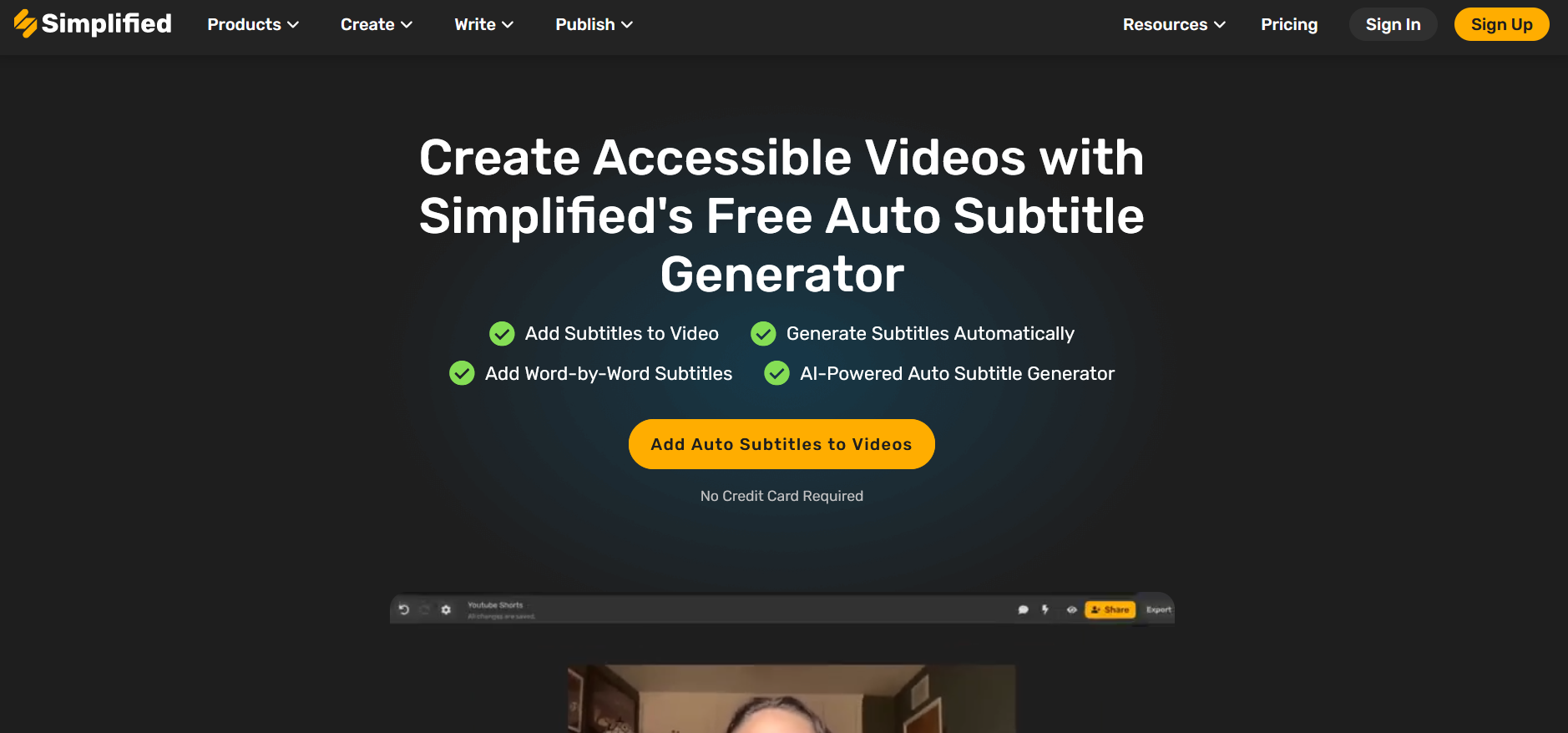 Meet Simplified – not just your average social media management tool but your secret weapon in the world of video editing.
Tucked neatly within its versatile arsenal is an auto subtitle generator that's as reliable as a Swiss watch. It's primed to weave accurate captions into your videos without missing a beat.
And it doesn't stop there. You get to play the director's role and select your subtitle style. Whether you're a fan of Netflix's sleek style, YouTube's clarity, Crunchyroll's flair, or the vintage charm of yellow subtitles, Simplified's got you covered.
Once you've sealed the deal with a subscription, your masterfully subtitled film is all set for download.
But hold on – Simplified's magic doesn't end with subtitles. It's like a Swiss army knife of video editing.
Its free online video editor lets you add your creative touch to your videos. You can choose from over a thousand pre-designed templates, animate your ideas, and even pen a full-length article to accompany your video using the AI writer.
Simplified truly lives up to its name, simplifying your creative process while supercharging your content.
Happyscribe is like the efficient personal assistant we all wish we had, diligently working behind the scenes to generate subtitles automatically for your videos.
Happyscribe specializes in turning spoken words into an SRT file, and it does so with impressive accuracy.
It's like having a professional transcriptionist who never misses a beat. In the time it takes you to finish a cup of coffee, Happyscribe will have your subtitle file ready and waiting.
What makes Happyscribe truly stand out for me is the ease with which you can add subtitles to your videos. With just a few clicks, you can weave in your subtitles, making your content more accessible to a broader audience.
It's like your very own subtitle tailor, ensuring your video fits like a glove with its audience.
So, that's my take on Happyscribe. This tool consistently delivers and makes the process of creating subtitles as breezy as a walk in the park.
Have you ever stumbled upon a gem in an unexpected place? That was my experience with CapCut, a software I'd initially downloaded as a video editing software for social media.
Little did I know that it also doubles as an impressive auto subtitle generator. It's like finding out your favorite coffee shop also serves the best apple pie in town.
CapCut is like a talented artist who can turn your spoken words into text, creating a subtitle file that's as precise as it is readable. It's one of those rare free subtitle generators that does not compromise on quality, making your videos accessible to everyone without burning a hole in your pocket.
One of the highlights of CapCut for me is its subtitle editing feature. It allows you to edit subtitles with a level of control that's both empowering and intuitive. It's like being handed the paintbrush to add the final touches to a masterpiece.
So, that's my experience with CapCut. It's a tool that packs a powerful punch in the realm of subtitle generation.
Its blend of effectiveness and simplicity makes it a strong contender in this line-up. But the journey doesn't end here.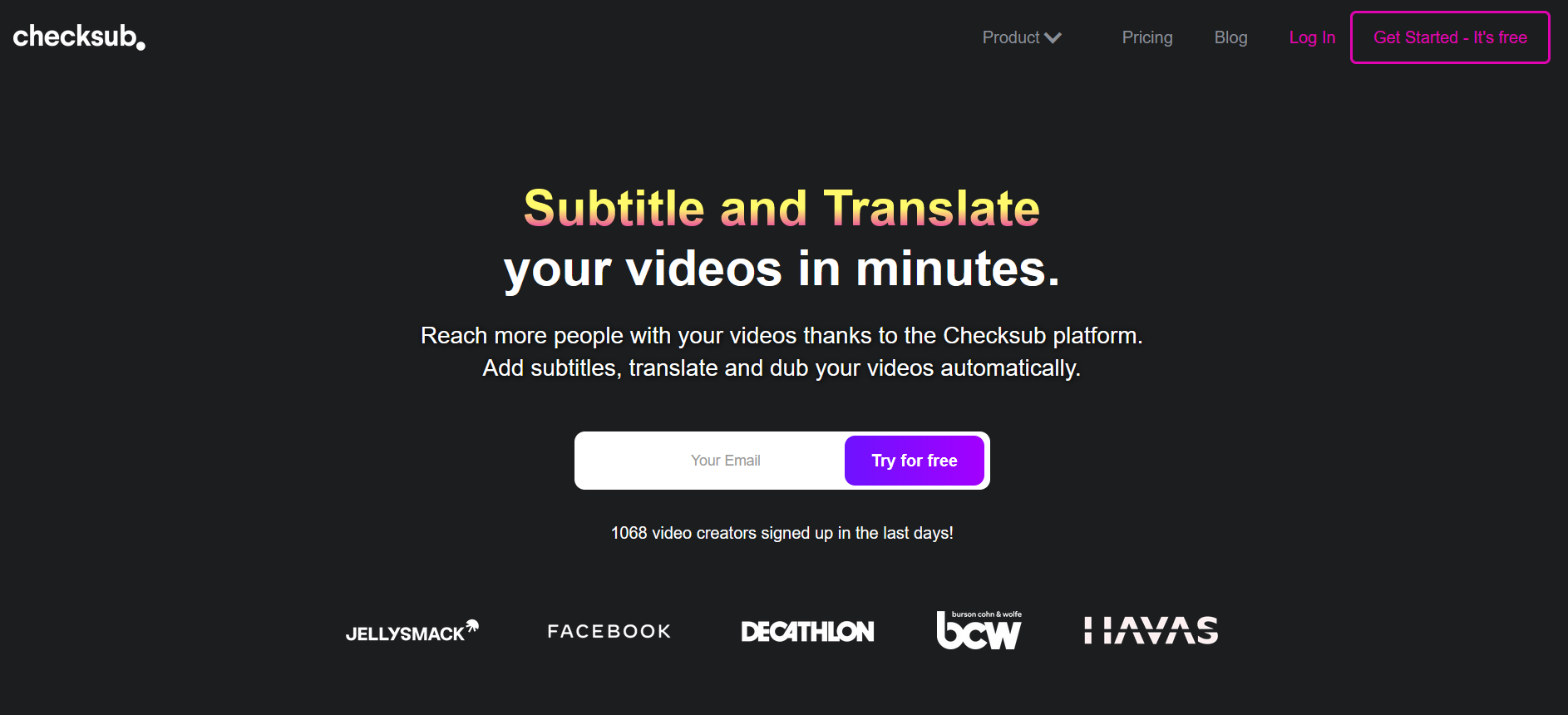 Let's talk about Checksub, a tool that's like the Swiss chocolate of subtitle generators – decadent and dependable.
What's even better is that it offers a free version, proving that sometimes the best things in life are indeed free.
Checksub is all about helping you create subtitles for your videos without making you break a sweat. It's as if you have a personal transcriber at your service, converting every spoken word into carefully crafted subtitles.
What I particularly appreciate about Checksub is its subtitle editing feature. Editing subtitles with Checksub is as easy as pie. After it automatically generate subtitles, it gives you the reins to customize your subtitles, ensuring they align perfectly with your video.
It's like conversing with your video, ensuring every word is in sync.
It's a tool that offers the best of both worlds: a free version for those dipping their toes into the subtitle waters and a comprehensive  premium platform for those ready to dive in
And last but certainly not least, let's take a moment to appreciate the magic of Rev.
It's like the grand finale of a firework display – truly something to behold. Rev is a video subtitle generator that easily delivers professional-grade subtitles, making me double-take.
This video editor spins its magic to transform your spoken content into accurate subtitles. It's like having a language expert at your disposal, making sure every word is correctly captured and represented.
One aspect of Rev that deserves a standing ovation is its subtitle editing feature. Rev gives you a simple online video editor that makes tweaking your subtitles as easy as changing channels on your TV.
It lets you fine-tune your subtitles, ensuring they match your video perfectly, word for word.
So that's Rev, the final piece of our subtitle generator puzzle. It wraps up our journey with its impressive functionality and user-friendly interface. If you've made it this far with me, you now have a treasure trove of tools to choose from to give your videos the perfect subtitles.
In Conclusion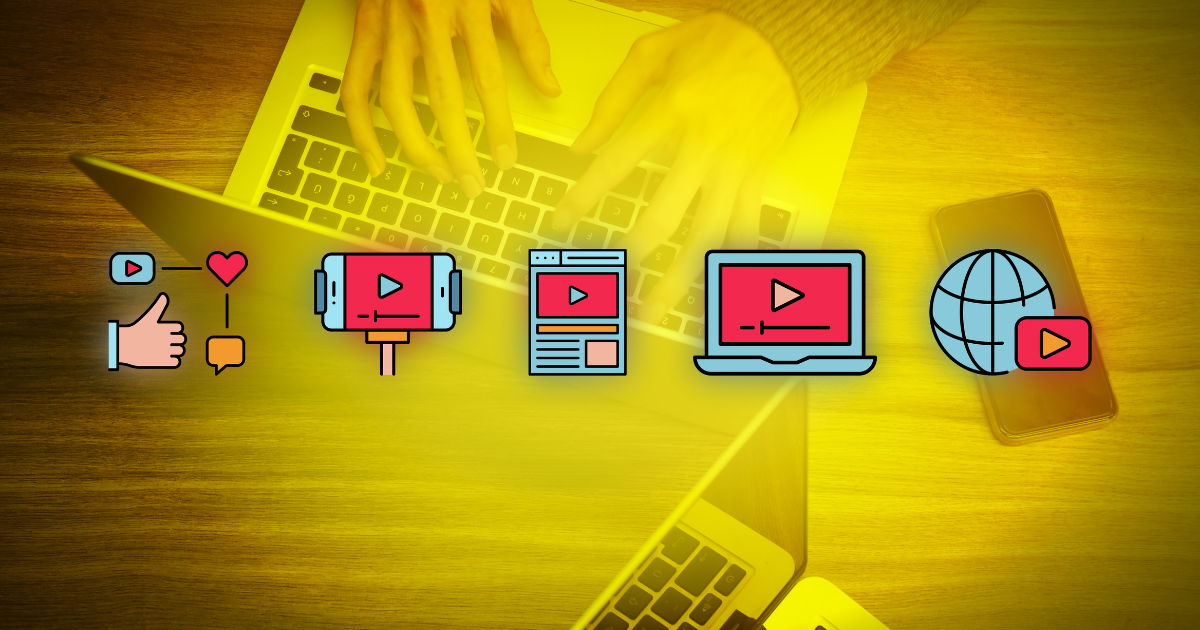 We've traveled through a galaxy of subtitle generators together, exploring their unique features, strengths, and how they can enhance your video content.
But remember, the best tool is the one that fits seamlessly into your workflow, meets your unique needs, and makes your content creation process as smooth as a waltz.
Choosing the right subtitle generator is like selecting the perfect pair of running shoes. You want it to be comfortable, supportive, and help you reach your goal faster and easier.
Whether it's the versatility of Veed.io, the simplicity of Simplified, or the comprehensive features of Rev, every tool we've discussed has something special to offer.
Take a moment to reflect on your needs. Do you need a tool that offers a free version, like Checksub, or one that integrates subtitling with video editing, like CapCut? Or perhaps, you need a tool that excels in automatic captioning, like YouTube's built-in feature?
Now's the time to take action. Explore these tools, leverage their free trials, and find your perfect match.
Your videos have a powerful message to share, and the right subtitle generator can help that message resonate with a wider audience.
So, why wait? Pick your automatic subtitle generator and take your video content to the next level!