Maximize open rates and engagement with the 10 best AI email marketing tools. Refine your strategy and stay ahead in the game with these software solutions.
Discovering the ideal AI email marketing tool is essential for revolutionizing your email campaigns. With the power of AI, the right email marketing tool can make all the difference. In this comprehensive guide, I've evaluated and ranked the top 10 AI email marketing tools, including my personal top 3 recommendations, so you can make an informed decision and find the perfect fit.
Active Campaign
Constant Contact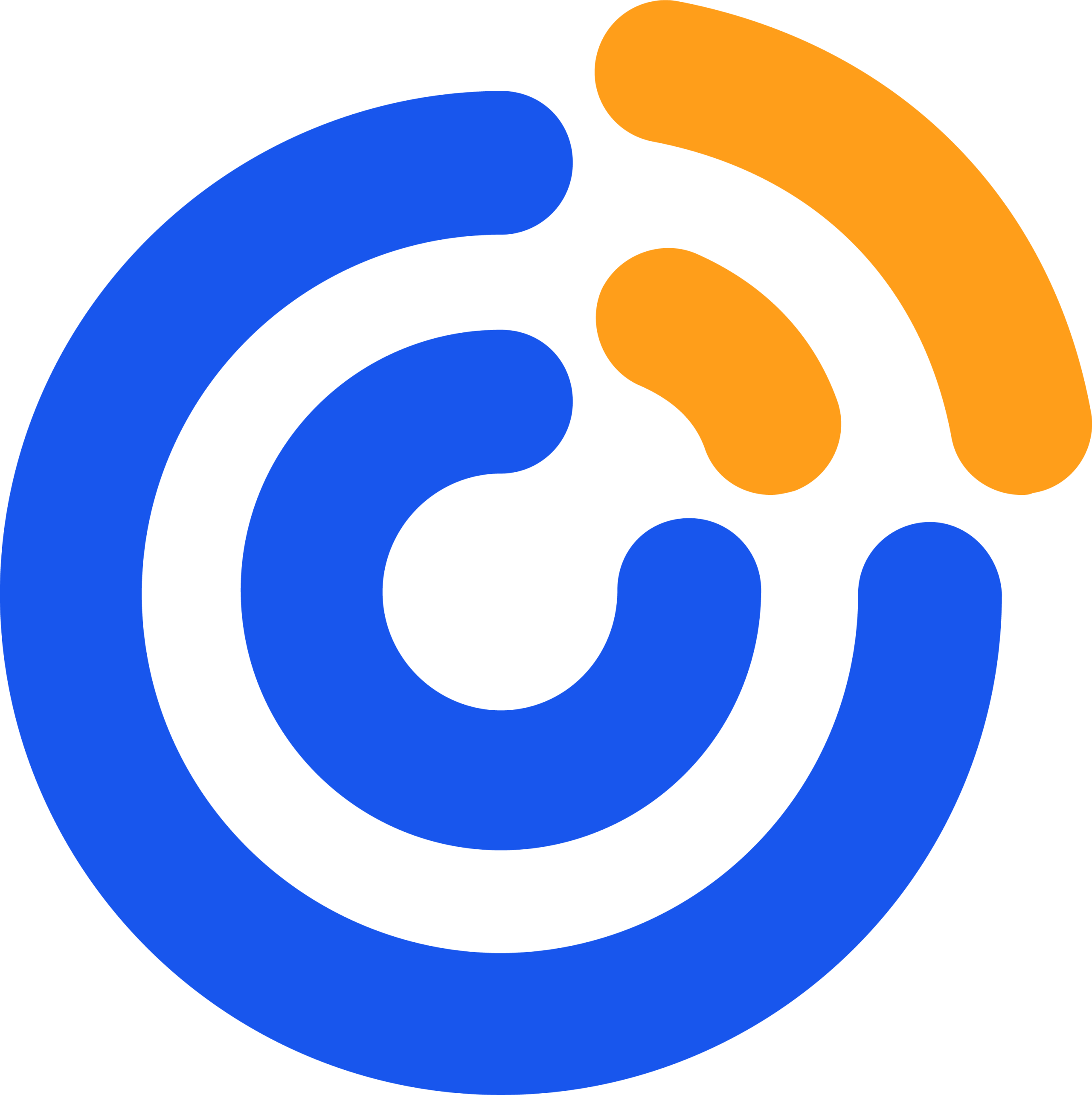 I want you to imagine me, face bathed in the glow of my computer screen, sipping on my third cup of coffee. The email marketer's life, right?
Trying to wrangle emails and balance an unwieldy marketing automation platform was enough to make anyone consider running away with the circus. Until I found a better way: AI email marketing tools.
It was like stumbling upon an undiscovered shortcut in my favorite video game. Suddenly, crafting perfect email subject lines became as effortless as breathing, and my marketing automation platform started behaving like a well-trained orchestra.
I had been handed a secret weapon, and boy, was it a game-changer.
Now, I want to share this secret weapon with you. I've compiled a list of the 10 best AI email marketing tools that could transform your work life as they did mine. And don't worry, this won't be a technological roller-coaster ride. I'll keep it as simple and relatable as sharing a coffee chat.
So, are you ready to step into this brave new world of email marketing? If you are, let's start at the very top.
What is AI Email Marketing?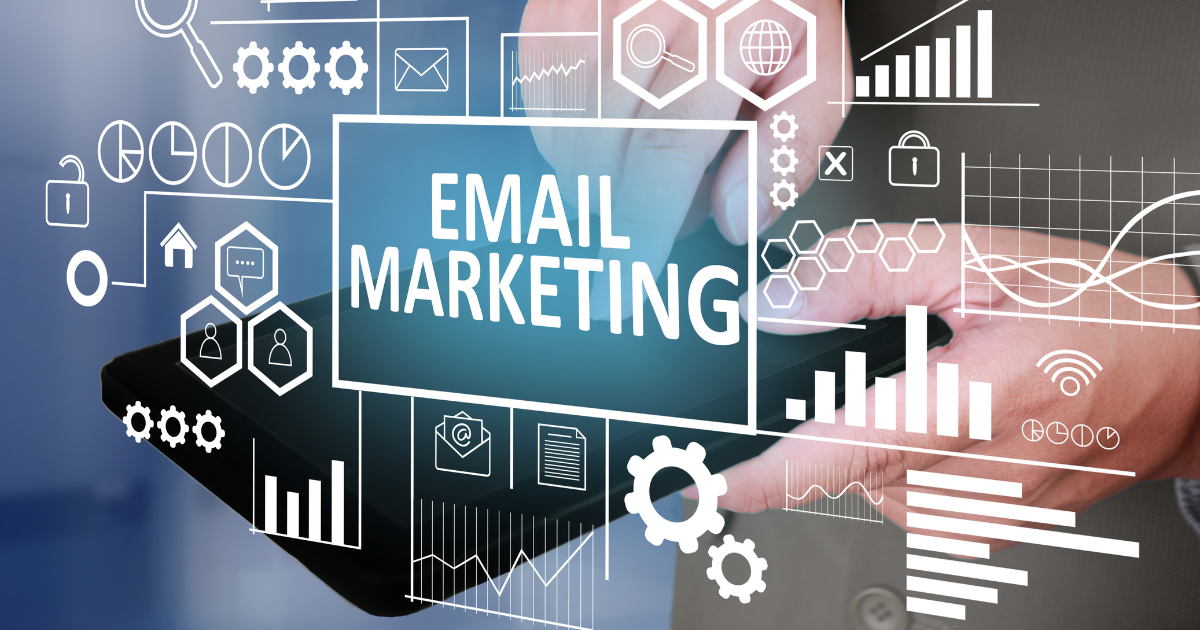 When we talk about Artificial Intelligence, we're referring to various smart technologies aiming to empower machines with cognitive abilities akin to or surpassing human performance.
So, what does this mean for us email marketers when AI enters our territory? Well, AI in email marketing involves the use of machine learning techniques, enabling programs to scrutinize hundreds, even thousands of email accounts. This high-tech snooping, so to speak, empowers digital marketers like us to craft more pertinent content for our audiences.
In the realm of AI Email Marketing, imagine an autonomous system, a pre-constructed machine, sending tailor-made emails to potential consumers, putting an end to the days where we'd spend countless hours hunting people down and personalizing every single email.
Those who visit your site regularly or find themselves on your subscription list are often ripe with potential – potential clients, that is. This is where handy AI email marketing software comes into play, considering every action of these potential clients. The behavior of these prospective customers essentially pulls the trigger on email activations.
And just like that, our jobs become a tad bit easier, and our emails a whole lot smarter!
With these AI-powered email marketing tools at your disposal, you'll be equipped to:
Focus on the most crucial information while conveniently sidelining the non-essential details.

Measure vital factors against other gathered data, helping you answer queries or make suggestions that lead to informed decisions.

Dabble in AI experimentation and scrutinize extracted data for programming and reprogramming purposes.
Moreover, these AI email marketing tools can offer your email team a deeper understanding of complex insights, such as:
Identifying the most impactful subject lines for your email marketing campaigns.

Deciphering the typical times your recipients open their emails.

Determining the optimal frequency for dispatching emails.

Discovering new segments to add to your email list.

Crafting future content that's personalized to heighten subscriber engagement.

Deciding the perfect moment to send an email about a deserted shopping cart.

Analyzing the interaction of the recipient with your emails.
These AI email marketing tools aren't just providing information; they serve predictions, recommendations, and judgments, allowing unparalleled personalization and segmentation throughout the customer journey.
These tools enable email marketers to make informed decisions about the right email format, target audience, timing, and frequency. Since they use natural language generation, they write email subject lines even better than you do. So, don't be surprised when you see increased open rates and revenue.
You can rest easy knowing that these smart tools have your back! So, let's discuss the 10 AI-powered tools best for email marketing campaigns.
10 Best AI Email Marketing Tools
Active Campaign is a tour-de-force in the realm of AI-powered email marketing tools. As I started integrating it into my email marketing strategy, I felt like I'd unlocked a new level in a video game.
I mean, this tool goes above and beyond simply sending out emails.
Active Campaign focuses on the nitty-gritty, identifying risky sending patterns that could land your emails in the dreaded spam folder. It's like having your own personal email guard dog, always on alert, ready to sniff out any danger.
But it doesn't stop there. Active Campaign also helps prevent the accumulation of invalid email addresses in your mailing list. Imagine a bouncer at the door of your email list, ensuring that every address that gets in is valid and valuable.
Incorporating Active Campaign into your marketing strategy is like employing a secret weapon that maintains the quality of your email list while ensuring your messages land right where they need to – in your recipients' inboxes. And trust me, that's a game-changer in our line of work.
Pros:
Feature-Rich: Active Campaign offers an impressive array of features, including email marketing, marketing automation, CRM, and messaging features, making it an all-in-one marketing solution.

Superior Segmentation: It allows for complex segmentation of contact lists, ensuring your messages are targeted and personalized.

Advanced Automation: Its advanced automation capabilities can save you time and help you streamline your email marketing strategy.

Detailed Reporting: Active Campaign provides robust reporting features, giving valuable insights into your campaigns' performance.

Identifies Risky Sending Patterns: This AI tool can identify risky sending patterns, helping prevent your emails from being marked as spam.

Prevent Invalid Email Addresses: Active Campaign helps keep your email list clean by preventing invalid email addresses from being added.
Cons:
Learning Curve: Given its vast features, Active Campaign can take time to learn and navigate effectively.

Integration Limitations: While Active Campaign does offer many integrations, there may be certain apps or tools it doesn't seamlessly connect with.
Pricing
Active Campaign comes in three plans
The Plus plan costs $49

The Professional plan costs $149

The Enterprise plan comes with customized pricing and is best for large teams looking to personalize their marketing at scale
Let's talk about another player in the AI in email marketing, Constant Contact.
It's like a trusty sidekick for email marketers, packing a punch with its AI capabilities. It's not just about sending emails; it's about making them work smarter and harder.
Constant Contact incorporates AI in email marketing to optimize your campaigns, turning the tedious task of writing personalized emails into a breeze. Picture an AI with a knack for catchy, engaging lines, helping you grab your audience's attention from the get-go.
Here's a snapshot of what you can expect with Constant Contact:
Pros:
User-Friendly: Constant Contact is known for its easy-to-use interface, making it ideal for beginners or those with less technical knowledge.

Variety of Templates: It provides various customizable templates to help you craft visually appealing emails.

Social Media Integration: It allows you to easily integrate your email campaigns with your social media platforms, widening your reach.

Advanced Analytics: With its comprehensive analytics, you'll have a clear picture of your campaign performance and areas of improvement.

Effective AI Use: The AI capabilities, especially in writing email subject lines, help optimize your email marketing strategy, enhancing engagement and open rates.
Cons:
Limited Automation: Compared to some competitors, Constant Contact offers less advanced automation options. This could be a limitation if you're looking for complex automation sequences.

Limited A/B Testing: Constant Contact provides limited options for A/B testing, which might restrict your ability to optimize campaigns based on data.

Customer Support: While they offer customer support, it's unavailable 24/7, which could be problematic for users in different time zones or those needing immediate assistance.
Pricing:
Constant Contact comes in three plans:
The Lite Plan starts at $12/month

The Standard Plan starts at $35/month

The Premium Plan starts at $80/month
In the grand scheme of things, Constant Contact is a dependable tool with strengths in AI capabilities and user-friendliness.
But like every tool, it has its limitations, and the key is to see if it aligns with your specific requirements.
Brevo is one of the best AI marketing tools available. It has a free plan with 9,000 emails each month and is straightforward to use. As a result, you can begin immediately with zero danger or expense.
You can use it to send SMS and transactional emails. Additionally, you can effortlessly sync your customer data between Brevo and your store using the Brevo app for Shopify. Based on how your consumers behave in your store enables you to send tailored emails and automate marketing efforts.
PROS
Reliable email automation.

Affordable plans.

Transactional emails and SMS marketing tools.

Free CRM software.
CONS
Caps on sending emails in the free plan.

The system can occasionally be a little slow.
PRICING
Brevo comes in 4 plans:

The first is the Free plan

The Starter Plan starts from $25/month

The Business Plan starts from $65/month

The Brevo Plus has a custom price and is great for large organizations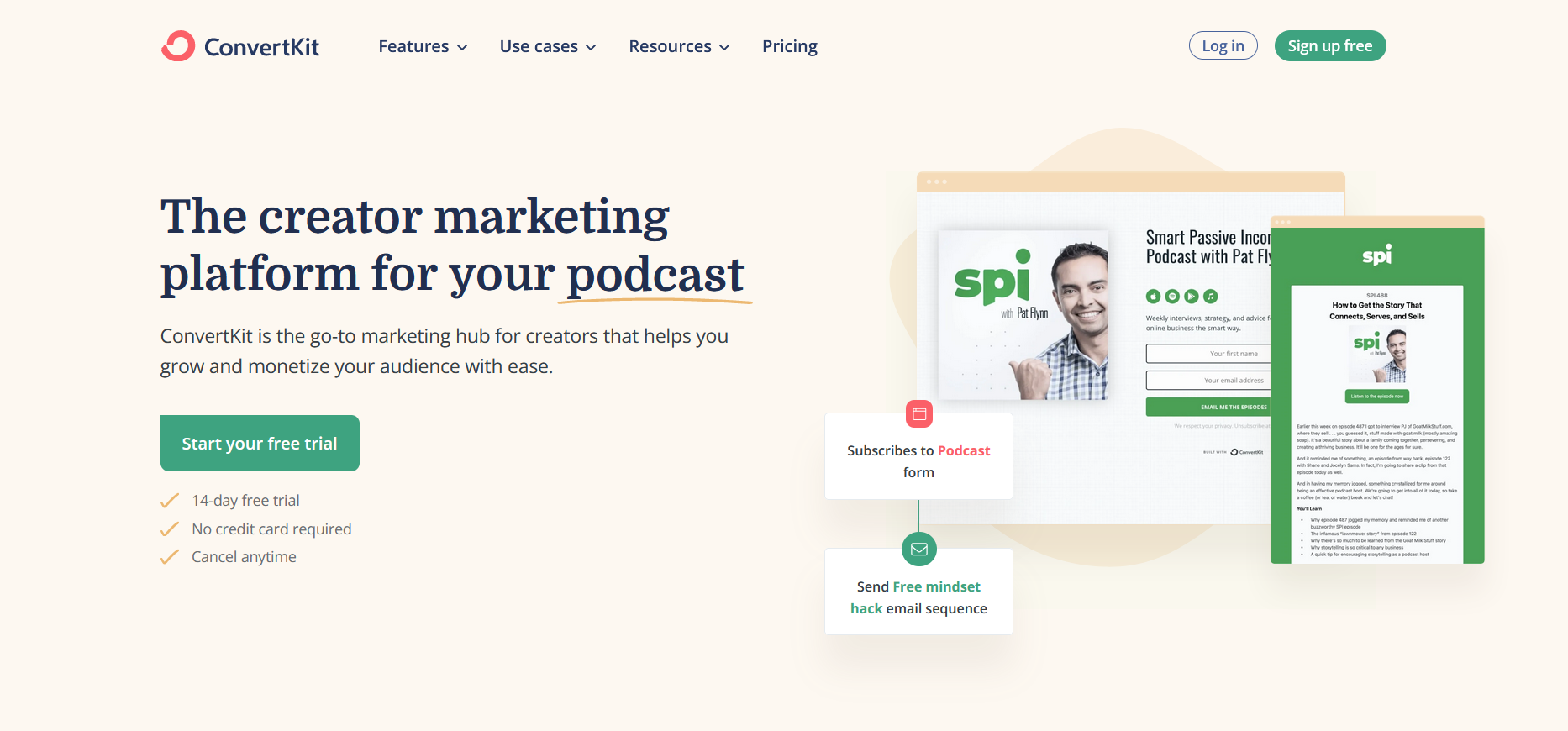 This powerful marketing automation platform has won the hearts of email marketers far and wide. When it comes to crafting effective email campaigns, ConvertKit truly excels.
With ConvertKit, you have a sophisticated platform at your fingertips that empowers you to create automated email sequences tailored to your audience's needs. Gone are the days of manually sending individual emails. ConvertKit streamlines the process, allowing you to focus on the big picture while it takes care of the intricate details.
One of the standout features of ConvertKit is its data-driven insights. It provides you with valuable analytics and metrics to measure the success of your campaigns, giving you the power to make informed decisions and optimize your email marketing strategy.
Pros:
Simplicity and User-Friendliness: ConvertKit is known for its intuitive interface, making it accessible to users of all levels of expertise.

Advanced Automation: It offers robust automation capabilities, enabling you to effortlessly create complex email sequences and workflows.

Segmentation and Targeting: ConvertKit provides powerful segmentation options, allowing you to personalize your emails and target specific audience segments.

Tagging System: Its unique tagging system helps you organize and categorize your subscribers based on their behaviors and interests, enhancing your ability to deliver relevant content.

Responsive Customer Support: ConvertKit boasts a responsive and helpful customer support team, ready to assist you when needed.
Cons:
Limited Design Flexibility: Compared to some other platforms, ConvertKit offers fewer design customization options, which may limit your ability to create visually striking emails.

Higher Pricing for Larger Lists: As your subscriber list grows, the cost of using ConvertKit can increase significantly, potentially becoming more expensive than other platforms for larger lists.
Pricing: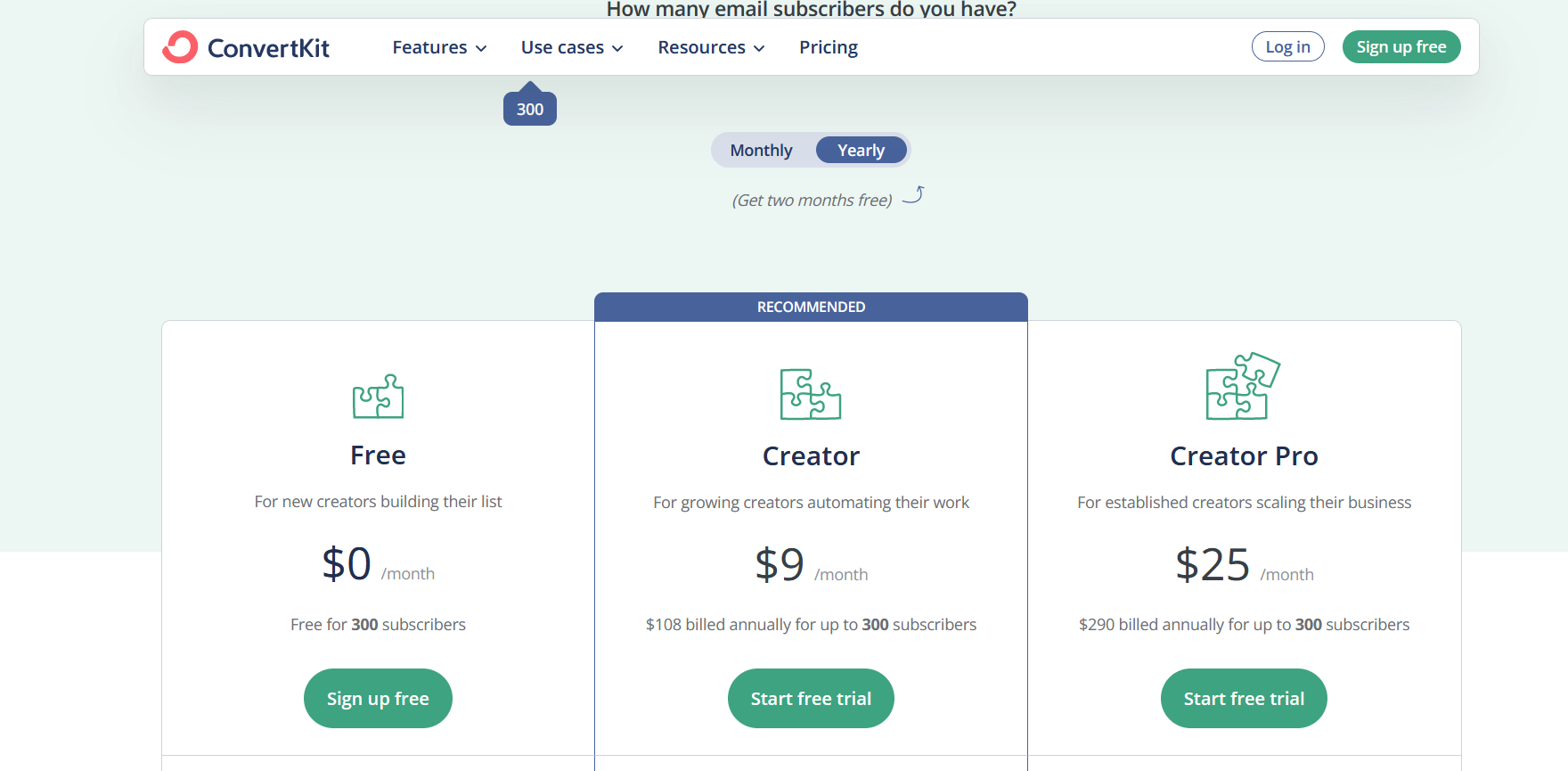 ConvertKit has a free plan and two paid plans
The Creator Plan costs $9/month

The Creator Pro Plan costs $25/month
In conclusion, ConvertKit shines as a marketing automation platform, streamlining email campaigns and providing data-driven insights to fuel your success.
While it may have some limitations in design flexibility and pricing for larger lists, its simplicity and robust automation features make it a worthy contender in the email marketing landscape.
EmailOctopus is a low-cost email marketing software that assists people and businesses in building their mailing lists and engaging their audiences. Their user-friendly platform enables customers to create cost-effective campaigns with a personalized touch.
EmailOctopus offers a variety of straightforward yet practical solutions to help you expand your business. With all the capabilities required to grow your list, engage your audience, and achieve results. Existing subscribers can be imported, and you can keep expanding using forms you can customize for your website.
You may also design beautiful landing pages to draw in additional subscribers. With their user-friendly email editor, start with a pre-designed template and modify it, or create designs from scratch—Import HTML templates for total creative flexibility
PROS
Excellent responsiveness to different devices.

Outstanding customer service with email and live chat.

Reasonable pricing with an excellent pro plan.
CONS
No direct integration is available.

No landing page builder.

A small number of segments.
PRICING
Email Octopus has a free plan and a paid plan.
The Paid plan costs $8 and can cater to 500 subscribers and send 10,000 emails per month
6. Omnisend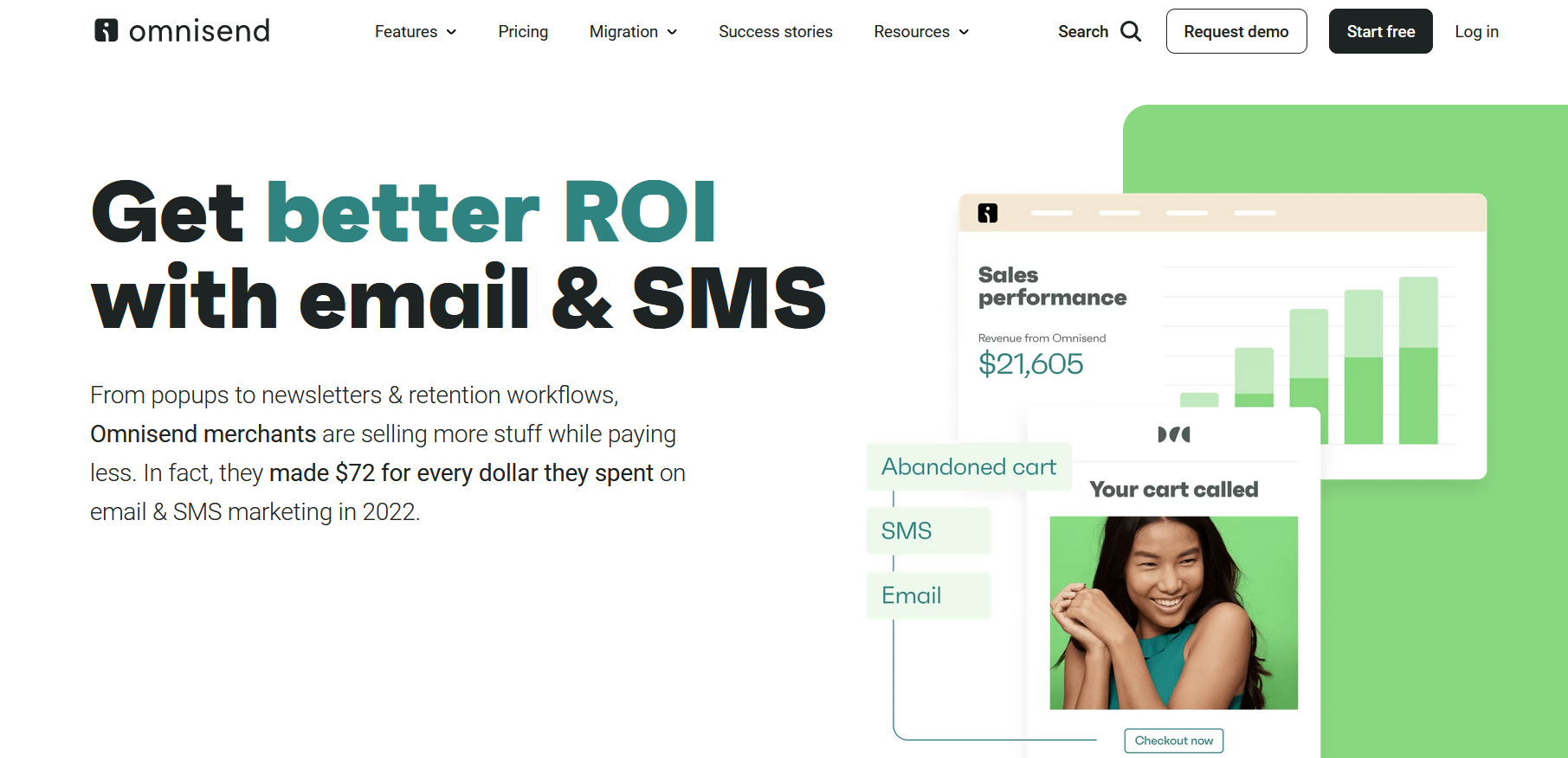 Omnisend is one of the best AI email marketing solutions for e-commerce. It provides many helpful email marketing strategies and automation functionalities to build, send, and track your customers with a robust CRM system.
You may design email automation, opt-in forms, and email templates using the tool's simple drag-and-drop editor.
Omnisend also integrates with hundreds of eCommerce tools. It can be added to your store with just a single click.
PROS
Ease of use

Ease of integration

Free plan and affordable pricing

Simplified migration

Automation
CONS
PRICING
Omnisend has a free plan and two paid plans
The Standard Plan costs $16/month

The Pro Plan costs $59/month
7. Zeta Email
Zeta Email is one of the top AI marketing tools that leverage next-generation artificial intelligence to ascertain each customer's identity, purpose, and context. This is to create customized omnichannel marketing emails that increase email marketing performance and engagement.
With the help of this AI tool, incorporating several content blocks into email designs is also a breeze. Zeta further enables A/B testing on several email subject lines by using natural language generation (NLG) to see which is more successful.
Zeta Email also keeps track of consumer activity, including how users interact with your app, website, and previous emails. The algorithms create customized email content based on this data, which will probably improve client connection.
Zeta Email has high customization choices and automatic predictive insights. This omnichannel marketing platform highly values prospect data. Use different data identities with this tool to study high-quality customer acquisition. This affordable automation technology can support successful end-to-end campaign management
PROS
Use of results-driven AI to increase customer acquisition.

Integration of first-party data and user analytics.

Boosts subscriber engagement

Development of unique omnichannel experiences

Prediction of intent and engagement across various platforms
CONS
No pricing information was provided.
You have to contact the Zeta Email team to learn more about their pricing and other vital information.
8. GetResponse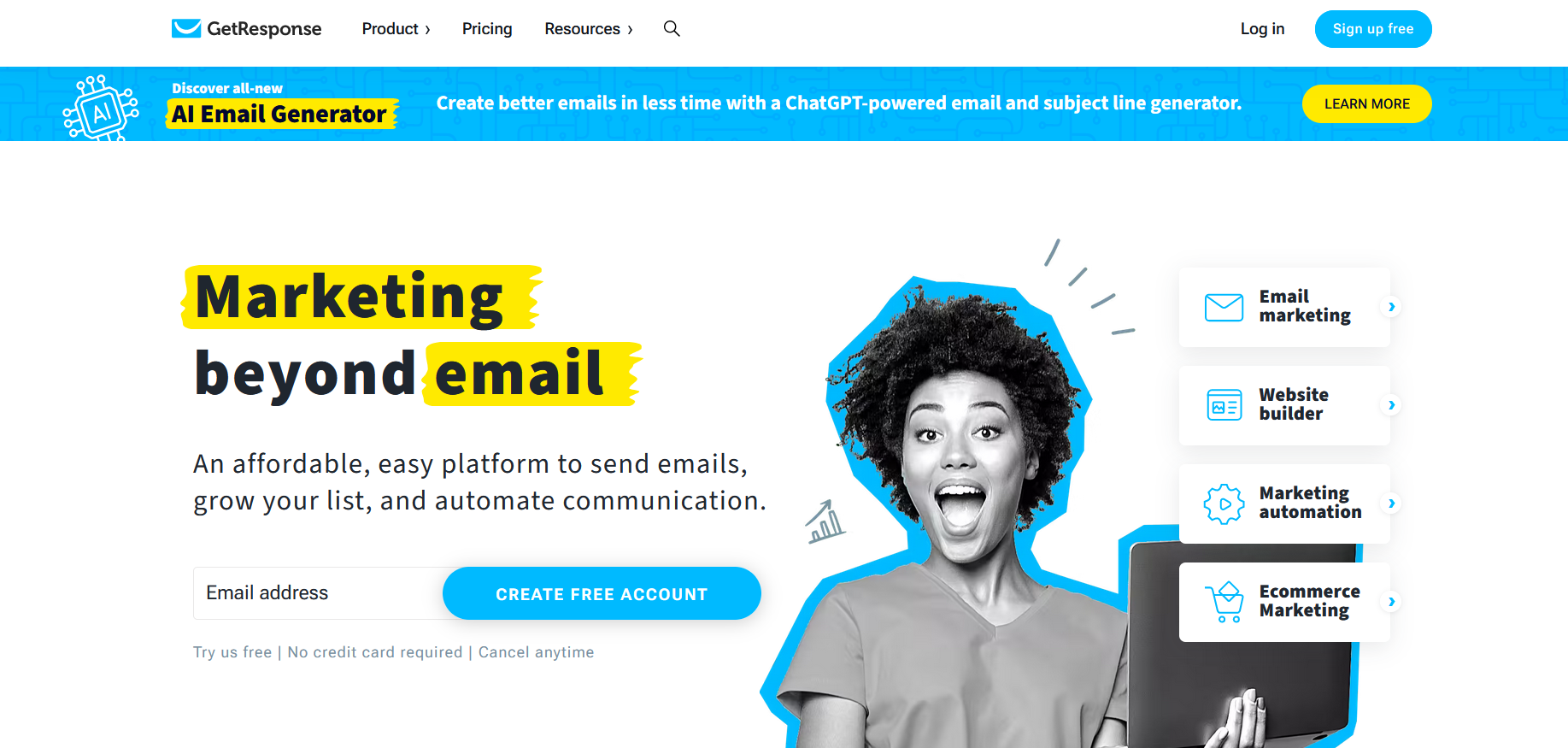 With the GetResponse email marketing tool, you can now create personalized emails and messages based on the personas of your prospects.
This AI-driven tool, which focuses on customized emails, may be used by any organization.
GetResponse can help you connect with national and international businesses using its specialized tools.
PROS
Active email campaign builder

Automated follow-up scheduled messages

Specialized sales conversion funnel

A/B testing and broad app integration
CONS
No phone support provided
PRICING
GetResponse has a free plan and three paid plans
The Email Marketing costs $15.58/mo

The Marketing Automation costs $48.38/mo

The E-commerce Marketing costs $97.58/mo
9. Seventh Sense
Seventh Sense is a well-known AI email marketing platform. This AI marketing tool enables direct inbox delivery at prime periods for better open rates and engagement. SeventhSense uses behavior profiling to grab customers' attention.
Seventh Sense gathers information based on previous user behavior and interactions and each user's unique needs by creating a prediction model for each contact based on their behavior. Sending emails to clients and potential clients when they are most likely to open and respond will be easier using SeventhSense's feature.
Additionally, Seventh Sense integrates effectively with tools like Marketo and HubSpot.
PROS
Campaign Analytics

Personalized service

Free trials

Email Address Verification

Third-Party Integrations

Campaign Scheduling

Engagement Tracking
CONS
PRICING
Seventh Sense comes in 2 plans
The Business Plan costs $64/mo

The Enterprise Plan comes with custom pricing
Seventh Sense offers customizable monthly and yearly contact-based plans for HubSpot and Marketo customers.
The pricing for Marketo users starts at $360 per month (Business Plan) and has custom pricing for the Enterprise plan.
10. Drift
This AI tool enhances the total customer journey experience by creating and appropriating tailored communications. The platform seamlessly interacts with CRM programs to increase the effectiveness of your AI email marketing.
Drift Email is one of Drift's products. It features robust email management tools that automatically distinguish between autoresponders and human email answers. This guarantees human communication so you can direct genuine human reactions to the appropriate person to ensure follow-up and generate additional pipeline.
Thanks to Drift, which serves as a conversation platform, your marketing, sales, and customer service teams may effortlessly communicate with customers through conversations. It offers tailored discussions across chat, email, video, and other channels.
Phone numbers and job titles from email signatures are automatically added to and cleaned up in contact records in your CRM and marketing automation platform by Drift Email.
PROS
Ease of use

Lead generation and productivity features

Powerful integrations

Boosts productivity

Reporting dashboards
CONS
It is expensive

You cannot utilize Drift for numerous teams if you're not on the Enterprise plan.
PRICING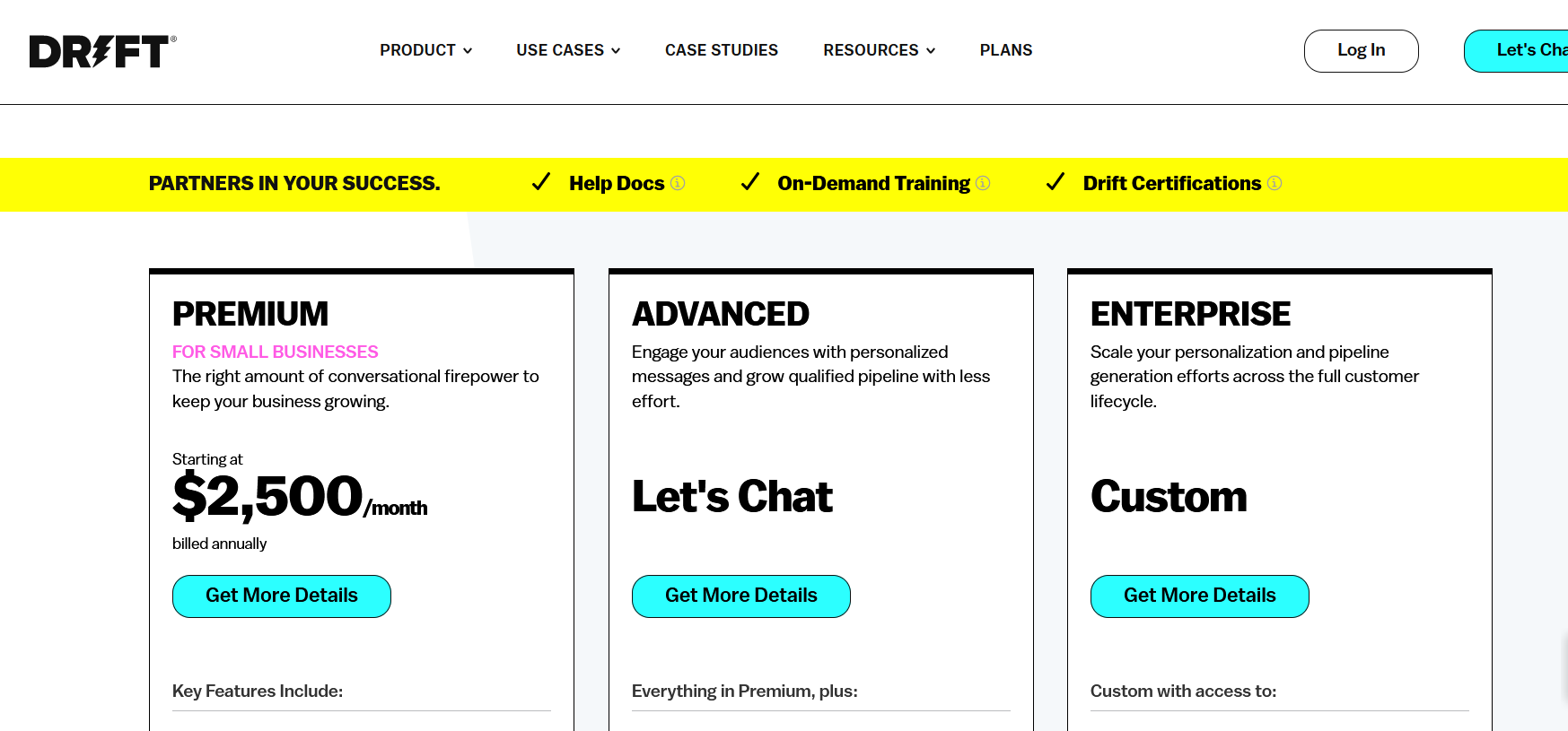 Drift comes in 3 plans
The Premium Plan costs $2,500/mo

The Advanced Plan comes with custom pricing

The Enterprise Plan comes with custom pricing
Benefits of AI Email Marketing Campaigns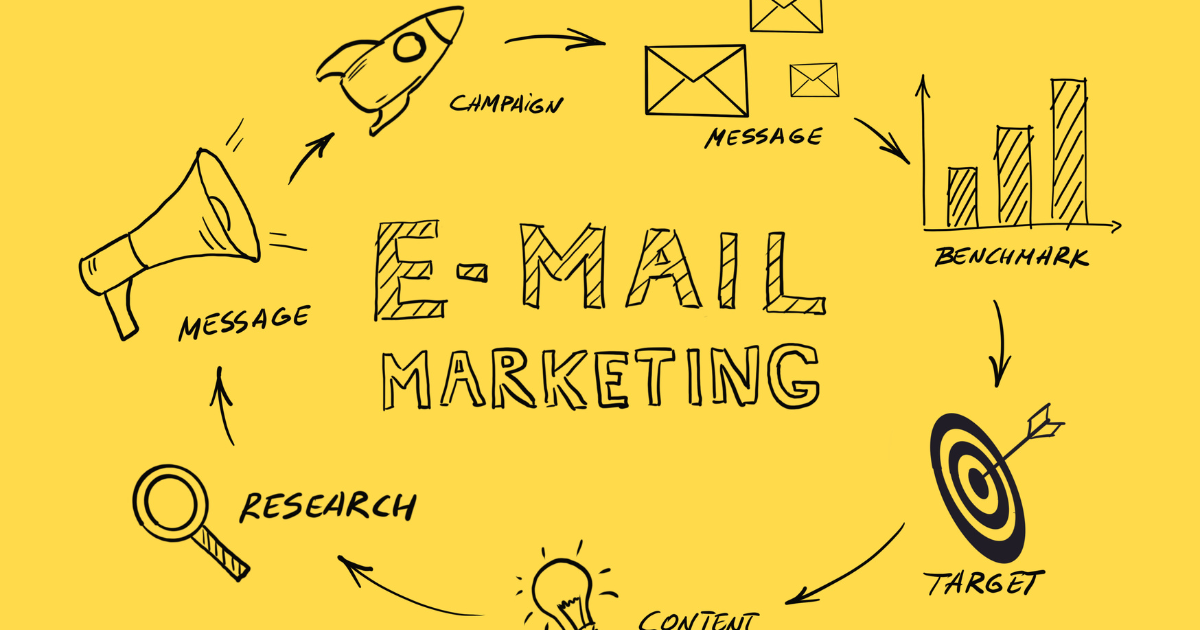 Email Campaigns Increase Earnings:
The marketing tools can help create better emails, increasing open and click rates. As a result, you get better results from your email marketing efforts, and the efficiency of the time spent on them is increased.
Email Marketing Strategy Decreases Cost:
Designing successful campaigns is made simpler by AI marketing tools, which reduces the amount of money spent on advertising.
Provide Automation:
We recognize that you might not always be at your computer to save time when a client needs help or someone signs up for your email list.
However, you can send the right material and most relevant messages to the intended recipient at the right time with AI-driven email automation. Use already-written content, advertisements, links, and blog post excerpts to fascinate your readers.
Extracts Large User Data Sets:
AI marketing tool discovers valuable patterns in big data sets, such as what consistently produces effective emails across big datasets. You can examine that data for programming and reprogramming based on AI experimentation.
You may avoid inundating your email marketers and readers in the future with generic bulk emails by learning the right information about them.
Increases Efficiency:
Although almost any action required of an email marketing AI may be completed by a human, it frequently requires considerable time and money.
Instead of wasting time choosing send times or sorting through email databases for product recommendations, your email marketing team can concentrate on resolving bigger-picture problems and developing comprehensive solutions using email automation and AI improvements.
Suppose you are not using AI in your email marketing. In that case, you're missing out on data analysis and insight that can significantly help you improve your email open and click-through rates.
This will ultimately increase the chances of one day converting your receivers into customers (or regular customers!)
Bottom Line
Many AI tools are available to help you with email marketing, but if you want to have a successful email campaign, you must use the right ones. The best AI email marketing tools will help you automate promotion, monitor open rates, and gain insights into what makes your email campaigns successful.
We have reviewed some of the best AI tools for email marketing above to help you select the ideal tool for your marketing and optimize your email campaigns. These AI email marketing tools are equipped with all the practical capabilities you need to strengthen your online campaigns. Most of these email marketing platforms feature valuable integrations that shorten your time looking up prospects.
I hope you found this post helpful.