Get an in-depth review of the best travel backpack for women in 2023. Uncover the pros, cons, and unique features, helping you choose the best backpack.
Discovering the ideal travel backpack is essential for achieving a stylish yet efficient look while traveling. With different travel backpacks in the market, the right travel backpack can make all the difference. In this comprehensive guide, I've evaluated and ranked the top 10 travel backpacks for women in 2023, including my top 4 recommendations, so you can make an informed decision and find the perfect fit.
I've often been amused by the sheer number of things women manage to fit into their bags. It's like Mary Poppins' carpet bag, except with a granola bar stash and an extra pair of shoes for every possible occasion. And when it comes to a travel backpack for women, the stakes are even higher.
As a dedicated travel enthusiast, I've seen my fair share of airport dramas and spontaneous detours. Through it all, the importance of a reliable backpack becomes crystal clear. Not just any backpack, mind you, but one specifically designed for women, considering their unique needs and preferences.
Now, we're not talking about those 'my-entire-life-in-a-bag' kind of backpacks. No, we want something that hits the sweet spot between practicality and style.
And if it's crafted from recycled polyester or vegan leather, we've got a double win – helping Mother Earth while globe-trotting. How's that for multitasking, right?
So, for all you adventurous women (and the brave men looking to gift the perfect travel accessory), buckle up. We're about to embark on a journey through the crème de la crème of travel backpacks for women in 2023. But first, let's understand what to look for in a women's backpack.
Understanding the Basics of a Good Travel Backpack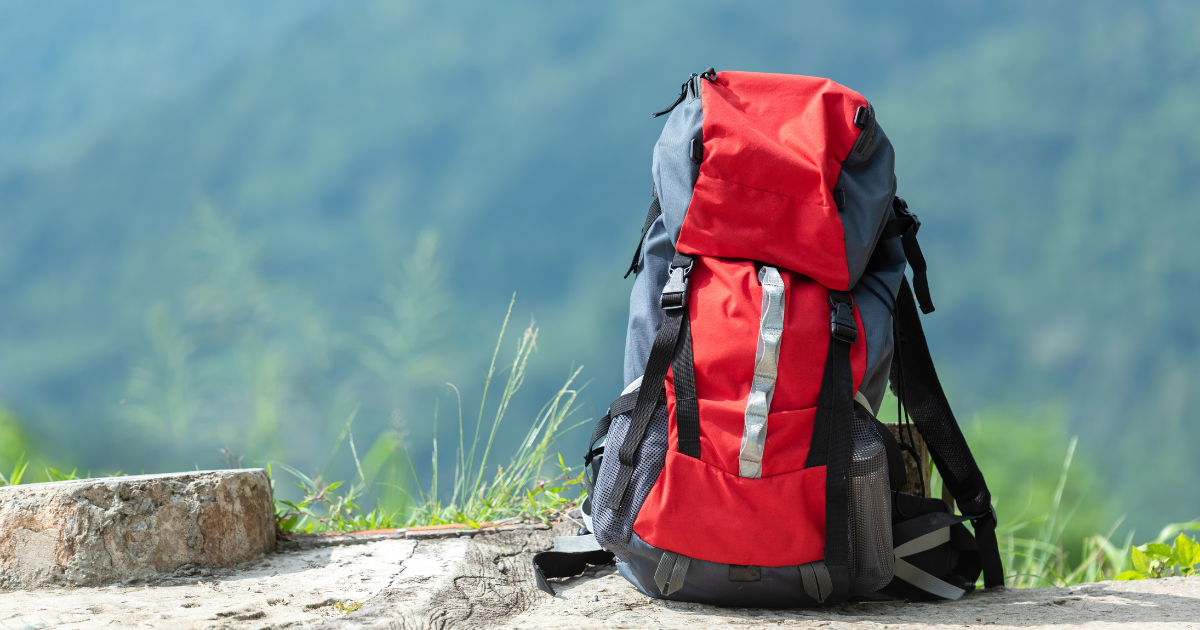 Think of this as your quick backpack boot camp.
You see, not all backpacks are created equal. Some have that special je ne sais quoi that transforms them from a simple bag to a reliable travel companion.
First off, a good backpack is more than just a pretty face. Sure, personal style is a major player in the decision-making process, but functionality is the key here.
A top-notch travel backpack knows how to carry its weight – literally. It's got carry handles that don't make you wince every time you hoist it up and side pockets that actually hold stuff without spilling their guts at the slightest provocation.
Remember, in the world of travel, size does matter. Your backpack needs to be just right – Goldilocks style – to qualify as carry-on luggage but still pack enough punch for your travel essentials.
Think of it as rolling luggage minus the wheels.
And let's not forget about the unsung heroes of a good backpack: the materials. Waterproof materials can be the difference between opening your backpack to dry clothes or a soggy mess.
Finally, you know what they say about beauty being on the inside? That holds for backpacks too. Multiple compartments are a traveler's best friend, helping you to stay organized even when your itinerary is a whirlwind of adventure.
So, armed with this knowledge, let's delve into the crème de la crème of travel backpacks for women. Get ready for a world where carry handles are sturdy, side pockets are roomy, and style meets substance.
My Top Picks For Travel Backpack for Women in 2023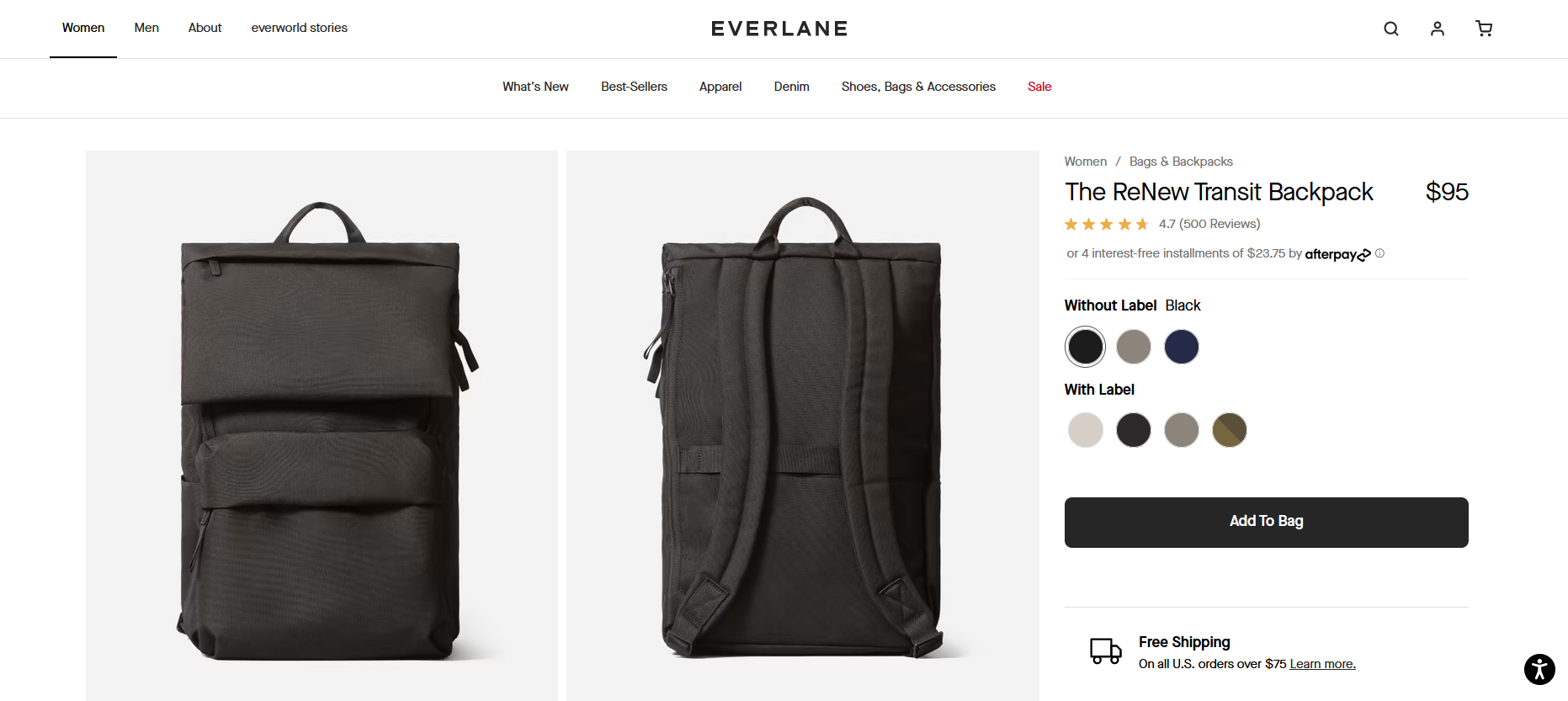 Say hello to Everlane's ReNew Transit Backpack. The moment I saw this gem, I knew it was a keeper.
Designed with the modern woman in mind, this backpack is as practical as it is chic.
Let's start with the padded shoulder straps. Have you ever carried a backpack that felt like it was filled with bricks? I know I have, and let me tell you, it's not a fun experience.
That's where the padded shoulder straps come in. They're like a mini massage for your shoulders, distributing the weight evenly so you can carry the world on your back, metaphorically speaking, without feeling like you are.
And it gets better. The straps are adjustable, catering to all shapes, sizes, and preferences. Whether you're the 'carry it high' or the 'let it hang low' type, The ReNew Transit Backpack is ready to accommodate.
I must also mention the two water bottle holders. You know how vital hydration is, especially when you're out exploring. These holders keep your water within easy reach, so you're always just a sip away from quenching your thirst.
But perhaps the pièce de résistance is the water-resistant fabric. With this backpack, you can bid farewell to the days of frantically looking for shelter or sacrificing your favorite scarf to protect your belongings from sudden rain showers.
All in all, The ReNew Transit Backpack is more than just a bag; it's a trusty sidekick, ready to take on any adventure that comes your way. And it costs $95.
I'd say it's about time to make some room in your closet for this one, don't you think?
Ah, the REI Co-op Ruckpack 40 Recycled Pack. Now, there's a mouthful. But don't let its tongue-twisting name fool you. This travel backpack for women is as straightforward as they come, focused on functionality and durability. It's like the Swiss Army Knife of backpacks.
We'll kick things off with the zipper pocket. This isn't your run-of-the-mill, hide-a-few-coins kind of pocket. It's spacious and secure, perfect for storing your essentials and keeping them within arm's reach. And when you're on the go, that kind of accessibility can be a game-changer.
What's more, the adjustable straps on this backpack don't play around. They're designed to adapt to your body, providing a custom fit that's as unique as you are. It's like the backpack equivalent of a tailored suit, except a lot more comfortable.
The REI Co-op Ruckpack 40 is built to last, thanks to its durable materials. This backpack isn't afraid of a little rough and tumble. You could probably take it through a jungle trek, a desert hike, or a city stroll, and it'd still come out looking like a champ.
The best part? It's carry-on size. This travel backpack for women is compact enough to fit in an overhead compartment but spacious enough to hold all your must-haves.
I mean, if that's not impressive, I don't know what is.
So, if you're in the market for a reliable, durable, and highly adaptable travel companion, the REI Co-op Ruckpack 40 Recycled Pack could be the one for you. It costs $149.
Enter Aer's Fit Pack 3, the sleek embodiment of stylish travel backpacks. This one had me at hello with its minimalist design and promise of maximum utility.
One of the standout features of this women's travel backpack is the laptop pocket. We all know how crucial our laptops are, whether we're catching up on work, editing travel photos, or binge-watching our favorite shows during a long layover.
This dedicated laptop pocket protects your trusty companion, ensuring it arrives at your destination as safe and sound as you do.
But wait, there's more. You know that pair of fancy sunglasses you love? Or your favorite gadget you absolutely cannot live without? Well, the Aer's Fit Pack 3 has got you covered with its padded pocket. It's like a comfy, cozy, protective nook for your most prized possessions.
What I love about this backpack is that it doesn't shout, "I'm a travel backpack." Instead, it whispers, "I'm a stylish accessory that just so happens to carry all your essentials." It's sophisticated, practical, and ready to take on the world one trip at a time.
Aer's Fit Pack 3 is undoubtedly a force to be reckoned with in the wide world of women's travel backpacks. It's not just a bag; it's a lifestyle choice. And once you go Aer, you may never go back.
This women's travel backpack costs $149.
This bag is a shining example of a stylish travel backpack, blending functionality with a severe dose of aesthetic appeal. It's the kind of bag you wear and instantly feel like you've got your life together.
One of the things I admire about The Beacon is its laptop pocket. It's not just a pocket; it's a laptop sleeve and a compartment to keep your phones.
Secure, padded, and easy to access – it's everything a laptop pocket should be. And let's be real; when it comes to travel essentials, our laptops rank pretty high up there.
But The Beacon isn't just about good looks and functionality. This eco-friendly women's travel backpack is committed to sustainability, proving that style and environmental responsibility can go hand in hand. It's like the backpack is whispering to us, "Hey, let's go on an adventure, but let's do it responsibly."
What stands out about The Beacon is that it's not just designed for travel; it's designed for the traveler. It understands the nuances of being on the road, the need for easy accessibility, secure storage, and, yes, even a little bit of show-offy style.
So, if you're searching for a travel companion that understands you and doesn't leave a carbon footprint, Lo & Sons' The Beacon might be your match made in backpack heaven. Don't say I didn't warn you when you fall head over heels for this one!
This stylish backpack costs $298.
Now, for something a little different: the PARAVEL Fold-Up Travel Backpack.
This nifty little number offers all the perks of a full-sized backpack while folding into a neat little package when not in use. It's like a magic trick, but instead of pulling a rabbit out of a hat, you're pulling a backpack out of…well, a smaller backpack.
One of my favorite features of this bag has to be the exterior zip pockets. They're perfect for those items you need to grab on the fly, like your passport, phone, or those mint candies you can't travel without. No rummaging, no hassle, unzip, just grab, and go.
But wait, there's more. The PARAVEL Fold-Up also features a padded laptop sleeve, offering your computer a safe and cozy spot to rest during your travels. You won't have to worry about bumps or scrapes – this sleeve has got your back (or, should I say, your laptop's back).
Let's talk about that front zipper pocket. It's like the cherry on top of an already fantastic backpack sundae.
It provides extra storage, perfect for miscellaneous items that don't seem to fit anywhere else.
And the best part? All this awesomeness comes at an affordable price point. So you get all the functionality, style, and convenience without breaking the bank. It's like finding out your favorite gourmet pizza place offers a discount on Wednesdays. Deliciously satisfying and budget-friendly!
This versatile bag costs $75.
So if you're a woman on the go who appreciates a good deal (and who doesn't?), the PARAVEL Fold-Up Travel Backpack might be your perfect travel companion.
It's ready to join you on your adventures, whether they involve exploring a new city or navigating the wilderness of the subway during rush hour.
Roll out the red carpet for the Carry All Backpack, a bag that truly lives up to its name. This isn't just a travel backpack for women; it's a veritable mobile storage unit, ready to house all your essentials and then some.
Now, let's talk about the water-resistant feature. This backpack laughs in the face of rain showers, pool splashes, and accidental coffee spills. It's like a shield, keeping your belongings dry no matter what Mother Nature (or clumsy coffee handling) throws your way.
The Carry All Backpack also houses a 16″ padded laptop sleeve. That's right, this bag has a dedicated spot for your laptop, and it's not just any spot. It's a padded, comfortable, and secure spot. You could probably put your laptop to bed in this sleeve, tuck it in, read it a bedtime story, and it'd sleep like a baby.
We can't overlook the front zipper pocket. It's the perfect little hideaway for those items that need to be readily accessible, like your passport, lip balm, or those earbuds you can't survive a flight without.
Let's not forget about the padded shoulder straps. They're like a soft cushion for your shoulders, distributing the weight evenly and making the bag comfortable to carry, even when packed to the brim.
The Carry All Backpack doesn't just carry your stuff; it carries it with style, comfort, and an uncanny knack for organization. It's the kind of backpack that makes you wonder how you have ever traveled without it. Now, if only it could carry our post-vacation blues, too, right?
This expandable backpack costs $175.
This one is for all the women who refuse to choose between a backpack and a duffel. Why limit yourself when you can have both, right?
Now, if I were to give an award for the best women's travel backpack, the Timbuk2 Impulse would be a serious contender. It's got a laptop compartment that's the backpack equivalent of a five-star hotel suite for your computer. Soft, secure, and spacious, it keeps your laptop snug and safe on your travels.
Thanks to its many pockets, this backpack is a bit of an organizational wizard. Everything has a place in this bag, from your smallest trinkets to your bulkiest items. It's like having your personal assistant keeping you organized on the go.
Let's talk about compression straps. They're like a corset for your backpack, cinching everything in place, making it compact and easy to carry. They help balance the load and prevent your bag from becoming a shapeless, cumbersome lump.
And the zipper pockets? Oh, they're a game changer. They're perfect for stowing away those items you want to keep secure but within easy reach.
Little details like this make the Timbuk2 Impulse such a standout. And the best part? It is affordable. This travel bag costs $199.
So, if you're looking for a versatile, functional, and seriously stylish travel companion, the Timbuk2 Impulse Travel Duffel Backpack might be the one for you.
It's a backpack, it's a duffel, it's your new favorite travel buddy. Now, the only question is, where will you take it first?
Next up, we have the Venturesafe anti-theft carry-on travel pack by Pacsafe.
Now, if you're anything like me, the word 'safe' in the name already has you intrigued. It's like a superhero of backpacks, promising to keep your belongings safe from harm.
Let's delve into the features of this anti-theft backpack. It's like a security guard for your stuff, offering you peace of mind as you traverse through bustling airports, crowded markets, or unfamiliar city streets.
The padded laptop sleeve is another major selling point. Your laptop will feel snug and secure in this padded haven, making your travels worry-free. And who doesn't like the sound of that?
One thing I love about this backpack is the water bottle pockets. They're conveniently placed, making hydration a breeze. Whether you're rushing to your gate or hiking up a mountain, your water bottle will always be within easy reach.
But there's one feature that I particularly want to highlight – the waist strap. It's a small detail, but it makes a world of difference. By distributing the weight from your shoulders to your waist, this strap makes carrying the backpack more comfortable.
It's like having a personal masseuse for your shoulders, alleviating their burden.
Because of its superb weight distribution, you can use it as a hiking backpack, and it only costs $259.
The Pacsafe Venturesafe Travel Pack isn't just an anti-theft backpack; it's a haven for your belongings, a place where they can rest easy knowing they're protected. And when your stuff is safe, you can focus on what truly matters – enjoying your travels.
So here's to safe journeys, incredible adventures, and a backpack with you every step of the way!
This travel backpack has got presence, it's got style, and boy, does it have features.
First off, there's the hip belt. This is no ordinary belt. It's like a supportive hug for your hips, distributing the backpack's weight and making it feel lighter. It's a little bit like having a personal trainer for your posture, keeping you upright and comfortable, even when the backpack is filled to the brim.
Let's not forget the laptop compartment. It's like your laptop's private apartment in the city of your backpack, complete with padding for added comfort. Rest assured, your laptop will be traveling in style and safety with this feature.
Then there are the external pockets. They're like the suburbs of your backpack city, offering easy access to those items you frequently use. Whether it's your boarding pass, headphones, or that snack you can't travel without, these pockets have got you covered.
But the Fairview 40 isn't just about compartments and pockets. It's also about storage space. And let me tell you, it has plenty of it.
You can pack your clothes, travel essentials, and souvenirs and still have room for more. It's like a walk-in closet that you can carry on your back.
And speaking of carry-ons, the Fairview 40 is the perfect size to fit in an overhead compartment. So you can skip the luggage carousel and hit the ground running when you arrive at your destination.
Overall, Osprey's Fairview 40 Travel Pack is a force to be reckoned with. It costs $185.
It combines style, functionality, and comfort into a package that's too good to resist.
So, ladies, this one is worth looking at if you're in the market for a new travel backpack.
This women's travel backpack is a bit more modern and minimalist.
This backpack is like the cool, stylish cousin of the traditional travel backpack. It's sleek, functional, and knows how to make an entrance.
One of the highlights of this bag is its carry-on status. It fits neatly in overhead compartments, making travel a breeze. It's like having VIP access to the airplane – no waiting for your luggage to be unloaded, grab and go.
But the magic of this bag doesn't stop at its carry-on size. The Travel Bag 45L is an expandable backpack that can grow with your needs. Starting a two-week trip and only packing for one week because you know you'll shop? This bag has got you covered. It's like having a Mary Poppins bag, only it's real and doesn't require a spoonful of sugar.
Let's dive into the organizational pockets and multiple compartments this bag offers. It's like a puzzle, with a place for every item, making packing and unpacking an absolute breeze. It's the organizational guru you never knew you needed in your travel life.
And let's not forget about the laptop compartment. This isn't just a slot in the bag; it's a safe haven for your tech. It's like your laptop has its own luxury suite in your backpack, making travel much more secure and convenient.
Peak Design's Travel Bag 45L isn't just a travel backpack for women; it's a lifestyle. Although it's a bit more pricey (it costs $299.95), it's for the woman who values style, functionality, and ease when she travels.
It's a reminder that sometimes, the journey can be just as exciting as the destination, especially when you've got a great backpack by your side.
Factors to Consider When Buying a Travel Backpack
Now, let's hit the brakes for a moment and dive into some important considerations. We've toured several travel bags, checked the laptop compartment, and many more.
But there's more to the story than just picking a stylish bag. Choosing the right backpack is like choosing a travel companion – you want to ensure it's a good fit for you.
A. Understanding Personal Needs and Travel Habits
First, it's important to understand your needs and travel habits.
Are you a minimalist traveler, or do you prefer to have all your creature comforts with you? Do you mostly travel for business or pleasure? Is your travel typically urban or more outdoorsy?
Like ordering coffee, you have to know your preferences – are you a double-shot espresso traveler or more of a whipped cream and sprinkles kind of voyager?
B. Importance of Trying Before Buying, If Possible
Just like you wouldn't buy a car without taking it for a test drive, you shouldn't buy a travel backpack without trying it on.
It's all about how the bag feels on your back, how easily you can reach the main compartment, and whether you can walk around comfortably with it.
Remember, a good travel backpack is one that feels like an extension of your body, not like you're carrying a baby hippo on your back.
C. Considering the Brand's Reputation and Warranty
Lastly, don't forget to consider the brand's reputation and warranty.
A good brand reputation is like a seal of approval, a sign that many travelers before you have tested the backpack and given it the thumbs up. As for the warranty, it's like a safety net, providing you with peace of mind in case anything goes wrong. Because the last thing you want during your trip is for your backpack to have a mid-journey crisis, right?
So there you have it, folks – your crash course in choosing the right travel backpack. Remember, this isn't just about buying a bag; it's about investing in your comfort and convenience while traveling. It's about choosing a companion that will stick with you through long layovers, tight connections, and breathtaking adventures. So take your time, consider your options, and happy backpack hunting!
Frequently Asked Questions About Travel Backpacks for Women
What is the best size for a travel backpack for women?
The ideal size of a travel backpack varies depending on the individual's needs, the duration of the trip, and the type of items they need to carry.
However, a capacity of between 30L to 45L is generally a good range for multi-day trips. Anything larger may be difficult to carry and might not meet carry-on restrictions for air travel.
Are there any specific features I should look for in a travel backpack for women?
Yes, certain features can enhance comfort and usability.
Look for a backpack with adjustable straps and a hip belt to distribute weight evenly. Padded shoulder straps and back panels can also increase comfort.
Organizational features like multiple compartments and pockets can help keep your belongings organized and easily accessible.
Also, consider if you need special compartments, like a laptop sleeve, and if you want features like waterproofing or anti-theft design.
How important is the material of the backpack?
The material is vital as it determines the backpack's durability, weight, and water resistance. Nylon and polyester are common materials for their balance of durability and lightness.
For environmentally-conscious travelers, backpacks are made from recycled materials or vegan leather.
Can a travel backpack for women double as a hiking backpack?
Some travel backpacks can double as hiking backpacks, but not all.
If you plan to use your travel backpack for hiking, look for features such as a hydration reservoir, external attachment points for gear, and breathable back panels.
It's also important that the backpack fits well and distributes weight evenly for comfort on longer treks.
How can I maintain and clean my travel backpack?
Maintaining your travel backpack can extend its lifespan significantly.
Brush off loose dirt and clean stains as soon as possible with a damp cloth and mild soap. Some backpacks are machine washable but always check the care label first.
After cleaning, allow the backpack to air dry. Store it in a dry, cool place out of direct sunlight.
Ready to Make Your Choice?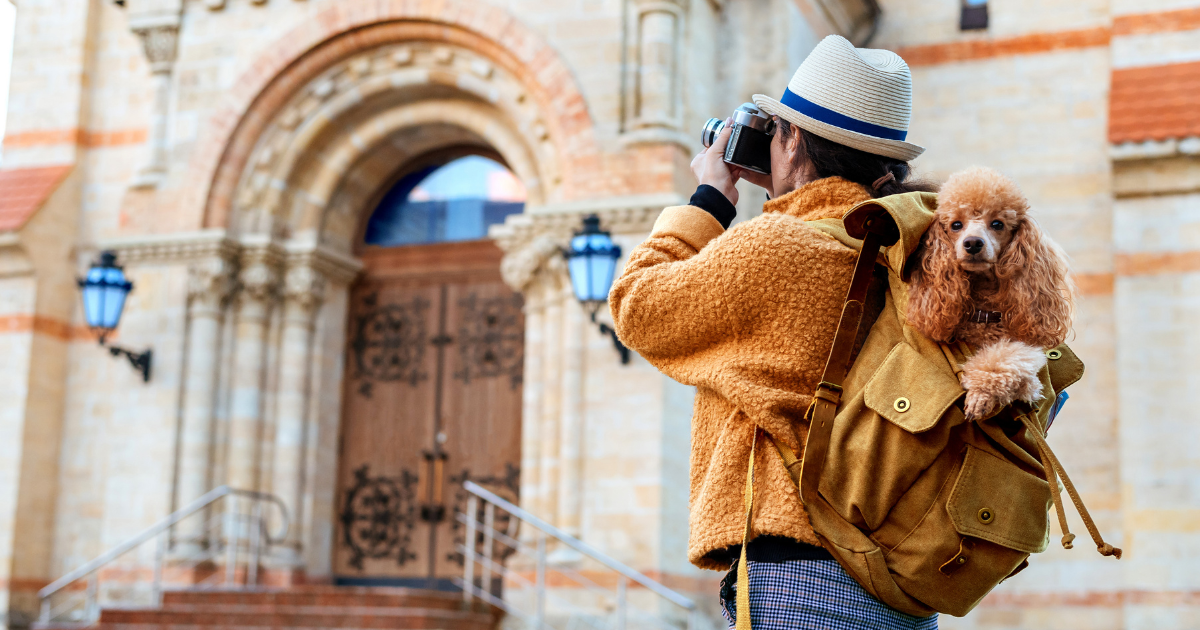 We've been on quite a journey, haven't we? We've explored the cityscape of the top 10 travel backpacks for women in 2023, delved into their secret compartments, and even squeezed into their cozy laptop sleeves.
From the sleek ReNew Transit Backpack to the superhero-esque Venturesafe and the minimalist yet functional Peak Design Travel Bag, we've seen a world of options, each with unique perks and features.
The options are vast, the features are innovative, and the focus on comfort and style is stronger than ever. But remember the best travel backpack for you isn't about the fanciest features or the highest price tag. It's about what fits your travel style, needs, and body best. It's about finding one backpack that feels less like an object and more like a trusted companion, ready to accompany you on your adventures.
Is it time for an upgrade? Do you feel the call of padded shoulder straps, the lure of multiple compartments, and the allure of a hip belt? If so, don't resist.
Embrace the journey, embrace the adventure, and, most importantly, embrace the comfort of a backpack designed just for you. Happy travels!