Begin your blogging journey with confidence! Discover the top blogging and blogging tools designed to help beginners create, manage, and grow their online presence effectively.
Discovering the ideal niche of blogging and blogging tools is essential for beginners to succeed. With the fierce competition, SEO, and search engine algorithms to worry about, the right blogging tool can make all the difference.
In this comprehensive guide, I've evaluated and ranked the top 17 blogging tools, including my personal top 4 recommendations, so you can make an informed decision and find the perfect fit.
Bluehost: The best web hosting platform for beginners with free domain name registration. It offers shared hosting, VPS hosting, and dedicated hosting services, all at affordable prices.
WordPress: The best CMS platform. WordPress is an open-source platform, which means it is free to use and can be adjusted and personalized to meet your demands. It is great for individuals with little or no coding skills.
RankMath: The best WordPress SEO plugin that makes it easy for anyone (Including beginners) to optimize their content with built-in suggestions based on widely-accepted best practices.
Surfer SEO: Best for researching, writing, auditing, and SEO optimizing blog content. You definitely need this tool. It provides all you need to create a comprehensive SEO-optimized content strategy that yields results.

Blogging. Sounds easy enough, right? I mean, all you need is a laptop, a semi-decent Wi-Fi connection, and a brain buzzing with ideas.
No sweat!
Well, until you actually sit down to write your first post, and the blinking cursor on the empty page starts to feel like it's taunting you.
I mean, isn't it mind-boggling how the world of blogging has exploded like a supernova in the digital cosmos? You and I both know it's no longer about just writing your heart out and hoping someone, anyone, will stumble upon it.
Nope, it's the age of the best blogging tools, SEO, and, oh, those ever-changing algorithms.
You see when I first dived headfirst into the blogosphere, I was as green as an Irish meadow. I'd spent more time Googling 'How to start a blog' than I'd care to admit. And those pesky blogging tools? Oh, they were like trying to solve a Rubik's cube blindfolded.
But here I am, armed with experience, a list of tried-and-true blogging tools, and a strong desire to make sure you don't repeat my rookie mistakes.
So, you and I are about to embark on a journey through the galaxy of blogging. We'll navigate the nebula of paid and free blogging tools, dodge the black holes of bad advice, and find our way to a star named Success.
So, get your space helmets on because we're about to embark on a wild ride through the intriguing world of blogging and blogging tools for beginners.
And remember, in this vast expanse; you're not just a lone astronaut – you've got a co-pilot. I'm here with you every step of the way.
Let's set the course and hit the throttle, shall we?
What is Blogging in 2023?
Blogging in 2023 isn't your grandma's "Dear Diary" affair – unless your grandma is a tech-savvy diva, of course.
In this brave new digital world, blogging has taken on an evolved form, more dynamic, interactive, and versatile than ever before.
In 2023, blogging isn't just about writing an online diary. It's about creating content that informs, entertains, and engages.
Bloggers today are creators, influencers, marketers, and entrepreneurs. They're crafting compelling stories, teaching valuable skills, sharing insights, and even shaping public opinion.
Yet, with this evolution comes complexity. It's no longer just about finding the right words – it's about optimizing your content for search engines, understanding your analytics, managing your social media presence, and a million other things. And this, my friends, is where blogging tools come into play.
Just as a carpenter needs a hammer and a chef needs a good knife, bloggers need blogging tools. These platforms and apps help to streamline the process, improve efficiency, and make the art of blogging more manageable and, dare I say it – enjoyable.
In this new era of blogging, these tools are no longer optional extras; they're the nuts and bolts holding your blogging venture together. And trust me; you'll want to be well-acquainted with them.
17 Best Blogging Tools for Beginners
Navigating the ocean of the best blogging tools can feel a bit like being a kid in a candy store – where do you even start?
As a beginner, it can seem like there's an overwhelming amount of choice. One minute you're diving into WordPress plugins; the next, you're wrestling with search engines and SEO. And let's not even start on all the writing tools you need to hone your craft!
And I totally understand. I've been in your shoes, fumbling through the digital aisles, unsure of what tools to add to my blogging toolbox. It took time, trial, and a fair bit of error, but eventually, I found my groove.
I discovered tools that made the blogging process as smooth as a freshly ironed shirt.
And now, I'm here to share that knowledge with you. So, without further ado, allow me to introduce the 17 best blogging tools for beginners in 2023. These tools are the ones that have helped me and thousands of others transform our blogging dreams into digital realities.
Please note that I focused on the best tools that are compatible with most website-building platforms.
However, I recommend verifying their compatibility with your particular platform before downloading.
1. Web Hosting: The Foundation Of Everything
Ah, web hosting. It's the unsung hero of the blogging world, isn't it? The foundation upon which your digital empire will be built.
You could have the best content, peppered with eye-catching images and professional templates, but without a reliable web host, your blog is like a ship without a rudder, drifting aimlessly in the vast digital ocean.
Let's break it down. Think of web hosting as the landlord of your blog's digital home. This is where all your content, all your hard work, lives. It's the platform that keeps your blog accessible to readers around the globe, around the clock. It's one of the most critical blogging tools you'll invest in.
But fear not; choosing the right web host doesn't have to feel like picking a needle in a haystack. There are a few services that have earned my trust, and millions of other bloggers can vouch for them too.
First up, we have Bluehost. They're like the Swiss Army knife of web hosting – reliable, versatile, and always ready to assist.
Next on the list is Siteground, known for its top-notch customer service and lightning-fast loading times.
And last, but certainly not least, is Egac Web. They've carved out a niche for themselves with their affordability and user-friendly interface.
Each of these web hosts brings something unique to the table, and I'm confident that one of them will be the perfect fit for your blogging journey.
2. WordPress: The best Blogging Content Management System (CMS)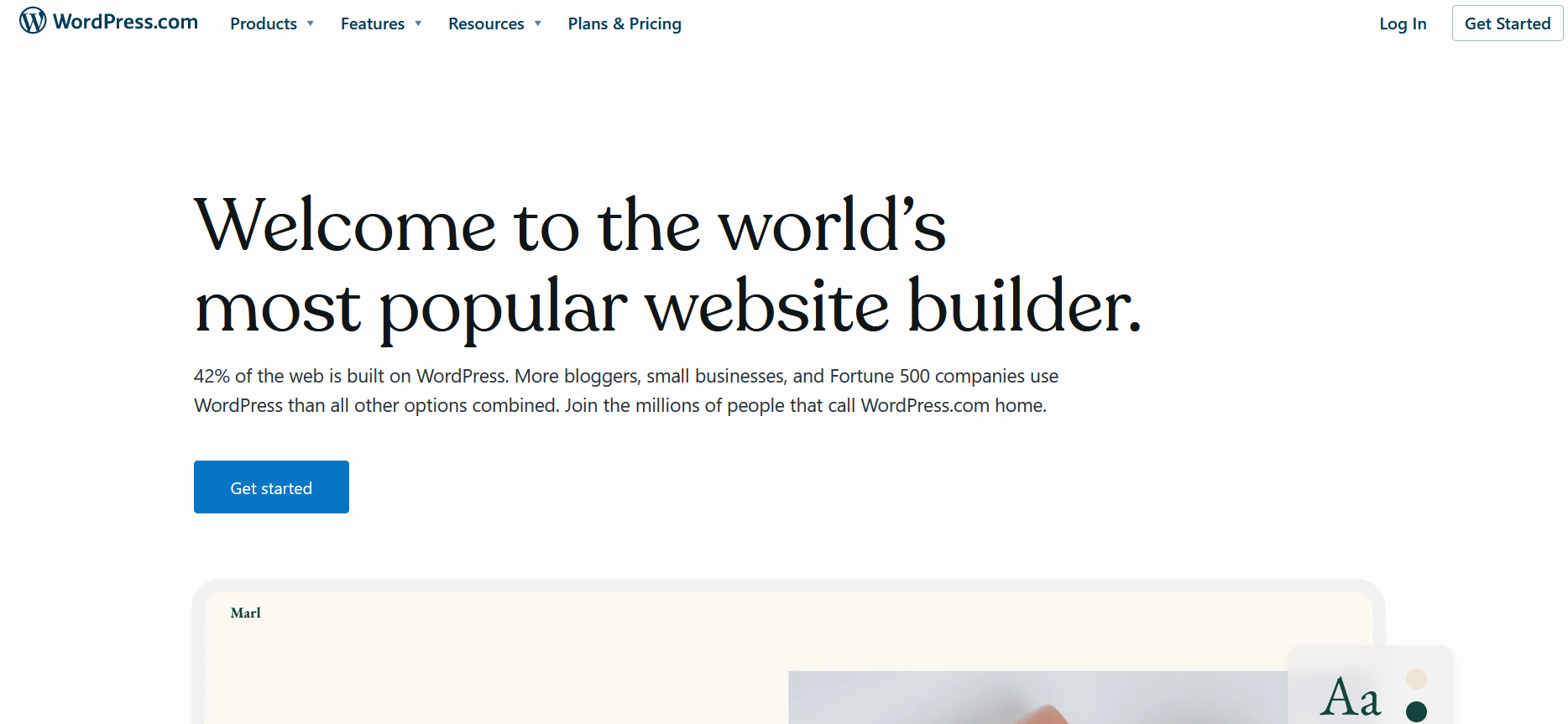 WordPress is the boss of content management systems and for good reason. In fact, it's like that friend who always has your back, no matter what.
If you didn't know already, a content management system is software that enables you to produce, handle, and distribute digital content such as blog posts, images, and videos.
A CMS allows you to handle comments, keep track of website analytics, and monitor how well your website is doing.
Now, I can hear you asking, "Why WordPress?" Well, let me tell you, it's not just because it's the most popular CMS out there. WordPress is like a dream come true for bloggers. It's the platform that says, "Hey, you want to focus on creating amazing content? No problem, I've got the technical stuff covered."
It's not just about writing and publishing posts, though. Oh no, WordPress goes above and beyond. It offers an array of plugins that can help you fine-tune every aspect of your blog, from SEO to social media integration and everything in between. It's like having a fully stocked toolkit at your disposal.
And let's not forget about the design aspect. With WordPress, you can create a blog that's as unique as you are. Whether you have a specific vision in mind or you're starting from scratch, the platform's plethora of professional themes and customization options have got you covered.
Features:
First off, let's talk about WordPress's user-friendly interface. It's intuitive, clean, and easy to navigate, even for beginners. It's like your favorite pair of jeans – comfortable and reliable.
You can draft posts, add images, and manage your comments all from one dashboard. It is simplicity and efficiency wrapped into one.
Extensive Plugin Library:
Next up is WordPress's extensive plugin library. Think of plugins as your blog's secret superpowers. Want to boost your SEO? There's a plugin for that. Need to add a contact form? There's a plugin for that too. From enhancing your blog's functionality to integrating with social media, WordPress's plugin library is a treasure trove of capabilities just waiting to be unlocked.
With a plethora of themes and design tools at your fingertips, creating a blog that reflects your personality and vision has never been easier.
You can choose from thousands of professional themes, tweak the layouts, and even add your own custom CSS. With WordPress, your blog can truly be a reflection of you.
What It is Best For:
Now, you may be wondering, "What is WordPress best for?" To which I say, "What isn't it good for?"
This platform is a jack of all trades, perfect for bloggers of all shapes and sizes.
Whether you're a solo entrepreneur sharing your business journey, a passionate foodie posting mouth-watering recipes, or a globe-trotter documenting your adventures, WordPress has got you covered.
It's the chameleon of the blogging world, adapting to your needs no matter your niche.
3. Rank Math: Best SEO WordPress Plugin
Next up on our journey through the blogging cosmos, we're stopping at Rank Math. Now, if you've been dipping your toes in the SEO world, you might have heard of this tool. It's the new kid on the block, challenging the likes of Yoast SEO, and let me tell you, it's been making quite a splash!
Rank Math is a WordPress plugin that takes the mystery out of SEO. It's like your personal SEO consultant, helping you make sure your blog posts are primed to rank in search engines. And the best part? It's incredibly user-friendly. Even if you're new to the world of SEO, Rank Math makes it as simple as pie.
With Rank Math, you can easily optimize your posts for keywords. It's like having a keyword research tool built right into your blog. It does the work of Google Keyword Planner and Google Trends, showing you how your chosen keywords are performing in real-time.
Features:
Rank Math's user-friendly interface makes navigating the complex world of SEO a breeze. Its clean, intuitive design makes it easy for beginners and experts alike to optimize their blog posts for maximum search engine visibility.
Integrated Keyword Research Tool:
With Rank Math, you don't need a separate keyword research tool. It integrates with Google Keyword Planner and Google Trends, allowing you to discover the best keywords for your content without leaving your WordPress dashboard.
Advanced Optimization Capabilities:
Rank Math goes beyond basic on-page SEO. It offers advanced optimization capabilities, such as schema markup and rich snippets, which help search engines better understand and display your content in search results.
What It is Best For:
Rank Math is best for bloggers looking to up their SEO game and improve their search engine rankings.
It's a comprehensive, all-in-one solution that covers everything from keyword research to on-page optimization. Whether you're just starting out or you're a seasoned blogger, Rank Math can help you attract more organic traffic and grow your blog's reach.
So, if you're looking for a comprehensive, easy-to-use SEO tool that can go toe-to-toe with Yoast SEO, then Rank Math might just be your ticket to the top of the search engine rankings. It's like having a backstage pass to the world of SEO, making it one of the best blogging tools you can add to your arsenal.
4. Surfer SEO: For Writing SEO-Optimized Content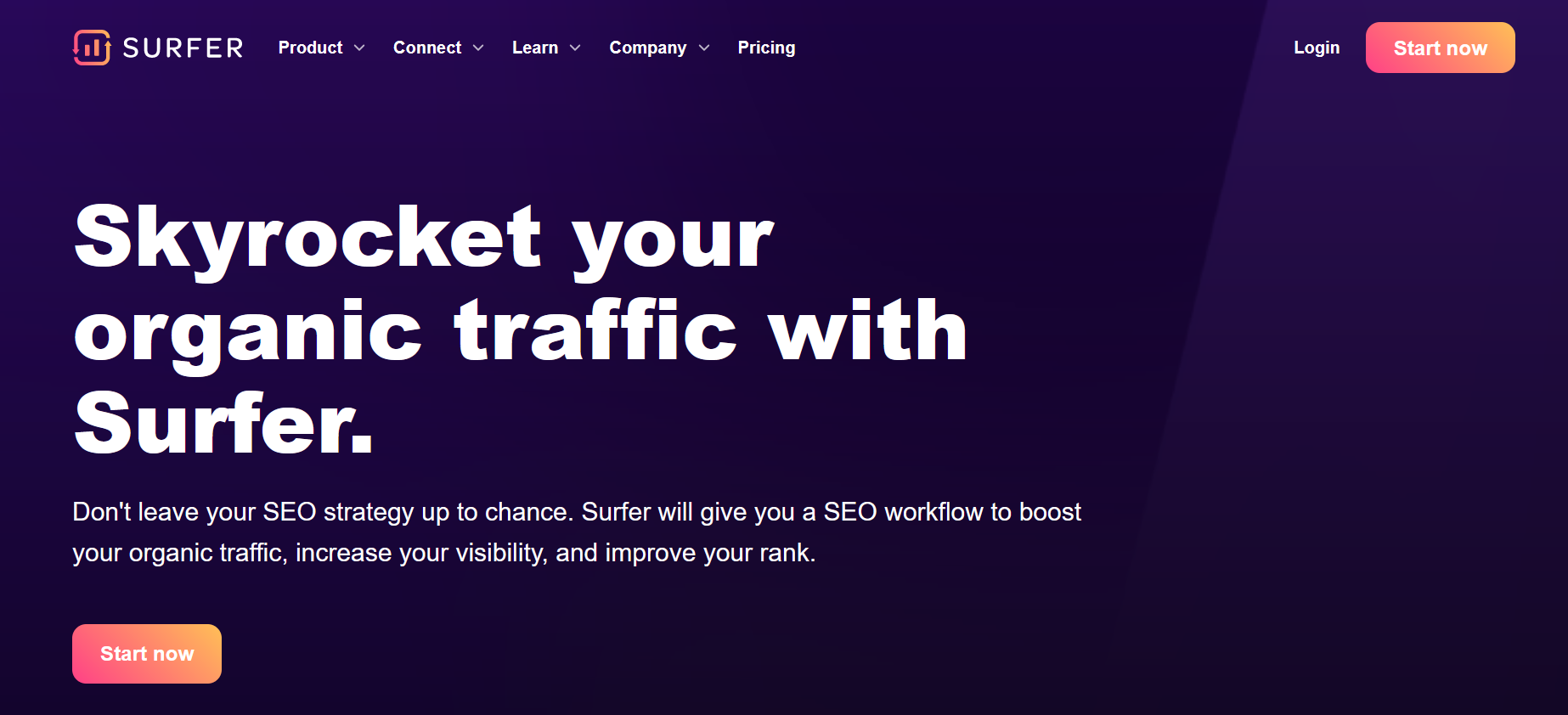 Now, let's set sail toward Surfer SEO. If you've been on the lookout for top-tier SEO tools, you've probably heard of this one. It's been making waves in the SEO community and for good reason!
Surfer SEO is like having your very own SEO scientist, always ready to help you optimize your blog posts to perfection.
It's more than just a keyword research tool; it's a comprehensive platform that provides real-time data and practical recommendations to boost your blog's visibility on search engines.
Whether you're tweaking an old post or crafting a new one, Surfer SEO is there to guide you, ensuring each piece of content on your blog is a step towards better rankings.
FEATURES
Surfer SEO stands out with its real-time SEO analysis feature. It evaluates your content as you write, providing immediate feedback and suggestions for improvement.
It's like having a personal SEO coach looking over your shoulder as you work on your blog.
Comprehensive Keyword Research:
When it comes to keyword research tools, Surfer SEO doesn't skimp. It provides detailed data on your chosen keywords, including search volume, trends, and competition. This allows you to choose the most effective keywords for your blog posts.
On-Page Optimization Recommendations:
One of the standout features of Surfer SEO is its on-page optimization recommendations.
It analyzes your content and offers practical suggestions for improving its SEO performance. This could be anything from adding certain keywords to adjusting your meta tags.
What It is Best For:
Surfer SEO is a fantastic tool for bloggers who are serious about improving their SEO performance.
Whether you're just getting started with your own blog or you're a seasoned pro, Surfer SEO can provide valuable insights and recommendations to help you climb search engine rankings.
It's an all-in-one SEO platform that covers everything from keyword research to on-page optimization.
With Surfer SEO, you're not just blogging – you're strategically crafting content that's designed to succeed in the digital world.
5. Copy AI Blog Ideas Generator: Blogging Tool for Blog Post Ideas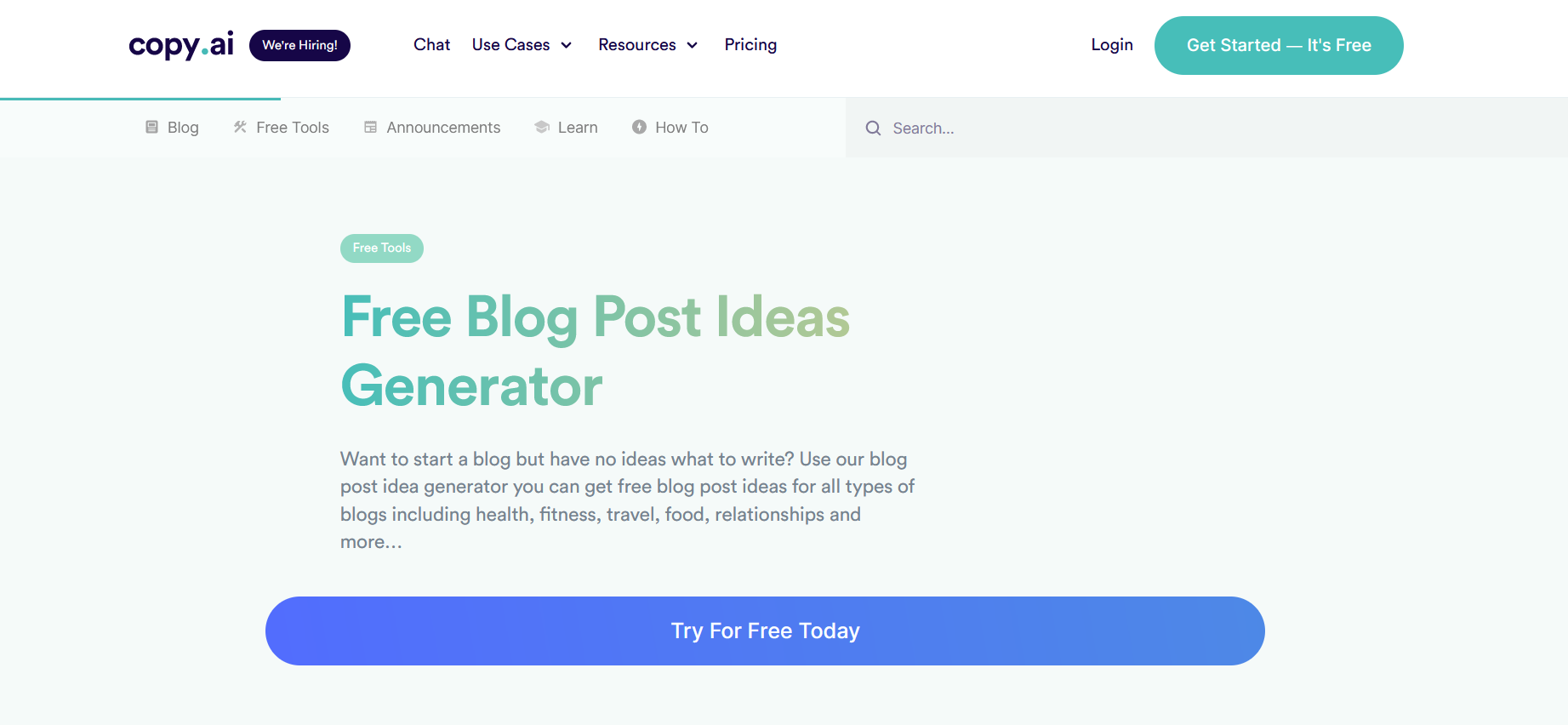 It is a known fact that generating new and exciting ideas for blog posts can be challenging for bloggers. However, several tools can help with this task. A good example of such tool is the Copy AI blog post ideas generator.
This blogging tool can inspire and generate ideas for blog writers.
Copy AI offers a variety of blog post suggestions. Enter a few relevant keywords, and the tool generates a list of potential topics to inspire your writing.
Features:
The Blog Ideas Generator is a straightforward and powerful tool to use. Enter keywords related to your niche or the topic you want to write about, and the tool generates a list of potential blog post ideas.
Customizable suggestions:
The tool will use your keywords to list possible blog post ideas. You can tailor the recommendations by selecting from various categories and blog post types, like listicles, how-to guides, and opinion pieces.
This blog ideas generator has a clean and simple user interface that is very easy to navigate, making it accessible to bloggers of all experience levels.
Copy AIs blog ideas generator is a free blogging tool, making it an excellent resource for bloggers on a tight budget.
What It is Best For:
This tool can help bloggers overcome writer's block by providing fresh, exciting content ideas. It is especially great for new bloggers who may lack inspiration or ideas for topics to write about.
Experienced bloggers can benefit from using the tool to broaden their horizons and explore diverse perspectives within their professional blog or niche. The tool generates new ideas, enabling bloggers to maintain the relevance and interest of their content for their audience.
Note that the blog post generator is a common feature in many other blogging tools, but this is my favorite.
6. Jasper: For Creating Blog Content, Social Media Posts, Ads, and more
Meet Jasper, a cutting-edge AI-powered copywriting assistant that's been making quite a name for itself.
Imagine sitting at your desk, a blank screen in front of you. You've got a brilliant idea for a blog post, but the words just aren't flowing. That's where Jasper swoops in.
With a few clicks, you can generate high-quality content in just a few minutes. Whether you're crafting a blog post, a social media update, or an email newsletter, Jasper can help you get your ideas onto the screen.
What I love about this writing tool is that it doesn't just regurgitate generic content. It's designed to mimic human-like writing while providing advanced performance that beats traditional copywriting hands down.
FEATURES
At the heart of this blogging tool is its AI-powered copywriting capability. It uses advanced machine learning algorithms to generate high-quality, human-like text. It's like having a professional copywriter on your team, ready to whip up content at a moment's notice.
Versatile Content Generation:
One of it's standout features is its versatility. Whether you need to write a blog post, a social media update, or an email newsletter, Jasper can generate the content you need. It's like having a Swiss Army knife of content creation at your fingertips.
Time-Saving Capabilities:
Jasper isn't just about creating great content—it's about saving you time.
It can generate a draft in just a few minutes, giving you more time to focus on what you do best: engaging with your audience and growing your blog.
What It is Best For:
Jasper is a powerful tool for any blogger, marketer, or business owner who needs to create high-quality content quickly and efficiently.
It's perfect for those times when you're facing writer's block or when you're juggling multiple tasks and need to get a post out fast.
Jasper is more than just a tool; it's your personal copywriting assistant, ready to help you craft compelling content that resonates with your audience.
It's a game-changer that's well worth adding to your blogging toolbox.
7. SE Ranking: For 360° Analysis of Your Website
This comprehensive SEO tool is your one-stop-shop for monitoring your site's performance, conducting keyword research, and so much more.
Imagine SE Ranking as your personal analytics expert, keeping a keen eye on your website's performance while offering insights for improvement. With its advanced performance metrics and intuitive interface, it's like having your own personal command center for your blog.
This tool isn't just about data, though. It's about understanding that data and using it to make smart, informed decisions about your blog.
FEATURES
Comprehensive Site Audit:
One of it's standout features is its comprehensive site audit. This tool examines every nook and cranny of your site, pinpointing areas that could be affecting your site's performance. It's like having a health check-up for your blog.
Advanced Performance Metrics:
With SE Ranking, you get access to advanced performance metrics that go beyond traditional analytics tools. From tracking your rankings in real-time to monitoring your backlinks, SE Ranking provides a wealth of data at your fingertips.
Intuitive Keyword Research Tool:
It's keyword research tool is a gem. It helps you discover the most effective keywords for your content, providing data on search volume, competition, and more.
It's like having a crystal ball that shows you the potential of your chosen keywords.
What It is Best For:
SE Ranking is perfect for bloggers and website owners who want to have a better understanding of their site's performance and how to improve it.
Whether you're a seasoned pro or just starting your blogging journey, this tool provides the data and insights you need to boost your SEO efforts.
It's not just about tracking your performance, it's about using that data to make your blog the best it can be. With SE Ranking, you're not just flying blind – you're piloting your blog towards success.
8. Convertkit: For Email Marketing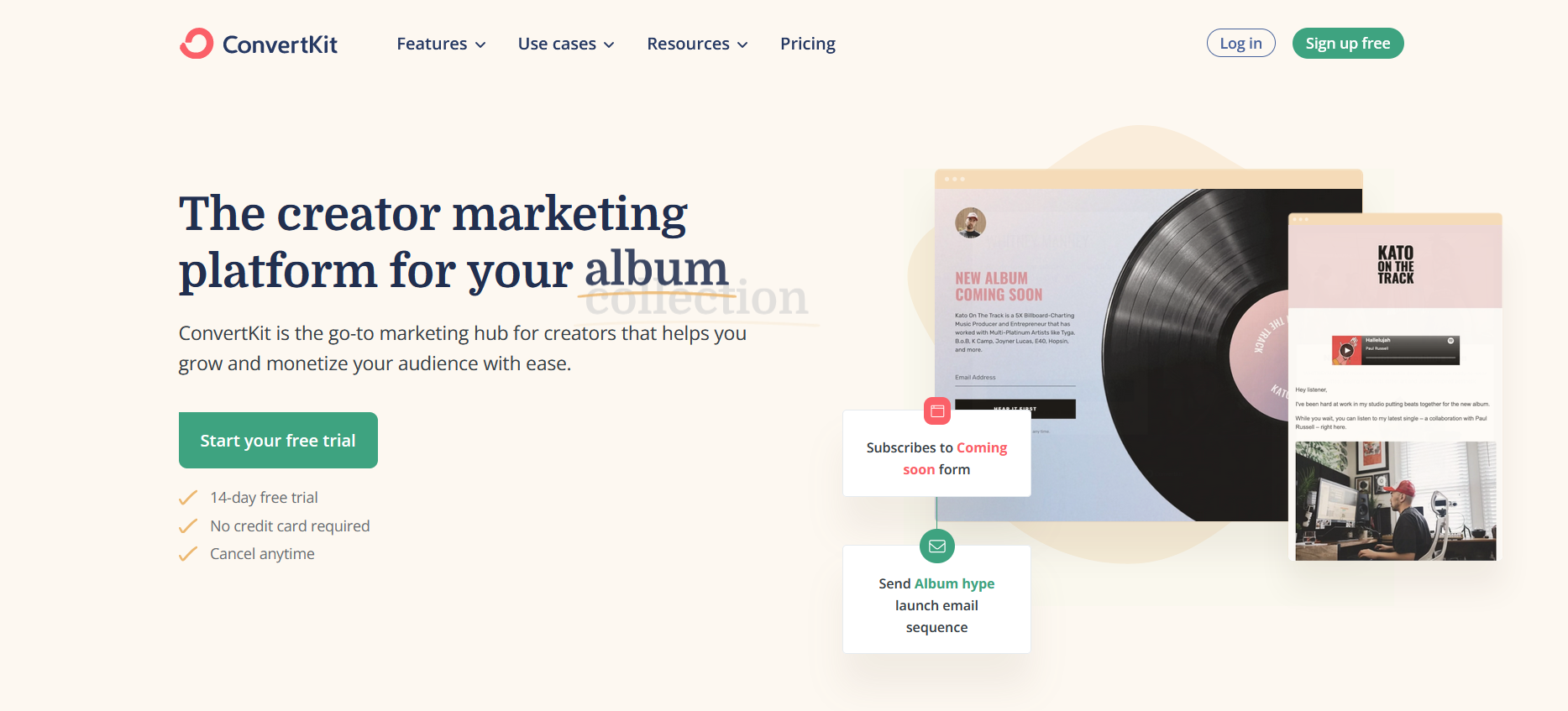 ConvertKit is a name that's synonymous with effective email marketing. Picture this great tool as your personal email campaign manager, always ready to help you create, send, and track emails that resonate with your readers.
Let's face it, managing an email list can be a daunting task. But with this tool, it's a breeze. From crafting beautiful emails to segmenting your audience for targeted messaging, ConvertKit makes email marketing feel less like a chore and more like a creative endeavor.
It's not just about sending emails—it's about building connections with your readers and turning them into loyal fans.
FEATURES
It's intuitive email builder is like having a design studio at your fingertips. You can easily craft beautiful, professional-looking emails that reflect your brand and resonate with your readers.
Advanced Audience Segmentation:
With this tool, you can segment your audience based on their interests, activity, and more. This allows you to send targeted emails that speak directly to each segment of your audience. It's like having a personal conversation with each of your readers.
Comprehensive Email Tracking:
ConvertKit also provides comprehensive email tracking, allowing you to see who opened your emails, who clicked on your links, and more.
This information is invaluable for understanding your audience and improving your email campaigns.
What It is Best For:
ConvertKit is the go-to tool for bloggers who want to take their email marketing to the next level.
Whether you're just starting to build your email list or you're looking to improve your existing email campaigns, it provides the tools and features you need to create, send, and track emails that resonate with your readers.
With ConvertKit, you're not just sending emails—you're building connections, nurturing relationships, and turning your readers into loyal fans.
9. Astra: For a Fast Website
Astra is like the chameleon of WordPress themes – adaptable, versatile, and oh-so-easy to customize.
If you want your WordPress website, and you want it to be as unique as you are use this WordPress theme.
With its extensive library of pre-designed templates and customization options, your website can look professional and stunning without needing a degree in web design.
What's more, Astra has a free version that offers plenty of features to get you started. But don't let the word 'free' fool you. This theme packs a punch when it comes to functionality and design.
FEATURES
One of the biggest perks of using this theme is its library of pre-designed templates. These aren't your run-of-the-mill designs. They're professional, beautiful, and ready to go right out of the box. It's like having a team of designers at your disposal.
With Astra, customization is a breeze. You can tweak virtually every aspect of your website, from the color scheme to the layout. You can even add custom CSS if you're feeling adventurous. It's like having a tailor-made suit, but for your blog.
Performance-Oriented Design:
This theme isn't just about good looks. It's built with performance in mind. The theme is lightweight and optimized for speed, ensuring your visitors don't have to wait to access your awesome content.
What It is Best For:
Astra is a fantastic choice for bloggers who want a beautiful, professional-looking WordPress website without the hassle of designing it from scratch.
Whether you're a newbie blogger just starting out or a seasoned pro looking for a refresh, Astra's customizable, performance-oriented design makes it a top choice. It's more than just a theme – it's a foundation for your online presence.
10. Elementor: Free WordPress Website Builder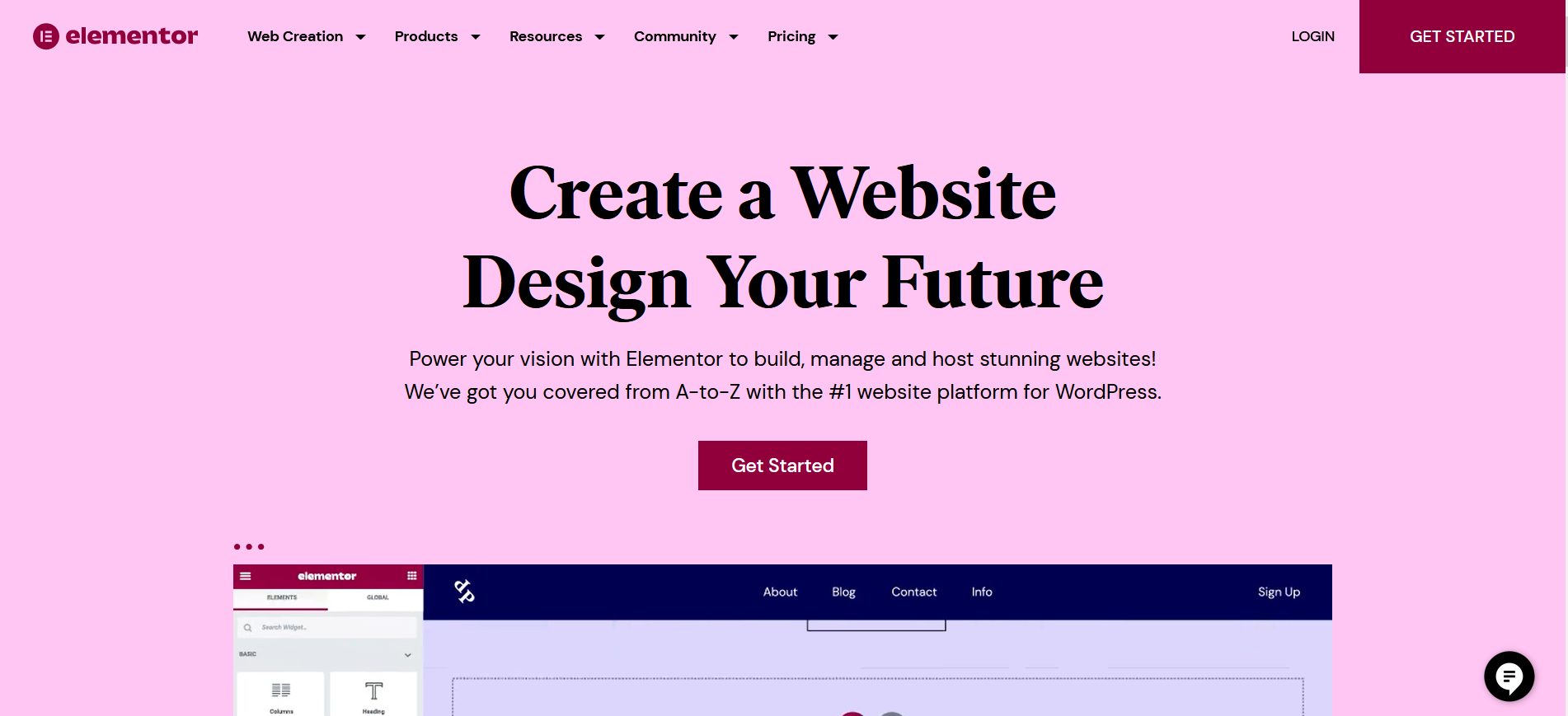 Elementor is like your personal web design studio, allowing you to create beautiful, professional-looking pages without needing to know a lick of code.
Imagine being able to design your website exactly the way you want, with complete creative control over every element. That's the power of Elementor.
With its drag-and-drop interface and SEO tools, you can create stunning pages that not only look great but also perform well in search engines.
FEATURES:
Drag-and-Drop Page Builder:
Its drag-and-drop page builder is a game-changer. You can easily create and customize your pages, moving elements around until you get them just right.
It's like playing with building blocks but for your website.
It comes with built-in SEO tools that help ensure your pages are optimized for search engines. This means you don't have to juggle multiple tools to create and optimize your pages – Elementor has got you covered.
Extensive Template Library:
Elementor comes with an extensive library of pre-designed templates. These aren't just any templates – they're professionally designed and ready to use. Just choose a template, customize it to fit your brand, and you're good to go.
What It is Best For:
Elementor is a godsend for bloggers who want to create professional-looking pages without needing to know how to code. Its intuitive interface and extensive features make it a top choice for bloggers of all levels.
Whether you're just starting out or you're a seasoned blogger looking to step up your game, this tool can help you create stunning, SEO-friendly pages that engage your audience and keep them coming back for more. It's not just a tool – it's your secret weapon for creating a blog that stands out from the crowd.
11. Google Analytics: For Streamlining Your Blogging Efforts
To expand your online presence as a blogger, it is important to grasp the traffic and behavior of your website's audience.
Google Analytics can provide you with important information on how your website is doing and how visitors behave on your site. It is a web analytics tool that offers valuable insights.
This valuable data can help you identify which areas of your blog are performing well and where you may need to improve.
This tool helps you gauge the performance of your website based on factors like audience engagement, conversions, and revenue. Using it, you can monitor many metrics, such as the number of page views, visitors, bounce rate, time spent on site, and more.
With Google Analytics, you can access information about your audience's demographics, interests, and behavior. This can help you develop tailored content and email marketing campaigns and strategies.
Features:
This feature allows you to monitor website traffic as it happens, giving you real-time insights into your audience's behavior.
It allows you to create custom reports based on your business needs, providing tailored insights into your website's performance.
With this tool, it only takes a few minutes to monitor the number of form submissions, sign-ups, and purchases made on your website, which can provide valuable insights into its revenue generation.
Google Analytics allows you to segment your audience based on various criteria such as location, age, gender, and interests, providing targeted insights into your audience's behavior.
What It is Best For:
This tool helps you understand a website's performance and audience behavior effectively.
By tracking metrics like page views, bounce rate, and time spent on the site in a user-friendly way, you can optimize your content for optimal engagement.
Google Analytics offers information about audience demographics, interests, and behavior which can be used to produce tailored content and marketing campaigns. This makes it a crucial tool for bloggers looking to increase their online presence and better engage with their audience.
12. Google Search Console: Excellent SEO Tool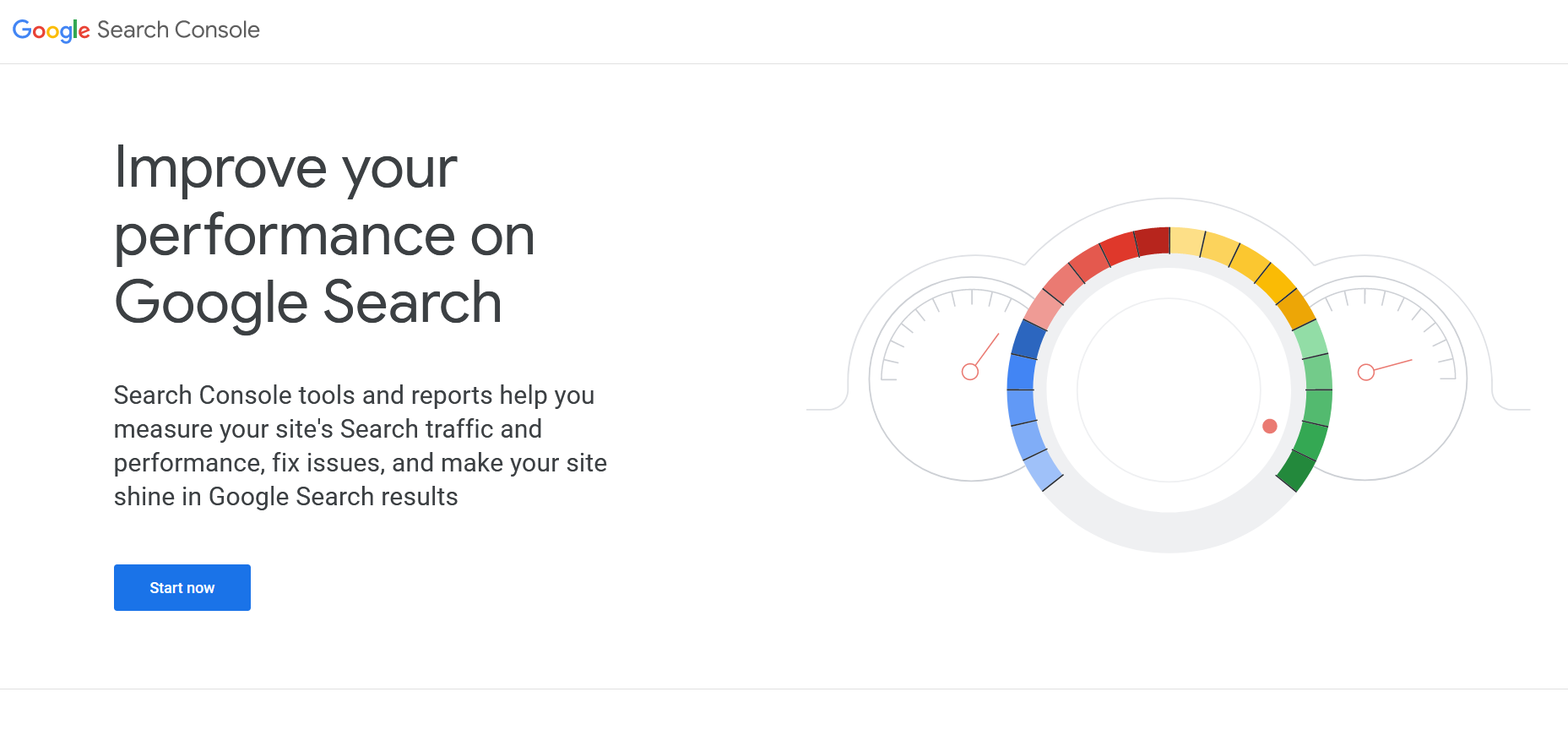 Improving website performance is a critical aspect of any blogger's job, which includes ranking well on Google search results. To achieve this, many bloggers use Google Search Console.
This easy-to-use tool is available for free. It aims to help website owners better comprehend how Google crawls and indexes their websites.
Like other SEO tools, this tool offers various information regarding the website's Google search performance, including search queries, clicks, impressions, and ranking on search result pages.
Features:
The report presents information about how the website performs on Google searches, including details on the site audits, the total number of clicks, impressions, click-through rate, and average position on Google search results.
This tool allows website owners to check the index status of a specific URL. It also provides insights into any crawling or indexing errors that Google encountered while crawling the page.
Website owners can use the Google Search Console to submit their website's sitemap to Google. This helps Google crawl and index the website's pages more efficiently.
What It Is Best For
Google Search Console is a valuable tool for website owners who desire to enhance their website's appearance on Google Search.
It offers significant information on how Google crawls and indexes its website, helping identify any technical glitches that could affect the website's performance on search result pages.
13. Buffer: Social Media Marketing Tool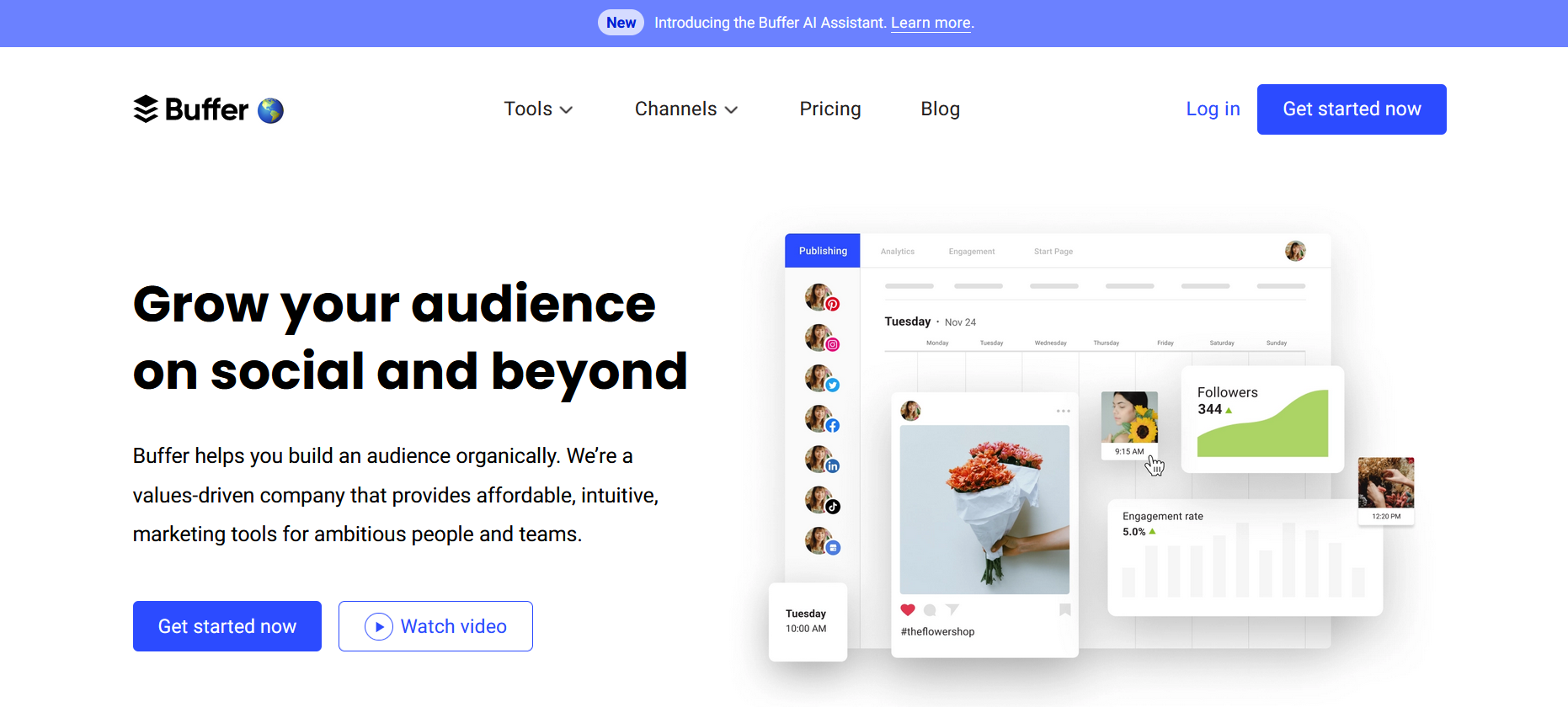 Buffer can be a helpful tool for bloggers who find managing and scheduling social media posts difficult and time-consuming.
With Buffer, you can easily share content on various social media platforms by scheduling and publishing posts. These platforms include Facebook, Twitter, LinkedIn, Instagram, and Pinterest.
With Buffer, you can schedule posts, monitor engagement, analyze performance, and collaborate with team members.
Features:
Buffer has a wide range of features, making it a valuable tool for bloggers.
Schedule & post on different social media platforms
You can use it to schedule posts for various social media sharing platforms at particular times and dates. This helps you organize your content. Additionally, you can tailor each post to suit your specific platform.
This ensures that your content performs well on every social media site.
You can use Buffer's analytics dashboard to track your social media posts' performance. This tool gives you important information about how your audience relates to your content, such as the number of clicks, likes, shares, and comments.
Analyzing this data lets you change your content strategy to increase engagement.
Buffer provides a helpful feature for collaborating with team members. You can invite your team members to work on your social media accounts, assign them specific tasks, and give them access to the analytics dashboard.
What It Is Best For:
If you want to manage your social media accounts efficiently, Buffer is the ideal tool for you. It allows you to schedule posts on different social media platforms and monitor their performance. Additionally, you can use it for team collaboration.
Buffer can assist you with scheduling content in advance and tracking engagement analytics, ultimately optimizing your own social media marketing performance.
If you want to streamline your social media management and boost engagement, try Buffer.
14. Canva: For Creating Visual Content
Next on our list of must-have blogging tools is Canva, a platform that's revolutionized the way we create visual content. Think of this great tool as your personal graphic design studio, equipped with everything you need to create stunning visuals for your blog.
Canva's magic lies in its simplicity. You don't need to be a graphic design whiz to create beautiful images, infographics, or social media posts.
And the best part? It offers a host of free tools and resources, including a vast library of stock photos, that you can use to bring your creative vision to life. But that's just the tip of the iceberg.
FEATURES
Drag-and-Drop Design Tools:
Canva's drag-and-drop design tools make creating visual content as easy as pie. Whether you're designing a blog post header, an infographic, or a social media post, you can create professional-looking visuals in a snap.
Extensive Library of Stock Photos:
With this easy-to-use tool, you have access to an extensive library of stock photos. Whether you're looking for a striking image for your blog post or a beautiful background for your infographic, you're sure to find something that fits the bill.
It offers a plethora of templates for various types of visual content. These templates are professionally designed and fully customizable, allowing you to create stunning visuals that resonate with your audience.
What It is Best For:
Canva is a blessing for bloggers who want to create professional-looking visual content without breaking the bank.
Its intuitive interface and extensive features make it a top choice for creating visuals for your blog, social media, emails, and more.
Whether you're just starting your blogging journey or you're a seasoned pro, this is a tool that deserves a spot in your blogging toolkit. With Canva, creating eye-catching visuals is not just easy—it's fun!
15. Linkwhisper: For Building Internal Links
Think of this great tool as a personal assistant, always ready to help you manage and optimize your internal links.
Navigating the world of internal linking can be a bit tricky, but not when you have LinkWhisper by your side.
This tool simplifies the process, allowing you to create, manage, and optimize your internal links with ease.
This isn't just any WordPress plugin—it's a powerful tool that can significantly improve your SEO and user experience.
FEATURES
Intelligent Link Suggestions:
One of the standout features of LinkWhisper is its intelligent link suggestions.
The plugin automatically suggests relevant internal links as you write your content, making it easier than ever to build a strong internal link structure.
Comprehensive Link Reports:
It provides comprehensive link reports that give you a clear overview of your internal link structure. You can easily see which posts have too few or too many internal links, allowing you to make necessary adjustments.
With LinkWhisper, managing your internal links is a breeze. You can easily add, edit, or remove internal links directly from your WordPress dashboard, saving you time and effort.
What It is Best For:
LinkWhisper is the perfect tool for bloggers who want to improve their SEO and user experience through effective internal linking.
Whether you're just getting started with internal linking or you're looking to optimize your existing link structure, it provides the features and functionality you need to get the job done with ease.
With LinkWhisper, managing your internal links is no longer a chore—it's a breeze.
16. Grammarly: Blogging Tool for Correcting Mistakes
If you're a blogger who wants to ensure your posts are free of errors, Grammarly is an excellent tool. It's a user-friendly program that can detect mistakes in your writing, including grammar, punctuation, and spelling.
Also, Grammarly is a free tool you can easily use by installing the browser extension.
Features:
Grammarly offers several features that can help improve your writing.
Grammarly can help you with sentence structure, spelling, and punctuation. It can help you break down complex and lengthy sentences.
It also has a plagiarism checker that can flag any instances of copied text.
Helps You Review Documents:
If you're working with a team of writers, Grammarly can help you track changes and leave comments for specific sections of text.
What It Is Best For:
Grammarly can assist you in creating writing that is free of errors, which is particularly advantageous if English is not your native language. Moreover, you can utilize the plagiarism checker to validate the uniqueness of your content.
Using the feature to track changes and add comments can be a big time-saver if you work with other writers. While it's not flawless, this tool can help make your blogging experience much smoother.
17. Google Docs: Blogging Tool for Content Creation & Content Marketing
Google Docs is a useful and robust platform for bloggers to create and collaborate on their content.
It is a free online word-processing tool that allows users to create, edit, and share files, spreadsheets, and presentations.
Google Workspace includes various productivity tools such as Google Drive, Google Sheets, and Google Slides. The platform is one of these tools and part of Google's suite.
Features:
Collaborative Capability:
Google Docs' collaborative capabilities allow multiple users to work on a document simultaneously, making it suitable for team blogging or guest posts.
Comments and suggestions can be added directly to the document for real-time feedback and changes.
It is also a WordPress plugin, making it practical for WordPress users compared to tools like Microsoft Word.
Variety of Formatting & Styling Options
In addition to creating content, this tool provides users with formatting and styling features, such as adding images, videos, and links directly into their documents.
There are also various options for choosing fonts, colors, and layouts to make visually attractive content, which is especially useful for bloggers.
Furthermore, Google Docs offers a powerful search feature that lets you quickly locate particular words or phrases within the document. This feature can be useful when looking up previous posts or research data related to their content.
What It Is Best For:
If you're a blogger who wants to create and edit content with others easily, Google Docs is a great choice.
It's also ideal for those who want to access their work from different devices since all documents are saved in the cloud. It can be accessed from anywhere and by anyone with an internet connection.
In summary, Google Docs is a flexible and user-friendly word-processing platform that comes highly recommended for bloggers.
FAQs on Blogging Tools for Beginners
What Blogging Tools Do I Require as a Blogger?
As a blogger, having the right content creation and promotion tools is essential. You'll need a blogging platform like WordPress and tools like Grammarly, Canva, Trello, and Yoast SEO to help you manage different aspects of the blogging process well.
Can I Use Multiple Blogging Tools At Once?
Certainly! You can utilize various blogging tools to create and handle your blog effectively. Many accomplished bloggers even use a blend of the most suitable blogging tools to aid them in different aspects of their blogs, such as content creation and blog promotion.
One way to create and share blog posts is to use a blogging platform like WordPress or Squarespace and then use a social media scheduling tool like Hootsuite or Buffer to promote it on various social media channels. Additionally, you can use tools like Grammarly or Hemingway to proofread your writing and Google Analytics to monitor your blog's traffic and engagement.
The tools you choose for your blog will depend on your individual preferences and the specific requirements of your blog.
You can freely select the most suitable blogging and writing tools to help you reach your objectives, ensuring they work seamlessly together.
Can I Switch to a Different Blogging Tool Later On?
Yes, you can. Different blogging tools are available, and as you continue to scale your website, your preferences and needs may change over time.
You need to transfer your content to the new platform to move to a different blogging tool. The migration process will differ based on the platforms you switch between and may affect how your content looks on the new platform. However, several popular blogging tools offer services that can help you migrate with minimum effort.
If you're unsure how to proceed, consulting the platform's documentation or support resources is always a good idea. You'll do well also to consult a web designer or professional web developer.
Can I use a blogging tool for podcasting or video content creation?
It's possible to create podcasts or video content using a blogging tool. Although most blogging tools are intended for written content, some have built-in features that make creating and releasing podcasts or videos straightforward.
Certain blogging platforms have integrated media players that enable you to play audio or video content within a blog post directly. Incorporating a podcast episode or video into your blog post can be useful.
If your main focus is on producing podcasts or videos, there are alternative tools that might be more appropriate for you.
Nevertheless, many platforms can integrate with third-party podcast or video hosting services, allowing you to embed your episodes or videos into your blog posts effortlessly.
Podcast hosting platforms have features like RSS feeds, distribution to major podcast directories, and analytics tracking for podcast episodes. Video hosting platforms offer features such as custom video players, video analytics, and integration with popular video platforms like YouTube.
The best tool for your needs will ultimately be determined by the specific needs of your podcast or video content creation process, as well as your personal preferences and budget.
How to Choose the Right Tool for Your Blog?
Numerous blogging tools are available; deciding which is best for you can be difficult.
Here are a few things to consider when selecting a blogging tool:
Usability: You want a tool that is simple to use and understand. You don't want something too complicated if you're new to blogging.

Features: What features does the tool provide? Is it equipped with everything you require?

Price: What is the cost of the tool? Is it worth the price?

Customer service: Will customer service be available to assist you if you have any problems?
Wrapping Up
And there you have it, folks! We've journeyed through the galaxy of the best blogging tools out there, exploring everything from stellar WordPress themes like Astra, to essential SEO tools like Rank Math, to design powerhouses like Canva.
Remember, the key to successful blogging isn't just about producing great content (although that's undoubtedly important). It's also about utilizing the right tools to make your blogging process as seamless and effective as possible.
Whether it's optimizing your site's performance with advanced tools like SE Ranking, crafting engaging email campaigns with ConvertKit, or managing your internal links with LinkWhisper, these tools are designed to help you shine brighter in the blogging universe.
So, get out there and start exploring these tools! After all, every great blogger is backed by an arsenal of great tools. With these at your disposal, you're not just ready to blog—you're ready to dazzle your audience and leave your mark in the digital cosmos.
Remember, the best tool is the one that works for you. So, don't be afraid to try them out, experiment, and find the tools that fit your blogging style and needs the best.
After all, your blog is your own little corner of the internet, and with the right tools, you can make it as unique and special as you are.
Still, think we missed a vital blogging tool that should be added to the list?
Please share with me in the comments below!