Welcome to the fun and exciting world of flying drones!
You've come to the right place if you've always been interested in these high-flying gadgets and are prepared to start your drone journey.
Picking the best drone for you shouldn't be done lightly. Depending on your needs, this may not necessarily be a toy drone with which you want to pass the time. Thus, you may want a drone with more than basic safety features.
This is why I'll look at the best DJI drones for first-time pilots and share valuable tips to help you fly confidently.
DJI drones are well-known for their high-end features that appeal to professional photographers and amateurs.
I'll review the specifics of the best DJI models, comparing their features, benefits, and drawbacks to help you make an informed decision.
I'll also give you expert advice on everything from understanding the rules about drones to improving your basic flying skills.
So strap in and prepare to take off as I guide you through the thrilling world of drone piloting!
My Top Picks of Best Beginner Drones
DJI Mini 2:
✔ Best for Travel because it is lightweight and portable.
✔ It has advanced safety features
✔ It has up to 31 minutes of flight time.
Ryze Tello:
✔ Best Budget-friendly drone
✔ Tiny and Lightweight
✔ Best Drone for Kids Learning to Code
DJI Mini 3 Pro:
✔ Powerful and portable mini-sized DJI drone
✔ Possess advanced camera features
✔ Up to 30 minutes of flight time
DJI FPV:
✔ Best FPV Drone
✔ Fastest Drone on this list
✔ Easy to use controller and goggles
✔ One of the best beginner drones out there for aerial photography and filmmaking.
The 7 Best DJI Drones for Beginners
---
This mini drone is an upgrade to the well-known DJI Mavic Mini and one of the best beginner drones available.
This is the drone for you if you enjoy photography or videography.
Features and Specifications:
This drone weighs less than other DJI drones

It has a video recording capacity of 4K/30fps

Maximum flight duration of 31 minutes, 10 km video transmission range

3-axis gimbal for stable, smooth video
Pros:
No FAA registration is required for recreational use in the US

Since it is such a small drone, it is simple to transport and travel with.

Easy-to-use controls and functions for beginners
Cons:
Safety features like obstacle avoidance are limited

Less advanced camera settings compared to other DJI models
Price and availability:
It costs approximately $449 (USD) and is available through the DJI store and authorized retailers.
If you need a small drone that can capture can capture high-quality footage, get the DJI Mini 2.
The DJI Mini 2 impresses beginners and experienced pilots with its advanced camera, intelligent flight modes, and long battery life.
In partnership with DJI, Ryze developed the Ryze Tello, a small drone aimed at beginners.
Features and Specifications:
A 5-megapixel camera that records 720p video at 30 frames/second. It can also take photos in JPEG format.

Tello can have a flight time of up to 13 minutes on a single charge.

The Tello has a maximum flight range of the Tello.

The Tello has several sensors, such as a camera that looks down, a barometer, and an infrared sensor.

Tello can be controlled via a smartphone app or Bluetooth remote controller (sold separately).

Tello works with VR headsets and can be programmed with Scratch – a platform for kids to learn how to code.
Pros:
The Tello drone has been carefully crafted with beginners in mind, making it easy to get the hang of flying using intuitive controls.

The Tello drone is the perfect choice for budget-minded beginners looking to give piloting a go without overspending. It's one of the most affordable options available, making it an ideal entry point into this thrilling hobby!

Thanks to its diminutive size, the Tello makes for effortless transportation and can accompany you everywhere.

With Tello's intuitive app and features like automated take-off and landing, flying has never been more straightforward.
Cons:
The camera on this device is restricted to 720p video. It lacks a gimbal – so the image quality isn't the best.

Tello's can only cover a flight distance of just 13 minutes.

Its maximum flight range is only 100 meters, which may be limiting for some users who want to explore further.
Price and Availability:
The Ryze Tello drone can easily be purchased from DJI's website or Amazon for a mere $99. Along with buying this drone, it would be best also to buy additional batteries and propeller guards to maximize your enjoyment and safety during the flight.
The Ryze Tello is an excellent option for those just starting out who want to try drone flying without breaking the bank. It is cheap and easy to use, making it perfect for beginners.
However, seasoned pilots may find its limited camera features and short flight time unappealing.
3 DJI Mini 3 Pro
If you're looking for the perfect beginner drone, look no further than the DJI Mini 3 Pro!
Its advanced features and functions make it suitable for both newbies and experienced pilots.
Features and Specifications:
A powerful 12-megapixel camera that records beautiful 4K/60fps videos and uncompressed RAW images.

Its flight time is impressive for a drone of its size, which lasts up to 31 minutes. It can cover up to 10 kilometers.

Thanks to a 3-axis gimbal and innovative sensors, your flight is kept stable and smooth. Because of its obstacle avoidance sensors, you can easily detect any obstacle that is located below or ahead of you.

A user-friendly remote control.

The DJI Mini 3 Pro offers intelligent features such as QuickShots, ActiveTrack, and GPS for effortless and accurate flying.

Since this drone weighs 249g, it is ideal for traveling and carrying around.
Pros:
Thanks to its intelligent features and intuitive remote control, the DJI Mini 3 Pro is easy to fly.

The 12-megapixel camera captures stunning photos and videos.

It provides a more immersive flying experience of up to 31 minutes, as it allows you to cover more ground and capture more footage.

Its lightweight design makes it easy to carry around.

Advanced sensors and safety features ensure flight stability and smoothness.
Cons:
The DJI Mini 3 Pro is only equipped with downward and forward-facing sensors.
This means it may be unable to detect obstacles coming from any other direction and could result in a collision.

Unfortunately, the drone only has 2.4GHz and 5GHz transmission capabilities; thus, not everyone can utilize it effectively.
Price and availability:
The DJI Mini 3 Pro can be bought on the official website and at authorized stores worldwide.
Its cost varies depending on which bundle and accessories are included, with prices ranging from $769 to $999.
The DJI Mini 3 Pro is one of the best drones for beginners because of its high-tech features, excellent camera quality, and easy-to-use design.
Although it does have a few minor limitations, such as obstacle avoidance capabilities, this machine still stands out from the rest when looking for a dependable yet compact drone option.
4 DJI FPV
DJI FPV drones are a great choice for newbies who require an effortless-to-operate, top-notch aerial photography and filmmaking device.
It stands apart from other drones with its remarkable features and specifications.
Features and Specifications:
DJI FPV drones come with several impressive features and specifications, including:
Various flight settings options, from Normal and Sport to the more advanced Manual mode.

The camera is the perfect device for capturing magnificent footage.
It records 4K video at an impressive rate of 60 frames per second. It can even capture slow-motion 1080p shots up to 120 frames per second.

This beginner drone has a super-wide-angle lens with a 150-degree field of view.

With an extended 10km range and a maximum flight time of 20 minutes, you can reach far-away destinations and capture breathtaking footage.

An obstacle avoidance system shields the drone from striking barriers during its flight, ensuring safety and security for your journey.
Pros:
The user-friendly and straightforward design of DJI FPV makes it an excellent choice for beginners, as its use is easy to understand.

Enjoy capturing footage with vivid colors and stunning clarity as you record in 4K resolution at up to 60 frames per second!

The built-in obstacle avoidance system shields your drone from impactful collisions, protecting it and allowing you to fly with complete assurance.

With the three distinct flight modes, you can select the one that best matches your experience level and requirements for a hassle-free journey.

With a range of 10km, you no longer have to worry about losing connection when capturing footage – you can explore more areas and capture far-reaching images.
Cons:
It is expensive.

It has a short battery life, so it may fail to satisfy users who require more extensive filming.

With its weight, the DJI FPV drone is not as portable as other beginner drones, making it less suitable for quickly flying from one place to another.
Price and availability:
The DJI FPV drone can be purchased from the official website or online stores for around $1,299. Although it may appear costly to some people, this is a worthy investment if you intend to capture top-quality aerial images and videos due to its various features and capabilities.
Ultimately, the DJI FPV is the perfect drone for any beginner looking to invest in quality and ease of use. Though it may come with an expensive price tag and be heavier than other drones, its worth cannot be overlooked.
It has three flight modes, an obstacle avoidance system, and a 10km range capability, including 4K video recording results in high-resolution aerial footage that will amaze you!
5 DJI Mini SE
If you're a beginner looking for an affordable way to get into drone flying without having the hassle of registration, look no further than the DJI Mini SE.
Filled with features that make it easy and intuitive to fly right out of the box, this is an exceptional choice that won't break your budget.
Features and Specifications:
It is a lightweight drone

It has a camera resolution of 12MP that can shoot 2.7K video at 30fps

It features a 3-axis motorized gimbal that provides stability to the camera during flight.

A flight distance of 2.5 miles within 30 minutes.

The exceptional DJI Mini SE has GPS, altitude holds, and vision sensors that allow it to remain stationary mid-air, retain the same height and circumvent objects.

It can also perform automated flight maneuvers such as Dronie, Rocket, Circle, Helix, and QuickShot modes.

The app can control your drone, stream live footage, or edit photos and videos.
Pros:
Lightweight and compact design

Easy to use and beginner-friendly

Good camera quality with 2.7K video resolution

Long flight time of up to 30 minutes

Features GPS, vision sensors, and altitude hold for stable flight

Automated flight modes for creative shots

Affordable price point
Cons:
No obstacle avoidance sensors on the sides or back of the drone

Limited camera control options compared to more advanced DJI drones

No 4K video recording capability
Price and Availability:
Get ready to create stunning aerial photos and videos with the budget-friendly DJI Mini SE!
Available on DJI's website or at certified dealers worldwide, you can get this fantastic drone for just $299.
Whether you are a beginner or expert user of drones, this is your perfect entry point into cinematic visuals from up in the sky!
6 DJI Mavic Air 2
There's no denying that the DJI Mavic Air 2 is one of the ideal drones for beginner pilots.
Its portable design, stellar performance, and advanced features make it stand out from other models in its class.
Curious to find out more? Here's an overview of all you need to know:
Features and Specifications:
The DJI Mavic Air 2 is an impressive piece of equipment, with a 1/2-inch CMOS sensor and a three-axis gimbal for smooth recording.
It can take stunning 48-megapixel photos and 4K video at up to 60 frames/second – perfect for capturing special moments in time.

Soar up to 42.5 mph for a maximum of 34 minutes with this remarkable and innovative drone!

The Mavic Air 2 can transmit signals up to a range of 6.2 miles and is compatible with the 2.4GHz and 5.8GHz frequency bands!

In addition, it boasts cutting-edge obstacle avoidance technology that leverages sensors to identify and maneuver around obstructions in its way.

With the easy-to-use features on the DJI Fly App, like QuickShot, ActiveTrack, and SmartPhoto, you will have no trouble shooting high-quality footage – even as a novice.
Pros:
Thanks to its state-of-the-art camera and gimbal stabilization system, the Mavic Air 2 provides unparalleled image and video quality that rivals professional devices.

Boasting an impressive flight time, this drone stands out as one of the longest-lasting on the market.

The drone's obstacle avoidance technology provides a cushion of security for novice pilots, making it simple to fly safely and avoid any unexpected collisions.

The user-friendly interface of the DJI Fly app makes it simple for even novices to have complete control over their drone and easily access its functions.
Cons:
Although the Mavic Air 2 may have a steeper price tag than other drones made for beginners, it's worth every penny, given its advanced features and superior performance.

The drone does not have an integrated controller with a display. Some users may find this to be a disadvantage.

Due to its petite size, the Mavic Air 2 may be more vulnerable to gusts of wind and other external elements, resulting in an unsteady flight experience.
Price and Availability:
The DJI Mavic Air 2 is an excellent choice for people new to drone technology because it has a wide range of features and works well.
You can easily acquire this incredible device from the DJI website or any online/offline retailer. You can get it in either the standard package at $799 or one of its other customizable bundles that vary slightly in cost.
With the Mavic Air 2, you will surely get your money's worth!
7 DJI Phantom 4 RTK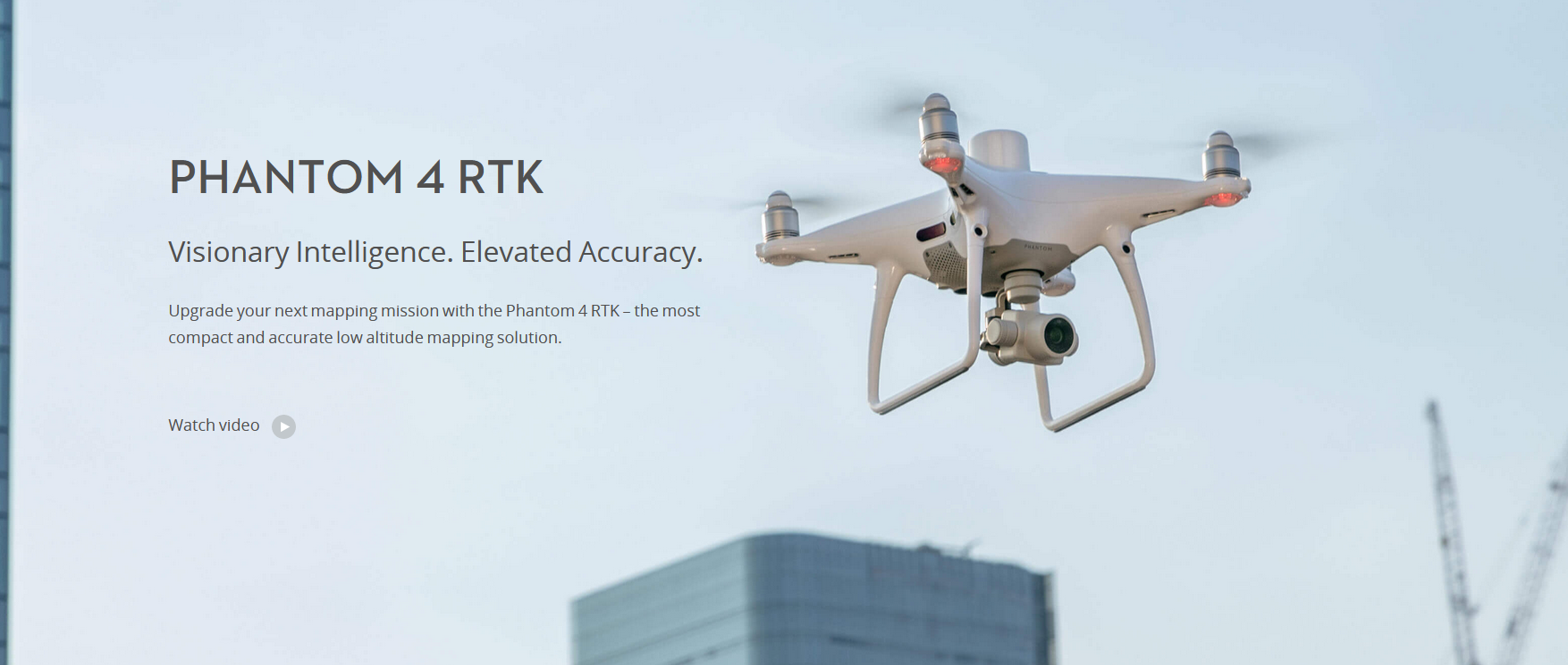 The DJI Phantom 4 RTK is the ideal drone for first-time operators thanks to its ease of use and dependability. Let's take a look at some of its features, specifications, benefits, and drawbacks.
Features and Specifications:
The DJI Phantom 4 RTK has a 1-inch CMOS sensor and a 20-megapixel camera for taking high-quality photos and videos from the air.

The drone has a remarkable flight time of up to 30 minutes and can reach peak speeds of 72 km/h while transmitting signals up to 7 km away.

The Phantom 4 RTK is augmented with a real-time kinematic module, making it ideal for accurate surveying and mapping applications that require extreme accuracy.

This drone has a remote controller equipped with an integrated tablet so you can operate it effortlessly and stream your footage in real time.
Pros:
Whether a novice or an experienced aerial enthusiast, the DJI Phantom 4 RTK is your go-to drone for reliable and user-friendly videography and photography. With its easy setup and intuitive controls, this innovative device makes capturing spectacular footage effortless!

RTK module offers precise, exact mapping and surveying features that immensely benefit agriculture and environmental monitoring, professionals.

Through its intuitive and user-friendly interface, the drone's remote controller with an integrated tablet makes controlling the drone and live footage incredibly easy.
Cons:
With its hefty price tag, the DJI Phantom 4 RTK drone may not be within reach for budget-conscious beginners.

For those unfamiliar with drone flying, the powerful capabilities of a drone can be overwhelming.
Price and Availability:
Buying the impressive DJI Phantom 4 RTK, which can be found on the official DJI website for an impressive retail price of $7,000, could be a life-changing decision.
Although this may seem pricey to those new to aerial photography and videography, mapping, or surveying – its highly advanced features make it worth every penny for drone enthusiasts!
Tips for First-Time Flyers
A. Understanding Drone Regulations
Before you set off on your next drone flight, brush up on the local laws.
While regulations may differ from region to region, here are some tips that will help guarantee a safe and compliant experience:
If you are in the US, you must be at least 16 years old to fly a drone commercially

For the safety of others and yourself, you must register your drone with the Federal Aviation Administration (FAA).

You must possess an up-to-date pilot's license to be granted permission to operate a drone for commercial purposes.

You mustn't operate your drone close to airports or other restricted airspaces.

You must never allow your drone out of sight for even a moment.

Under no circumstances should you operate your drone above a group of people or any stadium where spectators are present.
It is essential to fulfill all registration requirements before flying your first drone.
To avoid any hefty repercussions, you must take the time to familiarize yourself with these regulations before flying your first drone.
B. Preparing for Your First Flight
Are you ready to explore the planet of flying drones? Don't let fear stop you! With some vital preparation, your first flight will be a success. Here are a few pieces of advice that can help set you up for success:
Make sure to read the drone's manual before you take off thoroughly! Becoming familiar with your aircraft and its controls is incredibly important.

Choose an area with ample open space and no nearby obstructions to provide a safe environment for flying.

Before take-off, always perform a pre-flight inspection of your drone. Ensure the battery is fully charged and all propellers are properly fastened for maximum efficiency during flight.

Start out slowly. Gradually become familiar with the controls and how your drone responds to them. Do not attempt to do too much on your first flight.
Armed with these valuable tips, you can now embark on your journey. Just remember to have a wonderful time and keep safe!
C. Basic Flight Maneuvers
Learning a few essential moves will guarantee success if you are just beginning your drone journey. Here's how to get started:
Take-off and landing: These fundamental maneuvers are essential for a secure flight.
To ensure you are familiar with the controls, practice taking off and landing in an open space until you feel comfortable.

Hovering: To ensure a smooth flight, you must be able to maneuver your drone precisely. Thus, gaining ample practice hovering in the air is essential for mastering your device's controls.

Forward flight: After you become skilled in take-off, landing, and hovering, it is time to move on to the next level – flying forward. Begin cautiously at first, then steadily amplify your speed as you grow more comfortable with the controls.

Turning: To master the art of turning your drone while in flight, start by making smaller turns and gradually build up to larger ones. With a bit of practice, you'll be an expert soon!

Emergency procedures: Always be prepared for any eventuality. Learning the emergency protocol specific to your drone is critical to take action if a problem arises.
Additional Resources for Beginner Drone Pilots
The internet is an absolute goldmine of resources for those starting out in the fascinating world of drone flying. From comprehensive tutorials to interactive forums and specialized online stores offering drones and accessories – there's something available for everyone!
DJI's website presents an invaluable resource for those just getting started in the world of drones. Their online course covers all aspects of drone flying – from first-time maneuvers to more sophisticated topics such as aerial photography and videography.
The lessons move at a rate that fits your personal schedule. Your lessons will comprise videos, quizzes, and practice exercises to make learning easy!
The DJI Phantom Forums is an invaluable place to find information, exchange ideas and tips, and connect with other drone enthusiasts.
Not only can you get answers to questions you may have, but you also obtain detailed knowledge on drones as a whole. This is perfect for those looking into the world of uncrewed aerial vehicles!
Are you in search of a place to find the perfect drone? The DJI Online Store should be your first stop. It carries an immense selection of drones and accessories. You can also get used or refurbished items, usually offered at discounted prices.
When you're done shopping, don't forget to check out YouTube for videos that may help with learning how to utilize your new toy! You will discover instructional clips and helpful tips and tricks from other users' experiences while operating their drones.
FAQS On DJI Best Beginner Drones
Is DJI Good for Beginners?
Absolutely! When it comes to drones, DJI provides an impressive selection perfect for newbies. From the intuitively designed Spark to the advanced Mavic Pro, you'll find a drone that suits your needs and preferences.
DJI drones have automated take-off/landing features, collision avoidance sensors, and stabilized HD videos. It also provides superior results no matter which model you opt for.
So why go elsewhere when all of this is available with DJI? It's user-friendly and jam-packed with amazing features – so look no further than them if you're seeking a reliable drone at an excellent price point.
What is The Best DJI Drone I Can Get At A Low Price?
The DJI Mini 2, according to many drone flyers, is the best low-cost drone available for under $500. It has a four-axis gimbal 4K video camera that can take 12MP photos and GPS and Find My Drone functions.
Which Brand of Drones is Best?
The DJI Air 2S is the best all-purpose drone.

DJI Mini 2 is the best beginner drone.

The DJI Mini 3 Pro is the finest drone for filming TikTok and Instagram Reels.

DJI Avata is the best FPV drone for exciting first-person flying.

DJI Mavic 3 is the best for professional photographers.
Can I Travel With My DJI Drone?
Yes, according to DJI, you can take a drone on a plane as either carry-on luggage or checked luggage, depending on its size. However, you must remove the drone's batteries and place them in your carry-on bag.
In Conclusion
In summary, selecting the right beginner DJI drone is essential to guarantee an enjoyable and stress-free journey. The models listed here provide excellent features to make getting started simple and safe, such as stability control, user-friendly interfaces, and advanced safety protocols.
However, successfully flying a drone requires dedication and commitment. You may struggle during the learning phase, but your skills will soon improve with perseverance and practice. Plus, do not forget that adhering to safety regulations is essential for a safe flight — both yours and those around you!
Finally, make sure to savor the incredible experience of drone flying. Whether capturing magnificent aerial footage or discovering unexplored areas, drone flight promises a remarkable point of view that will surely enhance your experience.
Select a user-friendly DJI drone, master your piloting abilities, and prepare for an exhilarating voyage!