Do you desire a lower loan and other buying costs? Yeah, me too. The idea of owning a home can sometimes be made a little bit closer to reality by having excellent and cheap credit repair software, and sometimes a lot closer.
Bad credit has various detrimental effects, but there is still hope. Credit repair software can assist you with creditors, fix mistakes on your credit report, and educate you so that you can swiftly improve your credit.
Retaining a good credit score is essential for securing loans, credit cards, and employment in today's financial landscape. However, life is unpredictable, and circumstances beyond our control can negatively impact our credit scores.
Fortunately, many credit repair software options are available to help individuals manage and repair their credit scores.
Here is my topic picks for corporate or personal credit repair software solutions:
Credit Repair Cloud: Helps to increase credit scores. It is great for entrepreneurs about to start a credit repair business. It is also great for attorneys, realtors, CPAs, and brokers to increase their client's credit scores.
Client Dispute Manager: Best for everyone that has a business helping others increase their credit score
DisputeBee: Whether you are a beginner or an expert, this credit repair software can instantly transform you into a credit repair professional.
Best Credit Repair Software for Business & Personal Use
The best credit repair software offers many tools and features to help users identify and dispute errors on their credit reports. It also monitors their credit scores and establishes healthy credit habits.
These software options are great for individuals struggling with poor credit scores, as they provide a more streamlined and efficient way to manage the credit repair process.
With the help of credit repair software, you can take a more active role in improving your credit scores and financial health. If you want to repair your credit score quickly or establish healthy credit habits for the long term, professional credit repair software will do you a lot of good.
There are credit repair software options that can help you achieve your goals. From automated dispute letters to personalized credit score recommendations, these credit software and options offer a range of features to suit various needs and budgets.
How I Picked The Best Credit Repair Software
Credit repair software is a type of platform that helps in credit repair. It accomplishes this by reviewing your credit record and locating any mistakes or unfavorable elements that might keep you from improving your credit score.
My list of best credit repair software contains all the tools required to correct credit problems, create dispute letters, keep track of credit reports, and have a comprehensive collection of additional templates.
It can sometimes be difficult to decide on the best credit repair software. There are many choices, and deciding which is best for you might be challenging. Thus, I've gathered 7 of the best credit repair software available today.
Depending on what you want to do, it should also be simple to use for either personal or business purposes.
Also, you'll want to confirm that the software is compatible with these items; bankruptcies, collections, settlements, late payments, medical debt, and hard inquiries.
Below is a ranking of the best credit repair software.
1 Credit Repair Cloud
Credit Repair Cloud is the best credit repair software for businesses.
Credit Repair Cloud, a user-friendly software that has been around for almost 20 years, helps companies start, run, and expand their credit repair operations. While raising their clients' credit scores, the majority of reputable credit repair companies use this software.
A profitable credit repair business can be started with the use of this cloud-based credit repair software program. The software includes training and programs to help you become a credit repair specialist in addition to helping you manage your clients.
It is a little bit of credit repair magic😊.
Credit Repair Cloud uses a methodical approach to credit restoration. It features an intuitive interface that makes it simple to observe what is happening with your client's account.
The best thing about this software is how quickly you can integrate credit data and produce credit audits with just one click.
Moreover, Credit Repair Cloud provides access to hundreds of tested dispute letter templates, allowing you to write to your credit reporting agency quickly.
Key Features of Credit Repair Cloud
User-friendly Dashboard: This enables you to monitor the development and well-being of your credit repair company.

Unlimited Storage: The platform provides secure cloud storage for all your client's credit reports, audits, and other business files.

Letter Finder: This aids in choosing the ideal letter at the appropriate time.

Complete Dispute Library: You can make your own or pick one of the more than 100 available templates.

KPI Metrics: The tool can be used to assess your credit repair company's overall performance as well as its goals, objectives, and activities.

Easy to Include Clients and Team Members in Ready-Made Businesses: Tools are available from Credit Repair Cloud for expanding an established credit repair company's workforce and clientele.

Seamless Integrations: Many web applications, like Zapier, can be included in the dashboard.

Credit Dispute Automation: Helps to conserve time.

Online Client Signature Capture: This helps with dealing with online client agreements.

Advanced Credit Repair Training: The platforms include free live software training as well as other tools to provide you with the information you need to run your business properly.

One Click Report Imports and Audits Generation: Credit audits can be made, and credit reports for your clients can be promptly transferred.
Pricing
A free 30-day trial with unlimited usage is available from Credit Repair Cloud for all packages.
Start: $179/month

Grow: $299/month

Scale: $399/month

Enterprise: $599/month
Each package also includes unlimited storage, affiliates, and the ability to build a white-label client portal quickly.
Advantages of Credit Repair Cloud
Ease of use: It's the most user-friendly credit repair software.

Features: Credit Repair Cloud has all the tools necessary to help you manage, track and automate your credit repair business.

Automation: CRC has automation features that make managing your client super easy.

Support: Excellent support team.

Security: Your client data is kept safe and secure with credit repair cloud hosted in the cloud.

Training: Offers extra credit repair training
Disadvantages of Credit Repair Cloud
Pricing: Depending on your budget, you may find CPC, with a plan starting at $179/month.

Quota: The packages only let you manage 300-2400 active clients.
2 Client Dispute Manager
Client Dispute Manager is the second-best credit repair software for professionals.
Client Dispute Manager is a cloud-based platform with every tool you need to manage your credit repair business.
Client Dispute Management is a complete business-in-a-box credit solution. The program manages all your operations, including client onboarding through a white-label site that you can brand with your company's or client's logo, dispute letters, credit report monitoring and repair, billing and payment processing, CRM management, and client onboarding.
To make sure you have all you need to handle your first client within 15 minutes, it offers free training for credit repair organizations in business and client dispute management.
Also, the credit repair software makes entering all your clients' information easy.
With the help of its key features, including bulk printing and client auto nurturing, you can manage your business with less effort, time, and staff.
Modern automation technology is also included in the software to help you save time and money by automating tasks like printing, smart interviews, and updating credit scores.
Key Features of Client Dispute Management
For business owners looking for comprehensive credit repair software, CDM undoubtedly offers a wide range of functions that would be really beneficial.
Bulk Printing: Allows you to print hundreds of letters at once

Seamless Integrations: The CRM software integrates thousands of apps, including Twilio and Zapier.

Client Auto Nurturing: It reduces cancellations.

Multiple Items Disputing: You can quickly dispute several accounts.

Top-notch Support: You can call or chat with a dedicated representative to ask for assistance. The software also provides round-the-clock email support.

Top Automation: This includes automated bulk printing, updating credit scores, and customer registration.

Affiliate Portal: Aids in the rapid growth and expansion of your business.

Smart Interviews: This function saves you time by conducting customer interviews on your behalf.

Automated Notifications: These include, to name just a few, SMS messages from customers, team messages, pending paperwork, and signed agreements.

Free Training: There is no additional charge for the instruction you receive on managing your credit company and disputes. Live instruction and specialized materials, such as on-screen training videos, are used to achieve this.
pricing
The first month of the Starting package is $50, and subsequent months cost $99 each.

The monthly cost for the Growth package is $149.

The monthly cost for the Enterprise package is $199.

The annual cost of the Yearly package is $1200.
The CRM software also offers a free 30-day trial
Free credit repair training is available for each plan, including lead generation, business, and dispute courses.
3 DisputeBee
DisputeBee is an outstanding credit repair software for personal and professional use.
DisputeBee is a cloud-based program that offers reasonably priced credit repair services, whether you're attempting to correct many customer accounts or your own credit mistakes. After you attach your credit report, this robust software can instantly identify negative things and generate dispute letters with the touch of a button.
Your client's credit report will be imported into DisputeBee, where you can also monitor updates to the information and have errors like collections removed.
This is an excellent credit repair software for personal and professional usage with all the resources you need to manage a profitable credit repair business. DisputeBee has your back whether you are just starting out or have already been in the credit repair industry for a while.
For people and businesses looking for simple-to-use credit repair software solutions, DisputeBee is the ideal option.
The essential operation of the credit repair software consists of the following few easy steps:
On the DisputeBee system, start by gaining access to and importing your client's credit report.

Keep an eye out for false information in the credit report, such as incorrect collections, credit inquiries, bankruptcies, and late payments.

Create dispute letters automatically, then mail them to the main three major credit bureaus.

Track the Progress. After dispatching the letters to the bureau, you must wait for them to reply. Unless you settle the disagreement, DisputeBee will continue to produce answer letters.
The procedure is complete when the agencies remove the disputed items from the client's credit report.
Key Features of DisputeBee
Credit Report Importation: It allows you to import the client's credit report into the software to create credit audits.

Educational Resources: The resources show you how to run a successful credit business.

Many Pre-Written Dispute Letter Templates: These templates allow you to create and send dispute letters quickly.

Dispute Process Tracker: Keeps you updated on the status of your challenged credit reports using the dispute process tracker.

Intelligent Letter Suggester: Suggest the best letters to employ in the dispute.

It supports the Three Big Credit Bureaus: Equifax, TransUnion, and Experian.

Integrations: DisputeBee works with E-contract, Zapier, and client billing.

Unlimited Team Members: Its business plan enables you to add infinite team members to your program.

Client Portal: You can set up client portals where clients can log in and track the status of their credit repair.

Letter Bulk Printing: This helps to save time and money.
Pricing
The monthly cost for the Individual package is $39.

The monthly cost for the Business package is $99.
4 DisputeFox
DisputeFox is the top integrated software for handling numerous clients simultaneously.
DisputeFox is a sophisticated credit repair software. It was created to make rebuilding your client's credit report as quick and simple as feasible. Because of its user-friendly interface, you don't need any prior experience using other credit repair tools to use this software.
DisputeFox is more than just dispute repair software. Among its many features are customized workflows and notifications, email marketing, customer CRM, affiliate portals, and automatic client payment.
You can manage hundreds of clients simultaneously with this credit repair software while integrating their credit reports into the DisputeFox platform. You can create personalized workflows for client onboarding, updates, follow-ups, and marketing advice that happen automatically.
This credit repair software does the following:
It will erase inaccurate information from the credit report;

It will create a letter of dispute that can be sent directly to the creditor;

It will submit all necessary disputes in one location;

It will keep track of the progress of each item that has been disputed with creditors;

It will discover missing items that other sources have not reported.
This credit repair software suits businesses seeking an all-in-one platform for all their credit repair operations.
Key Features of DisputeFox
Customer portal for document uploading

Tablet & mobile view so you can work wherever

Complete administration of client communications

Complete client management system

Develop automated workflows

Create notes & tasks

Automated client billing

Dispute management

Thorough lead tracking and overview

Every credit letter sample required

Import credit monitoring services

Advanced web forms

Dispute management
Pricing
The monthly cost for the Beginning package is $129.

The monthly cost for the Growth package is t $379.

The monthly cost for the Scaling package is $499.
You can save on yearly packages to obtain the best value for your money.
5 Credit Versio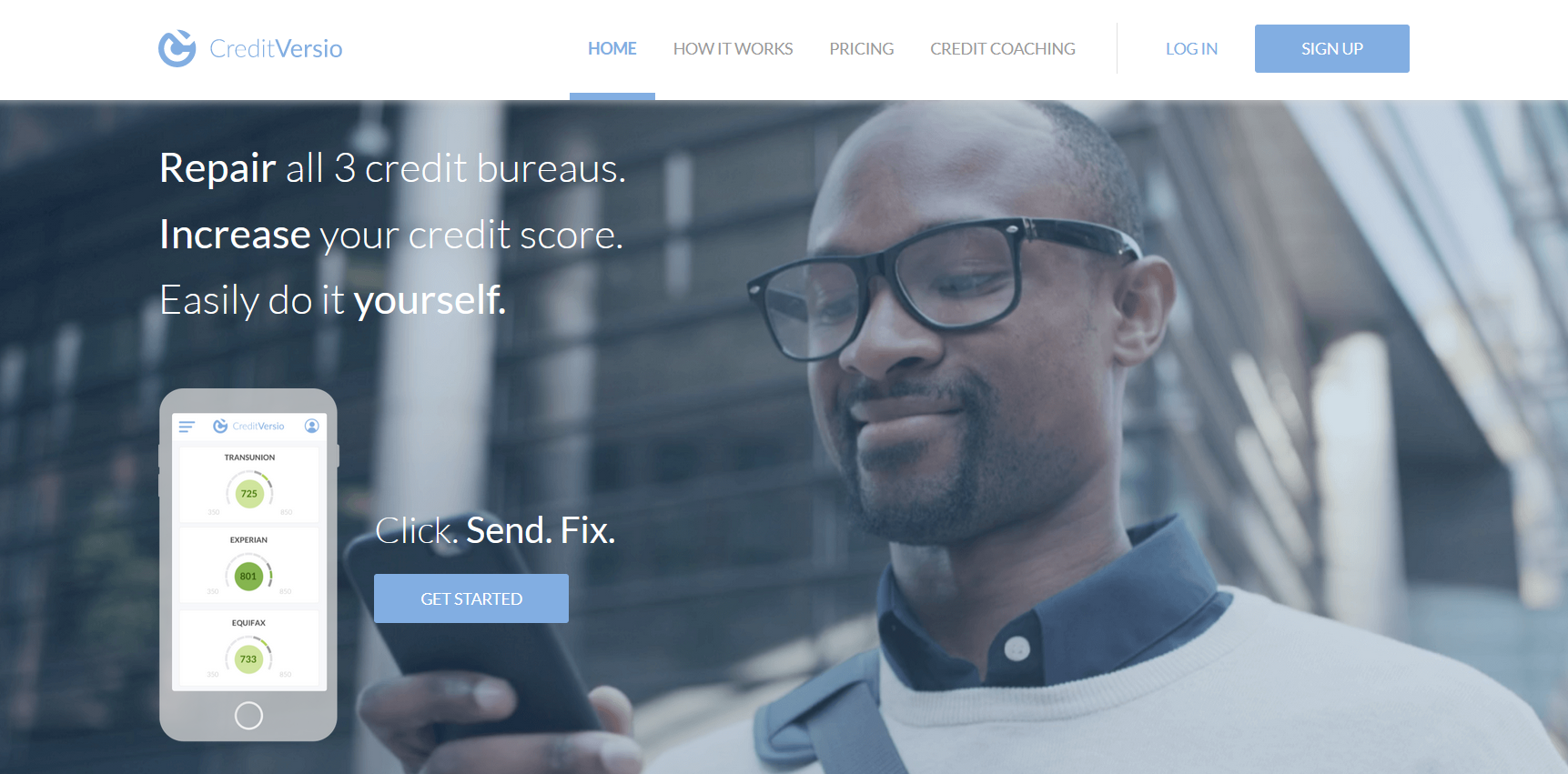 Credit Versio is the best free credit repair software.
With just a few easy actions, Credit Versio, an AI for credit restoration, may assist you in raising your credit score. They offer assistance with Experian, Equifax, and TransUnion account disputes.
It's incredible how simple Credit Versio is to use. Just linking your credit report will cause dispute letters to be generated automatically, which you may subsequently send to obtain results.
They will keep track of everything for you and send you reminders or alerts when your credit score rises.
Key Features of Credit Versio
Brand-new with IdentityIQ or SmartCredit

Send out limitless disputes monthly

Set reminders and follow-ups

Video credit tutoring calls

Free training for credit repair
pricing
You would still pay for the credit monitoring service even though Credit Versio is free. This gives them the ability to identify problematic items and check for updates to your credit report.
Credit monitoring services cost between $19.95 and $29.99 monthly, depending on how many features you desire.
6 ScoreCEO
ScoreCEO is the best credit repair software for boosting company profits.
ScoreCEO has the greatest options for you, regardless of whether you're still debating whether to launch your credit repair company or need fresh ideas for expanding your clientele and boosting existing business earnings.
ScoreCEO is a business software for credit repair that enables you to increase the revenue from your credit repair business.
It is intended to make it easier for credit repair businesses to schedule appointments, collect payments from clients, and have follow-up dialogues regarding their credit reports.
This all-inclusive credit repair business software includes the best tools for dispute procedures, sales, invoicing, marketing, analytics, and coaching services.
It streamlines the workflows and procedures for your credit repair company, giving you more time to focus on luring in new clients.
Software updates and dealing with many vendors and integration problems are not concerns with this platform. All you need is to sign up for an account, and you are ready to begin.
They also provide in-house outsourcing for greater efficiency and process optimization if you want to improve your credit repair business.
ScoreCEO is best suited for business owners running credit repair firms who need tools to enhance workflows and manage operations.
Key Features of ScoreCEO
Advanced Analytics Dashboard

Creates Sales Pipelines

Customizable and Automated Client Workflows

State-of-the-art Contract Compliance Engine

Create Branded Campaigns

Advanced Dispute Engine

Automated Billing Engine

Free Learning Materials

Multiple Templates

Google Analytics Integration

Fully Scalable

Integrated Active Tracking
PRICING
The monthly cost of the KickStart package is $129.

The monthly cost of the Basic package is $179.

The monthly cost of the Advanced package is $299.
ScoreCEO offers an entirely free package.
7 Whitelabel CRO
Whitelabel CRO is a credit repair software created to serve the demands of those looking to start their own credit repair business. The software is developed for credit repair professionals who want to manage and keep their clientele without outsourcing help or a drop in service quality.
None of your staff need to know the type of software you use for your company because Whitelabel CRO is totally customizable.
Key Features of Whitelabel CRO
Make Smart Automation Procedures

White-Label Your Software Covertly

All-In-One Communication Tools

Import Credit Reports And Scores Instantly

Provide A Pay-Per-Delete Option.

Batch Generation Of Dispute Letters

Supported By Zapier

Reminders For Payments And Dunning Email Drips
pricing
At $197 monthly, Whitelabel CRO provides everything you require to operate a successful credit repair business.
This software doesn't offer a free trial, but you may arrange a call or a demo with the company.
Other credit repair software includes TurboDispute, Credit Repair Magic, Credit Letters Generator, Smartcredit, DisputeSuite, Personal Credit Repair, Credit Detailer, etc. The 7 credit repair software that I talked about is the best credit repair software at the moment.
FAQs on Credit Repair Software Programs
What is Credit Repair?
Credit repair is improving a person's credit score or repairing their credit history.
Credit scores are numerical representations of a person's creditworthiness based on their credit history. They are used by lenders, creditors, and other financial institutions to determine the likelihood of a person's ability to repay their debts.
Credit repair involves identifying errors or inaccuracies in a person's credit report and taking steps to correct them. This can include disputing incorrect information with credit reporting agencies and negotiating with creditors to remove negative marks from credit reports. Also, establishing healthy credit habits improves a person's overall creditworthiness.
Credit repair is essential for individuals with poor credit scores or negative marks on their credit reports. This makes it challenging for them to secure loans, credit cards, and other financial products. Individuals can qualify for better interest rates, lower fees, and more favorable loan terms by improving their credit scores. This will save them money in the long run.
What is the Basic Credit Repair Process?
The basic credit repair process involves the following steps:
GET your credit report:
The first step is getting a copy of your credit report from one or more major credit reporting agencies.
The Credit Repair Organizations Act (CROA) governs the credit repair business. You have the right to one free credit report yearly from each agency.
Review your credit report:
Once you have your credit report, review it carefully for errors, inaccuracies, or outdated information.
Make a note of any negative marks, such as late payments or collections, that are impacting your credit score.
Dispute credit errors here:
If you identify errors on your credit report, you can dispute them with the credit reporting agency that provided the report.
You can do this online or by mail, providing documentation to support your dispute.
Address negative marks:
If you have negative marks on your credit reports, such as late collections or payments. Contact the creditor to see if they can be removed or negotiate a payment plan to resolve the debt.
Sometimes, you can work with a credit counselor or financial advisor to create a plan to address these issues.
Monitor your credit score:
As you work through the credit repair process. Keep monitoring your credit score regularly to track your progress and identify any further issues that need to be addressed.
Remember, credit repair is not a quick fix, and improving your credit score may take time and effort. But fortunately, there are plenty of automated tools (credit repair software) available in the market that can help you with your credit repair.
This software can help you if you wish to quickly repair your credit instead of having to go through all the basic credit repair processes listed above.
How Does Credit Repair Software Work?
Credit repair software, also known as The "personal credit builder," is a reasonably cost-effective choice.
You can fix your credit report's inaccuracies on your own with a bit of assistance from credit repair software programs.
You can detect and challenge inaccuracies on your credit report with the aid of credit repair software. This can be done frequently to boost one's credit rating.
There are various approaches to credit repair.
You can do it yourself or pay a professional credit repair software business to do it.
You can utilize credit repair software if you want to fix your credit on your own or wants to add positive payment history to your credit info but are unsure how to go.
You can use this software to challenge these reporting inaccuracies such as; bankruptcy, collections, foreclosures, overdue payments, and tax liens.
These software tools concentrate on locating the problems harming your credit score and assisting you in resolving them.
Lodging a dispute with credit reporting agencies is one of the major strategies for credit repair. Collections, inquiries, late payments, and other credit issues are all subject to dispute.
Despite the fact that the features of credit repair software differ from one package to another, the software typically comes with automatic credit report screening, dispute letter production, and follow-up letters.
Basically, this software can assist you in locating the negative information on their credit reports and streamlining the procedure for requesting the removal of negative information from credit reporting from major credit bureaus themselves.
Make sure the personal credit repair software you select can act as an all-in-one tool or, at the very least, can prepare dispute letters for you.
So, it must be capable of everything, including:
The enhancement of your credit report

Repairing the errors after analyzing them

By registering with a credit monitoring service, you can keep track of changes to your account balances on a monthly basis.

Guiding you on how to keep your credit score in good standing.

If you run a credit repair firm, you'll also want to ensure the software is entirely compatible with your operating system.
Key Takeaways
Congratulations on finishing this article. You are now more knowledgeable about the best credit repair software that would be best for you or your company.
To recap, the best credit repair software will make your or three credit bureaus' disputing process much quicker and easier.
This is why Credit Repair Cloud, Client Dispute Manager, and DisputeBee are the top three credit repair software.
Your creditors and credit bureaus won't need to battle with you for a long time before they're able to fix your credit scores. You should be able to locate software that meets your demands because the ones I listed are all credible.
I recommend using Credit Repair Cloud if you are a business owner in the credit repair service business and are still unsure which software to use. It is the best credit repair business software with unique features like; a user-friendly dashboard, KPI Metrics, seamless integrations, and lots more.