Explore the 15 best AI marketing tools that drive results and increase ROI. Stay ahead of the competition by leveraging the power of AI in your marketing campaigns.
Increase Your ROI: Top 15 AI Marketing Tools
Discovering the ideal AI marketing tool is essential to increase your ROI. With so much data to go through and marketing copies to draft, the right AI tool can make all the difference.
In this comprehensive guide, I've evaluated and ranked the best 15 AI Marketing tools, including my personal top 4 recommendations, so you can make an informed decision and find the perfect fit.
Surfer SEO: This is the best AI marketing tool for search engine result page (SERP) analyzer.
Jasper AI: This is the best AI marketing tool for content marketing strategy automation.
Brand24: This is the best AI marketing tool for social media reputation monitoring tool.
Flick: This is the best AI marketing tool for social media content creation.
Artificial Intelligence is impacting every field, and digital marketing is no different. In fact, automation and artificial intelligence complement each other like mac and cheese😋.
Today, several marketers are using AI marketing tools to understand the structured and unstructured customer data at their disposal. Using artificial intelligence-powered marketing techniques, marketers have replaced ridiculous commercials and can easily transform raw data into actionable insights.
Numerous marketing tools that help marketers create original and creative ad content have emerged as a result of advances in creative AI.
These AI marketing tools create optimum ad content on their own by learning from prior ad data and market trends.
These tools can significantly cut down the time needed to process information. And if appropriately used, it can also improve your brand voice and language.
If you are a marketer looking to jump on the AI bandwagon to get comprehensive insights and increase your ROI, you are in the right place.
In this post, we will hold your hand and guide you through the process of choosing the best AI-powered tool for you.
The Best AI Marketing Tool to Use in Marketing Strategy
Using AI marketing tools should be an integral part of your business strategy if you're into digital marketing, a blogger, an e-commerce firm owner, or an affiliate marketer.
With these AI tools, you can manage marketing teams and create an effective marketing strategy that will allow you to achieve your goals faster.
Get ready to increase your ROI with these 15 AI marketing tools.
1. Surfer SEO: Best for SEO-Optimized Content
Surfer SEO is one of the leading web-based on-page SEO tools. It compares your copies to the top-ranking content for more than 500 ranking factors to place them on Google's first page.
This is a content optimization tool that aids in the creation of material for ranking on search engines.
While you are writing, Surfer analyzes and grades your material based on search engine rankings. It uses keyword density, readability, length, header usage, and other factors that help content rise in search engine results. It is a worthwhile objective for any content strategy.
Surfer SEO features a built-in text editor that you may use directly, or you can copy and paste for a quick examination. You can actually watch the SEO improve as you make changes to your writing.
PROS
Seamless integration Ranks faster and saves time

Easily exports content to WordPress

Excellent customer support service

Outstanding content editor

Integration with WordPress & Google Docs

Numerous choices for customizing the content editor
CONS
SERP Analyzer user interface can be improved
PRICING
The basic plan costs $49 monthly. Small business owners, bloggers, hobbyists, etc., can take advantage of this plan.
2. Jasper AI: Best for Generating Content
Jasper AI is another excellent artificial intelligence marketing tool that can be used to write long-form content.
It comes up with ideas for blog posts, generates original personal bios, composes ad copy, and creates high-quality material for your blog, social media accounts, emails, landing pages, and video scripts.
This AI tool uses the GPT3-model invented by OpenAI to write copies and long-form content. Using this potent AI, online stores can also create product descriptions. With the click of a mouse, it can create titles and meta descriptions, as well as bullet points or descriptions for Amazon products.
PROS
Excellent customer service

Ease of use

Value for money
CONS
It is expensive, especially for small business owners.
PRICING
The Creator plan costs $39/mo. It is perfect for freelancers, marketers, and entrepreneurs.

The Teams plan costs $99/mo. It is perfect for small marketing teams.

The Business plan has custom pricing. Perfect for departments and organizations.
3. Brand24: Best Social Media Monitoring Tool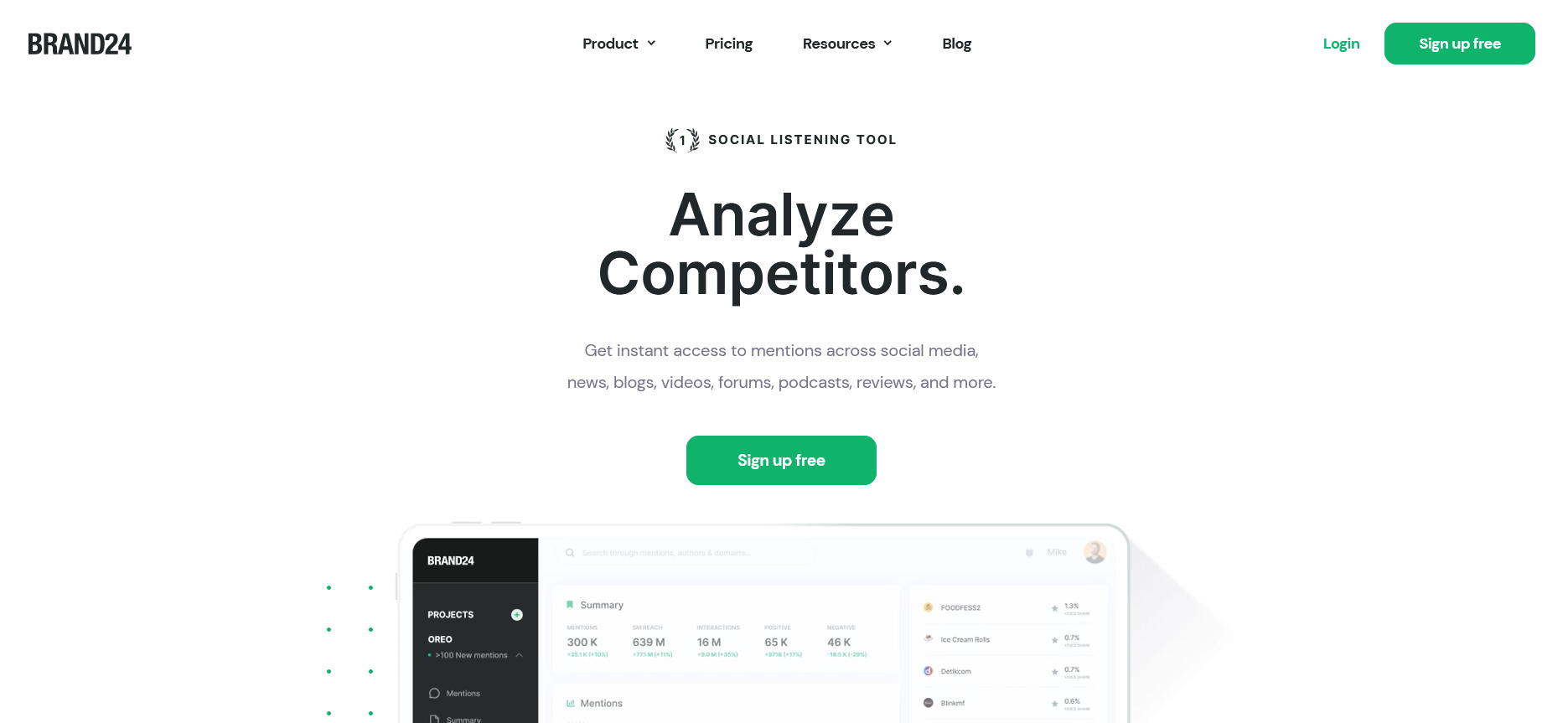 Brand24 is an AI solution for managing online brand reputation that employs sentiment analysis.
As an effective social media reputation management tool, it keeps track of mentions of your brand and enables you to respond to both favorable and unfavorable client comments.
Reputation is everything in business. It examines online discussions about your company, its goods, and its rivals.
Along with monitoring brand reputation and customer behavior, it enables you to evaluate marketing initiatives and deal with potential problems before they worsen.
PROS
Simple to use platform

Coordinated follow-up process

Real-time monitoring

Simple organization on the platform
CONS
The mobile app can be better
PRICING
Thanks to Brand24's four pricing tiers, which are created to be appealing to businesses of all sizes, you won't be overpaying for what you do get.
Social media monitoring is made accessible and valuable for everyone by Brand24 thanks to high-quality data and reasonable prices.
The Individual plan is $79 monthly.

The Team plan is $149 monthly.

The Pro plan is $199 monthly.

The Enterprise plan is $399 monthly.
Also, you can test it out for 14 days without paying anything by simply signing up!
4. Flick: Social Media Marketing Platform
PROS
Instagram Analytics Reports

Saveable hashtag sets

Limitless content ideas
CONS
New users must sign up for a waitlist.
PRICING
There are three distinct pricing options available from Flick. All plans have a 7-day free trial, and you can end anytime. By selecting the annual billing option, you can save 20%. The followings are the pricing options and their features:
The Solo plan is $11 monthly.

The Pro plan is $24 monthly.

The Agency plan is $55 monthly.
Overview
Flick AI Social Media Assistant is a potent marketing tool intended to speed up the process of coming up with ideas, creating, and preparing social media content. Users can easily try a new way of quickly creating interesting and on-brand content during the 7-day free trial.
This AI-powered software serves as a flexible partner for coming up with original content ideas, writing unique captions, turning long-form content into shareable snippets, and quickly organizing and scheduling ideas.
The Flick AI Assistant is not just another generic AI writing tool; working with it is like working with a seasoned marketer that is intimately familiar with your brand.
This technology, created especially for social media, provides 24/7 assistance and is simple to set up. Over 100,000 brands, marketers, and content producers rely on Flick AI Social Media Assistant to help them save time, get better results, and improve their social media presence
5. GrowthBar: AI Writing Tool
PROS
Excellent customer service

Value for money

Easy of use
CONS
Fewer features compared to competitors
PRICING
The Monthly Standard is $29.00. Due to the fact that this pricing is introductory, it is valid for 3 months for monthly plans and 12 months for yearly subscriptions.
The regular cost is $79.
Overview
With GrowthBar, you can use artificial intelligence to produce SEO-friendly content for blog posts, website pages, and articles.
GrowthBar is an all-in-one tool for all your written content needs, which is its best feature.
GrowthBar automates content generation using GPT-3 AI. It can recommend specific word counts, links, photos, keywords, and more. Both building blog post content outlines and offering comprehensive backlinking are capabilities of the tool. Additionally, a Chrome addon is accessible.
6. Phrasee: For Creating Marketing Copies
PROS
Predictive Analytics

Engagement Metrics
CONS
Their customer service could be better.
PRICING
The Phrasee marketing team has to be contacted for pricing information.
Overview
Phrasee is an excellent AI marketing tool that helps to develop more effective email subject lines. This AI marketing tool generates content based on data-driven insights so as to boost leads, engagements, and conversions to increase marketing effectiveness.
It also employs algorithms to identify the kind of content that gets the most response from viewers and then uses that information for subsequent ads.
7. Frase: For SEO Content Creation
PROS
Fills content gaps

Keyword research

Saves time

Excellent tool for content structuring

Unlimited documents

Extremely easy to use

Great tutorials
CONS
PRICING
Depending on the requirements of your organization, there are three distinct pricing choices.
The Basic plan is $44.9 monthly, intended for single users.

The Team plan is $114.99 monthly, intended for content teams.

Then the Enterprise plan, where you may design an individual plan for any size company at a customized cost.
Overview
Frase.io is an AI-powered platform for content optimization that assists companies in producing material that is both user- and SEO-friendly. It lets you generate SEO-optimized content more quickly and effectively.
Frase.io compares and gathers information from the most popular websites using the same keyword as soon as you enter a topic.
An SEO-friendly framework is then produced by this artificial intelligence marketing tool, allowing you to compose content that will appear higher in search results.
The best feature of Frase.io is that it offers suggestions and ideas for improving website content that may be taken immediately.
8. Smartwriter: For Generating Customized Email Outreach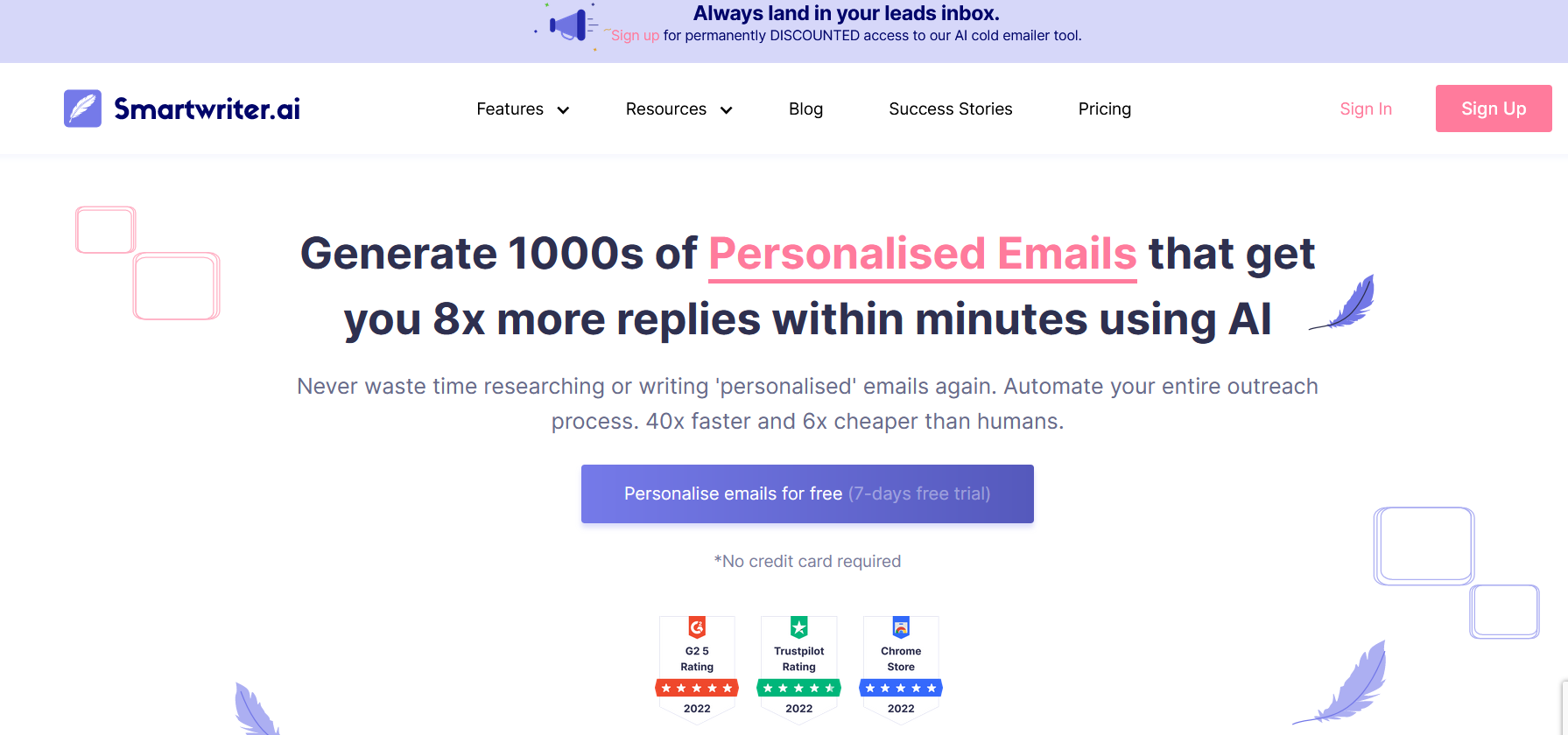 PROS
Sends hyper-personalization messages.

Generation of personalized messages in bulk by uploading a CSV file.

Support additional features like descriptions of eCommerce products and optimization of landing pages for sales.
CONS
Lacks support for a Chrome extension.

More integration is required.
PRICING
The three plans offered by Smartwriter.ai are Basic, Popular, and Pro.
The Basic plan is $59 monthly for 400 personalized icebreakers.

The Popular plan is $149 monthly for 1,200 personalized icebreakers.

The Pro plan is $359 monthly for 3,500 personalized icebreakers.
Overview
Your email outreach can be automated with the help of Smartwriter.ai. AI technology creates a customized email with a unique subject line to spark clients' interest. Additionally, it offers the design of Shopify product titles and descriptions as well as customized cold email marketing.
It also enables integration with other platforms and solutions from outside sources, which will enhance your cold email outreach procedure.
9. Zapier: For Task Automation
PROS
Easily accessible and clean dashboard

Multi-step automation for even extremely complicated workflows.

Supports thousands of useful apps.

Easy to use.
CONS
PRICING
Zapier offers 4 pricing plans in addition to a limited free version. If you choose the annual billing options, the prices will reduce.
Starter: $19.99 per month when invoiced annually or $29.99 if paid yearly.

Professional: $73.50 per month or $49 per month if paid yearly.

Team: $448.50 per month or $299 per month if paid yearly

Company: $898.50 per month or $599 if paid yearly.
Overview
Zapier is the lego of tech stack and process integration. It allows you to connect thousands of various systems and create marketing automation, which saves time, increases productivity, and lowers costs. You build customized workflows to connect operations in one system to automated procedures in one or more other systems. Every time, the relevant data is taken from the appropriate source.
At the time of writing, Zapier offers over 3,000 integrations and refers to its automation as "zaps." this automation can be created without the use of code, and templates are available to make the process quicker. Even branching workflows are possible, depending on the logical standards you define.
A human team could never match the speed and efficiency of the AI, which is hard at work in the background analyzing signals that start processes. The time savings that these zaps produce are praised by clients.
Excellent support is also available, with a blog, webinars, an online no-code community, and training at Zapier University.
10. Grammarly: For Editing Content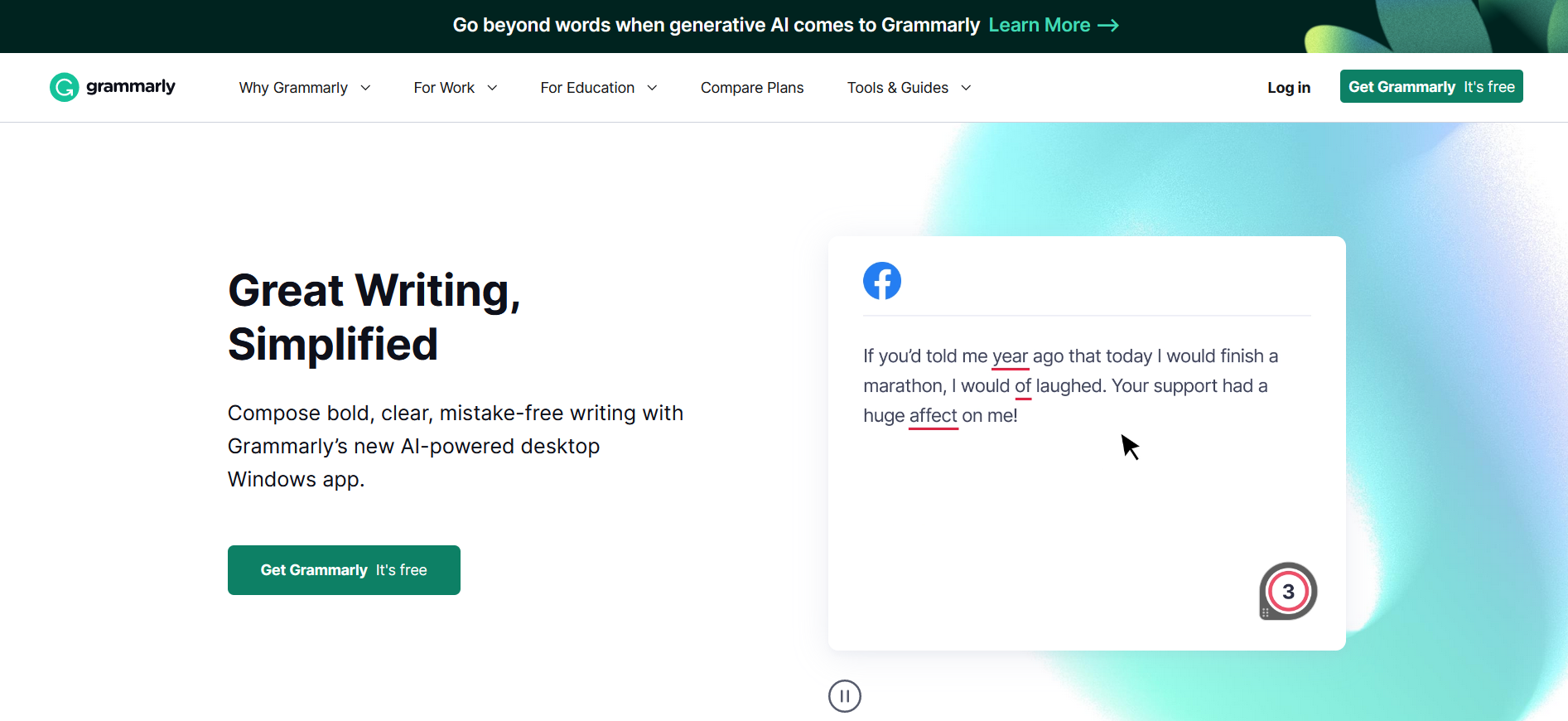 PROS
Refines the text tone you use for all types of communication.

Reviewing and editing documents as a team.

A great proofreading tool.

It inserts snippets to hasten the writing process
CONS
Limited features on the free plan
PRICING
The Grammarly Business Plan starts at $15.00 per month for one member and varies depending on the number of members.
The tailored price of the Enterprise Plan includes team management capabilities for big teams.
Overview
Grammarly is a typing assistant that looks for instances of plagiarism and evaluates writings for flaws in spelling, grammar, punctuation, clarity, engagement, and delivery. It also suggests possible improvements.
It is one of the best free marketing tools for any business. Businesses can ensure their written content is polished and professional by double-checking it on this robust AI content marketing platform.
It has highly precise AI that instantly evaluates internet grammar and spelling.
The best thing about Grammarly is that you can edit your emails, chats, tweets, and any other text you're writing using its Google Chrome extension. The Premium and Business packages offer more robust features like tone, clarity, and style checks.
11. MarketMuse: For Generating SEO Long-Form Content
PROS
It uses AI in all of its services

Conducts extensive research

Build-in editor and content summary

Generates a first draft that can then be modified
CONS
Limited features on the free plan
PRICING
MarketMuse offers a free plan. Its Standard package costs $149 per month.
Free for one user, $7.200 for the Standard plan, and $12,000 for the Premium plan each month.
Overview
MarketMuse takes delight in utilizing AI in all of its services. The program was created to assist companies in creating long-form content that is optimized, such as emails, sales letters, landing sites, or essays.
MarketMuse is an excellent choice for individuals searching for an AI marketing tool that is efficient across the board. Especially given that it integrates AI technology into every one of its services. It was created for companies that wanted to maximize long-form content, such as sales copy, landing pages, emails, and essays.
The program works by conducting in-depth AI research on a subject before generating a first draft based on the selected topic, which users may subsequently edit. KPIs, a content brief, and an integrated editor are additional features of MarketMuse
12. Semrush: For SEO content and Social Media Marketing Campaigns
PROS
On-page SEO.

It has 7 tools that focus on competitor analysis.

Content marketing tools.

Social media management.

Position monitoring that displays your position for specific keywords.
CONS
Not a friendly user interface

Inaccurate data on Ad spend
PRICING
Semrush provides four pricing plans that can be paid monthly or annually.
We advise you always to choose an annual payment to receive the best bargain. Yes, it costs more upfront, but you will save on costs in the long run compared to the monthly plan.
The monthly and annual fees for the Pro Plan are $99 and $996, respectively.

The monthly and annual fees for the Guru Plan are $199 and $1992, respectively.

The monthly and annual fees for Business Plan are $399 and $3996, respectively.

A customized price will be created for Enterprise Plan depending on the specific services rendered.
Overview
With the help of Semrush's comprehensive suite, you can launch content marketing campaigns, SEO, social media marketing, analytics, PPC, and much more. Its position tracker, which gives companies a method to monitor how they rank versus other websites when it comes to keyword usage, is its highlight feature.
The AI marketing tool also provides a content marketing toolkit that permits topic searches and gives you information about what is popular. Based on the data, you can then develop content marketing strategies and initiatives.
13. InstaText: For Content Editing
PROS
User-friendly rewriter

The tool is regularly updated

Write more efficiently

Chrome extension for work on any website

Offers real-time solution
CONS
Not a replacement for human proofreading
PRICING
InstaText currently offers different paid packages for individuals and teams.
If you choose the individual membership, it will cost you $11.99 per month (if paid annually) or $29.99 per month (if billed monthly).
This plan is appropriate for producing academic papers, business proposals, marketing materials, and copywriting.
Teams can choose between the InstaText Business and InstaText Scholar packages.
You need to speak with their sales department regarding the billing of these programs. The business package is excellent for businesses looking to boost productivity through improved communication.
Overview
InstaText is similar to Grammarly; it is an online AI-powered writing tool. It performs fundamental tasks like grammar and spell checks, but it also goes one step further by improving the readability of the phrases. Its most important quality is its ability to guarantee that the tone and style of the writer are maintained despite the rewriting. For brands that want to keep their authentic voice throughout all of their communications, this is crucial.
The ability to specify numerous keywords with InstaText is another fantastic feature. The application keeps the keywords exactly when you use them, saving you time when altering the copy.
14. Customers.ai: For Sales Outreach Automation
PROS
Easy to use and implement.

Excellent customer support team.

Swift ROI.

Strong integration with supplementary products.
CONS
Limited features on the free plan
PRICING
The pricing starts at $249/month for the Starter plan. Customers.ai also offers a free plan.
Overview
Customers.ai is a multi-platform chatbot producer. It enables companies to manage their marketing conversation material effortlessly. It offers an integrated toolkit and a unified chat inbox that simplifies campaign growth. InstaChamp, a fantastic marketing chatbot created for IG businesses, is another service they provide.
15. Acrolinx: Content governance for both human and AI-generated content
PROS
Easy to use

Excellent customer support service

Great value for money
CONS
More flexibility should be added to the cost savings calculations.
PRICING
You can connect with the Acrolinx team to learn more about their pricing and other vital information.
Overview
Acrolinx assists organizations in improving the caliber, consistency, and effectiveness of their written communications by evaluating text and offering criticism and direction on grammar, style, terminology, and other language-related concerns.
The most advantageous feature of Acrolinx is how it evaluates current material and makes modifications to guarantee that it complies with brand rules and guidelines
Frequently Asked Questions (FAQs)
What exactly is AI marketing tool?
AI marketing tool is a program or platform that makes automatic judgments using artificial intelligence technology is known as an AI marketing tool. These choices are supported by information that has been gathered, examined, and evaluated in light of market trends. The objective is to create a marketing plan that foresees the buyer's subsequent action.
All of this is done without involving a real person. This capacity to make automated decisions at lightning speed makes AI marketing tools for businesses so formidable.
What Does ROI Mean In Marketing?
Marketing ROI measures the amount of money spent on marketing initiatives, and the amount of income such initiatives have brought in. It is an essential metric for business owners because it lets you know the percentage of your marketing budget that generates revenue.
Why use AI tools in marketing?
Speed is the main factor driving the need for artificial intelligence marketing tools in every industry. Huge amounts of data from platforms like social media, email, and the Web are processed by AI technology. Additionally, it fills the gap between the data and practical suggestions you can use to enhance your marketing and sales efforts.
What role does AI play in digital marketing?
Artificial intelligence, or AI, is used by marketers to estimate product demand, create client profiles, purchase advertising, and perform other tasks. Marketers use AI to enhance customer experience, build brands and grow sales.
What are some practical examples of AI in Marketing?
Targeting ads: Machine learning is adept at identifying minute variations between products and optimizing them to yield more advantageous results.
Predictive customer service: AI uses machine learning, statistical algorithms, and customer data to make a variety of predictions.
Content curation: When it comes to business, content curation is once again a task that is best left to machines because they have the time and patience to instinctively comprehend user behavior and then forecast other content that they are likely to find interesting.
Marketing automation: This allows AI to classify markets and automate product recommendations based on user behavior.
Predictive Customer Service: What if you could predict what your consumers need before they ask? This wish becomes a reality thanks to predictive analytics.
Chatbots: This technology has been proven to be efficient as a stand-alone solution or as a lead-in to a live chat service on your website that gets users talking before seamlessly transferring from a machine to a human operator.
Content generation: A crucial aspect of B2B marketing, content generation is another area AI has started to influence.
Final Thoughts
AI marketing and machine learning are not new. Digital marketing campaigns are quickly using artificial intelligence tools as a critical component to increasing ROI. There are various ways for firms to use AI technology to enhance their marketing initiatives, from automated email campaigns and generating social media posts to predictive analytics tools.
More fascinating technologies are available to marketers than ever before, enabling even the smallest startup to compete for global success alongside the most well-known companies. ROI will significantly increase for businesses using AI in marketing.
Many of the AI marketing tools mentioned above have freemium versions available. So, be open-minded, try these AI marketing tools, and they can become your best friend for subsequent marketing campaigns.